Last month I announced that my new Crafts by Amanda craft kits were officially available! if you follow along you know that I've been working on a few different craft kits this year. The Monsters, Aliens, and Robots kit includes three adorable crafts that kids can choose from. If you know a teacher, camp director, scout troop leader or even someone working with the elderly and therapy, these kits are perfect for them.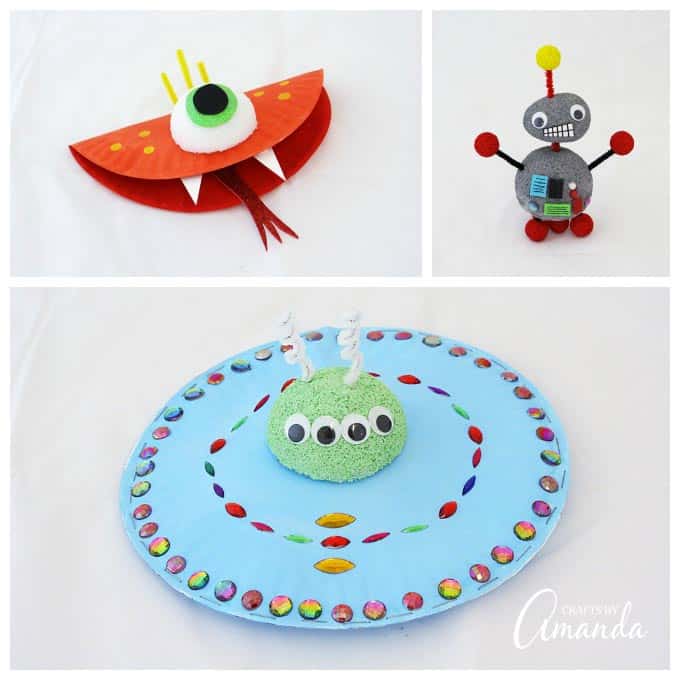 Make a cute and colorful alien spaceship that kids can decorate however they like. Or maybe they would prefer the one-eyed monster or fun robot. Any of these are perfect for Halloween or any time of year. Each kit comes complete with everything you need! All you have to do is open the box and let crafters choose which one they would like to make. There's enough for 72 projects total, 24 of EACH project. Each project comes out to less than $1.00 each.
So next time you have a group event please consider these kits. I know that a lot of my readers work with the elderly and are always looking for easy projects for senior citizens in therapy. These are a great option, especially for large groups in senior or assisted living. Parnets, next time you talk to your child's summer camp director or after school coordinator, be sure to pass these along!
Go here for the Monsters, Aliens and Robots kit or you can see all my craft kits here.
Let me know if you have any questions, I would be happy to answer them. :)
Amanda Formaro is the crafty, entrepreneurial mother of four children. She loves to bake, cook, make kid's crafts and create decorative items for her home. She is a crafting expert and guru in the kitchen and has appeared online and in print publications many times over the years. She is also the editor for the Home & Garden channel at Craft Gossip and owner of FunFamilyCrafts.com.
Latest posts by Amanda Formaro (see all)