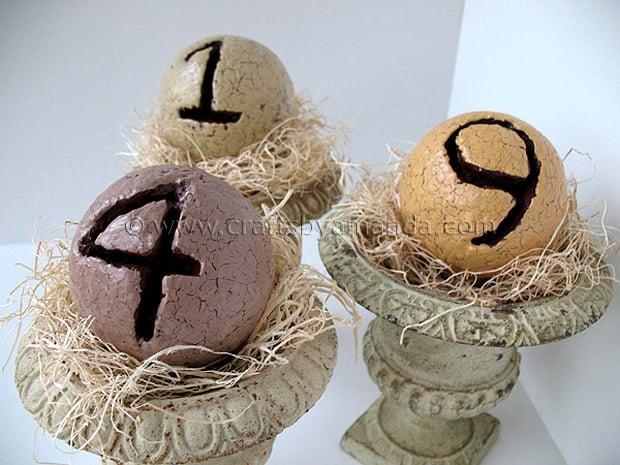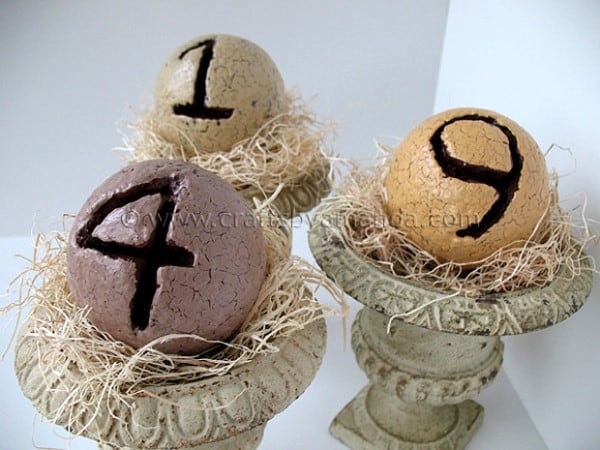 When DecoArt first introduced their new product Magikote, they asked me to try it out. I made these numbered orbs to use as a decorative accent inside a glass vase or displayed in a basket. I love the crackled look and the colors are very neutral and warm. You could use any colors your heart desires, but I've provided you with the exact colors I used below. A fun home decor project!

[amazon_link id="B004VD41FW" target="_blank" container="" container_class="" ]
[/amazon_link] is a white paintable product that you use to cover Styrofoam. It provides a sandable, paintable surface, giving a whole new dimension to Styrofoam projects. You can cut, carve, sand and paint to your heart's content without any Styrofoam pieces floating around the room! Plan accordingly when using Magikote. It does require 2-3 hours of dry time in between coats. Some of my other Magikote projects include this Giant Sand Dollar, these Sports Ball Ornaments, and this cute Egg Monster.

You'll start by carving numbers into the Styrofoam ball using a craft knife or box cutter. Then give a coat of Magikote.

Once you have all the numbers carved and the Magikote applied, leave them to dry. You'll need 2 more coats before painting them.

After the coat of paint has dried, you'll add a coat of crackle medium, be sure to follow the directions on the bottle. Then you'll add your top coats and watch it crack! Complete them with clear sealer.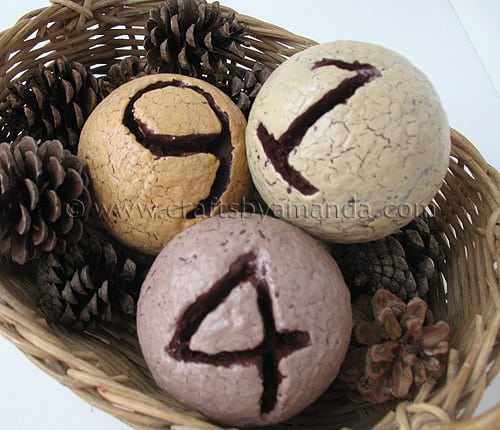 Print Project
Numbered Decorative Orbs
Supplies
3 3

"-Styrofoam balls

Weathered Wood crackle medium

Acrylic paint - Americana colors: Russet

Camel, Mink Tan, Buttermilk

DuraClear Satin Varnish

Craft knife

Sand paper
Instructions
Use a craft knife or box cutter to carve numbers into the Styrofoam balls.

Using flat paintbrush, apply 3 coats of MagiKote to each ball, ensuring that you coat inside the indentations as well. Allow 2-3 hours dry time between each coat.

Sand the entire surface to remove any rough edges.

Using flat paintbrush, paint entire ball and inside the indentations with Americana Russet.

Using flat paintbrush, Add a coat of Weathered Wood crackle medium. Allow to dry for 60 minutes.

Avoiding the indentations and only painting the surface of each ball, use a flat paintbrush to paint one ball with Americana Camel, one with Americana Buttermilk, and the third one with Americana Mink Tan.

Use flat paintbrush to apply a coat of DuraClear Satin Varnish.
Expert Tips & FAQs
Be careful when carving numbers that intersect (4, 8, etc) so that you don't cut through the foam that holds the freestanding middle sections together.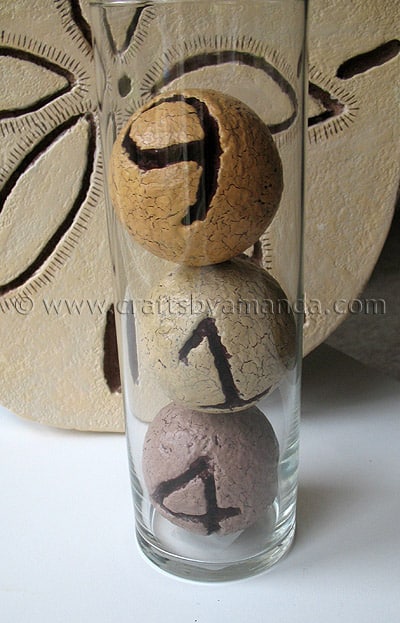 ');

Latest posts by Amanda Formaro
(see all)