There are tons of fun recycled projects that you can do to reuse, repurpose and bring life back to things you no longer have interest in using! As computer systems are continually upgraded, CDs become obsolete. Games, music, promotional DVDs, all are great projects in the making! Recycled CD Coasters are turned into a chic set of coasters that are beautiful and useful.
Recycled CD Coasters
Aren't they pretty looking? What's fun is that you can customize these to your taste. Mismatch fabrics to suit your personal style. The possibilities are endless to how you can decorate these. Play them off the colors of your kitchen, living room, bedroom or office. There's something satisfying about being able to repurpose something old, into something new. Don't you agree?
Spread these out on your coffee table, your kitchen table or on a nightstand to display your recycled project! Next thing you know, people will be asking how you made them.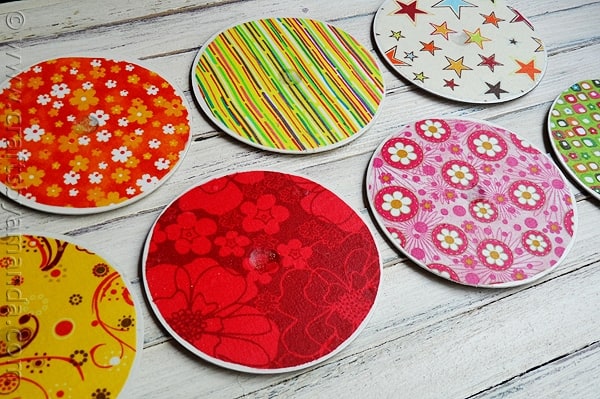 I have a drawer in my craft room dedicated to old DVDs and CDs that I refuse to throw in the garbage. I made these coasters a few months ago and they are still holding up beautifully. In fact, I have one sitting right next to me as I type this with a coffee cup atop it!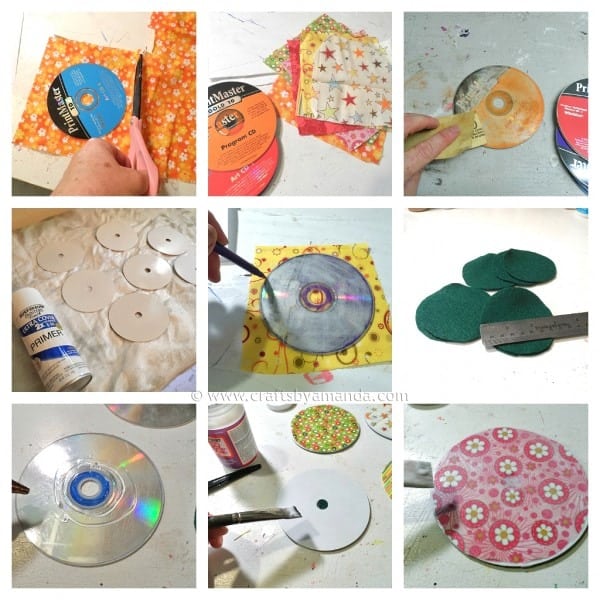 These were really easy to make and I think the results are fabulous.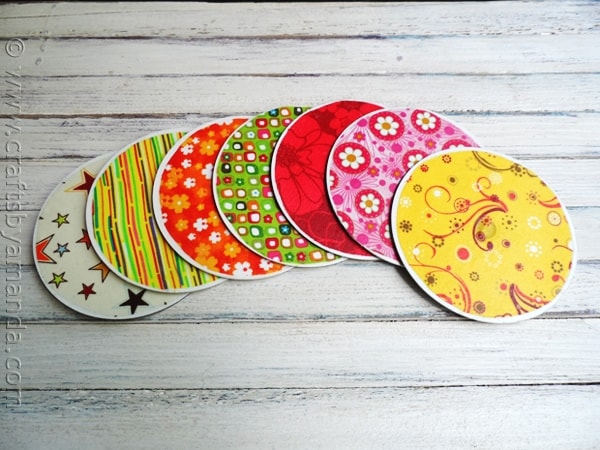 Looking for a great gift for the holidays?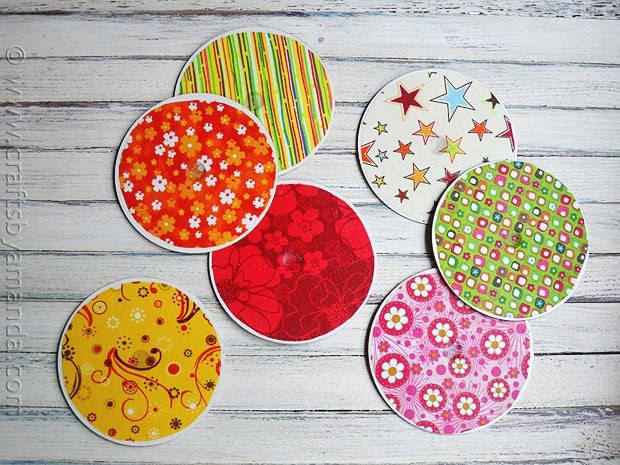 Guarantee these recycled CD coasters will be a unique and appreciated gift. :) If you liked this be sure to try our crocheted pizza coasters.
I'm a big fan of reusing things that no longer serve their purpose or that I no longer need. What are some ways you've reused or repurposed something?
Check out some of these great ideas we've compiled over the years to revive things and bring them back to life with a new meaning!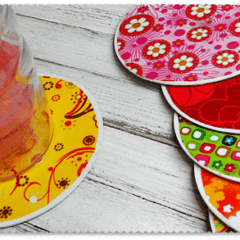 Print Project
Recycle Craft: CD Coasters
Turn those old CDs into gorgeous coasters for your porch, dining room, or anywhere else they will be useful!
Supplies
Recycled CDs or DVDs

Colorful fabric

Sand paper

White spray primer

Felt

Hot glue gun

Sharp scissors

Mod Podge Hard Surface
Instructions
Trace a CD onto your fabric. Repeat for as many different fabrics you want to use.

Lightly sand off the side of the CD that has a design or writing on it. You don't have to sand everything off, just take the gloss coat off.

Spray 2 coats of primer onto the CDs, allowing for proper dry time in between coats.

Cut the circles out of the fabric, cutting them a little smaller than the traced circle to allow for some "border" around your coasters.

For each coaster, cut a 3-inch circle from the felt.

When primer is dry, hot glue the felt circles to the bottom of the Cds.

To the top of the CD add a coat of Mod Podge. Gently press the fabric circle onto the coated CD and press out any wrinkles or creases. Allow to dry for 20 minutes before continuing.

Apply two coats of Mod Podge to the top of the CD over the fabric, allow 2 hours dry time in between coats.
Latest posts by Amanda Formaro
(see all)