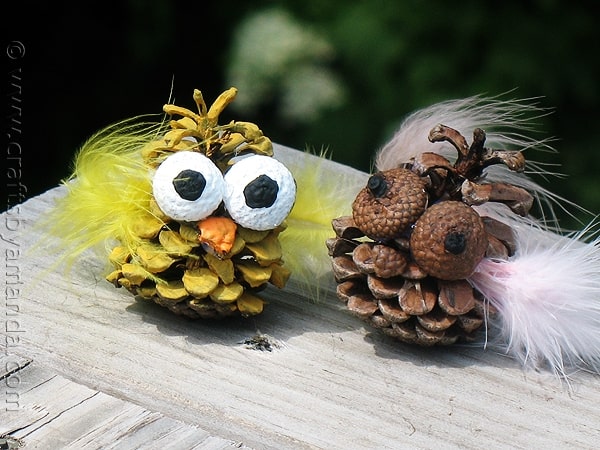 I can't believe that school will be letting out in just a few weeks! With the end of school comes the beginning of summer. With summer comes summer camp for some families. Whether these cute little pinecone owls are made as a summer camp craft or just something fun for the kids to do on summer break, they're adorable and will look great perched in your child's bedroom or bunk.
If you are concerned about little bugs in your pinecones that's easy to remedy. Turn your oven on to 250 F and bake your pinecones for 45 minutes. Let them cool and you are ready to go.
Pinecone Owls
For each owl:
1 pine cone
3 acorn tops
hot glue or instant grab glue
2 small feathers
acrylic craft paint (optional)
If not painting, glue 2 of the acorn tops onto the pine cone, next to each other for the eyes.
From the third pine cone, cut a triangle shape for the beak and glue under the eyes.
Glue a feather into the side of the pine cone, repeat on the other side.
If you would like a colorful owl, paint the pine cone whatever color you desire.
Next, paint the acorn tops white and let dry, then use the handle end of a paintbrush to add the black pupils. Paint the beak orange.
Once everything is dry, assemble as instructed above.
Hint: Acorn tops can be soaked in water to loosen any caked on dirt. You can gently scrub them with an old toothbrush using baking soda. Bake in a 250 F oven for 45 minutes to dry.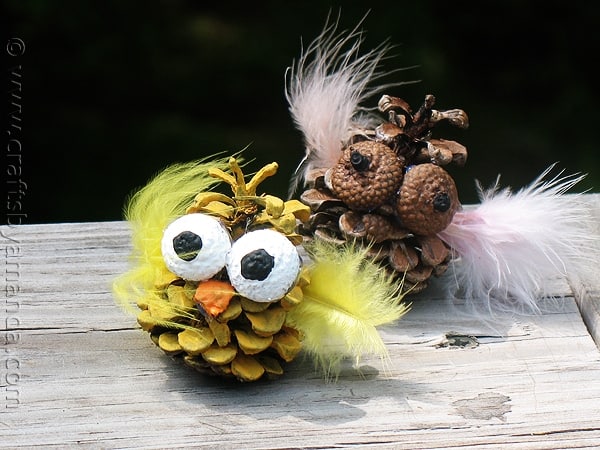 And look at these!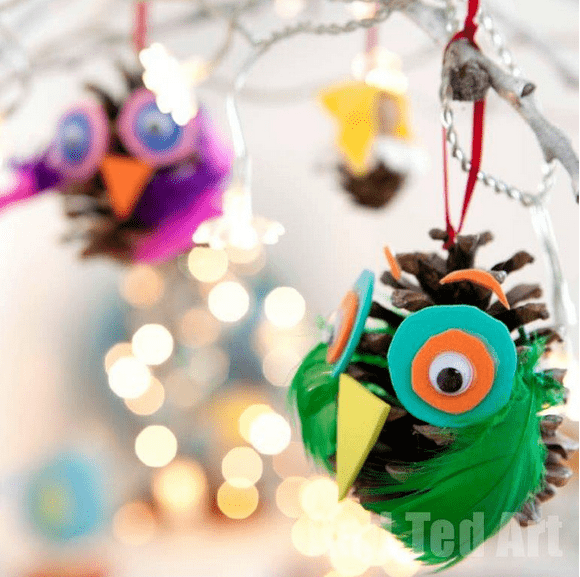 Here's my friend Maggy's version of the Pinecone Owl, aren't they cute!?

---