One of our favorite family traditions is movie night together, featuring some themed snacks based on the movie and often a kid's craft or fun recipe to go along with it! Our most recent family movie night featured porcupine cupcakes for the movie SING – a wonderful, funny, heartwarming film with great music and a fantastic cast.  This post is in partnership with Universal Pictures Home Entertainment.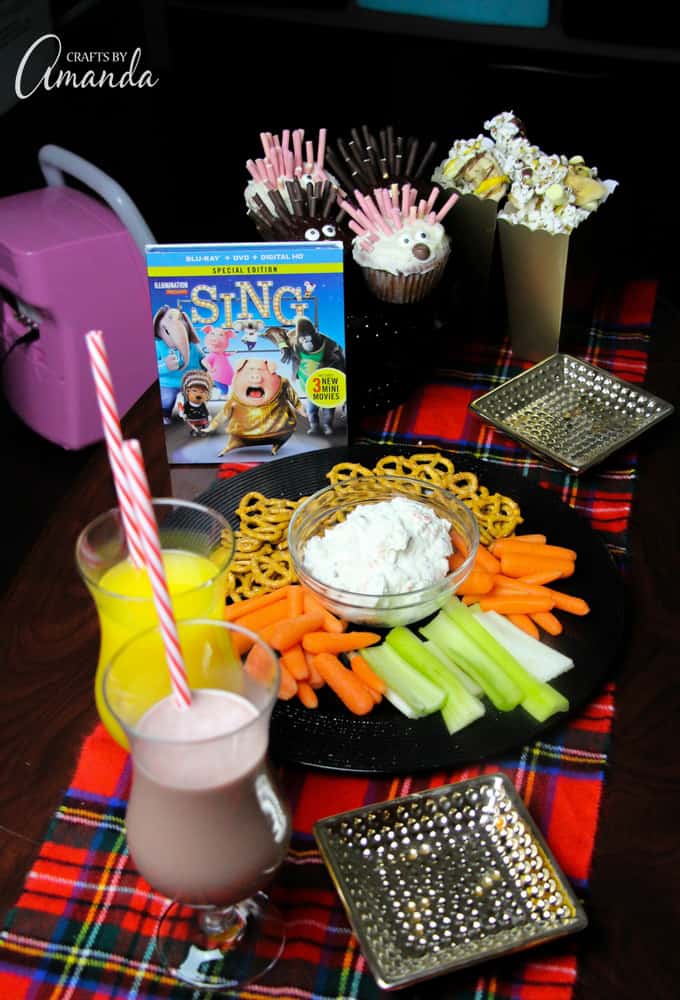 SING Family Movie Night
We come from a long line of musicians and even have a stage in our living room so you can imagine that we were pretty excited for the DVD and Blu-ray release of SING Special Edition. I knew we'd have to involve a karaoke element into the night so we could sing along to all of the fun songs in the movie – there are over 65 of them… and what's a stage and karaoke without some flashy decorations?!
I strung up some cute silver and gray decorations to add some glamor to our stage and added a simple tartan scarf as a makeshift table runner to our coffee table. It works as a fun homage to the movie's punk rock porcupine, Ash, who I thought might become one of my daughter's favorite characters.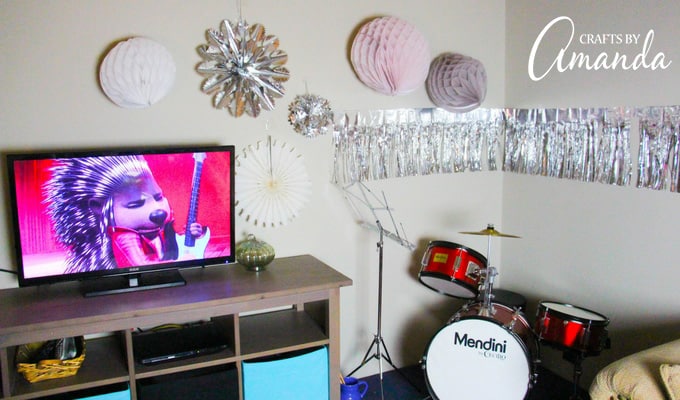 This movie made planning our snacks easy – there are so many awesome animal characters with big personalities that you can have a lot of fun creating treats based on them.
Before we cover the goodies, you might want to watch the trailer for this fun family flick!
We went with:
Porcupine cupcakes
Gorilla munch popcorn
Vegetables and dip
Pretzels
Drinks of choice – since we'd be singing up a storm!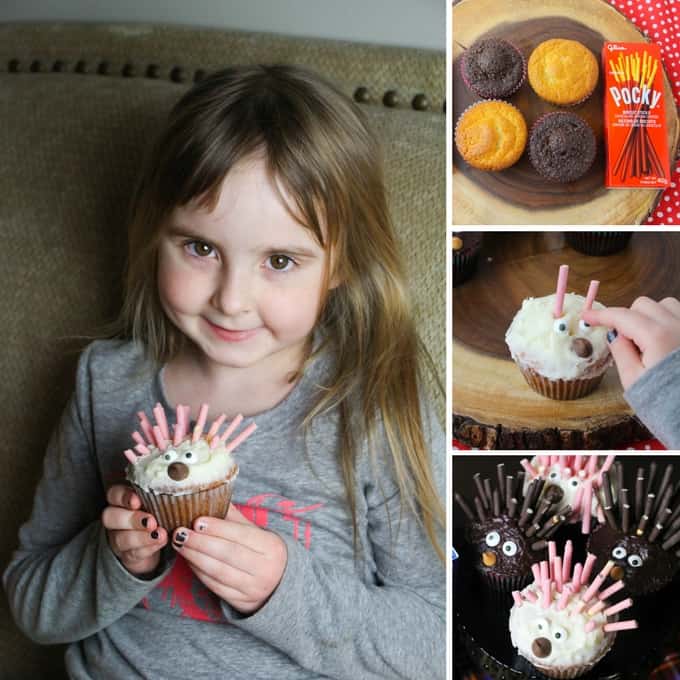 Porcupine Cupcakes
These delicious chocolate and white chocolate cupcakes are inspired by the character Ash, a punk rock porcupine with a beautiful voice behind her prickly exterior. There are tons of great appetizer and snack ideas that you can make for this party!
These porcupine cupcakes were extremely easy to make – I prepared a few ahead of time and set out the supplies for my daughter to make her own during the movie.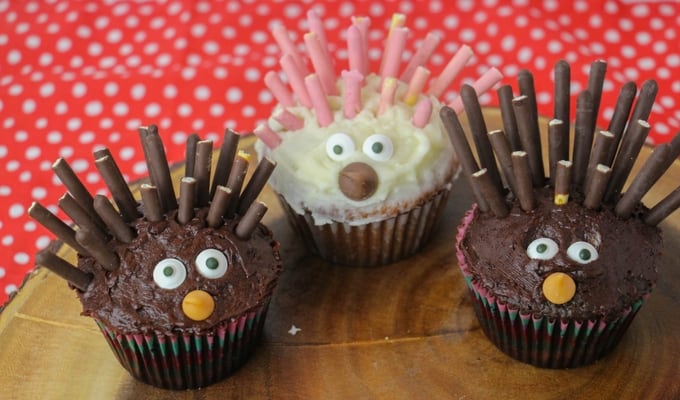 What you need to make porcupine cupcakes:
Chocolate cupcakes
Frosting (I used a thick chocolate ganache and a thick white chocolate ganache, respectively)
Pocky Sticks
Candy Eyes
Chocolate chips and butterscotch chips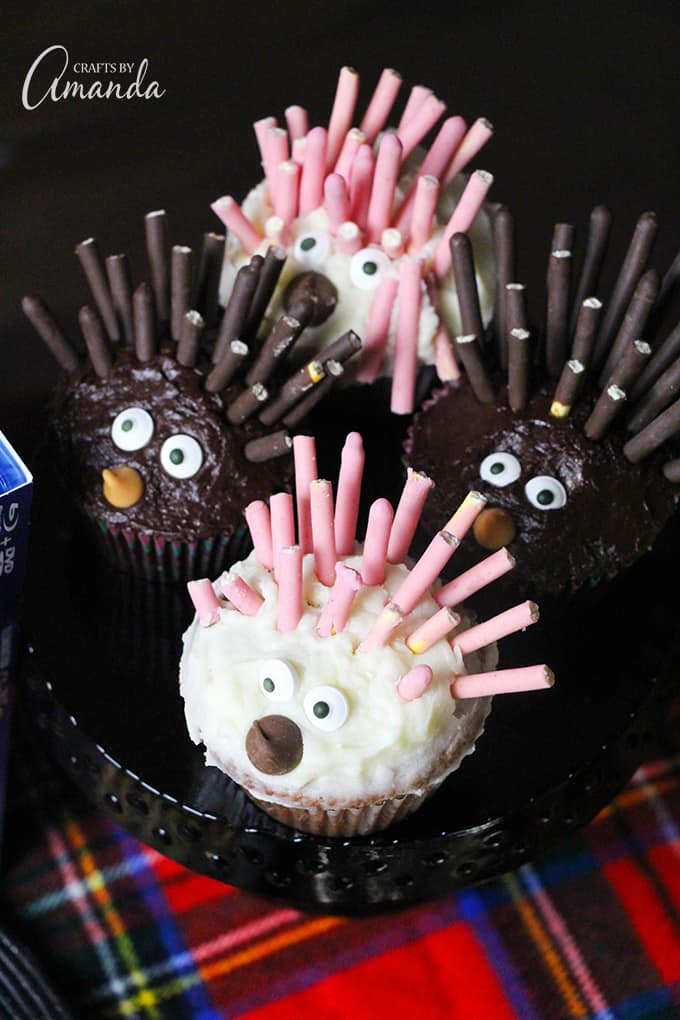 How to make porcupine cupcakes
Frost the cupcakes with a thin layer, just to serve as a sticky base for all of the cupcake decorations.
Set out the candy eyes and chocolate chip nose towards the edge of the cupcake.
Break the chocolate and strawberry Pocky Sticks into 1-2″ pieces to form Ash's quills and arrange them how you think looks best.
A cute liner or a ribbon tied around the cupcake is a great way to add some extra flare. (You need a thin ribbon for that – I could only find a 1/2″ ribbon and it was too thick for this purpose.) Now you have adorable porcupine cupcakes!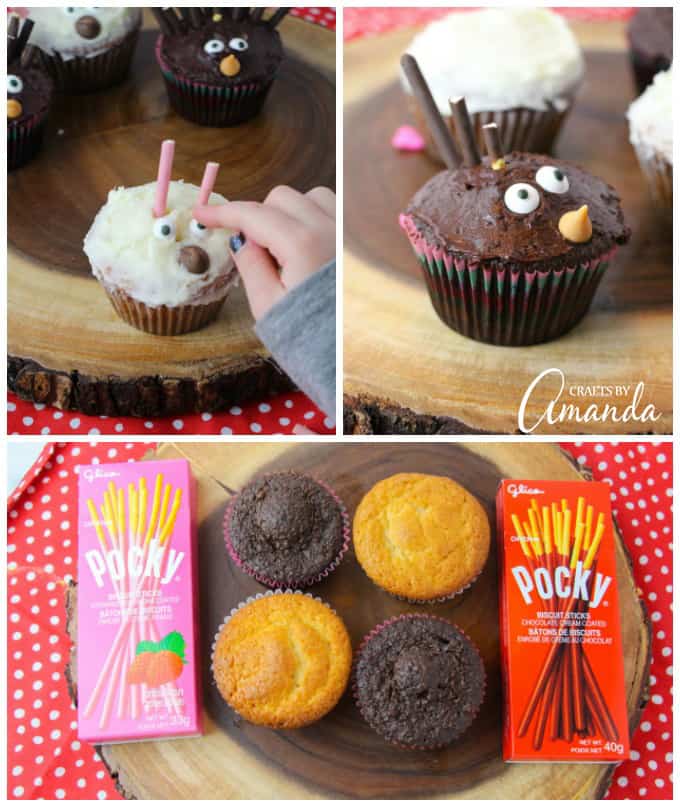 How to Make Gorilla Munch Popcorn
This delicious and crunchy popcorn mix was inspired by Johnny, a crooner and young gangster gorilla looking to break free of his family's felonies.
This snack is another easy one for the kids to help with – I made the popcorn and melted the chocolate myself and let it cool before I let her take over.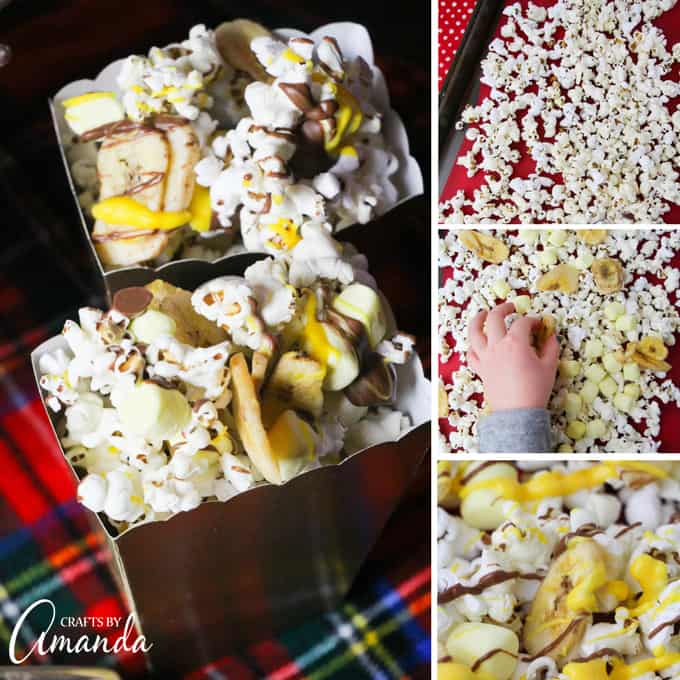 You will need:
4 cups of popcorn
1 cup banana marshmallows
1/2 cup banana chips
1/4 cup chocolate chips
1/4 cup yellow melting chocolate
2 teaspoons coconut oil
Make the popcorn and lay it all out on a cookie sheet.
Melt the chocolate chips in a microwave-safe container for 25 seconds, stir, and reheat as necessary. Stir in 1 teaspoon of the coconut oil to make it super smooth.
Repeat with the yellow melting chocolate and final teaspoon of coconut oil and set aside.
Sprinkle the banana marshmallows and banana chips over the popcorn as evenly distributed as you can.
Using a spoon, drizzle the chocolate and yellow chocolate over the popcorn mix. (Quick, careful swoops of your hand are the best motions for a light, pretty drizzle.)
Let the chocolate set (you can speed this process up by popping the tray in the freezer or fridge) and break into pieces to serve.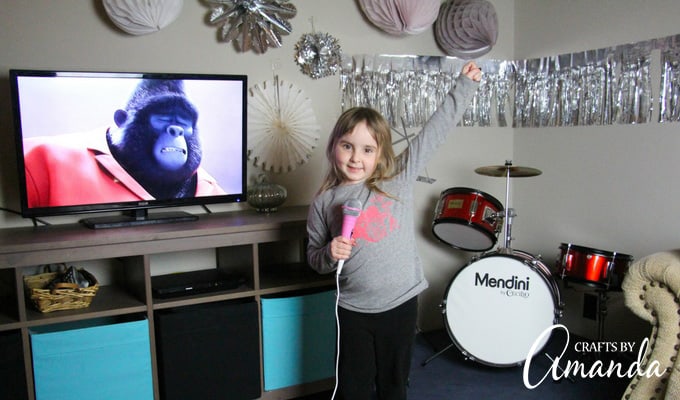 We had a blast making our porcupine cupcakes and other snacks in anticipation of our movie night and then snacking on them as we watched (and rocked out to) SING!
SING Special Edition features over 60-minutes of bonus content and three all-new mini-movies featuring the cast from SING as well as an exclusive Tori Kelly music video – get your copy today!
Latest posts by Jennifer Tammy
(see all)