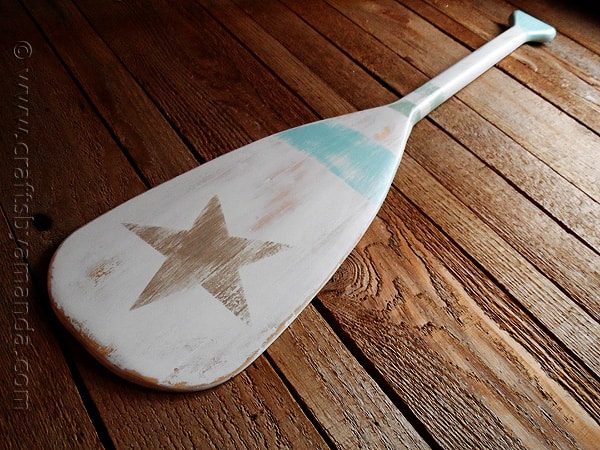 I have to admit, Pottery Barn has some pretty amazing stuff. The problem with Pottery Barn though, is if you want to buy something you find on Pinterest or a blog, most likely it's no longer available. By the time the picture makes its rounds and gets to you, it's gone. Or maybe you're just like me, and you'd prefer to make one of your own.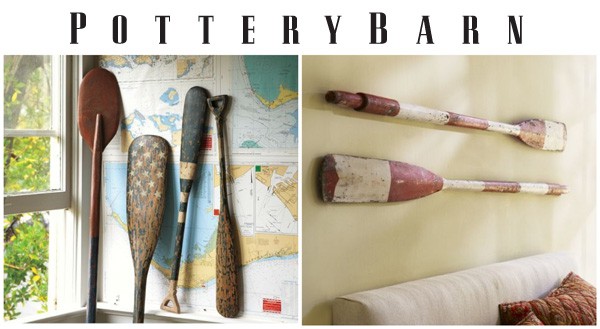 I had pinned these Weathered Painted Oars and these Striped Oars from Maine from Pottery Barn until I could find an oar or two to work with. I wasn't sure what design I would use quite yet, but ended up drawing some inspiration from the one with stars and from the striped red ones. I wanted colors to match my bathroom though, not red or navy blue.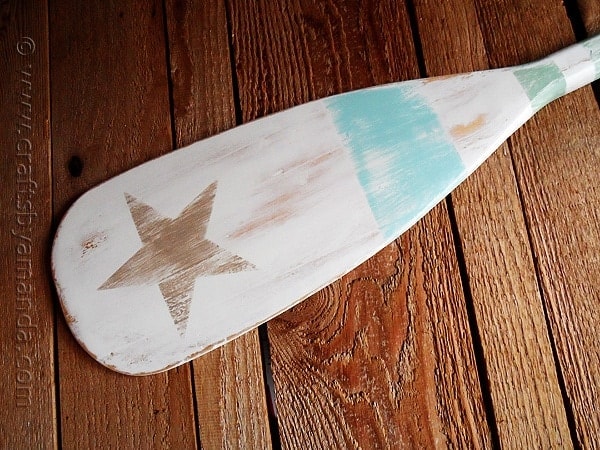 Luck would have it that I would come across an oar at the flea market a few weeks ago.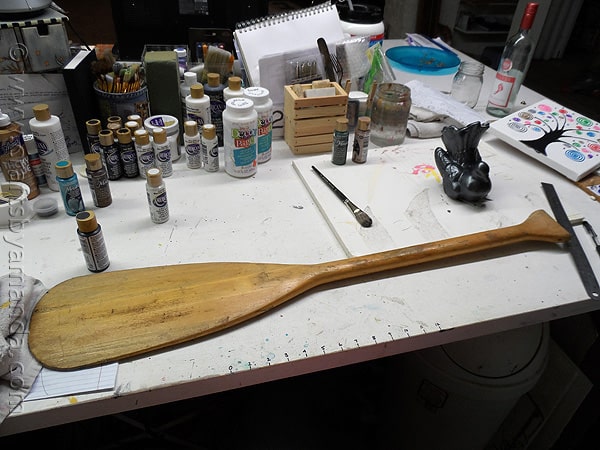 I paid $4.00 for it. Such a deal! I'm still on the look out for more…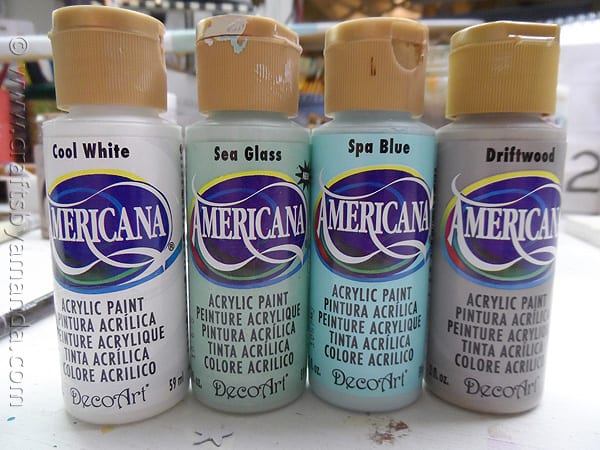 I decided on Americana acrylic paint in Cool White, Sea Glass, Spa Blue, and Driftwood.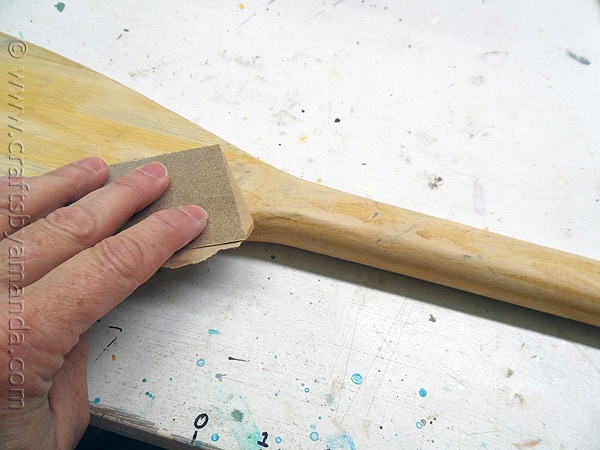 First I sanded the entire surface to knock the shine off of it.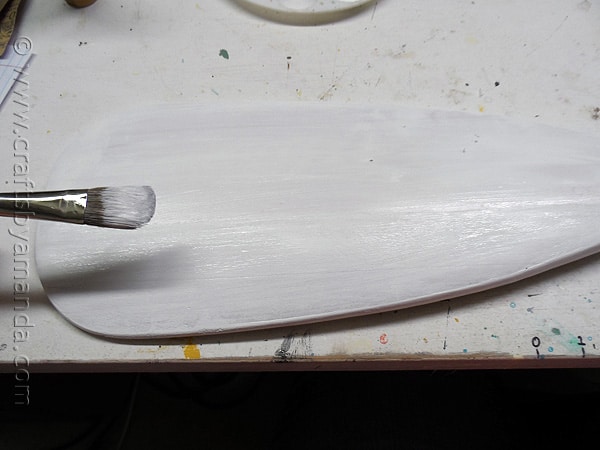 Then I painted it with Cool White. It needed two coats.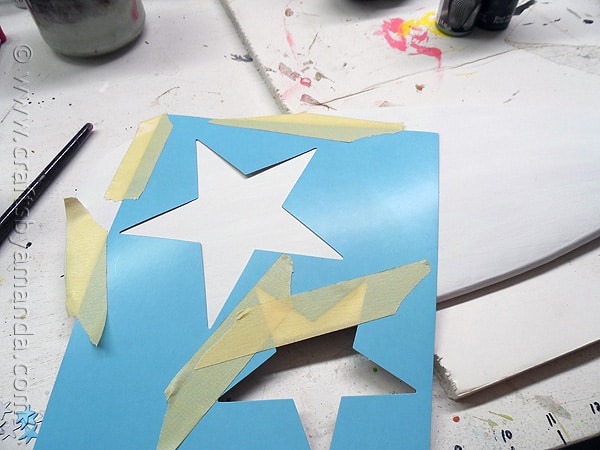 I positioned a star stencil onto the oar and secured it with masking tape.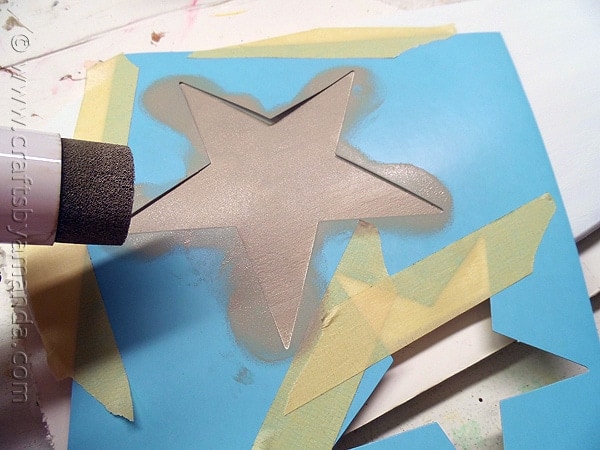 Then I pounced on the Driftwood paint onto the star stencil.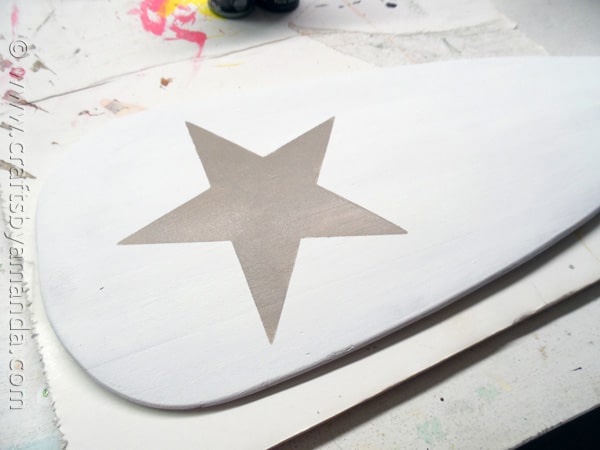 Lovely!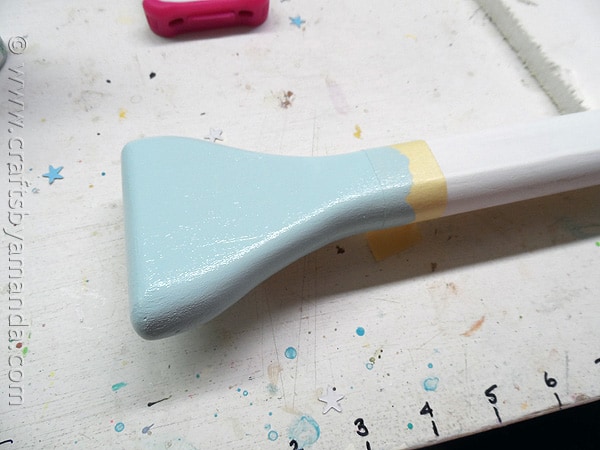 I taped off the handle and painted that Spa Blue.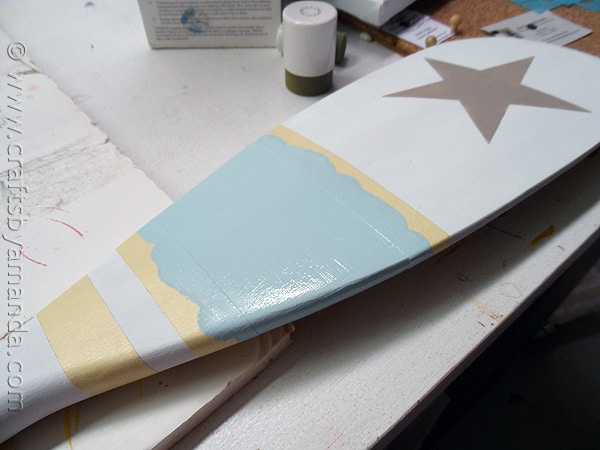 I used tape to make stripes at the top. I painted the largest section Spa Blue…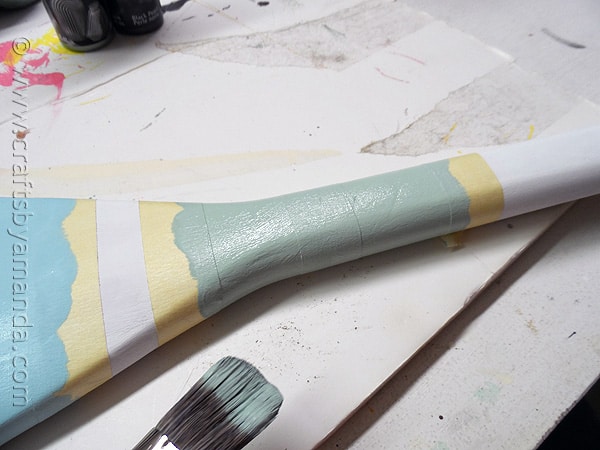 And two smaller stripes with Sea Glass.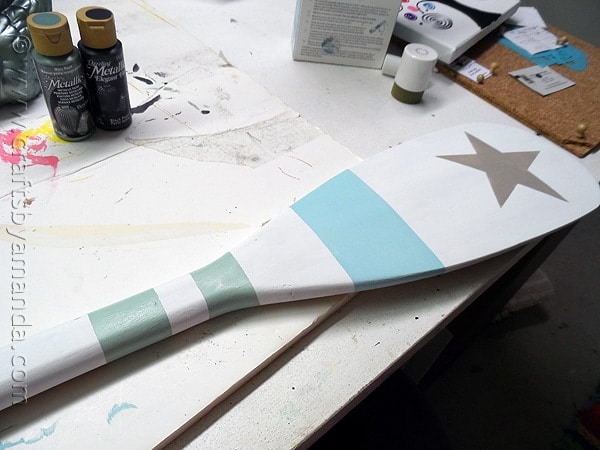 Remove the tape and voila!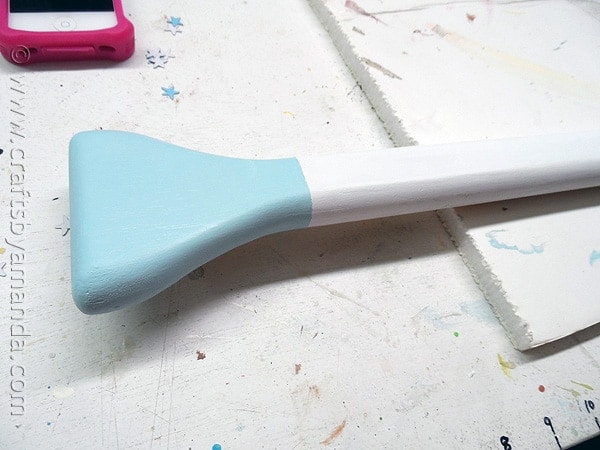 Nice!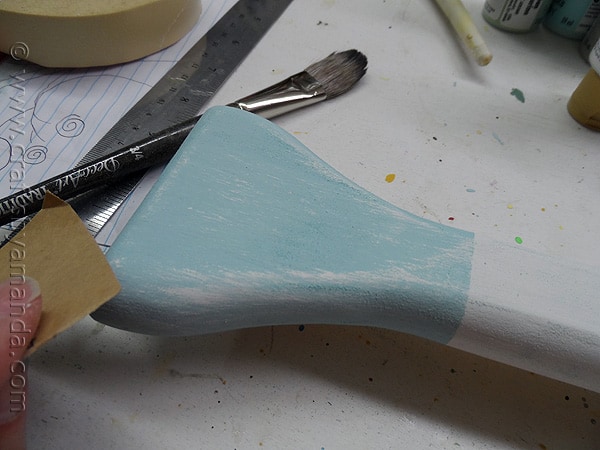 Next, I sanded…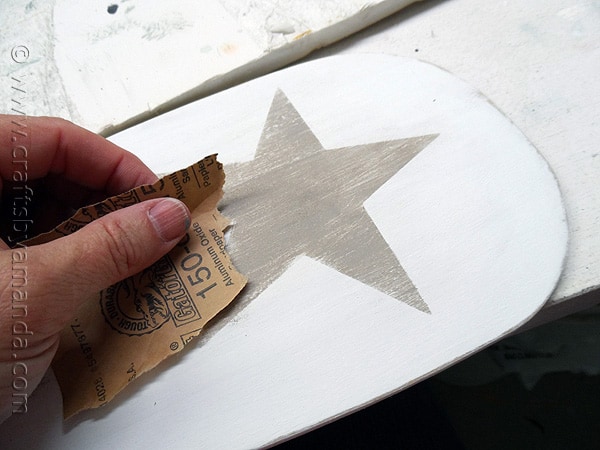 and sanded…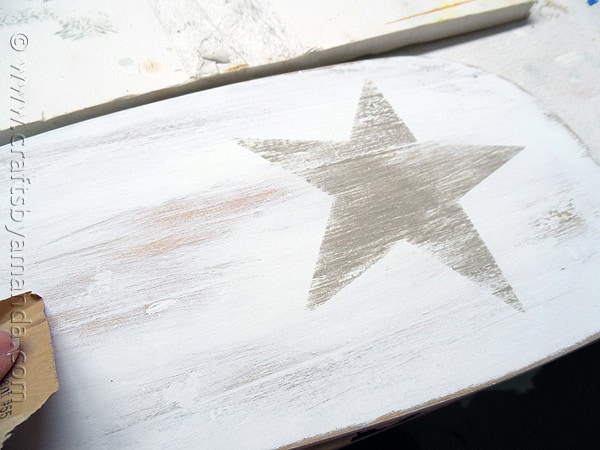 and sanded some more.
Finally I sprayed a coat of Americana acrylic sealer in matte finish. All done!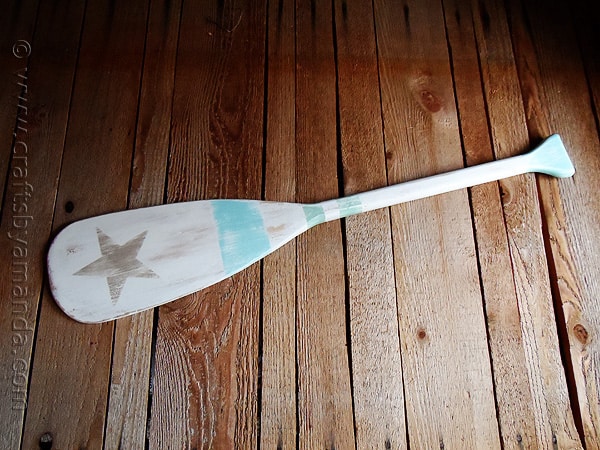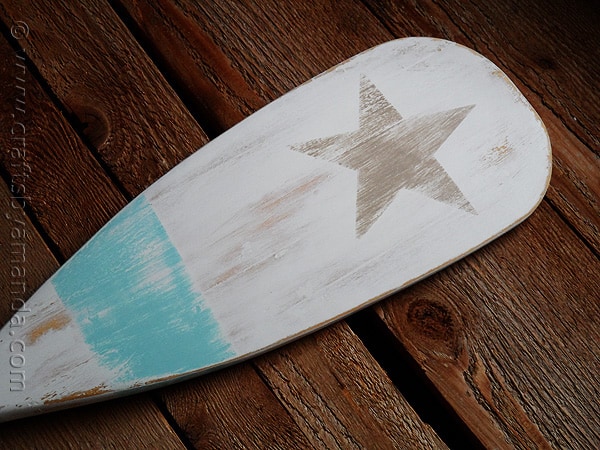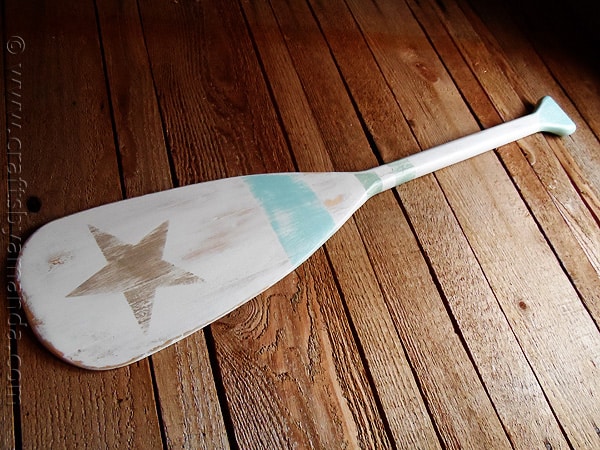 I am a DecoArt Core Blogger. I was compensated for this post, but have always loved DecoArt products! Therefore, all opinions expressed here are 100% my own.
Amanda Formaro is the crafty, entrepreneurial mother of four children. She loves to bake, cook, make kid's crafts and create decorative items for her home. She is a crafting expert and guru in the kitchen and has appeared online and in print publications many times over the years. She is also the editor for the Home & Garden channel at Craft Gossip and owner of FunFamilyCrafts.com.
Latest posts by Amanda Formaro (see all)