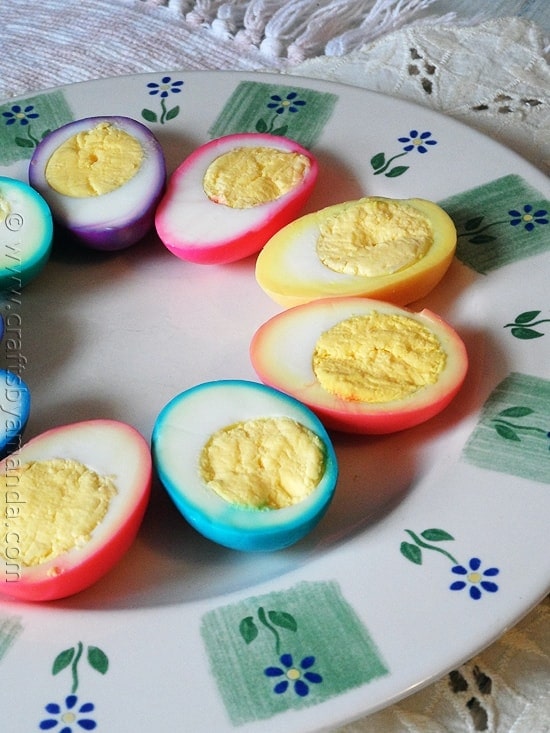 Usually when you think of colored Easter eggs, it involves boiling them first and then dyeing the outer shells. Of course, once you peel the eggs, the fun is gone and you are left with a plain white boiled egg. This year, peel the eggs first and then dye them to create a rainbow of colored Easter eggs that kids and adults will love!

I originally made these pretty eggs for my Chicago Tribune column. I've actually been wanting to experiment with these for a while after trying pickled beet eggs.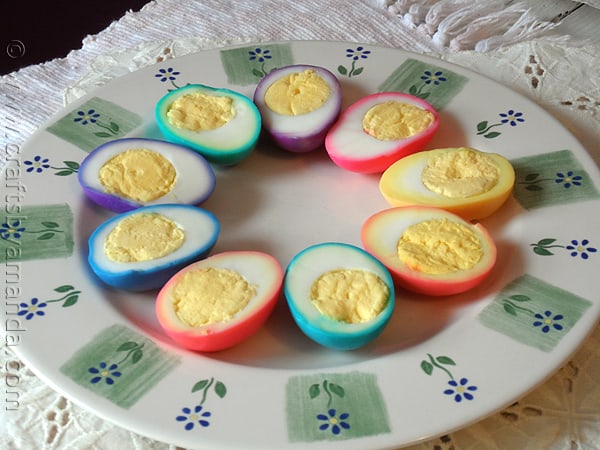 I also write articles for Home Made Simple and they needed a picked beet egg recipe. When you make them, you peel them first and soak them in a colored water and vinegar mixture that is a deep purple, made so by the beets. I loved the idea of creating the same beautiful ring around my eggs, but wanted to do it with different colors. I wasn't really sure if regular food coloring would do the trick.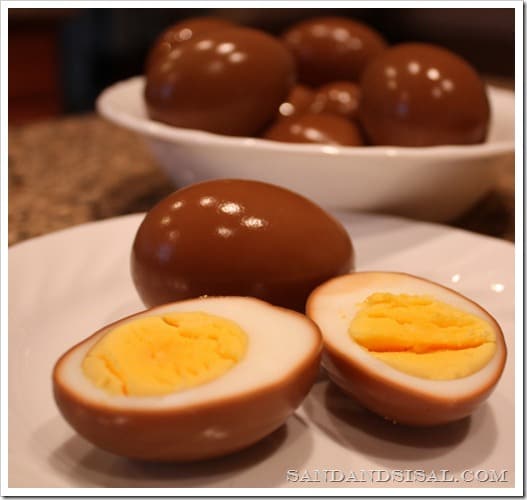 I searched, but never really found anything quite like it. I came across several posts where the boiled eggs are cut in half, yolks are carefully removed, and the whites are soaked to make the entire yolk a solid color. While I had the idea already in my head and wanted to try it, it was when I saw Kim's football eggs that I knew it would work.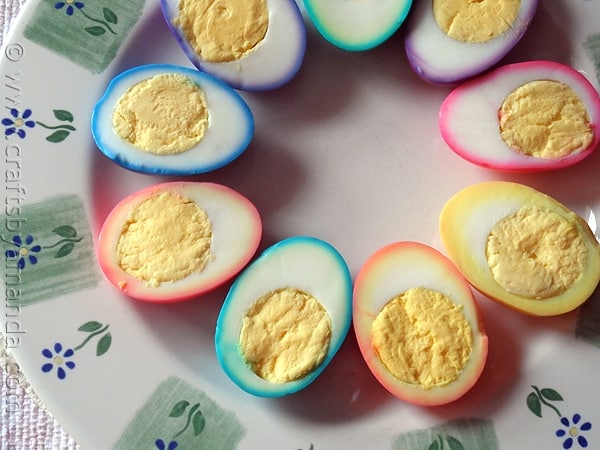 This method does not require vinegar, nor does it require gel/paste food coloring. You can use simple liquid food coloring for this. The colored Easter eggs you see in this post were made with regular liquid food coloring. You can certainly use paste/gel food coloring as well, but it's more trouble trying to get the gel to dissolve in the water, and the color is no more vibrant than my method. Trust me, I tried several different ways and went through 3 dozen eggs to get the desired results!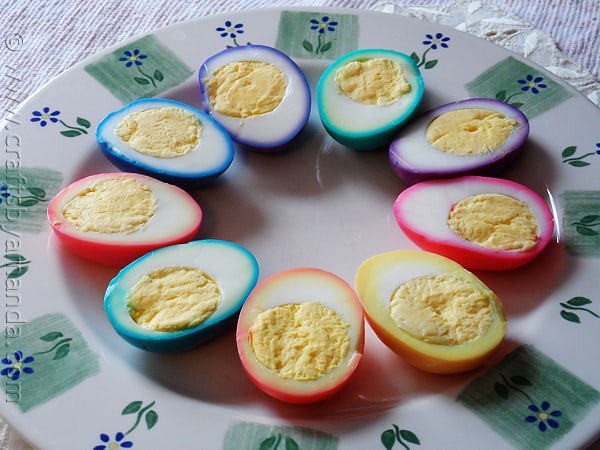 Ready?
First off, cook your eggs and peel them right away. I have found that the best way is to place the eggs in a saucepan, cover with water and bring to a boil. Boil for 3 minutes, turn off heat, cover and let stand for 12 minutes. Remove the lid and run TEPID water over them for several minutes to cool them off. I don't use cold water because it tends to "tighten" the shell around the cooked egg, whereas tepid water does not. Peel right away, but don't cut the eggs.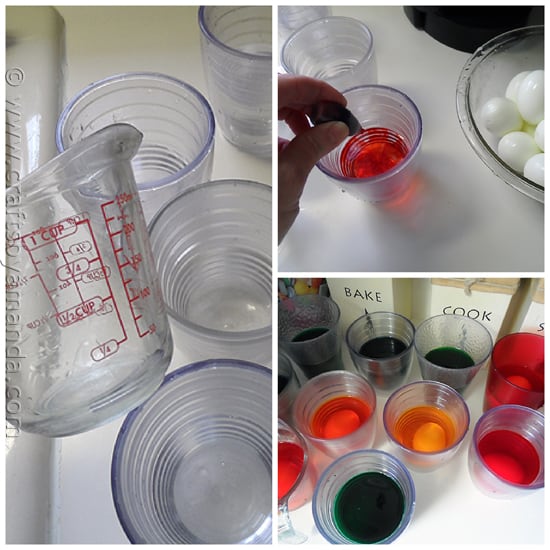 You will need a mug or short drinking glass for each color you wish to use. You can follow color mixing suggestions on the back of your food coloring box, or use the suggestions below. You can also make your own, just keep in mind you will need 20 drops of food coloring to 1/2 cup cold water:
Color variations:
Follow the suggestions below or mix up your own. And of course, use the colors on their own for the basic colors (red, blue, green, yellow).
Orange: 17 drops yellow, 3 drops red
Purple: 15 drops blue, 5 drops red
Grape: 12 drops blue, 8 drops red
Teal: 15 drops green, 5 drops blue
Pink berry: 14 drops red, 6 drops blue
Yellow-green: 14 drops green, 6 drops yellow
Drop an egg into each cup and let sit for two hours. You can place them in the refrigerator if you like.
Remove the egg from the colored water and rinse it off. Now you can slice it in half to reveal the beautiful rings around the whites of the cooked egg!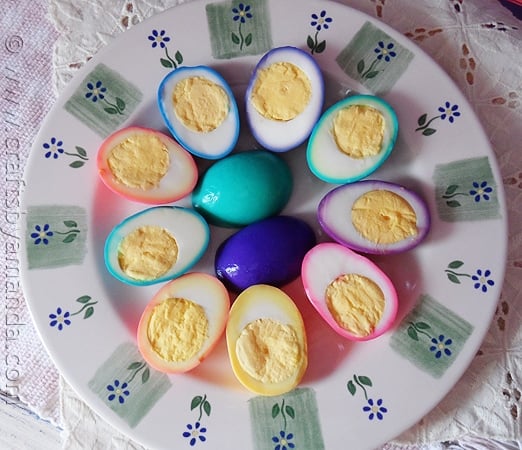 And, just in case you are wondering how these would look at deviled eggs or egg salad… :)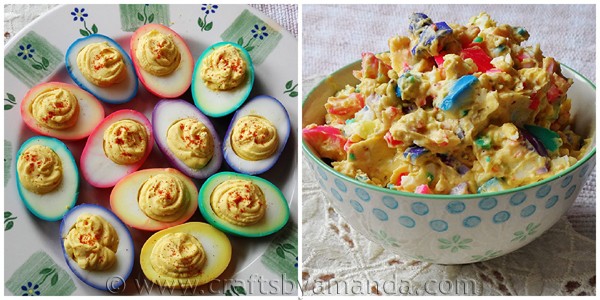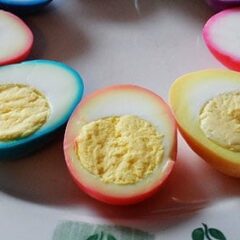 Print Project
Rainbow Colored Easter Eggs
Supplies
Food coloring

Eggs

Water

Cups

or mugs
Instructions
Place eggs in a saucepan and cover with water. Once water comes to a boil, continue to boil for 3 minutes then remove from heat and cover the pan. Let sit, covered and undisturbed for 12 minutes. Run tepid (not cold) water over the eggs until they can be handled. Cold water can make the eggs tighten and harder to peel. Peel shells off the eggs.

Mix 20 drops of food coloring with ½ cup water in a mug or small cup. Place egg into colored water and allow them to sit for two hours. Remove eggs from the colored water and rinse well. Slice in half to reveal the beautiful rings around the whites of the cooked egg!
Expert Tips & FAQs
Color Variations
A package of food coloring comes with red, green, blue and yellow. Below are some combinations you can try to make different shades: Orange = 17 yellow, 3 red
Purple = 15 blue, 5 red
Teal = 15 green, 5 blue
Pink Berry = 14 red, 6 blue
Yellow Green = 14 green, 6 yellow
Latest posts by Amanda Formaro
(see all)