I love ladybugs. :) Ladybug crafts are always cute, they make you smile, and they are easy for kids too. I have a tendency to give everything that's round and red a second look. Could that be turned into some sort of ladybug?? You've probably already seen my plastic lid ladybugs, and my paper plate ladybugs, so it's probably no surprise that I'm posting yet another ladybug project.
My daughter, Kristen, is 16, so making crafts that she'll use or display in her room is a bit trickier than it was, say, 10 years ago! Used to be that anything cutesy was welcomed in with open arms. Now? Not so much. She seems to have the same love of ladybugs that her mom does though, so I knew this would be put to good use. Can you see what's inside the jar? Those are little ladybug shaped thumbtacks I found on clearance at WalMart, cute!
Kristen and I love to make homemade mocha frappacinos, and because of that, we tend to go through quite a few of those little plastic jars of instant coffee. As soon as I saw the empty jar with the red lid, I knew exactly what I was going to turn it into! The only real issue I ran into was some sticky glue from the label that just didn't want to budge. I was able to get it off with Goo Gone, but I scratched the plastic surface using my kitchen scrubber sponge getting the goo off.
So I remedied that by using a simple foam stamp and black paint to add a bug to the scratchy spot.
Recycled Ladybug Jar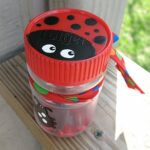 Print Project
Recycled Ladybug Jar
Supplies
plastic or glass jar with lid

red

black and white acrylic craft paint

paintbrush

bug foam stamp

red polka dot fabric

scissors

sealer spray
Instructions
Put lid on jar. If the lid is not red, paint it red. I added a thin coat of red to mine because it was a little cloudy looking.  Paint a black semicircle at one end of the lid. Use the handle end of the paintbrush dipped in black paint to add different sized spots. Let dry.

While that is drying, paint the surface of your foam stamp with black paint and press it onto the surface of the front of the jar. For mine, since I was using the bug to cover up a boo boo, I made sure that I painted the ladybug head (semicircle) on the lid to line up with the boo boo. Let dry.

use the handle end of the paintbrush dipped in white paint to add eyes. Let dry. Use a small paintbrush, handle end, dipped in black to dot on pupils. Let dry. For the tiny whites on the eyes, you can dip a toothpick in white paint, or use a white paint pen.

Use the handle end of a small paintbrush to add white dots to the back of the stamped bug. Let dry.

Wrap a piece of red polka dot fabric around the jar and tie in a bow, trim the ends. Give everything a quick burst spray of sealer.
I'm participating in the following craft carnivals. To see some other awesome projects, be sure to visit them!
Latest posts by Amanda Formaro
(see all)