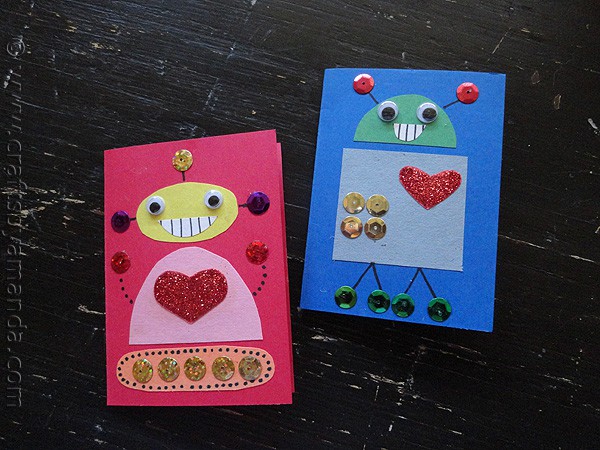 These cute and sparkly robot Valentines are perfect for any child, boy or girl! Use simple supplies such as construction paper, sequins and glitter to create your own fun robot designs.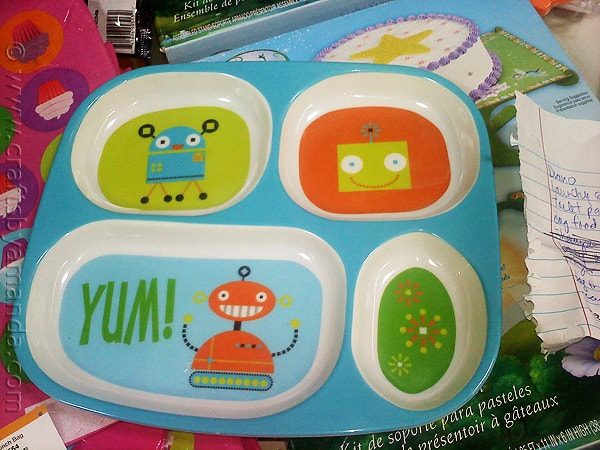 I was walking through Walmart's clearance section one day when I saw this cute toddler plate. So adorable right? Well I don't have toddlers at home anymore, but I knew those sweet little robots would come in handy one day, so I snapped a picture of the plate with my cell phone.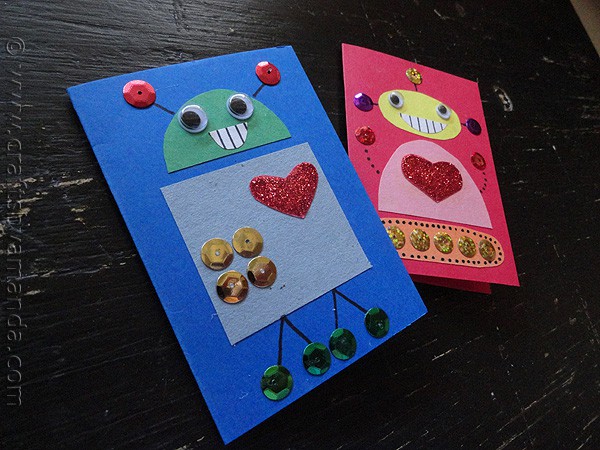 Then I needed a design for a Valentine card that kids would like. It can be hard sometimes to come up with designs for boys that girls will like too. Seems like the entire Valentine's Day holiday is geared toward girls. Lot of hearts, lips and mentions of love, enough to make little boys scrunch up their noses!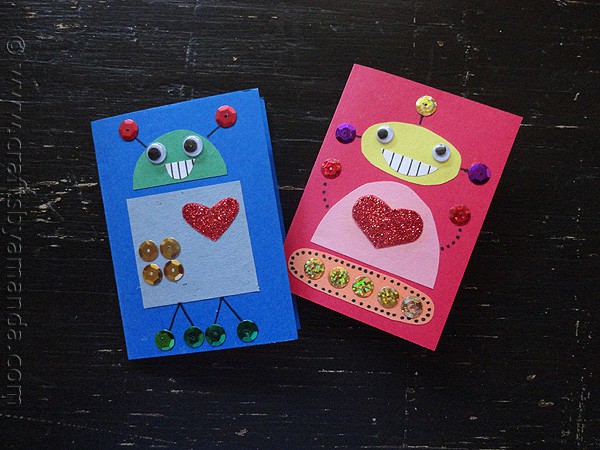 However, robots have boys written all over them! All I had to do was add in a few girly features and colors to one of them, and bam! Robot Valentines fit for both boys and girls.

There are printable instructions available below, but basically you'll fold your card stock into cards and cut your robot shapes from construction paper.

Use a glue stick to attach the pieces to the cards and use a marker to add the arms , antennas, etc.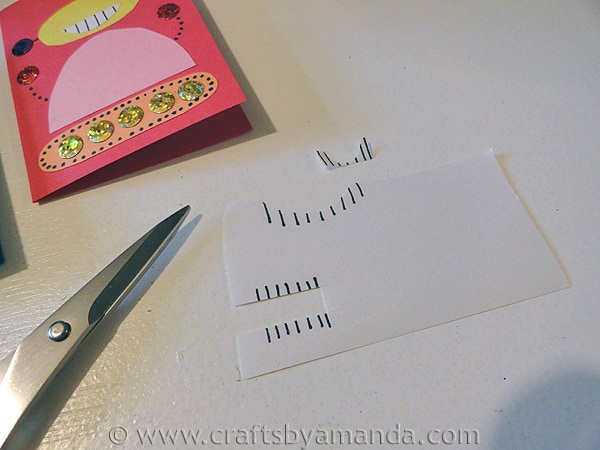 Add embellishments… I made the teeth br drawing lines on paper then cutting the mouth shapes from them.

Make glitter hearts like so…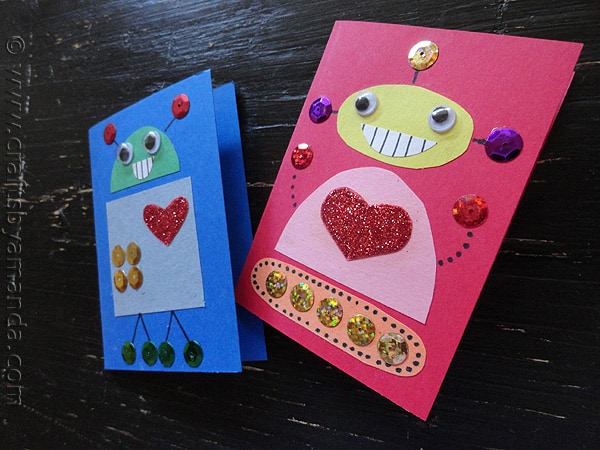 And that's it! Fun huh?
More Robot Valentines
Robot Candy Valentine – Lisa Storms
Treat Transmitters – Spoonful.com
More Cute Robot Crafts
Build a Robot – The Art Annex
Blue Foam Robot – Styrofoam Crafts
Cardboard Tube Robot – Red Ted Art
Juice Box Robots – Gifts That Say Wow
More Fun Valentine Card Crafts
3D Valentine's Day Cards – Juggling With Kids
Valentine Scratch Off Cards – Creative Carmella
Easy Photo Card – FamilyCorner.com
Robot Valentines
Supplies
Card stock
Construction paper
Sequins
Marker
Googly eyes
Glue stick
White craft glue
Scissors
Red glitter
Directions
First cut and fold card stock into cards. Use scissors or a paper cutter to cut some simple shapes from construction paper. Use the glue stick to attach the shapes to the card stock.
Draw arms, legs, and antennae on with a fine point marker. You can decorate them with a marker as well if you like.
Embellish the robots with sequins, using white craft glue to attach them as antennae tops, hands and wheels. To make the mouths, draw vertical lines on a piece of white paper then cut a half-circle shape so that the lines look like teeth.
Use your finger to spread some white craft glue onto a piece of construction paper then cover with red glitter. Knock off excess and cut two hearts from the glittered paper. Glue stick the hearts to the robots. Finally, use white craft glue to attach the googly eyes.
Amanda Formaro is the crafty, entrepreneurial mother of four children. She loves to bake, cook, make kid's crafts and create decorative items for her home. She is a crafting expert and guru in the kitchen and has appeared online and in print publications many times over the years. She is also the editor for the Home & Garden channel at Craft Gossip and owner of FunFamilyCrafts.com.
Latest posts by Amanda Formaro (see all)