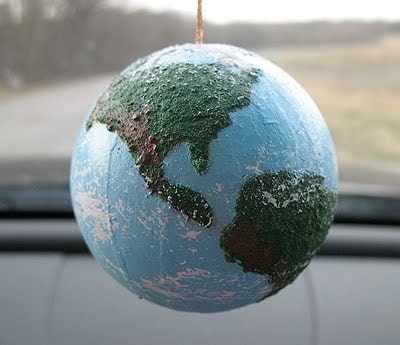 As you probably already know, I have been making crafts for Kaboose.com for over four years now. I have a select handful of favorites, even though I've made over 500 for them to date! (wow, I still gasp when I think about that!) Usually I hold on to the projects for about a month, just in case there are any changes or new photo shoots needed, but after that I donate them to my kids' elementary school. They display them in the office, library, and various other places in the school.
Some I keep for me, though. This globe is one of those keepers. I just love it. I love the way it came out, how it feels, and the comments I get when someone gets into my car for the first time. I have this globe hanging from my rear view mirror. I love all sorts of globe projects and look forward to making more.
Here's a close up, can you guess how I got the continents so textured?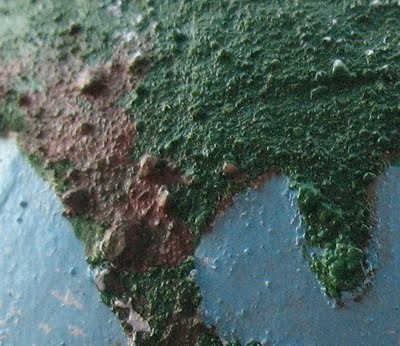 This is a really fun project for kids, but it's even fun for us adults ;) A great project for Earth Day!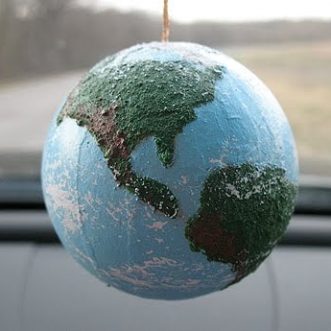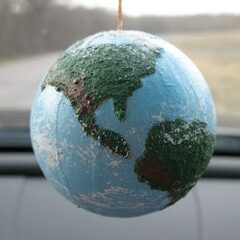 Print Project
Textured Globe Craft
Supplies
Paper mache globe ornament

Sand

Acrylic paints: white

light blue, green and brown

White craft glue

Acrylic sealer spray

Paintbrush

Cotton ball

Cotton swab

Paper plate

Empty egg carton

to use as a stand
Instructions
Place egg carton upside down and use to balance your globe on while you paint. Paint the entire paper mache globe with light blue paint and let dry. Repeat for a second coat.

Use a map of the Earth as a guide, then lightly pencil the continents onto the globe

Pour some sand onto a paper plate.

Fill each continent you just drew with dots of glue.

Gently roll the globe around in the sand until all continents are covered. Carefully tap off excess. Put globe onto egg carton to dry.

Once dry, give the globe one or two last taps to shake of any loose sand.

Paint the sanded continents green, except for Antarctica and the top of the globe, which should be painted white. Let dry completely.

Paint the sanded continents green, except for Antarctica and the top of the globe, which should be painted white. Let dry completely.

Use a cotton swab to gently dab brown paint onto areas of the green where your map may indicate deserts or more barren lands. Let dry.

Put some white paint onto a paper plate. Unravel a bit of your cotton ball and drag it lightly over the top of the white paint. Dab off excess onto plate and use the cotton ball to add cloudy areas around the globe. Let dry.

Spray entire globe with acrylic sealer spray.
I originally made this project for Kaboose, which was then bought out by Spoonful. Spoonful has since closed and the instructions were taken down. I am putting the instructions here until such time that Spoonful projects are redirected to a new home. At that time I will remove the instructions and link directly to the project on their site.
Latest posts by Amanda Formaro
(see all)