Do you avoid the yarn section of the craft store because you don't crochet or knit? Think of all those beautiful colors and soft, fluffy textures you're missing out on! There are plenty of yarn crafts that you can make, and you don't have to know how to manipulate a pair of knitting needles or a crochet hook to make many beautiful things. Grab some friends for a fun adult craft night!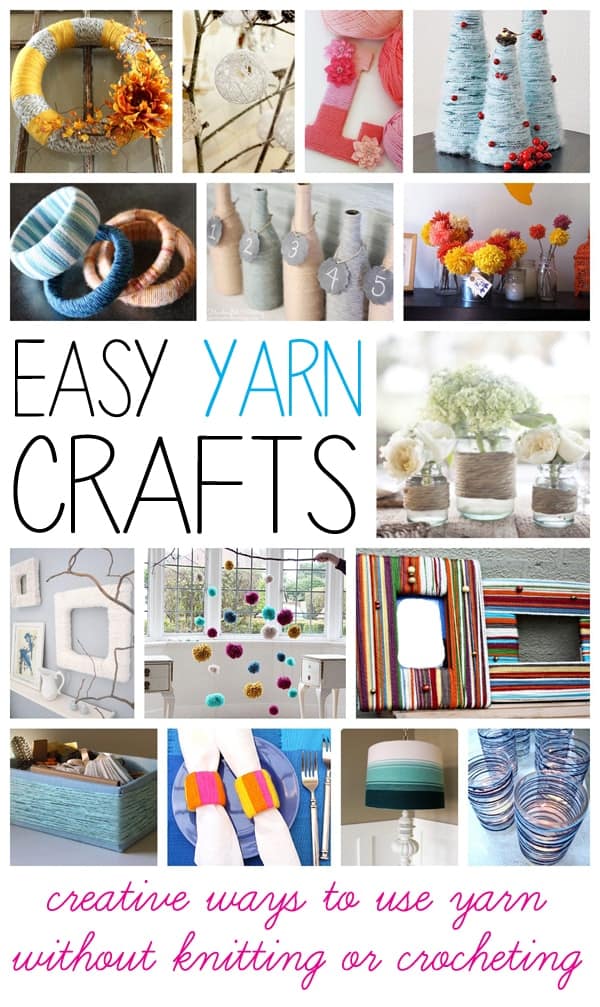 Wrapping your yarn crafts:
If it can be wrapped, it can be given a whole new makeover using whatever color and/or texture your heart desires. Some popular ideas include wrapping wreath forms with single shades or varying shades and textures of yarn. Styrofoam balls can be turned into decorative accents by wrapping yarn around them, gluing as you go, then displaying in a glass bowl or tall vase. Another option is to make wreaths out of the yarn balls!
You can also make pretty monograms by wrapping large letters available from craft stores or add some flair to recycled bottles and cans, glass vases and hurricanes. Try wrapping hurricanes with only a few strands instead of covering the entire surface. This creates a lovely glow allowing light to shine through the glass in between the strands. Make use of recycled bottles and jars, wrapping just the center, turning them into pretty home decor accents in mere minutes.
And of course there's always the age-old God's Eye craft that makes use of wrapping yarn!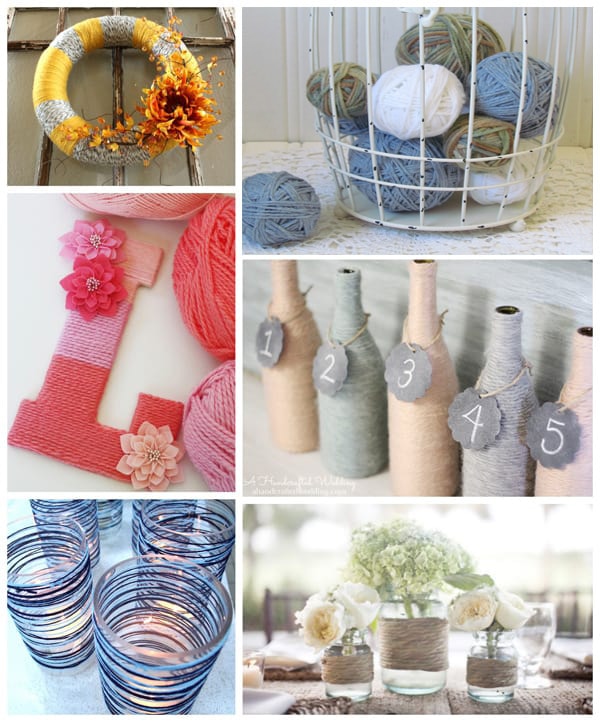 Find fun yarn colors at Amazon, your local craft or fabric store and online.
Helpful Yarn Craft Tools: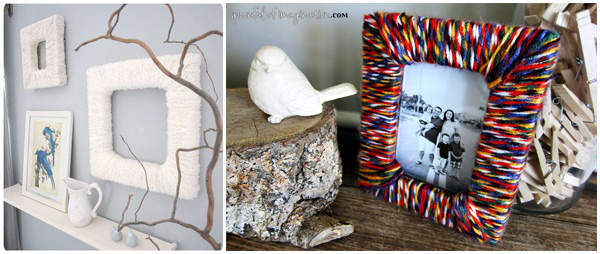 How about wrapping frames to display on a shelf or mantel? No photos needed, just wrap a single color of yarn around the entire surface of the frame for a sharp and crisp accent piece. If you prefer splashes of color, use multiple colors of yarn or your favorite by wrapping yarn around them.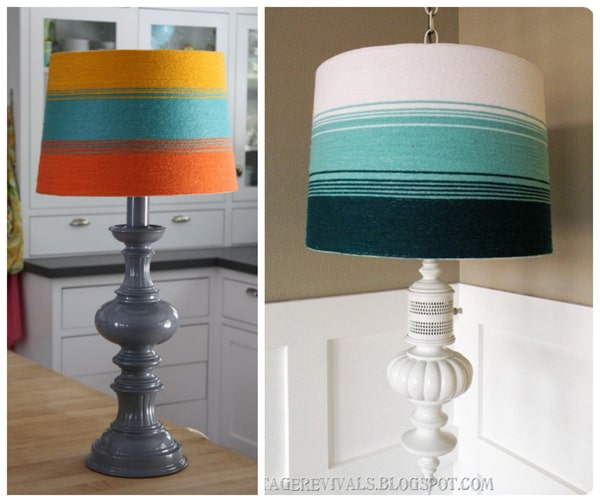 Lampshades are the perfect canvas for wrapping; whether the yarn is a solid color or has multiple shades, the results are stunning. Create an ombre design by wrapping from the bottom of the lampshade, gluing as you go. With a particular color theme in mind start with the darkest shade and work your way up the lampshade, changing the color of the yarn about five times until finished. For example, a warm ombre pattern might begin with red, go to a dark pink, regular pink, light pink and finally to white.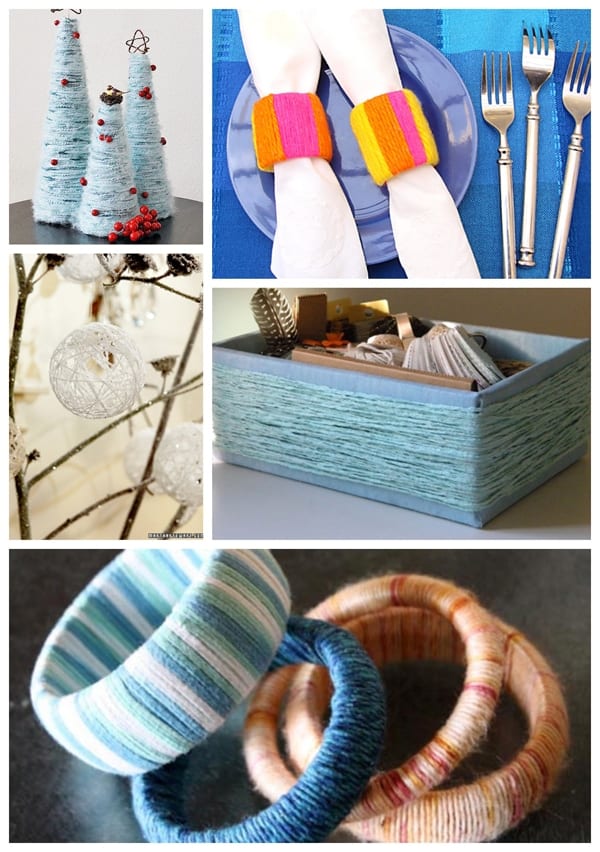 Another option is to dress up your dining table with napkin rings wrapped in soft yarn. Choose colors to suit the season, a quick way to make a big change for almost nothing. Try wrapping the sides of a plain storage box or basket to add some color and dimension. These are great for displaying items, capturing the day's mail, or filling with washcloths or soap in the bathroom. When the holidays roll around, wrap foam cones to make trees for the holidays. There are all sorts of different yarn textures available to customize your trees. Try a trio of cones, one wrapped in basic yarn, another in multicolored loopy yarn and a third with fuzzy yarn to create a stunning display.
What about jewelry? We're not talking about yarn necklaces for children; there are all sorts of ways to dress up to accessories for your wardrobe. Wrap yarn around bangle bracelets giving them a soft and cozy look or use thinner bangle bracelets for a more subtle look. Consider adding beads or buttons with your yarn as another way to dress up tired old jewelry.
Yarn makes for gorgeous ornaments too. Using fabric stiffener and balloons, you can make beautiful ball decorations that can be displayed in a variety of ways. After soaking the yarn in stiffener, wrap it around the balloons several times, overlapping as you go but not covering the balloon completely. When it's dry, pop the balloon and you are left with beautiful accents that hold the shape of the balloon.
Yarn Crafts: Making Your Own Pom-poms
Pom-poms are a fun way to decorate all sorts of things and they are easy to make. There are plenty of tutorials that will show you step by step how it's done. There are different methods for making pom-poms.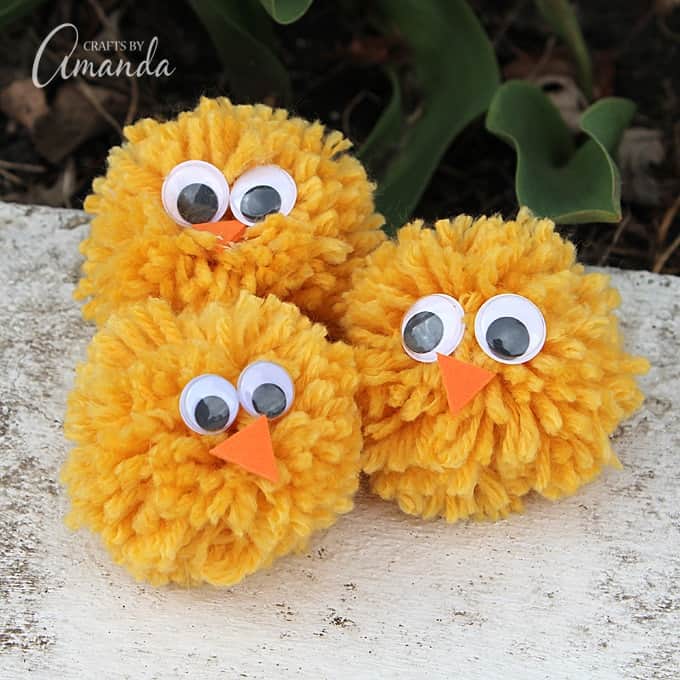 You can see how to make these adorable yarn pom-pom chicks here! These cute little chicks are super easy to make and don't require any special tools to make. Just your fingers, yarn, googly eyes, and craft foam. Click through to find a video tutorial!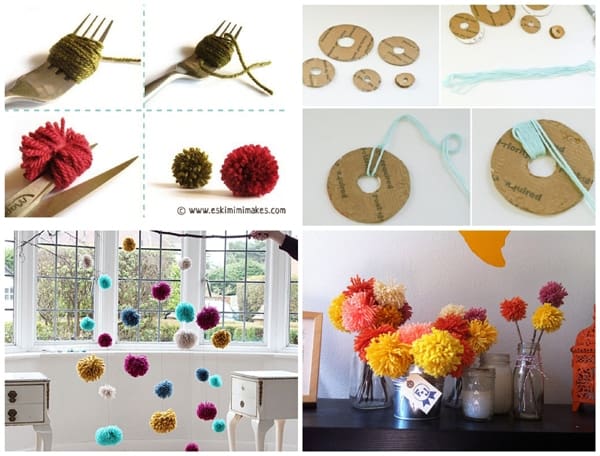 Small pom-poms can be made using nothing more than a fork from your kitchen drawer and a pair of scissors. To make larger or varied sized pom-poms you can create a quick template by cutting circles from cardboard. Pom-poms are great gift toppers, perfect for adding to a plain dollar store knit hat, and
Pom-poms are great gift toppers, perfect for adding to a plain dollar store knit hat, and made into a mobile would make a sweet addition to the nursery. You can pile them into a bowl or vase for a quick decoration or string them at varying lengths and hang them from the ceiling of a child's room, or above a birthday party table. They can also be
They can also be made into decorative flowers by simply gluing them to the end of a dowel. Display in a vase for an inexpensive accent to any room. There are seven different ways to make pom poms on Red Ted Art.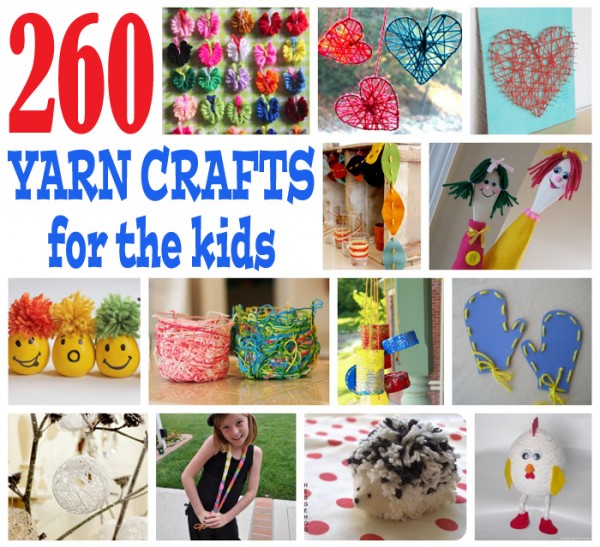 A couple holiday yarn crafts:
Need more ideas? Head over to Fun Family Crafts for more than 260 yarn crafts for kids! Now that you've seen the many different ways you can create simple yarn crafts, there's no need to avoid the yarn aisle anymore. In fact, armed with all these great ideas, you may not want to leave!
This post was originally published on this blog on Sept. 18, 2014.
Latest posts by Amanda Formaro
(see all)