I have been waiting to make this season-inspired button tree wall art for over a year. I saw a gorgeous painting that inspired me, but I kept putting it off because I wasn't really sure what I was going to do with it once I was done.
I knew the colors wouldn't match the decor in my home, but when I decided to rent studio space outside my home, I knew it was finally time to put paintbrush and button to canvas. This button tree wall art is one of my all time favorite pieces.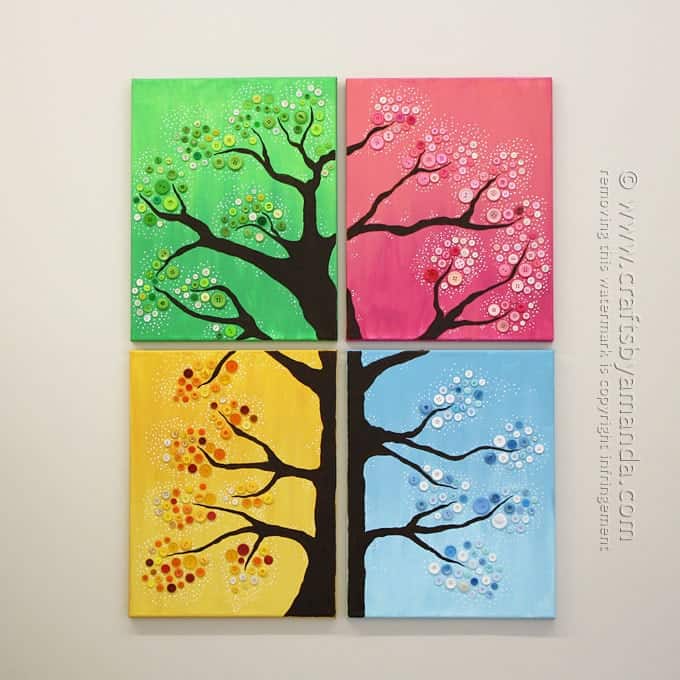 4 Seasons Button Tree Wall Art
While I have always known that crafting makes me happy, I've become much more aware since moving into this studio less than a month ago. Painting is definitely my happy place, and adding little details just to enhance the final product makes my heart sing.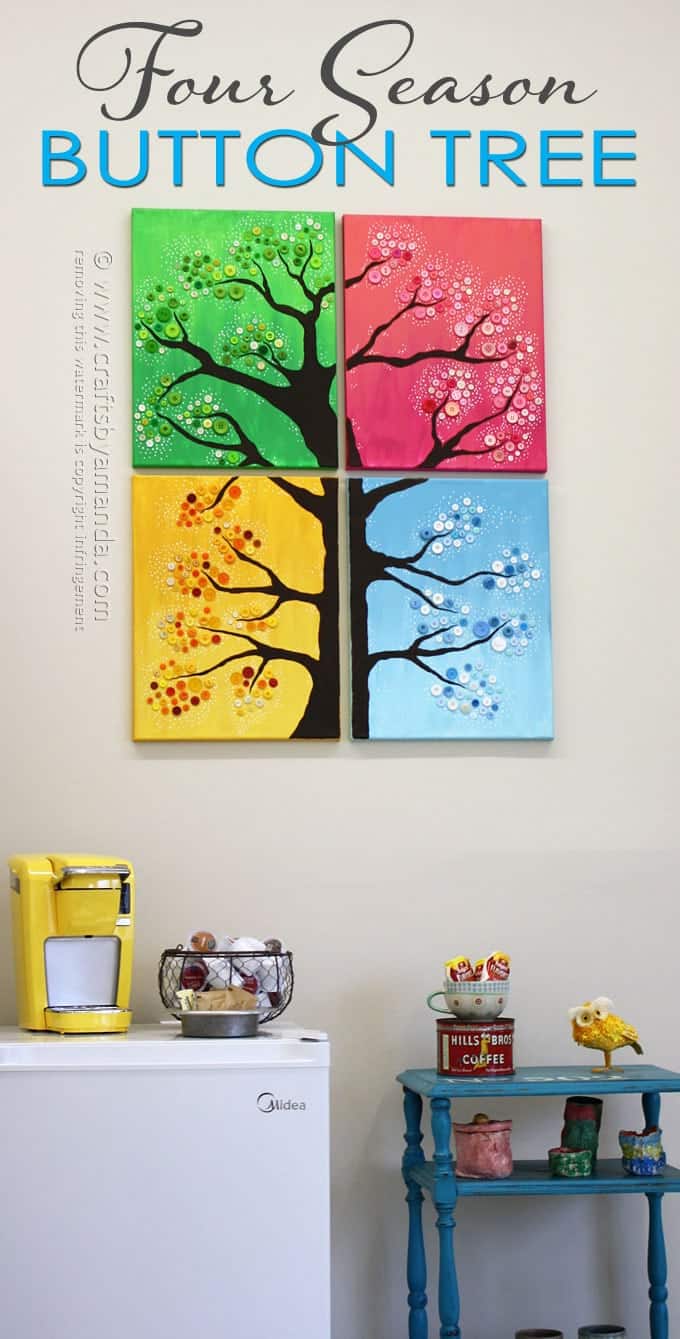 Sounds corny, yeah? Doesn't matter, it really is the way I feel. When I was working from home I was constantly distracted by one thing or another. Letting the dog out, throwing laundry in, cleaning this or that, running an errand… here I don't have those distractions. Here I work. I create. I am inspired.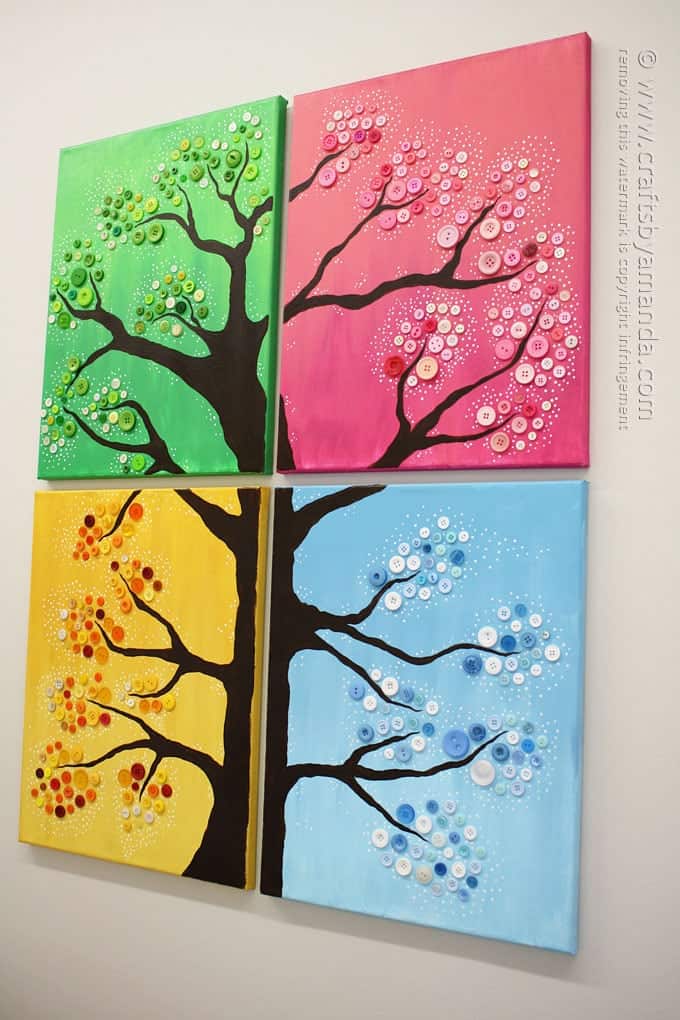 I also love the fact that I don't have to worry about someone taking my scissors or my glue, someone doodling on important patterns, or people piling folded laundry, mail and other junk on my craft table.
I can leave my camera and tripod set up and there's no worry that the dog will knock it over. My cats aren't here to walk in wet paint or steal a craft I'm working on to take it to wherever the socks go. No. This is my place. :)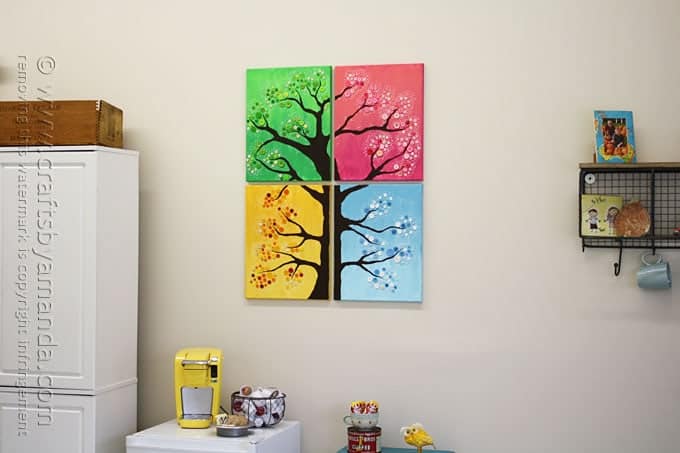 If you would like to have a look around my studio space, I have a studio tour here.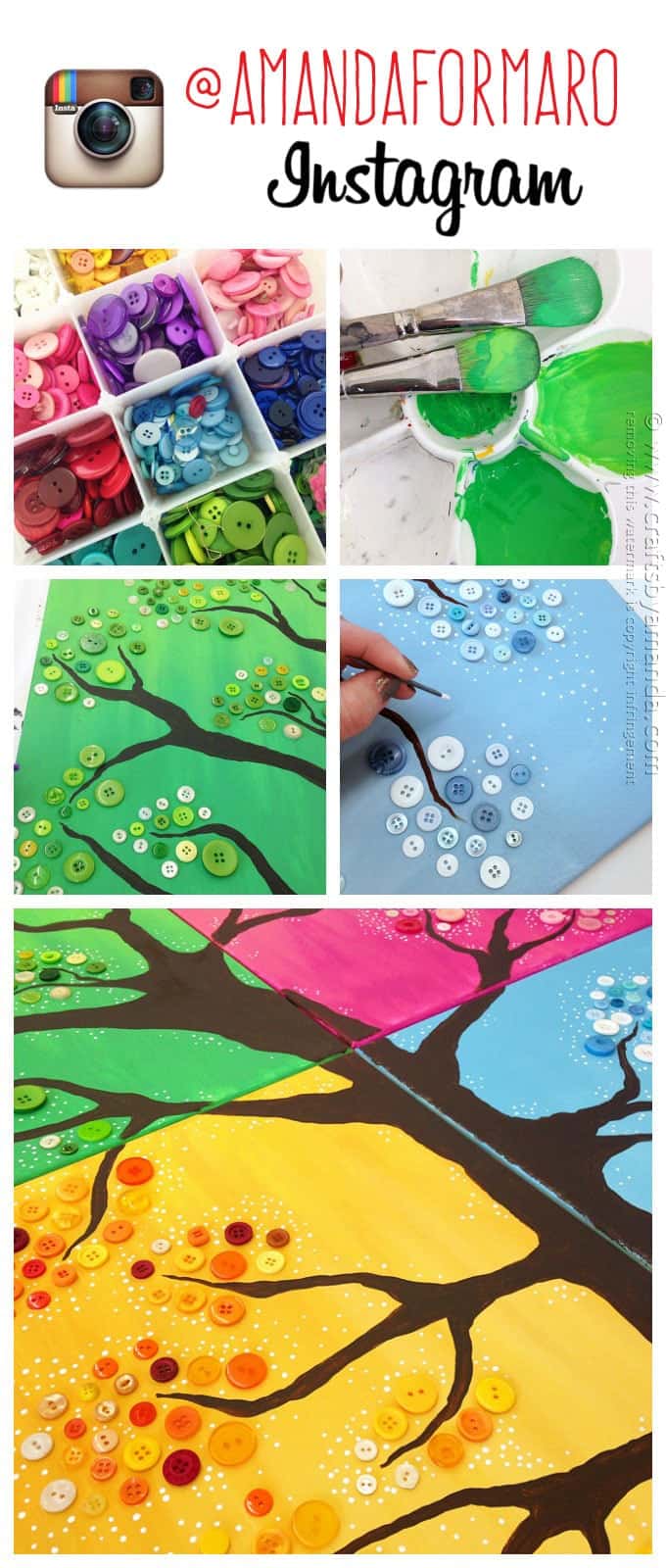 In fact, if you do follow on Instagram, then you probably saw all these pictures while I was working on this button tree wall art project.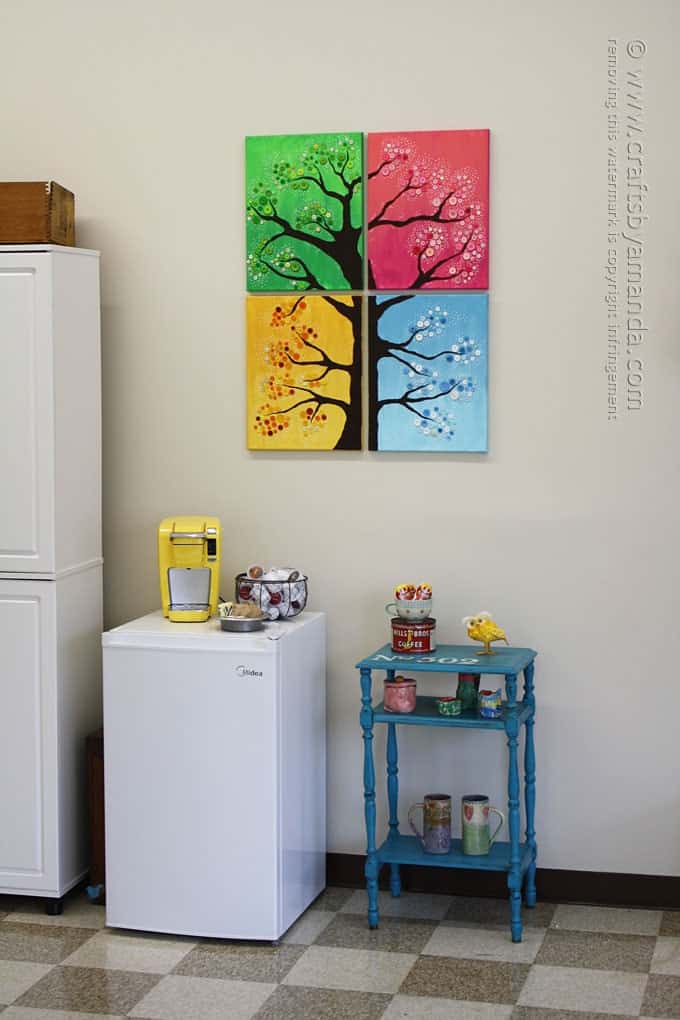 In a couple of these photos you can see my cute little yellow Keurig
. I love it! Perfect for single serves and you don't have to store water in it. So it's really great for those that don't partake that often.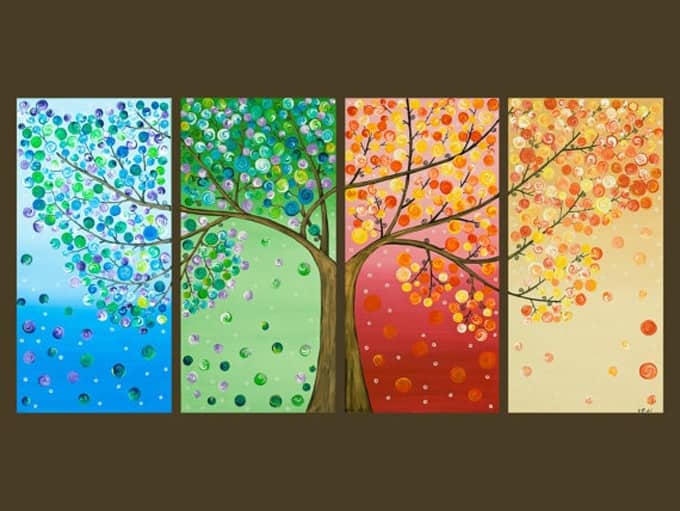 I wanted to create a painting that depicted all four seasons, and I was originally inspired by this gorgeous painting by Etsy seller QiQiGallery. She has a really amazing style, turning beautiful painted swirls into leaves on her tree art. I decided to make my a bit different by making my end piece vertical while hers is horizontal, and I used buttons for my leaves. Be sure you check out her shop, so many beautiful things!
I decided on green for spring, pink for summer, yellow for fall and blue for winter.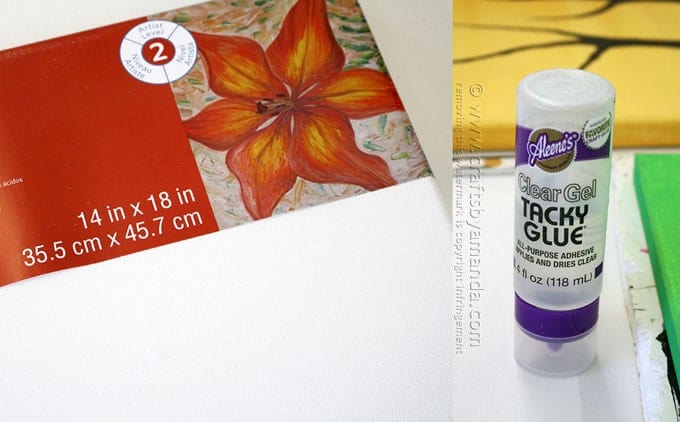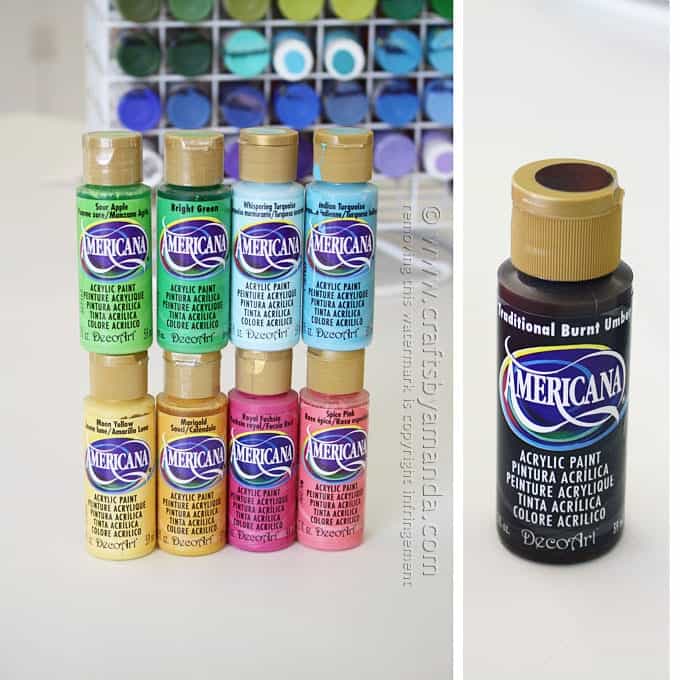 For this project you will need the following supplies:
Americana Paint: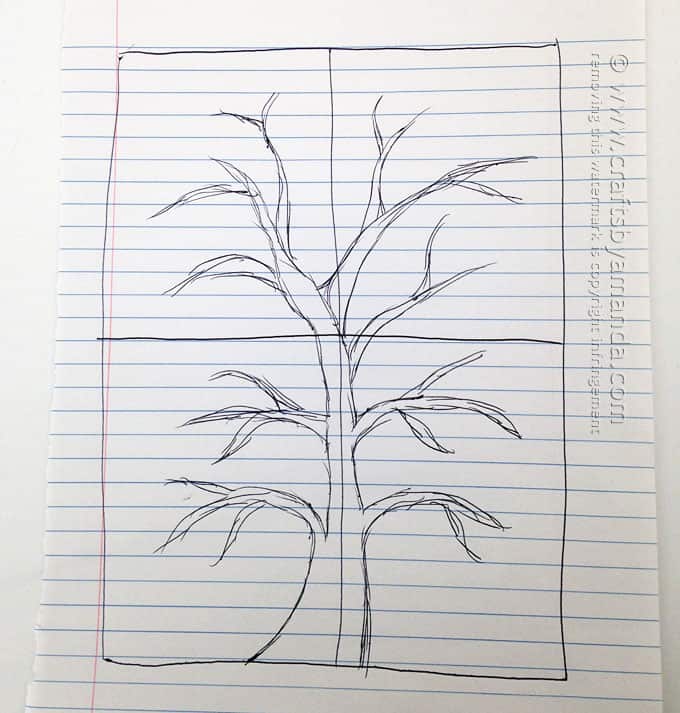 I started out by sketching out the shape of my tree. I wanted it to stretch across each canvas, so I drew 4 rectangles and then added the tree.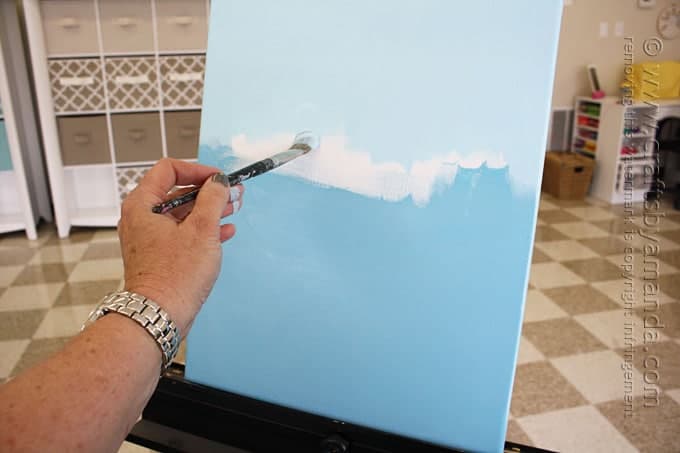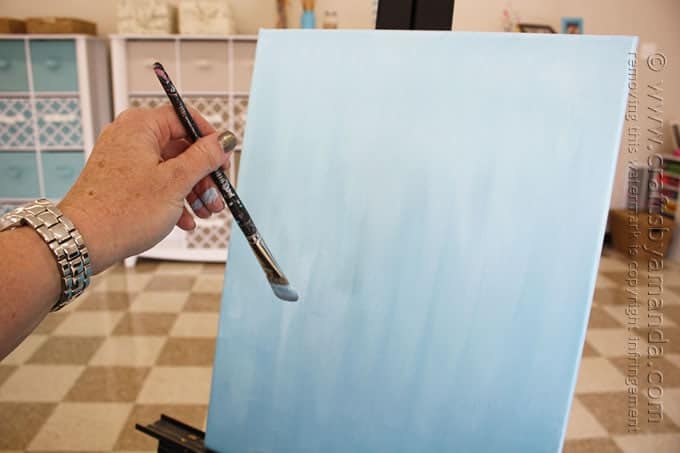 I painted each canvas with two shades. For example in this photo I used the two shade of blue, blending them both together in the center by simply brushing back and forth and mixing the two.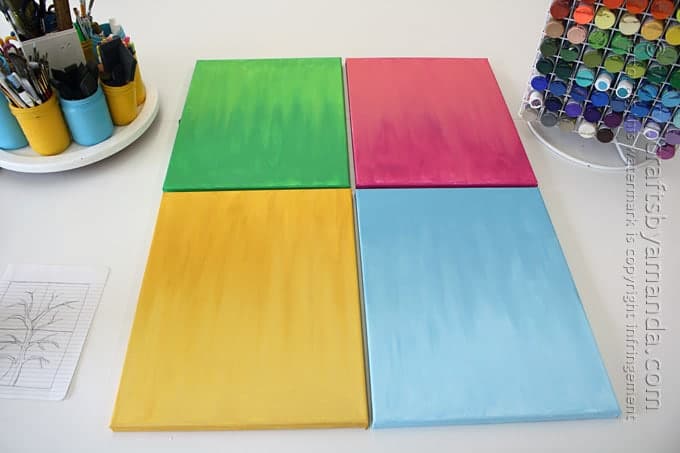 Next I laid out the canvases so that the darker shade of each color met in the middle.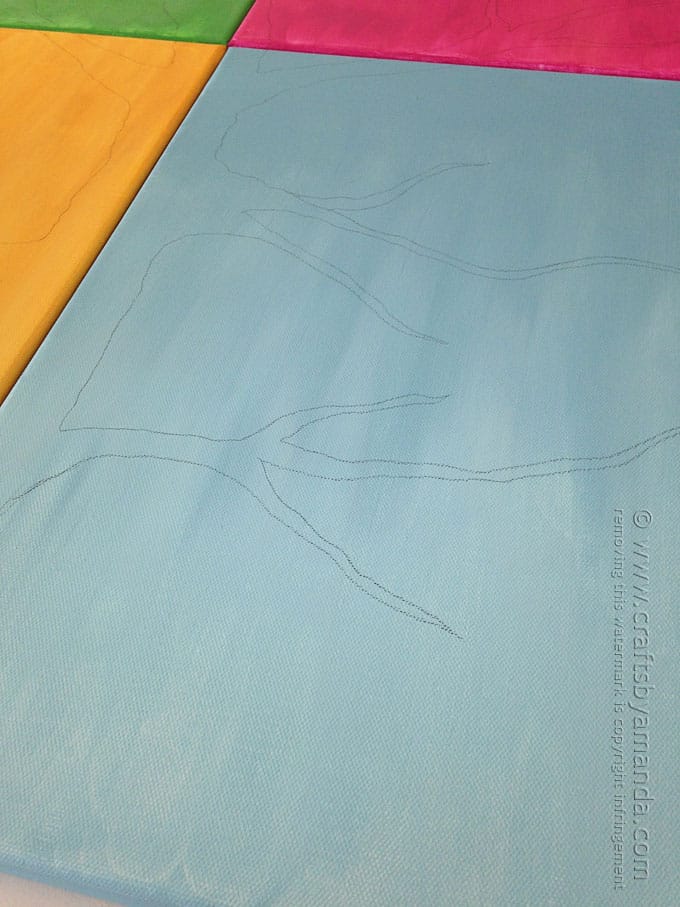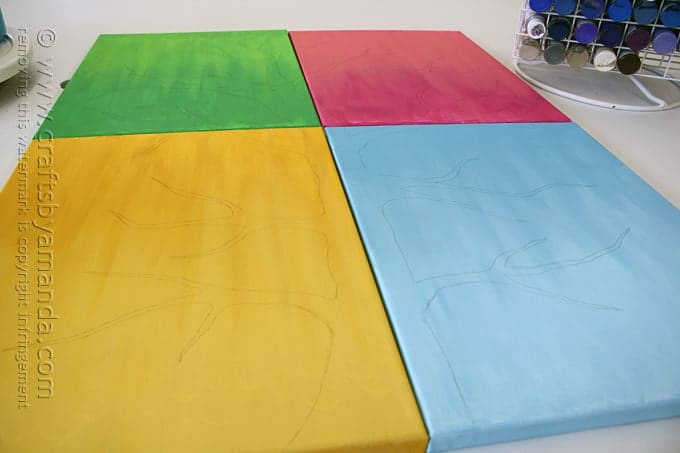 Here's where I used a pencil to draw my tree design onto the painted canvas. I used my paper drawing as a guide.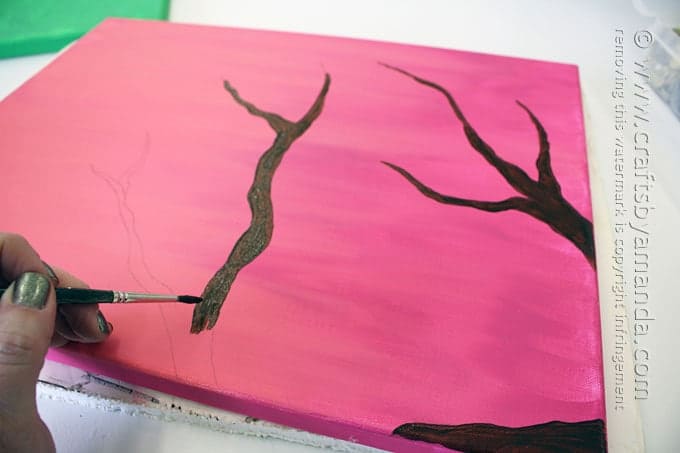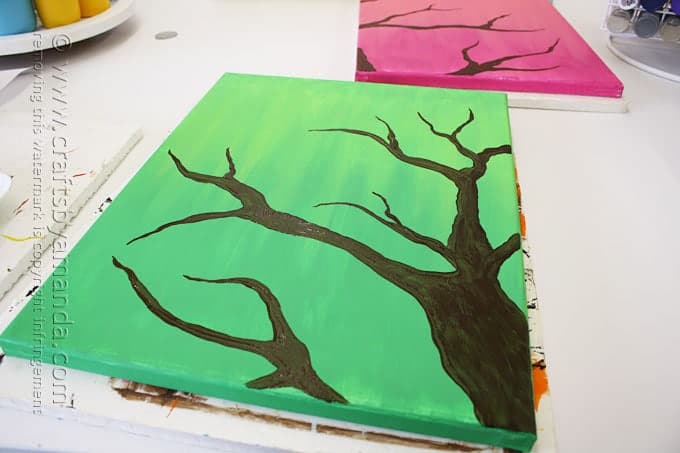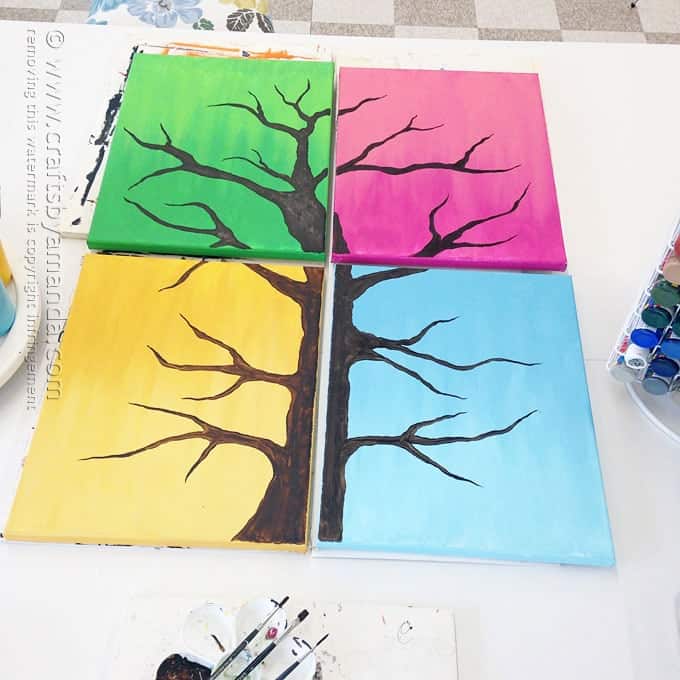 Next I painted the entire tree with the Traditional Burnt Umber. I gave the tree a second coat once I was done.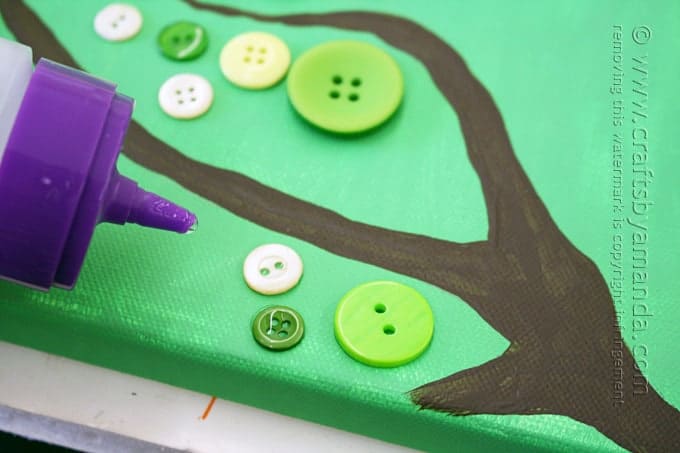 I used the Clear Gel Tacky Glue to add the buttons to the canvas. This takes a while, start with large buttons then fill in with smaller ones.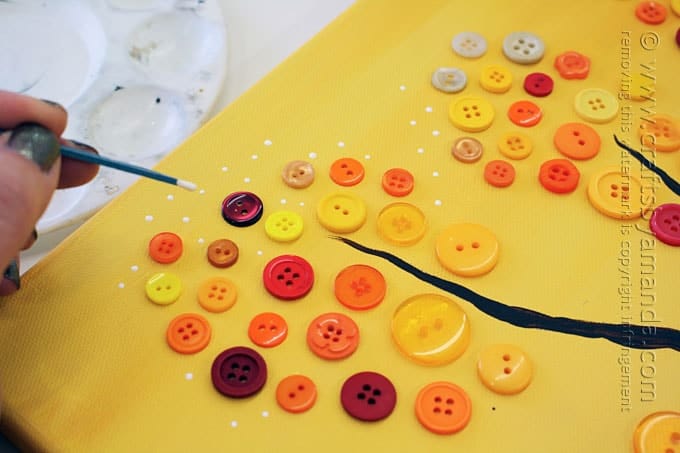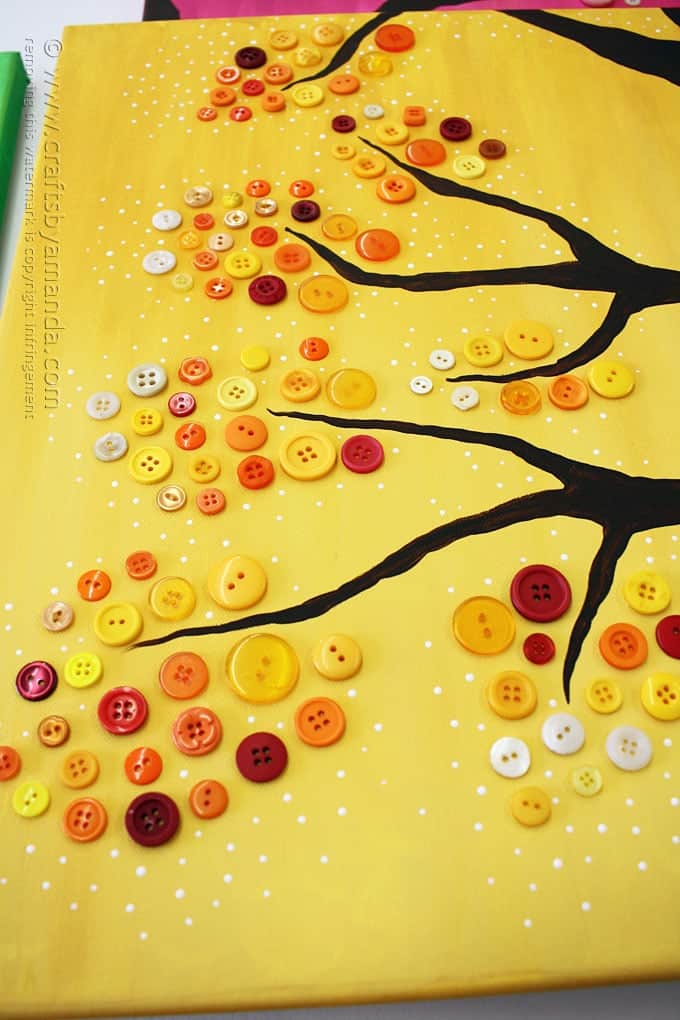 Once it was done it felt a little plain to me so I used a toothpick to add white dots around the sections of buttons.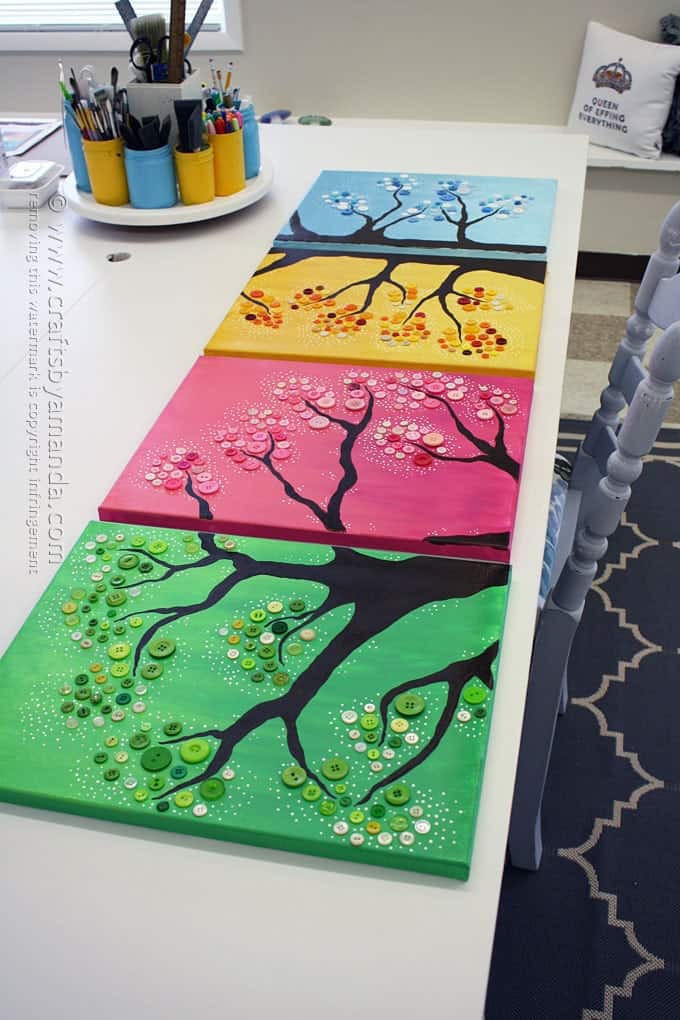 I left them overnight to dry to make sure the paint and the glue were all set. The next day I sprayed them with a clear sealer.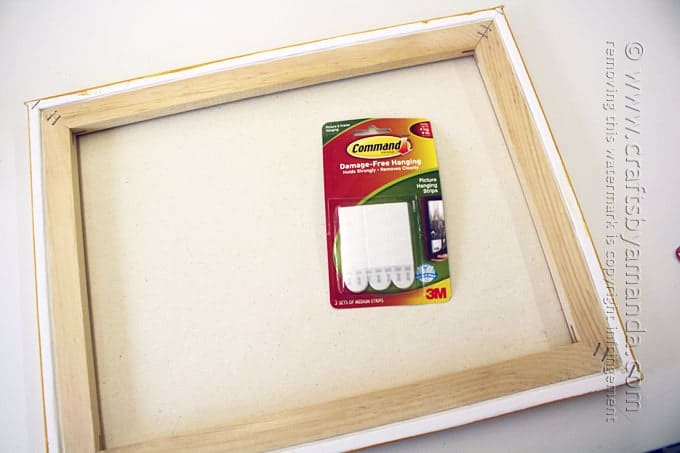 Command Strips are my friend in this studio. My landlord prefers that I not make too many holes in the walls, and canvas is so lightweight that these are ideal for hanging art.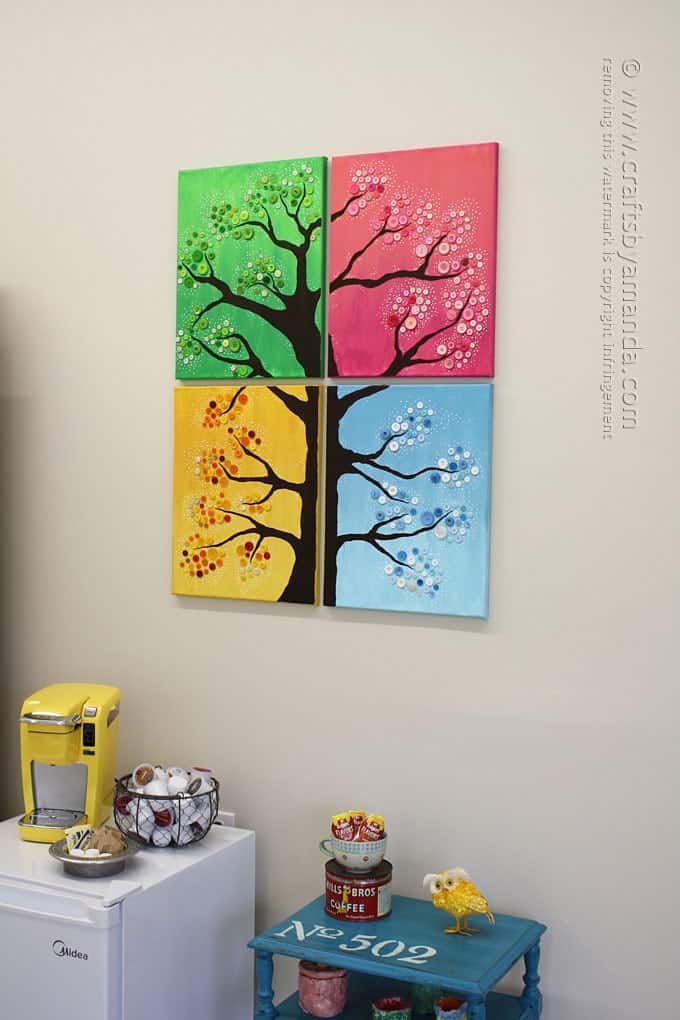 I'm so happy with how it came out! I've received several compliments from visitors already. I'm loving every minute I spend in this studio and creating projects like this bring me great joy!
Other projects I've made for this studio include these reupholstered stools and these flower wall letters.
More Painted Wall Art Ideas
If you're looking for more wall art ideas, here are several to get your creativity flowing. You can see all my home decor craft tutorials in one place here.
This was the first button tree that I ever made, several years before I made the 4 seasons button tree wall art in fact. It went bananas on Pinterest and Facebook. In fact, a woman from Canada emailed me incessantly until I agreed to sell it to her.
I don't normally sell my work because it's either displayed in my home or given as a gift to someone I know. For some reason, this particular button tree makes everyone's heart sing. That makes me happy!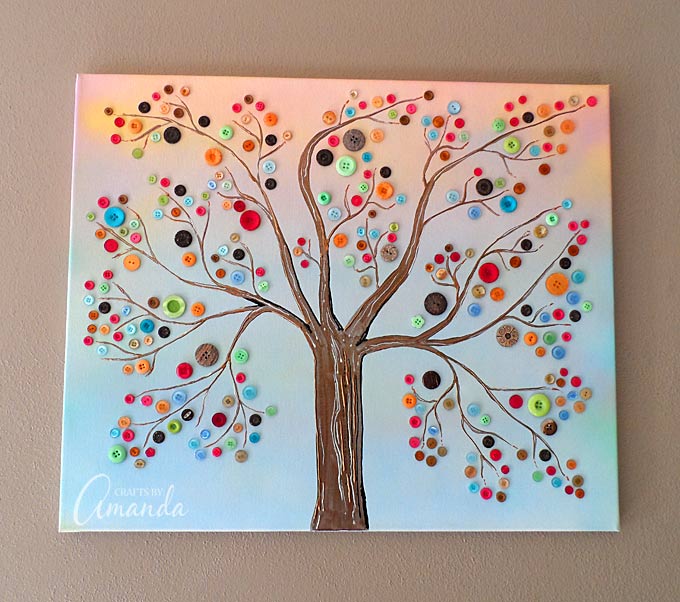 I made this polka dot circle tree as a fun way to incorporate polka dots and lots of color, without a difficult tutorial. In fact, this is so easy that even kids could have a go at making a version of their own. There's a step by step tutorial showing you how to create the circles using a sponge applicator.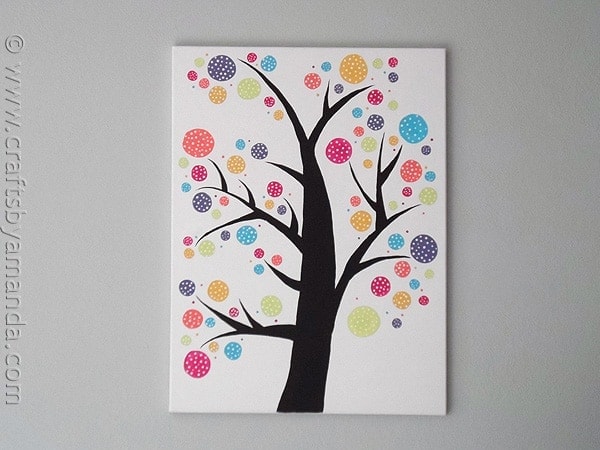 This Cherry Blossom Tree wall art was something I created for my daughter. It was several years ago when she moved into her first apartment. She had seen a piece of art at a store she wanted and asked me if I could replicate it. I've had quite a few people send me photos of their versions after using my tutorial. I've loved them all!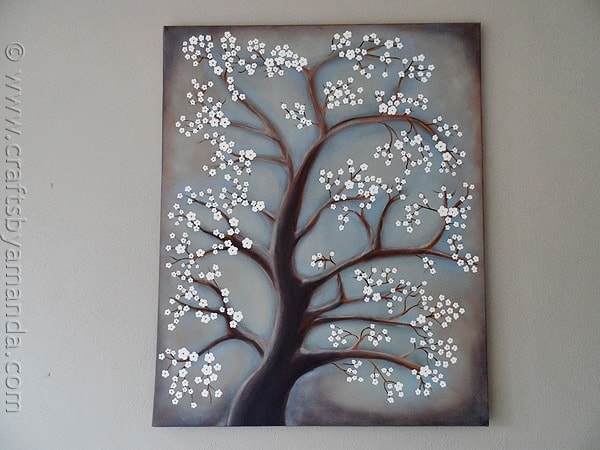 Thanks for visiting and I hope this button tree wall art project inspires your inner creativity!

This post originally published here on Apr 20, 2015.
Latest posts by Amanda Formaro
(see all)