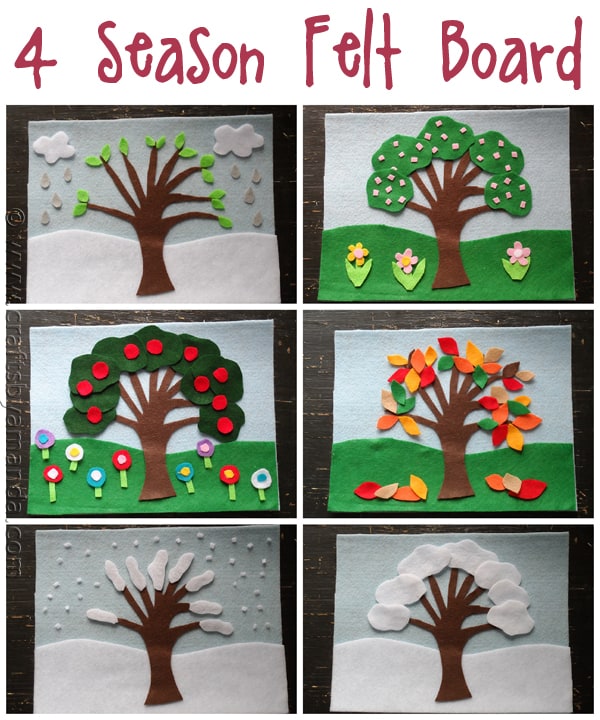 This felt board craft is not only fun, is can be used any time of the year, not just for holidays. Help your little ones learn about the changing of the seasons through play and discovery. Using this felt board craft, you can keep the background the same and change out the environment to reflect the weather during different parts of the year.
This project is great for anyone, no matter where you live. If you are in a warm climate where snow never falls, simply adjust the foliage and plant life pieces that you create to reflect that. If snow is a common occurrence for you and you don't reach balmy temperatures, even in the middle of summer, simply adjust your accessories to account for that. Make this felt board to coincide with your seasons!

Start out with a piece of cardboard. I always save the back off of a writing pad when I'm finished with it, but cereal boxes work great too! Glue light blue felt onto the cardboard for your base background. The land will be great felt for warm months and white felt for snowy months. When you glue down the tree, only glue the top half. That way you can lift the bottom of the tree to change out the land.

Cut out pieces for the trees and flowers, rain and snow, apples and blossoms, you get the idea. You can even add animals and birds, whatever you want to do!
There's a printable supply list and instructions below for this fun felt board craft!
I originally made this project for my monthly Chicago Tribune column.
More Felt Board Crafts
Snowman Felt Board – Crafts by Amanda
Alphabet Felt Board – All Kids Network
Jack O' Lantern Felt Board – Crafts by Amanda
Monster Felt Board – Crafts by Amanda
4 Seasons Felt Board
Supplies
8x10 piece of cardboard (back of writing pad, cereal box, etc)
1 sheet light blue felt
1 sheet green felt
1 sheet white felt
½ sheet brown felt
Various other colors of felt, scrap pieces work great
Scissors
White craft glue
Directions
Cover the cardboard with white glue and smooth it out with your finger. Attach the light blue felt to the cardboard and trim any excess.
From the white and the green felt cut each sheet in half. From one half of each color cut your "land" (grass for warm months and snow for cold months). Do not glue the land to the board.
Cut a tree from brown felt. A simple trunk with several branches works perfectly. Glue only the branches to the board, leaving the trunk of the tree loose so you can lift it to change the land when changing the seasons.
Use various different colors to cut seasonal shapes from felt. Here are my suggestions:
White – snow for branches, clouds, snowflakes, flowers
Gray – raindrops
Light green – early spring buds, flower stems and leaves
Dark green – summer tree leaf sections
Fall colors (green, red, orange, tan, brown, gold, yellow) – fall leaves
Green – spring tree leaf sections
Red – apples, flowers, fall leaves
Pastels (pink, yellow, light blue) – spring flowers, apple blossoms
Turquoise Blue – summer flowers
Purple – summer flowers
Store pieces in separate zipper sandwich bags by season. To attach, simply place felt pieces on to the board and they will stay in place. Keep the board flat on the table as pieces can fall off.
Amanda Formaro is the crafty, entrepreneurial mother of four children. She loves to bake, cook, make kid's crafts and create decorative items for her home. She is a crafting expert and guru in the kitchen and has appeared online and in print publications many times over the years. She is also the editor for the Home & Garden channel at Craft Gossip and owner of FunFamilyCrafts.com.
Latest posts by Amanda Formaro (see all)