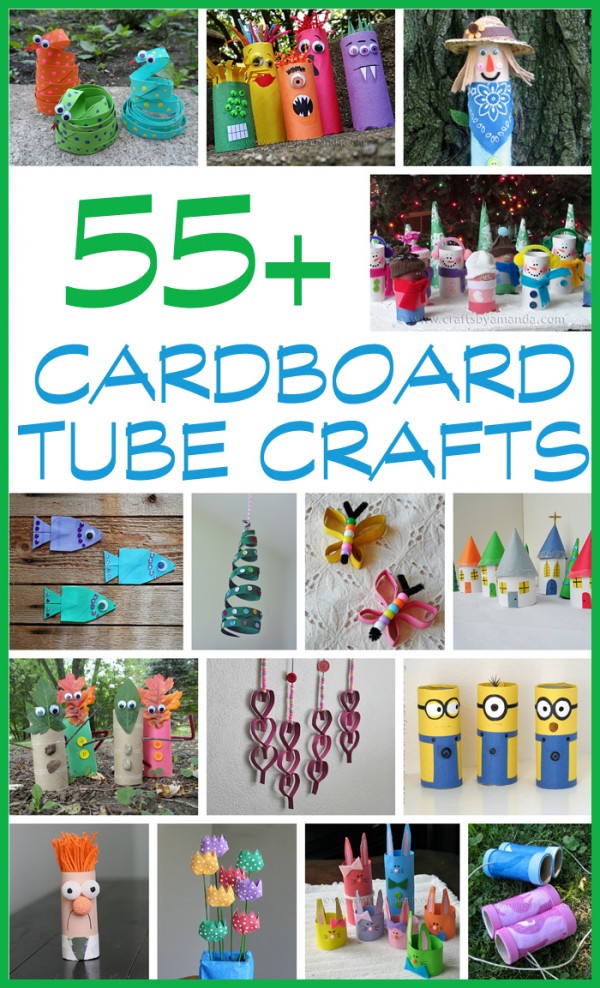 If you're looking for cardboard tube crafts for your kids to make, I've got you covered! I love to make recycled crafts, but cardboard tubes are probably one of my all time favorite supplies. I'm not really sure why, but when thinking up things to make that kids will like, it just seems so easy to create things from a cardboard tube!

In fact, I'm currently working on an e-book with my good friend Maggy of Red Ted Art that will be exclusively cardboard tube crafts. The projects are a secret right now, but I promise it will be fun! Maggy is also a cardboard tube genius, so between the two of us you should be able to keep your kids busy for a long time! We hope to have it done for September some time, so if you would like to be notified about that, please be sure and subscribe to my free newsletter!
Below are some of my all time favorite cardboard tube crafts. You can see all 55+ cardboard tube crafts here.
See all 55+ cardboard tube crafts here.
Amanda Formaro is the crafty, entrepreneurial mother of four children. She loves to bake, cook, make kid's crafts and create decorative items for her home. She is a crafting expert and guru in the kitchen and has appeared online and in print publications many times over the years. She is also the editor for the Home & Garden channel at Craft Gossip and owner of FunFamilyCrafts.com.
Latest posts by Amanda Formaro (see all)