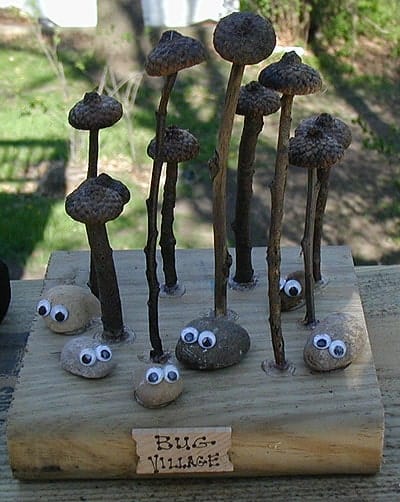 This is a fun nature craft made from rocks or stones, acorns and sticks or twigs. It's a fun way to get outdoors with your kids where you'll collect all the items that you need. I created this little bug village several years ago, there is a natural version and a colorful painted version as well. A great craft for fall!
You should be able to find most of your supplies in the park or in your backyard. if you don't have a scrap piece of wood, you can use the top of a shoe box or a flap from any cardboard shipping box. Styrofoam works too!
A note about glue gun safety: Parents should handle the glue gun as temperatures can get very hot and cause uncomfortable burns. Allowing older children to use the glue gun is entirely up to the parent, but child should always be supervised!
The natural Bug Village is perfect for a boy's room while girls will adore the colorful bugs!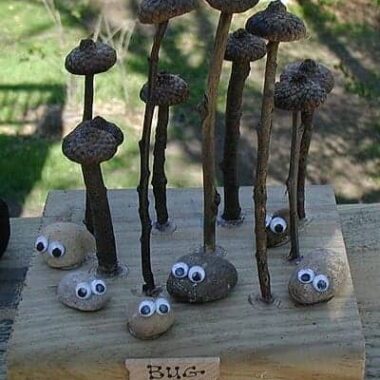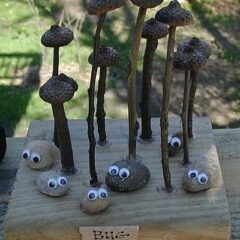 Print Project
Bug Village
Supplies
sticks in various sizes

acorn tops

smooth rocks in different sizes

hot glue gun

parents must do this!

square or rectangular scrap of wood

matte acrylic spray sealer

small woodsie sign

black fine tip craft pen
For Colorful
toothpick

paintbrush

household sponge

acrylic paint

in forest green, olive green, light brown, cream, light blue, light green, red, blue, orange, yellow, pink, purple, black, and white
Instructions
Natural
Begin by making sure the ends of the sticks are fairly flat. You can do this by simply pushing the ends against the sidewalk. Use hot glue gun to attach the sticks to the block of wood, then glue the acorn tops to the top of each stick. Wash all the rocks and be sure they are dry before gluing on wiggle eyes. Glue the rocks to the wood in various places. Write the words "Bug Village" on a small woodsie sign (recycle cereal box cardboard works great too!) and glue to the front of the piece of wood as shown in photo.
Colorful
Paint the block of wood with forest green paint. When dry, sponge on some olive green paint to the forest green. Paint the sticks with light brown paint. Paint some of the acorn tops with light blue and the rest with light green. Glue the sticks to the wood, then glue the acorn tops to the sticks.

Wash all the rocks and be sure they are dry before you paint them. use various colors to paint the rocks: blue, red, purple, pink, green, etc. Use the stylus or toothpick to dot on spots and/or lines to your bugs. Dot on white spots for eyes, and a smaller black dot onto the white spot. Glue rocks in place when they are dry.

Create a sign by painting a small woodsie sign with cream paint, then shade the edges with light brown. Use black fine tip craft pen to write "Welcome to Bug Village" in the center.
---
Did you enjoy this post? Why not subscribe to my feed, or better yet, to my free newsletter – Foodie in the Craftroom, which provides not only crafts but recipes from my other blog, Amanda's Cookin' as well!
---
Latest posts by Amanda Formaro
(see all)