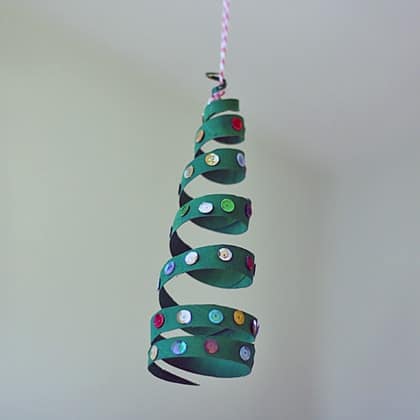 Today I will show you how to make this fun coiled Christmas tree ornament from an ordinary cardboard tube. You can even leave off the sequins and paint them several different colors to use as a decoration you can hang from the ceiling!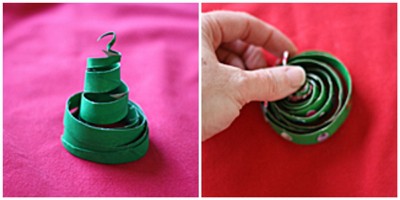 If you're looking for other fun Christmas tree crafts for your kids, try this adorable felt Christmas tree that is just the right size for kids.
Cardboard Tube Coiled Christmas Tree
Supplies
1

cardboard tube

from a toilet paper roll

Green acrylic craft paint

String or yarn

Sequins

White craft glue
Instructions
Paint the inside and outside of the cardboard with green paint. Allow it to dry for about 40 minutes. The tube will still feel a bit flexible but it should be dry enough to handle. Start from the bottom and cut into the tube, cutting it into one really long strip, about 1/2-inch wide. Coil the cardboard around your fingers, making one end wide (bottom of the tree) and narrow and tighter at the other end (top of the tree). Manipulate the cardboard until it's in the shape that you want.

Carefully push the smaller coiled end into the larger coiled end until it is flat. Place an object on top of it to hold it down (a stack of paper plates, a small paperback book, etc) and leave it there for about 30 minutes. Pull the small end up and out of the large end to create the tree shape. Attach a string hanger to the top of the tree and glue sequins on as ornaments.
Expert Tips & FAQs
Be sure to do your shaping within the first hour of painting the cardboard as it needs to be pliable in order to shape it. Allowing it to dry fully in the position you choose will harden the cardboard and allow it to keep its shape. If the ornament stretches out too much for you, simple coil it up again as noted in step 2, place a book or stack of paper plates on top and let it sit overnight. The overnight drying time will allow it to stiffen up more.
I originally made this project for Kaboose, which was then bought out by Spoonful. Spoonful has since closed and the instructions were taken down. I am putting the instructions here until such time that Spoonful projects are redirected to a new home. At that time I will remove the instructions and link directly to the project on their site.  
Latest posts by Amanda Formaro
(see all)