I'm starting to feel the pressure of Christmas, and all the craft projects that come along with it. There are so many to share with you and so little time!
Here's another project I made in 2001. We had been working on our deck and had lots of scrap wood left over, so I put together several different little decorations.
This Santa is made from a triangular scrap of wood, but you could even use a small cardboard box (maybe from pasta or granola bars, etc). Just cut the box on an angle, tilt sideway, insert a zipper bag or rice, rocks or sand for weight, and tape up the opening. Then just follow the instructions as outlined with the wood below :)
Country Wooden Santa
by Amanda Formaro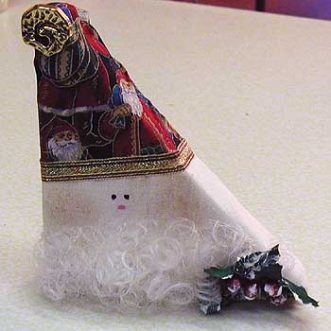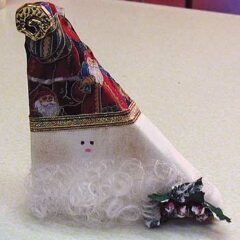 Print Project
Country Wooden Santa
Supplies
triangular block of wood

sandpaper

acrylic paint in black and pink

muslin material

enough to cover entire piece of wood

holiday material scrap for hat

gold accent holiday ribbon

gold button

white curly doll hair

small holly & berry leaves

blush & blush brush

make up

white craft glue

textured snow paint

small paintbrushes
Instructions
Begin by sanding all rough edges around the wood to eliminate the possibility of painful splinters while working. Cover the entire piece of wood with muslin material, gluing as you go and keeping seems in the back (and to a minimum).

Use the holiday material and wrap it around Santa's "head" to fashion his cap. Use craft glue to tack down as you work your way around, keeping seams in the back. Use ribbon to create the cap rim, again, keeping seams in the back, gluing as you go.

Use blush brush to gently add blush to Santa's cheeks. Dot on eyes with small paintbrush and black paint, dot on nose with pink paint.

Glue the holly leaves & berries in the bottom corner before adding the beard hair. Glue the doll hair in place to crate the beard, working small sections at a time to ensure full coverage. Fill in empty sections where necessary.

To finish, glue gold button to the top of the cap and add a few flecks of textured snow paint to the holly berries and leaves.
See more fun ideas on the We Made It Friday Showcase!
Latest posts by Amanda Formaro
(see all)