These craft stick pencil bookmarks are a great back to school craft. Whether you're a teacher who wants to pass these out to your students or a parent who's looking to make homework or reading a little more fun!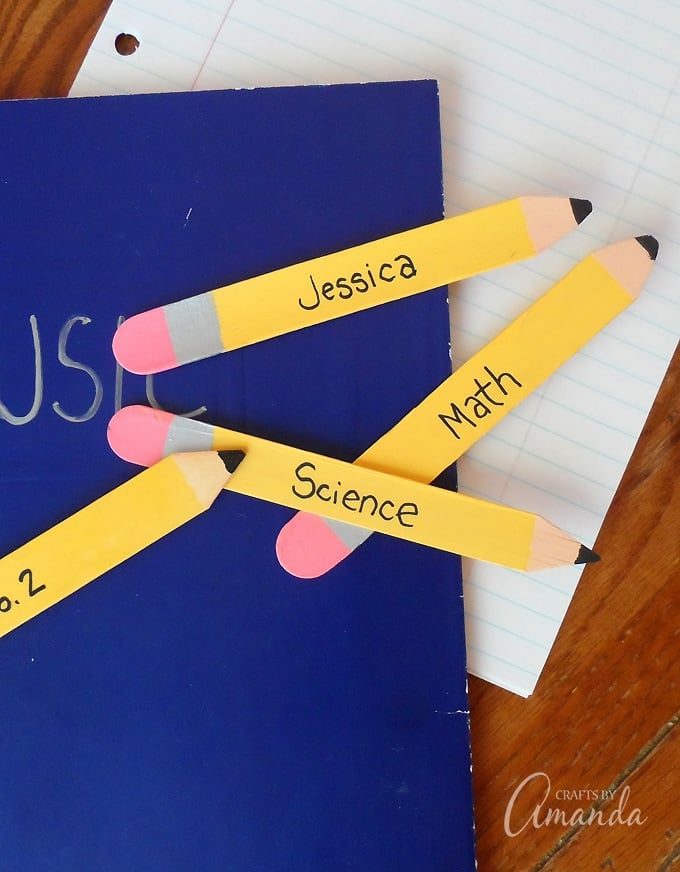 Craft Stick Pencil Bookmarks
The kids are back in school and homework is officially back in their lives. Soon they'll be compiling science fair projects, doing book reports and practicing their musical instrument. Heading back to school is fun for kids and gets them back in touch with friends they didn't see over the summer.
Make the homework portion fun too by creating these craft stick pencil bookmarks to keep their place in all those school books!
These are easy to make for most age groups. For kids in Kindergarten and possibly first grade, you may want to round the pencil points, as parents you can be the judge of that. To round them, simply cut them more rounded and use a little sandpaper.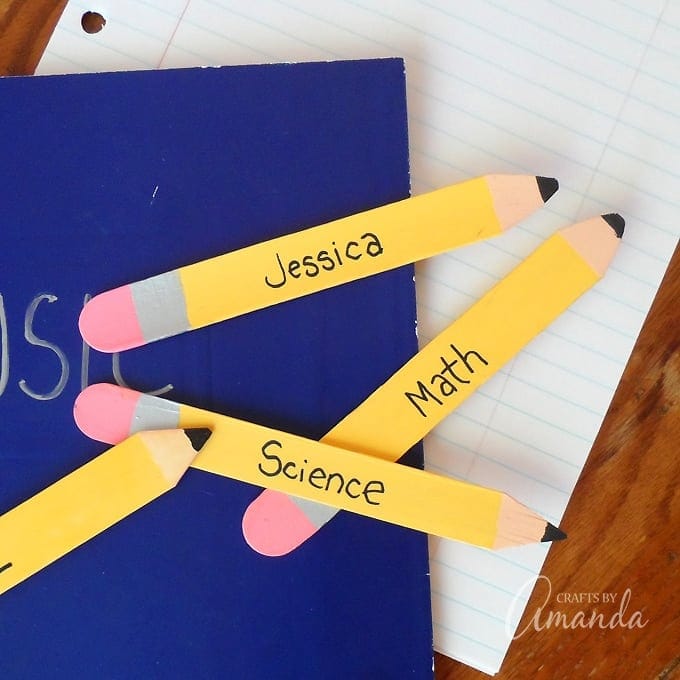 FIND THE FULL PRINTABLE INSTRUCTIONS AT THE END OF THIS POST
Supplies you'll need to make craft stick pencil bookmarks
How to make the bookmarks
First, you'll cut and sand. Then simply paint the craft sticks yellow, paint on an eraser and the silver metal portion. Then write the child's name, a school subject or just "No. 2" to decorate the pencil.
I used CraftSmart paint on this project. It's a great paint for kids and is inexpensive. You can find it at Michaels.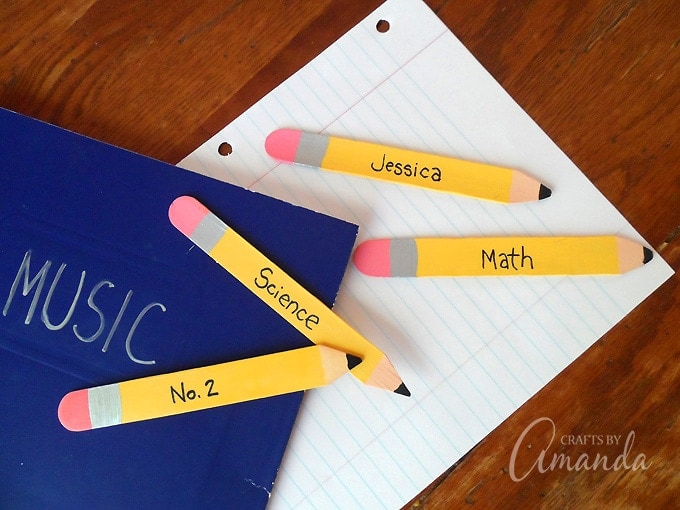 Variation: A fun variation for younger children would be to create crayon bookmarks instead of pencils!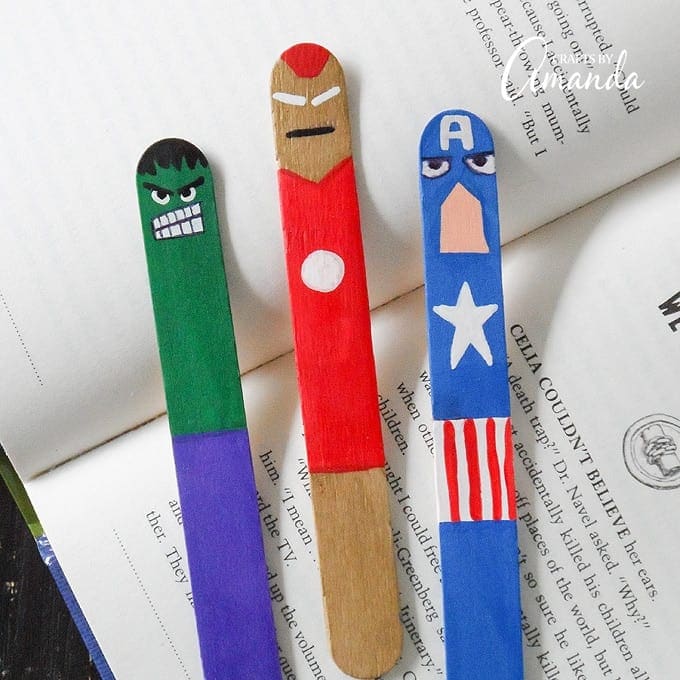 And for older kids, these Avengers Bookmarks are great too (maybe even the adults will like these).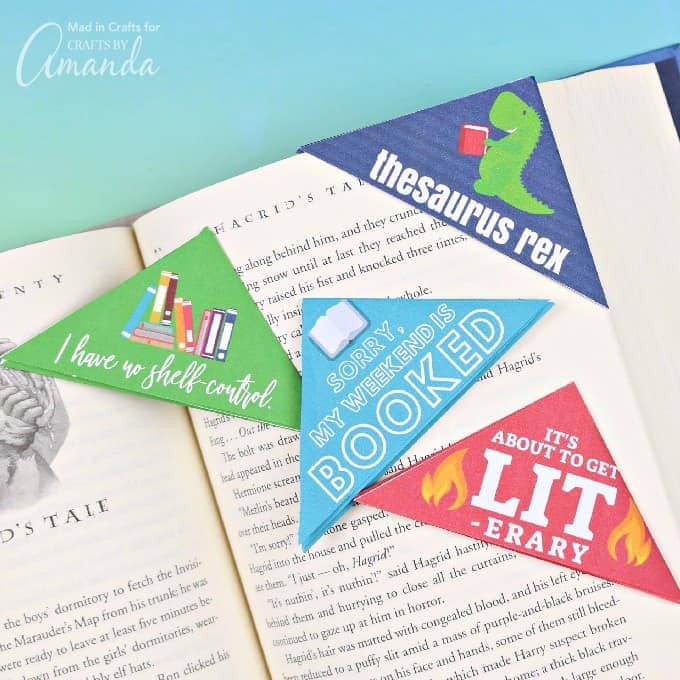 Last but not least, these punny printable corner bookmarks are perfect for older kids who will get a good laugh out of them!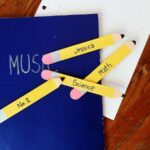 Print Project
Craft Stick Pencil Bookmarks
These craft stick pencil bookmarks are a great back to school craft. They are easy enough for kids to help with, or for you to create on your own.
Supplies
Jumbo craft stick

Acrylic craft paint: yellow

pink, peach, silver, and black

Paintbrush

Scissors

Fine point black permanent marker

Acrylic sealer
Instructions
Paint each craft stick with yellow paint and allow them to dry.

Paint about an inch or so of one end with pink paint.

Leaving about ¾ of an inch of the pink paint visible, paint a stripe of silver over the bottom of the pink.

In the same fashion as the pink, paint the other end of the craft stick with peach paint. When dry, use scissors to cut the end into a point. You can skip this step if you are concerned about the pointy tip with younger children, or you can round the tip with the scissors.

Paint the end of the tip black for the pencil lead.

Use a black marker to write whatever you like on the bookmarks. Some suggestions include the class subject (Science, Math, etc), the child's name or for a more generic approach you can use "No. 2" and give them as back to school gifts!

When everything is dry, apply a coat of acrylic sealer to your bookmarks.
Note:
Each craft stick will need to be painted on both sides. Allow one side to dry before turning over and painting the other side.
Variation:
A fun variation for younger children would be to create crayon bookmarks instead of pencils! Have fun!
This post was originally published on this blog on Sept. 22, 2012.
Amanda Formaro is the crafty, entrepreneurial mother of four children. She loves to bake, cook, make kid's crafts and create decorative items for her home. She is a crafting expert and guru in the kitchen and has appeared online and in print publications many times over the years. She is also the editor for the Home & Garden channel at Craft Gossip and owner of FunFamilyCrafts.com.
Latest posts by Amanda Formaro (see all)