Painting rocks has quickly become one of our favorite crafts and we're happy to share these daisy painted rocks with you. The daisy flower is a sign that warmer weather is on its way. So why not celebrate the changing seasons with this simple all-over daisy pattern? You can scatter these painted rocks throughout your home, yard or inside your potted flowers like we've done here.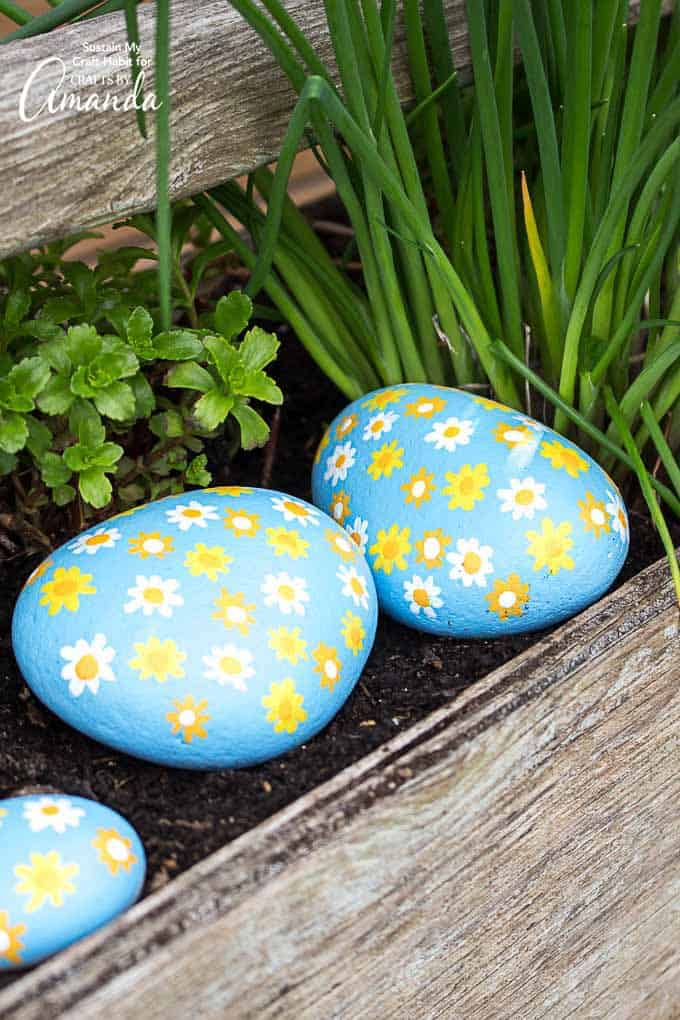 Daisy Painted Rocks
Rock painting is a huge trend these days and it's really no wonder! It's a relaxing, fun, creative and inexpensive craft habit to have. If you haven't started already, don't wait any longer. The possibilities are endless with so many tutorials available for every season of the year, such as our silly shark painted rocks or our grape hyacinths painted rocks and these snowflake painted rocks to name just a few.
NOTE: If you prefer to purchase painted rocks, there's quite a variety of designs available on Etsy!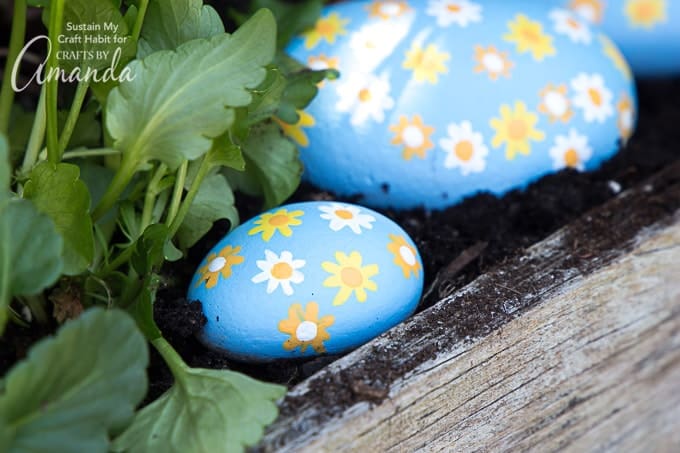 You can also turn small painted rocks into fridge magnets like we did we these easy painted rock bird magnets.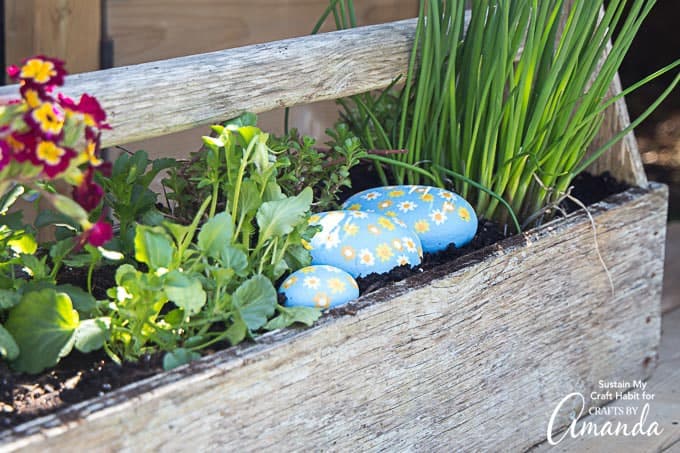 Materials Needed for daisy painted rocks: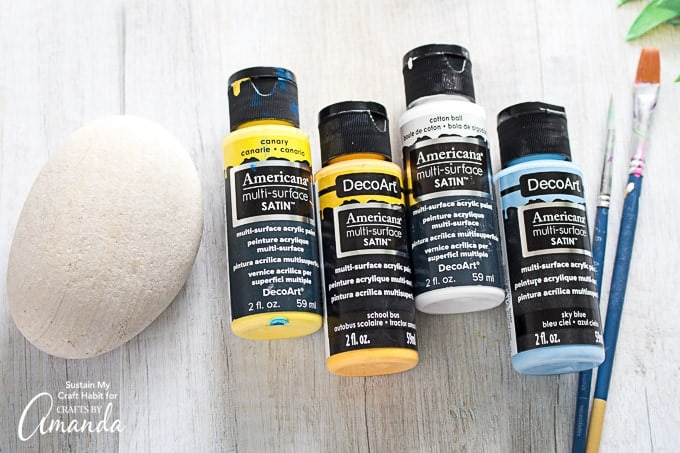 A few tips for rock painting to get you started:
Protect your work surface
Leave paint to dry fully between coats and when changing colors
Instructions for making these daisy painted rocks:
Paint the entire surface of the rock in Sky Blue using the larger flat paint brush. Leave to dry.


Using a fine tip paint brush, paint a short line about ½" long in Cotton Ball white. Paint an intersecting line to form an "X".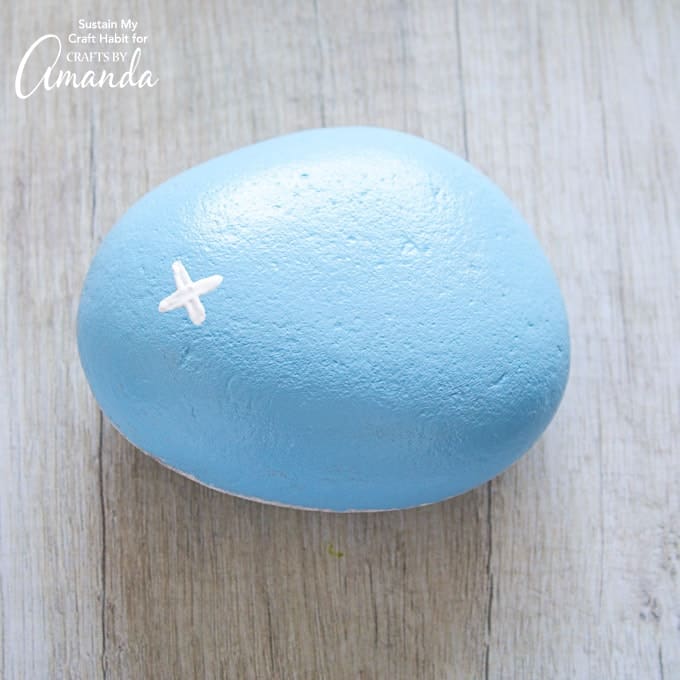 Repeat these steps to make another "X" shape over top. Paint these same shapes all over the surface of the rock. Go back and add a second coat of paint wherever it's needed.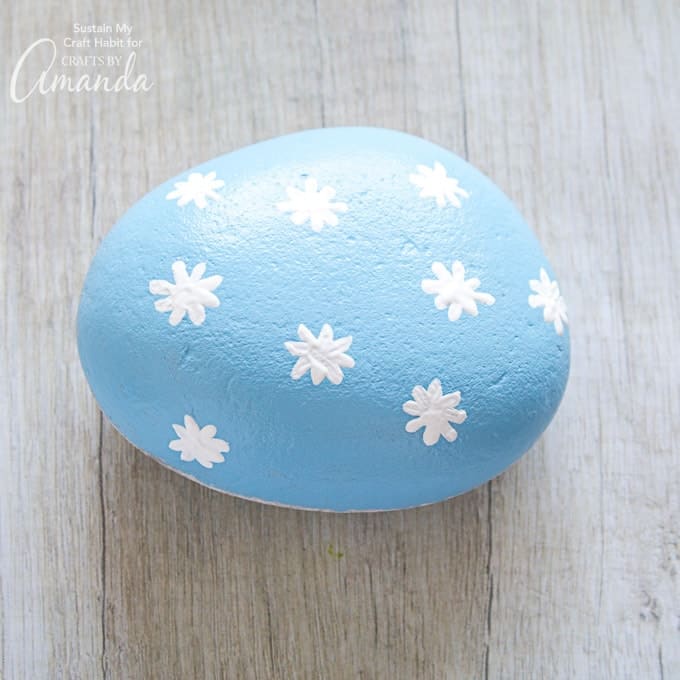 Change to Canary yellow color and repeat, painting small yellow daisies randomly in between the white daisies.


With the back end of the paint brush, dip the end in paint and dab small dots in the center of each daisy using the School Bus color.


To fill in the spaces in between, dip your paint brush in School Bus yellow and paint small daisies all over. Dip the back end of the paintbrush in Cotton Ball white and dab to paint the round centers.


Aren't these adorable? If you have daisies in your yard, you can even write out "daisies" on them and use them as a garden marker, similar to these painted rock garden markers!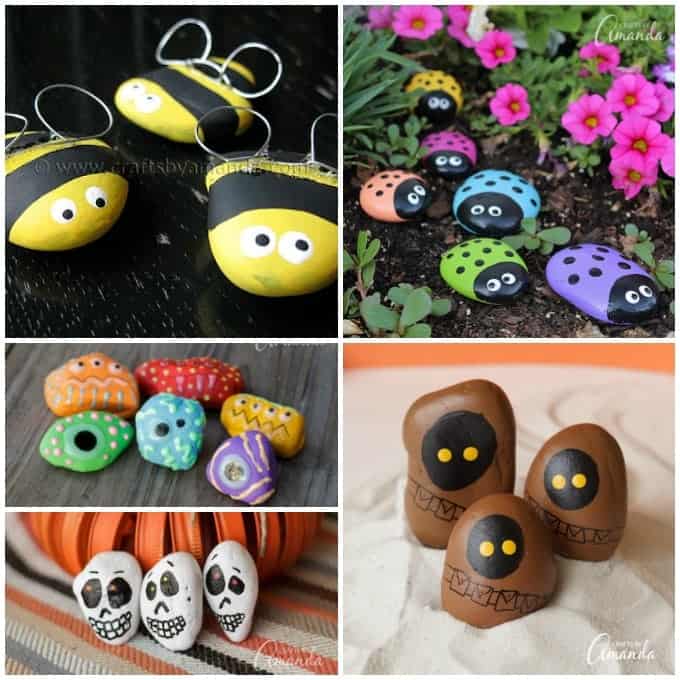 Check out more of our favorite painted rock ideas…
See the video below for a demonstration!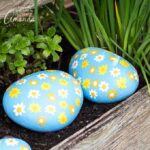 Print Project
All-Over Daisy Painted Rocks
Colourful painted all-over daisy flower rocks
Supplies
Decoart Americana Multi-Surface in Sky Blue

Decoart Americana Multi-Surface in Cotton Ball

Decoart Americana Multi-Surface in Canary

Decoart Americana Multi-Surface in School Bus

Fine tip acrylic paint brush

Rocks
Instructions
Paint the surface of the rock in Sky Blue.

Paint small "X" shapes using Canary all-over the painted rock.

Paint another intersecting "X" over top to form daisy petals.

Dip the end of the paint brush in School Bus and dab the center of each daisy.

Repeat these steps using Cotton Ball to form white daisies with School Bus daisy centers.

Lastly, repeat using School Bus for the daisy petals and Cotton Ball for the centers.
This post was originally published here on May 22, 2018.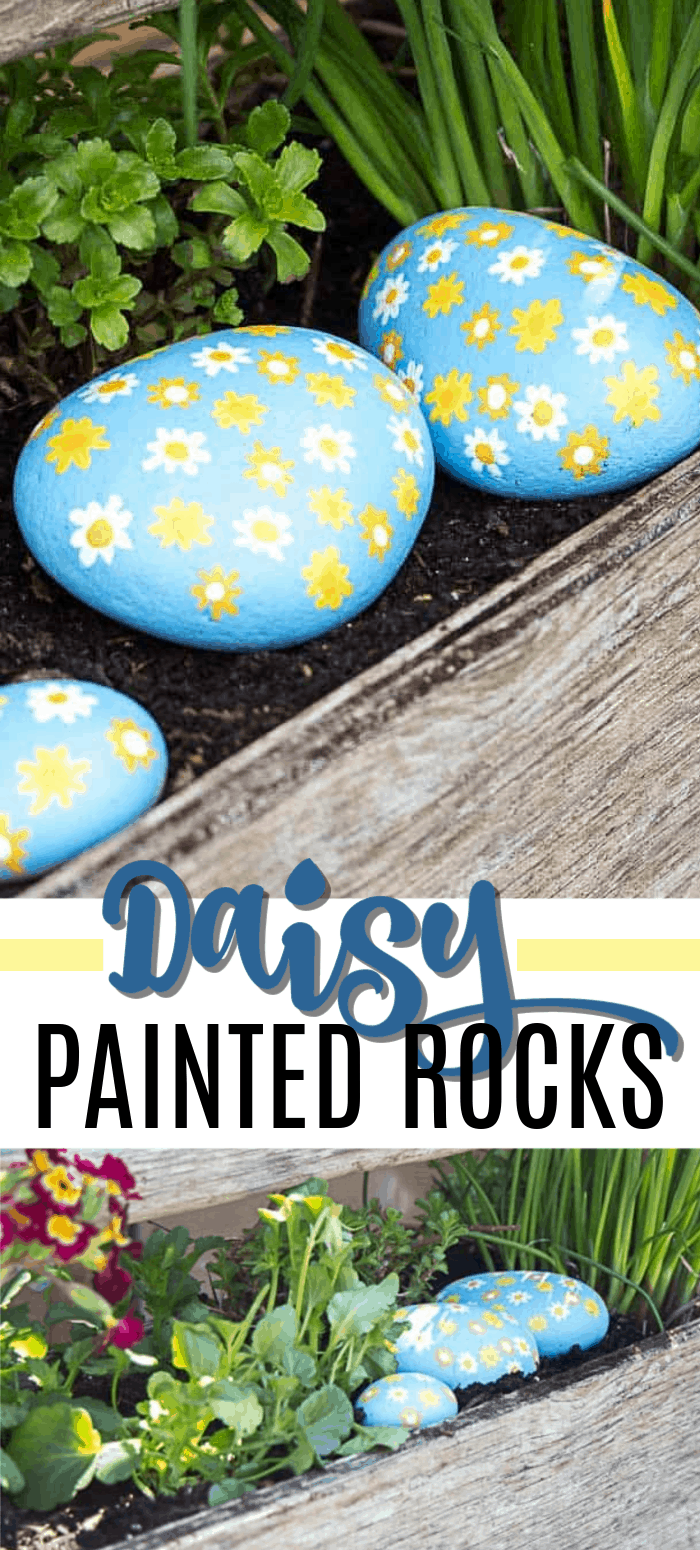 Jane and Sonja are sisters, moms and lifelong craft addicts both living near Toronto, Canada with their families. They share their love of creativity, nature and coastal craft and DIY ideas on their blog Sustain My Craft Habit.
Latest posts by Jane and Sonja (see all)