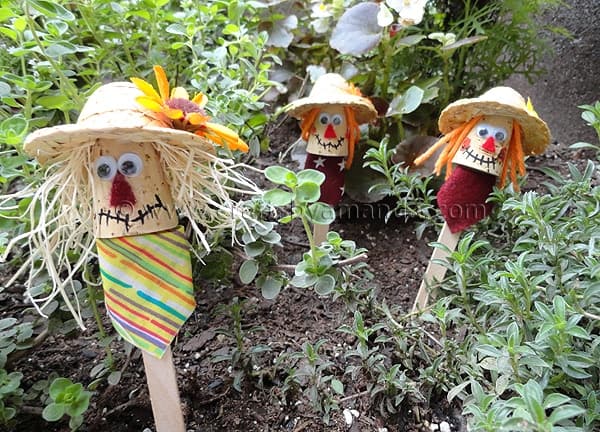 Scarecrows are synonymous with autumn. Making fall crafts with your kids needs to include some of these cuties! Using some craft sticks, corks and mini straw hats, you can make these cute little craft stick scarecrows. Use them as plant pokes, puppets or stick them in some Styrofoam to hold them up.

The first thing you need to do is cut a slit in the wide end of the cork. Grown ups should handle a craft knife or box cutter, but kids can do this by poking the cork with a toothpick several times. Line that slit with some white craft glue and insert the craft stick.

To make the scarecrow's scarf you'll need a piece of fabric, about 2 inches square. Fold it in half to make a triangle and glue it together. Then wrap it around the craft stick neck and glue in the back.

You can use a Sharpie marker to draw on a stitched smile, then glue on googly eyes and a triangle scrap of orange felt.

Take cut pieces of yarn and line them up next to each other, put white glue on top of the cork head, then turn upside down to stick the head to the yarn. Put some glue inside the rim of the hat and add it to the head.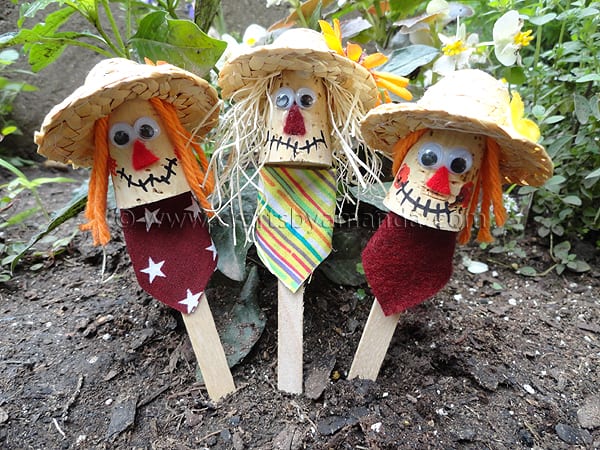 Here's a printable version for you. Have fun!
Psst! Here's something fun for the kids.. a paper bag scarecrow! And another cool project is this reversible scarecrow snowman sign!
More Scarecrow Crafts

Print Project
Craft Stick Scarecrows
Supplies
For each scarecrow:
1

craft stick

1

cork

available at craft stores

1

miniature straw hat

2

wiggle eyes

Scraps of felt and/or material

Yarn

raffia or American Moss

Small silk flowers

White craft glue

Instant grab glue

Scissors

Sharpie markers

Craft knife or toothpick
Instructions
Holding cork with the widest end facing upward, use the craft knife to make a slit that the craft stick will fit into. You can also do this with a toothpick if you are concerned about the sharp aspect of a craft knife. Pipe a bit of white craft glue into the slit and insert the craft stick. Set aside.

Cut a scrap of fabric or felt to about 2-inches square. Fold in half to form a triangle and glue together with instant grab glue. Cover one side of triangle with instant grab glue and attach to the front of the craft stick just below the cork (head). Fold the ends of the triangle around to the back and press together to adhere glue.

Use a Sharpie marker to add a mouth, glue a small triangle of felt on as the nose, and add the wiggle eyes. Optionally, you can use a pink or red marker to add rosy cheeks as well.

Cut yarn (or raffia, etc) into four pieces, each 3-inches long. Line them up side by side. Cover the top of the head with white craft glue and turn upside down, pressing the top of the head (cork) onto the pieces of yarn. This will pick up all four pieces a the same time. Turn right side up and add more craft glue on top of the yarn and inside the straw hat. Press the hat onto the head. Glue a silk flower to the hat.
Expert Tips & FAQs
You can use yarn, raffia, or straw for the scarecrow's hair. In a pinch, strips of construction paper or felt will work great too!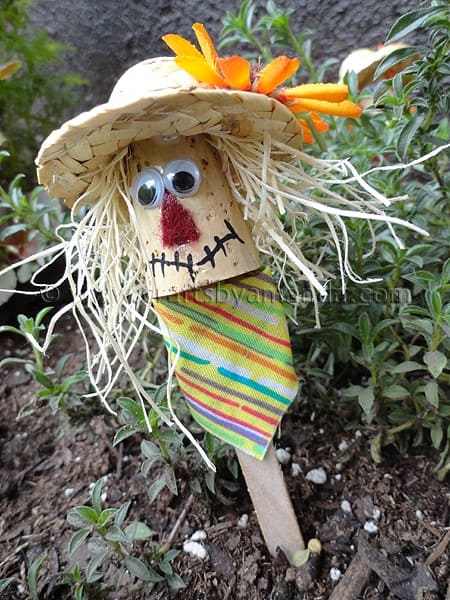 ');

Latest posts by Amanda Formaro
(see all)