Do you make your kids search for their Easter baskets on Easter morning? When I was little I loved the fun of searching for my Easter treats each year. I have made the process a little easier by creating a printable Easter scavenger hunt that is all ready for you to use on Easter morning.
While we're on the subject, be sure to grab our printable Easter Basket Tags to attach to each basket!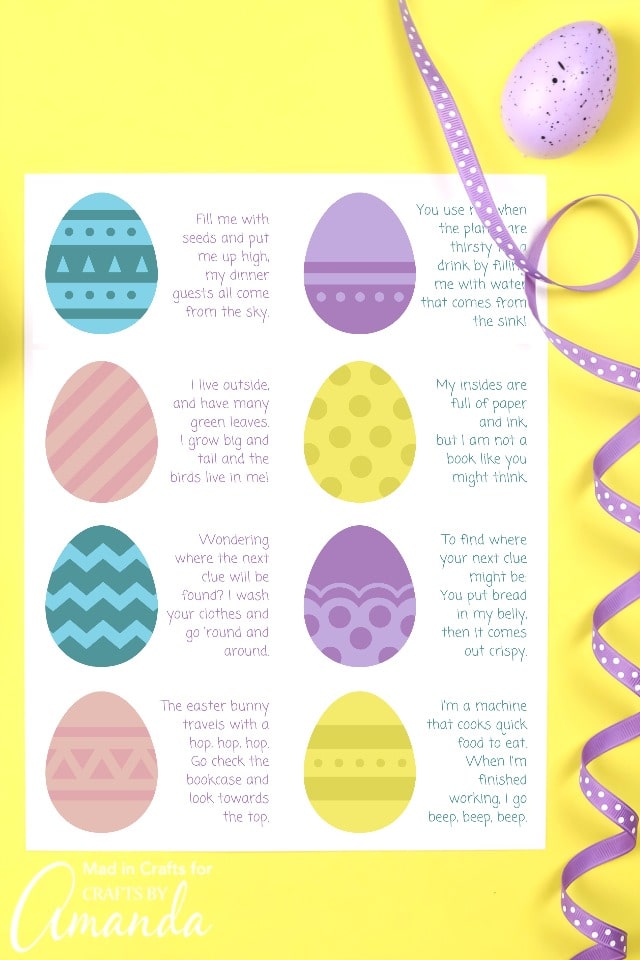 Printable Easter Scavenger Hunt
This scavenger hunt uses 8 different clues to take your children inside and outside the house until they finally find the last clue which leads them to the location of their Easter baskets. Your kids will love how much fun the scavenger hunt is, and you will love how easy it is to set up!
Related: Need a fun tote bag to hold all your kid's Easter goodies? Check out this punny DIY Easter tote!

What You Will Need:

Download the Easter Scavenger Hunt PDF to your hard drive and load your printer with heavy printer paper or cardstock. Set your printer to the highest quality print settings. Print out the single page PDF. Then use a pair of scissors or a paper cutter to cut the individual scavenger hunt clues apart.
The clues for this hunt will lead to the following places:
Fill me with seeds and put me up high, my dinner guests all come from the sky. (bird feeder)
You use me when the plants are thirsty for a drink, by filling me with water that comes from the sink! (watering can)
I live outside and have many green leaves. I grow big and tall and the birds live in me! (tree)
My insides are full of paper and ink, but I am not a book like you might think. (printer)
Wondering where the next clue will be found? I wash your clothes and go 'round and around. (washing machine)
To find where your next clue might be: You put bread in my belly, and it comes out crispy. (toaster)
The easter bunny travels with a hop, hop, hop, go check the bookcase and look towards the top (top bookshelf)
I'm a machine that cooks quick food to eat. When I'm finished working, I go beep, beep, beep. (microwave)
Any of these clues can be eliminated without messing up the hunt. For example, if you don't have a watering can, you can just throw that clue away. Place the clues around your home, making sure that each clue leads to the location of the next clue. The final clue should lead your kids to the location of the hidden Easter basket. Happy Easter!
More Easter Crafts

Latest posts by Jessica Hill
(see all)