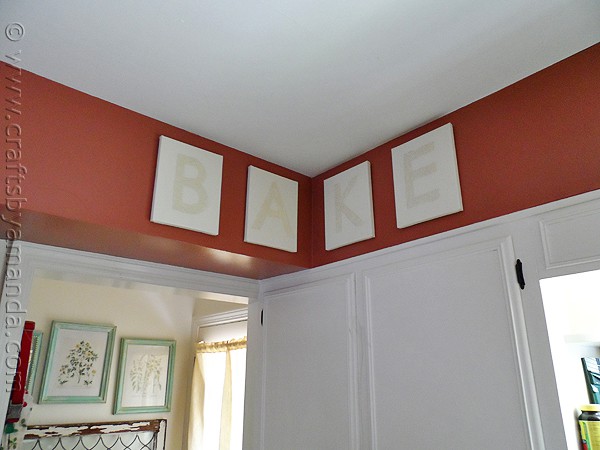 I'm just about done adding the finishing touches to my kitchen. There's maybe one or two spots I could add things to, but really, it's fine as is. I wanted to create a simple project, and have been experimenting with epsom salts lately, so this textured bake sign was the final result. Anyone can make this sign. If you can print letters, cut them out, trace and spray paint, you can do it. Ready?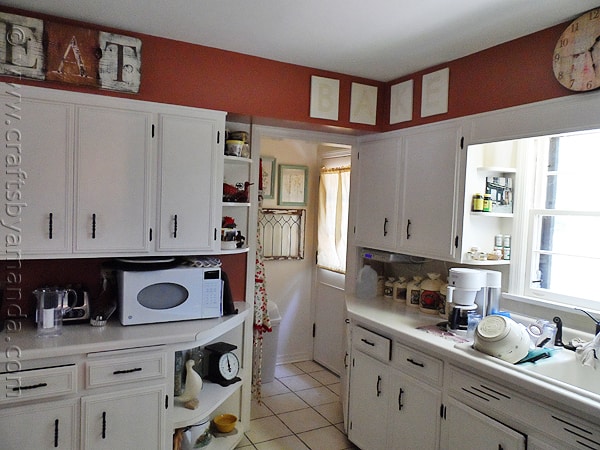 Want to see my kitchen makeover? I posted all about it on Craft Gossip! Head over to My Kitchen Facelift for a short tour.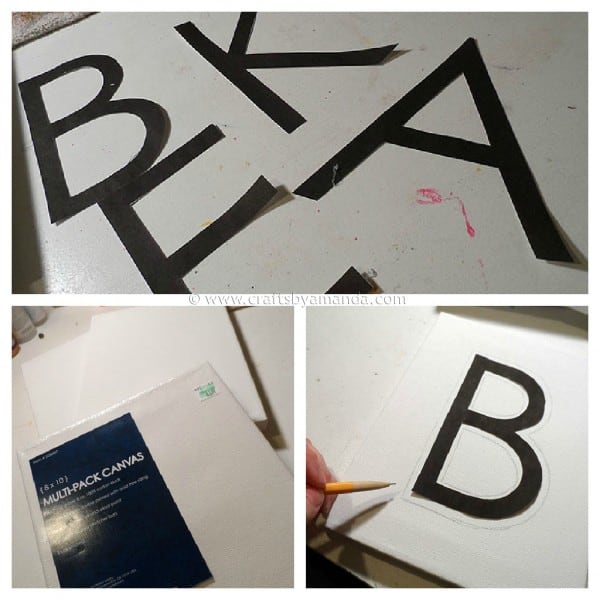 First of all, I opened a Word document and chose the font Century Gothic. I typed the word BAKE and changed the font size to 630. That way each letter would fill up the page and when printed, each would have their own page. After printing them, I carefully cut the letters out.
I purchased four 8×10 canvases from Hobby Lobby, they had 2-packs for $3.99 each. Use a pencil and lightly trace the letter onto the canvas, tracing about 1/4-inch around the edge to make the letter larger.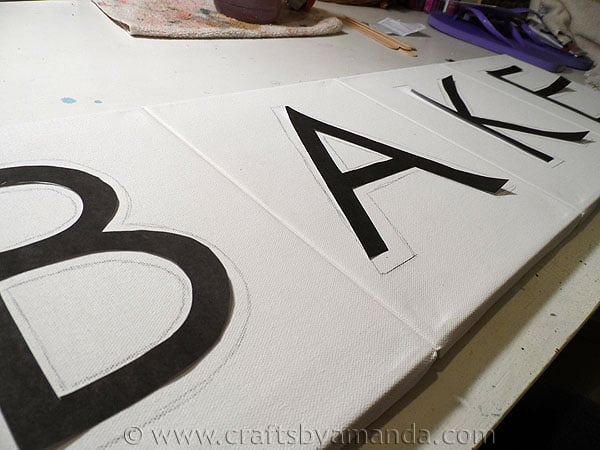 Repeat for each letter. I used a ruler to line up the bottom of each letter to make sure they flowed properly.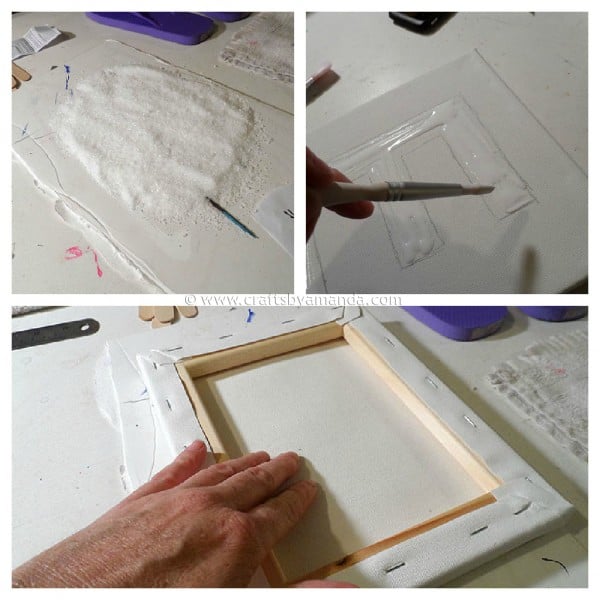 Dump out some epsom salt onto a flat surface. A cookie sheet or a piece of wax paper works great so you can easily pick it up when finished.
Add some glue to the letter and spread it with a paintbrush. Tacky Glue or Elmer's Glue All works great. Turn the canvas over and gently press it into the salt. Lift and check it, if any spots were missed, press it back into the salt. Don't tap off any excess.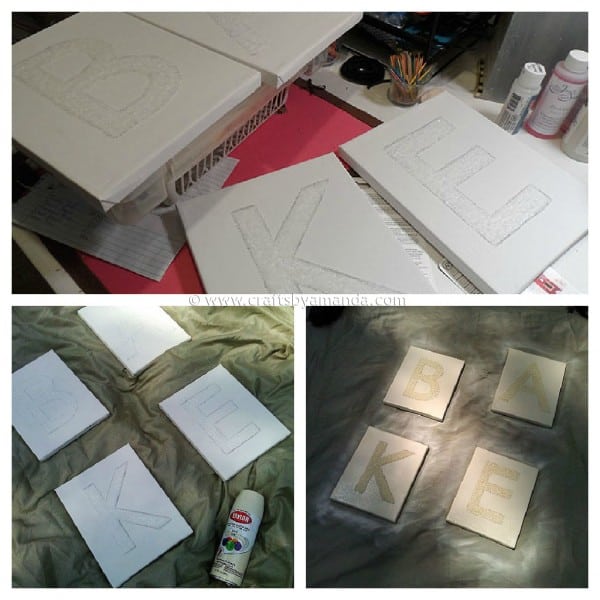 Set them aside to dry overnight. When dry, gently tap off any excess salt and place the canvases onto a drop cloth outside. I used Krylon Ivory indoor/outdoor spray paint in satin finish. My kitchen cabinets are not stark white, so I chose the ivory instead of white to avoid a major color clash. Spray the canvases with an initial coat and allow them to dry for about 30 minutes. Your pencil marks may still show through at this point.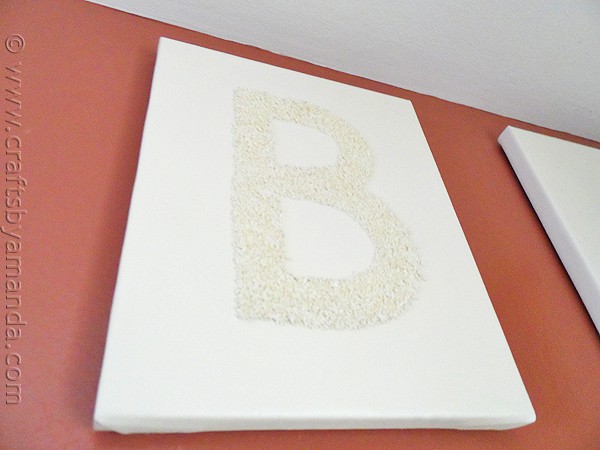 After the initial coat, add more coats until the pencil lines are no longer visible and you are happy with the coverage. Allow to dry completely before hanging!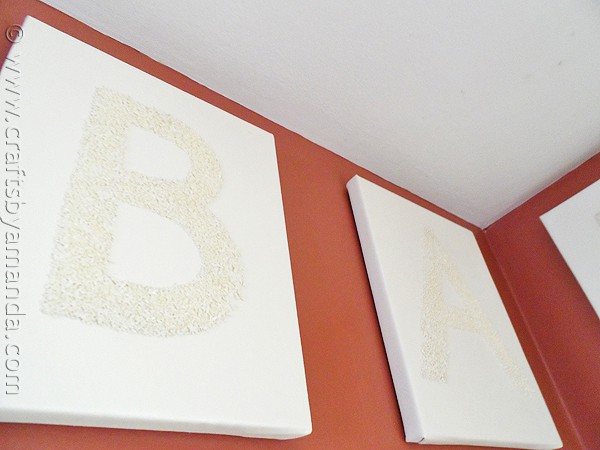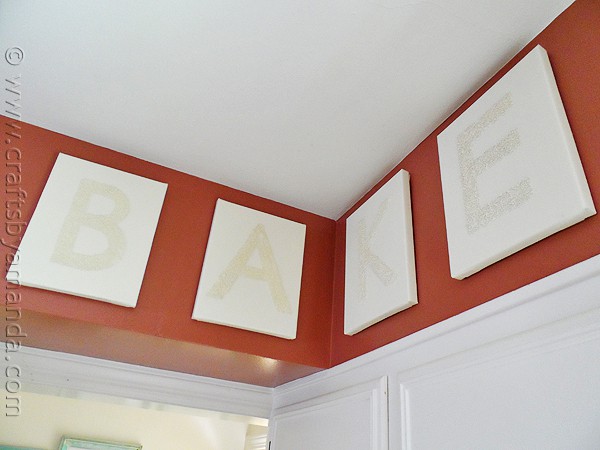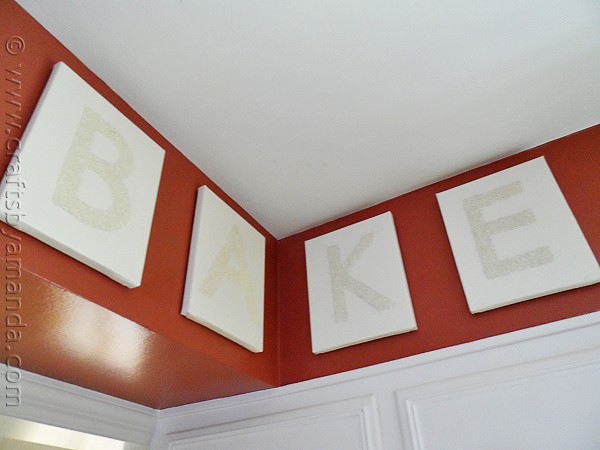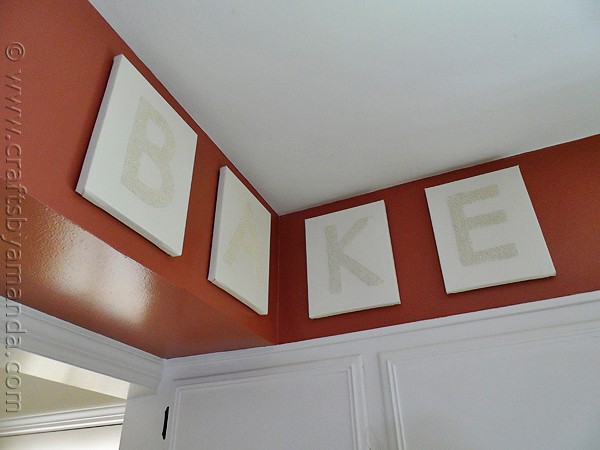 Hope you liked them! Don't forget to head over to my Craft Gossip blog to see my kitchen makeover as well as links to ALL of the kitchen projects I have on display!
Latest posts by Amanda Formaro
(see all)