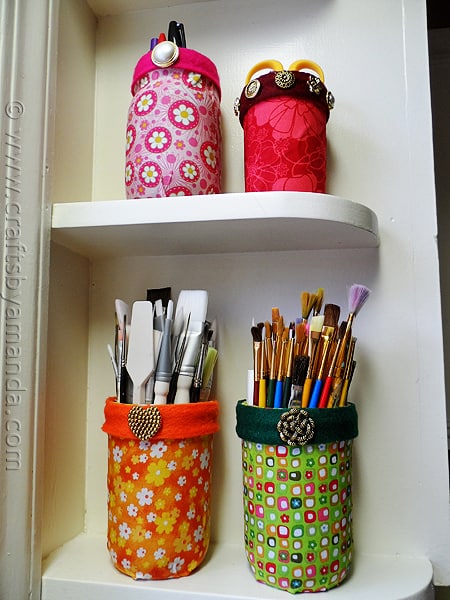 While sitting in my craft room one day, I realized that the jars holding my paintbrushes, pens and pencils were all quite plain. In fact, they were downright ugly! Often times I will practice a method of one sort or another on a jar, and that jar is then graduated to a useful item in my craft room. So I decided to pretty them up a little with some small bunches of fabric I had lying around.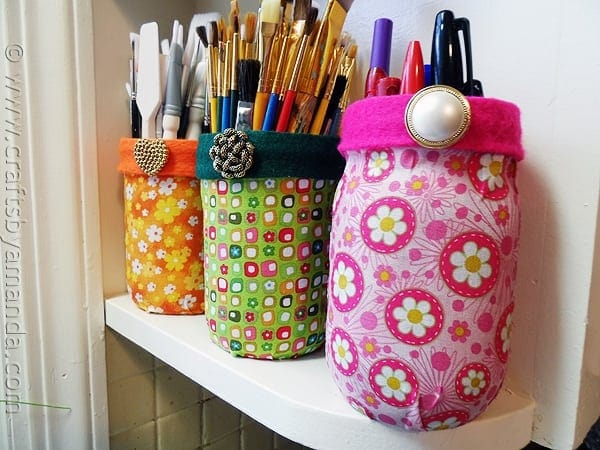 I don't do a lot of sewing, so fabric isn't really something I have a lot of. However, Walmart sells these fat quarters in little bundles and I am always looking through them. They are perfect for small projects like this, and often come in some of the cutest colors and patterns. I'm always digging through that section, looking for pretty colors, especially for the coming season and holidays.
Of course, this project is also great for those of you that do have lots of fabric on hand. It's ideal for those leftover pieces that are too big to throw away, and too small to make anything out of.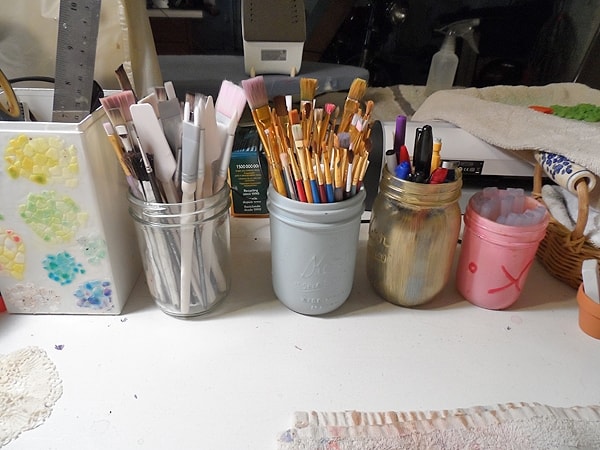 There's not much to it. Here's the jars before I started. Pretty boring, very plain.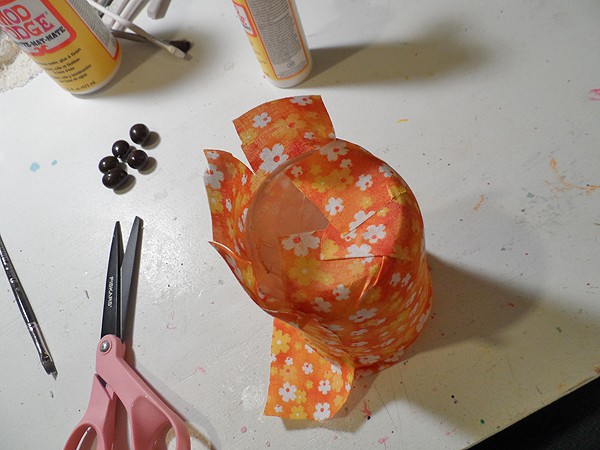 Just cut enough to wrap around the jar and apply Mod Podge. I cut the bottom into sections to keep it from bunching up.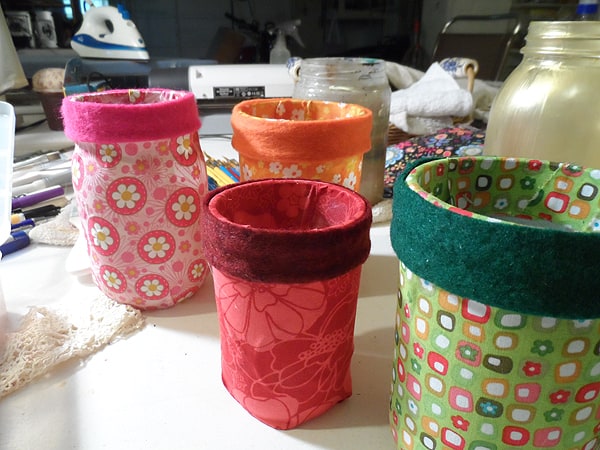 Add some felt around the rims and decorate with some costume jewelry from the thrift store!
Looking for more ways to decoupage mason jars? Mod Podge Rocks has a collection of 18 ways you might like! If it'd being tidy that you like, check out all of these organization ideas!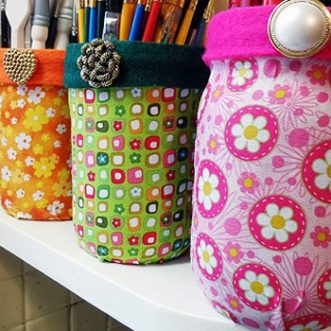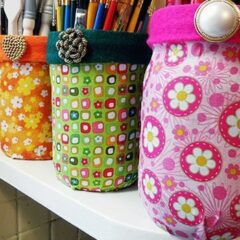 Print Project
Mod Podge Fabric Jars
Supplies
Fabric

Iron

Mod Podge

Paintbrush

Felt

Scissors

Hot glue gun

Vintage looking buttons
Instructions
To figure out how much fabric you need, lay a jar onto the fabric and roll it up in it. Leave about an inch of extra fabric at both the top and bottom of the jar. Trim to fit around the jar, leaving yourself an inch or so extra. You can always trim the excess off if you need to.

Paint the jar with Mod Podge. Lay the jar onto the fabric and use your fingers to press the fabric to the glass. Cut slits in the fabric overage at the top of the jar to make it easier to fold inside. Add some Mod Podge to the inside of the mouth of the jar and press the fabric inside. Repeat this process for the bottom of the jar. Set these aside to dry.

Cut strips of felt and hot glue them around the rim of the jar. Hot glue buttons onto the felt to embellish.

Fill with pens, pencils, paintbrushes etc!
Latest posts by Amanda Formaro
(see all)