This friendly little monster is not only cute during the day, but also lights up the night! Place a camping headlamp or other small light behind this jug filled with water and you see a wonderfully spooky sight!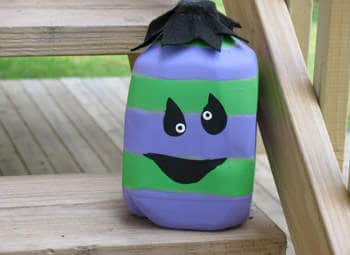 This is a really cute project for Halloween and it looks really cool lit up at night. Fill the completed jug with water then place a large flashlight or camp light behind it. The light will shine through and create a really cool effect that kids will love.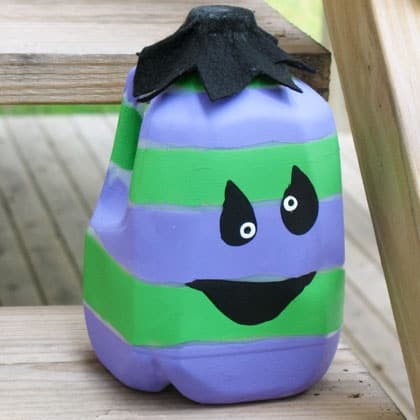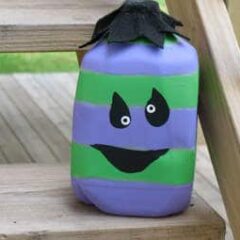 Print Project
Monster Light Jug craft
Supplies
Acrylic paint: purple

green, black, white

½

sheet of black felt

White craft glue

Empty gallon plastic milk container

Small camping light

Acrylic sealer spray
Instructions
Wash out the milk jug and let it drain.

Be sure the outside of the jug is dry. Paint a thin layer of purple and green stripes around the jug. (You may want to water down your paint so that it goes on slightly transparent instead of opaque.) Let dry.

Remove the lid from the milk carton and glue a piece of black felt to the top of the cap. Pipe some glue around the sides of the jug lid and wrap the felt around it. Secure with a piece or yarn or rubber band until it dries completely.

Paint two eyes and a big smile on the milk jug with black paint. Let dry.

Add the whites of the eyes with the handle end of a large paint brush. Let dry.

Use the handle end of a small paint brush to dot a small circle of black onto the whites.

Untie the yarn or remove the rubber band from the milk jug lid. Cut the felt around the lid in a zigzag fashion to create the monster's hair.

Spray the dry milk jug with acrylic sealer spray. Let dry and spray again.

When dry, fill the jug with water and put on the lid (hair).

At night, place the small light behind the milk jug to illuminate your monster!
Latest posts by Amanda Formaro
(see all)