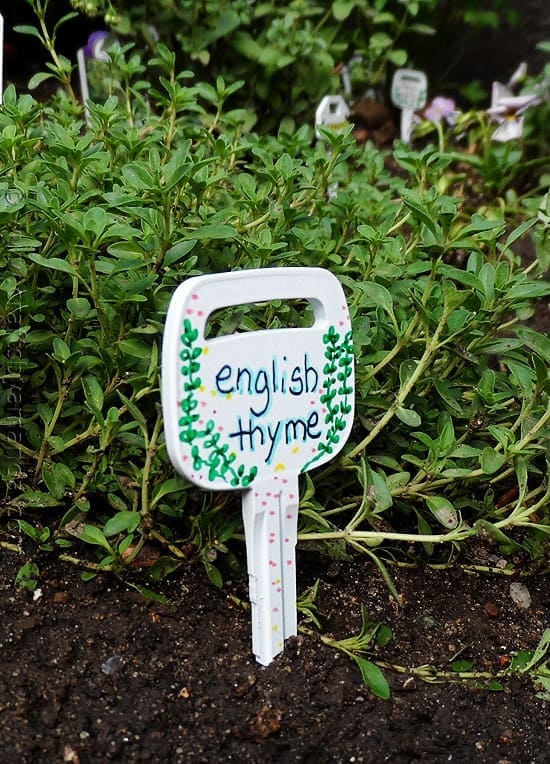 I have a planter box outside my door where each year I plant my herb garden. I'm not crazy about those little plastic markers that come with the potted herbs, so I decided to make a set of my own. Luck would have it that I had been given a big container full of keys, and so these recycled key plant markers were born!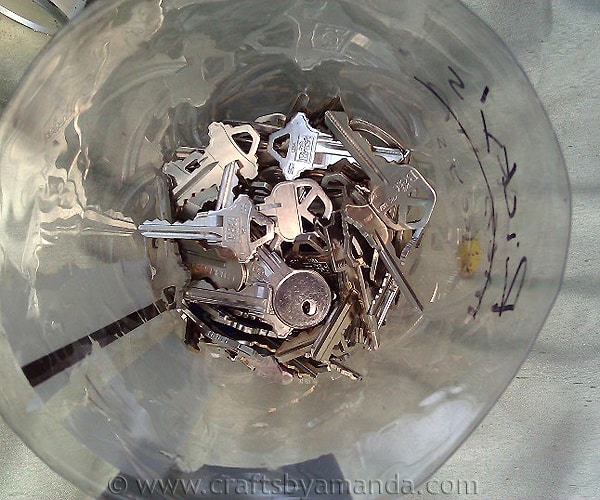 My daughter's boyfriend works at the hardware store here in town. One day he showed up with a 2-liter plastic bottle, the top cut off and filled with keys. They have a key cutting machine, and apparently these were all the rejects. He knew me well enough that I could probably make something from them!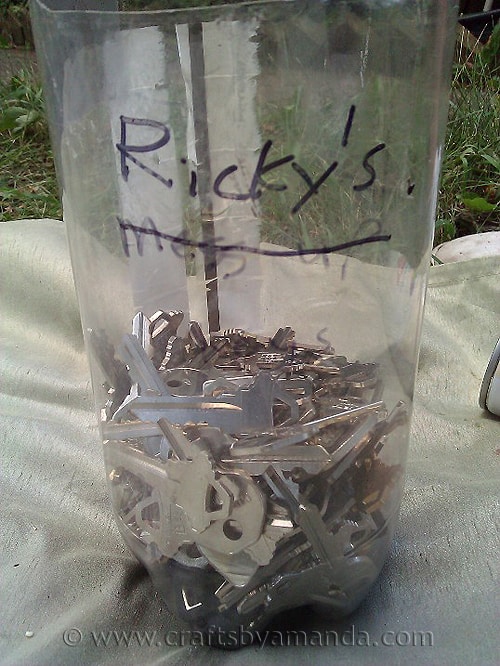 As you can see from the bottle, they had some fun with a fellow employee named Ricky. ;-)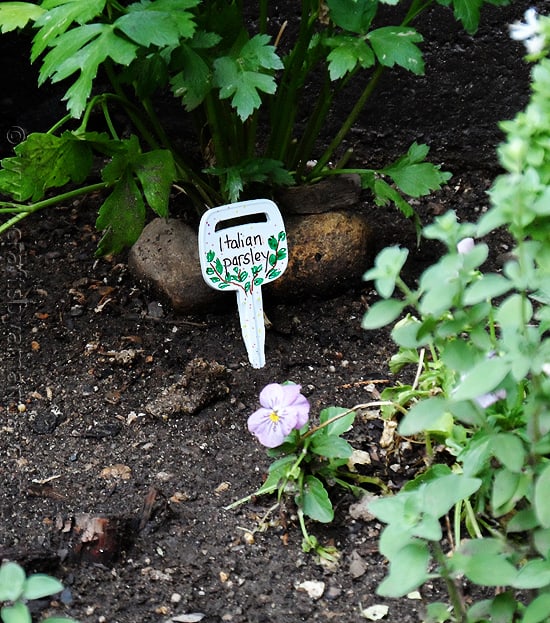 I love recycling things and keeping as much as possible out of the landfill. If you're like that too, I suggest you check with your local hardware store and see what they do with their mishap keys! Maybe you'll come home with a batch as well.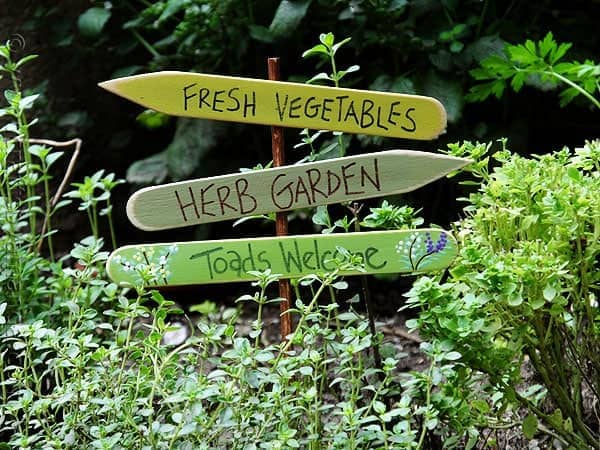 Anyway, back to the planter. You might remember my Toads Welcome Herb Garden Sign from last year.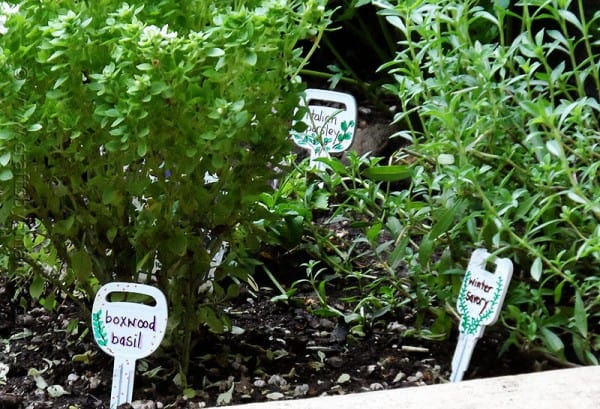 Please note, all of these key marker photos are from last year, hence the vast amount of unplanted space you see.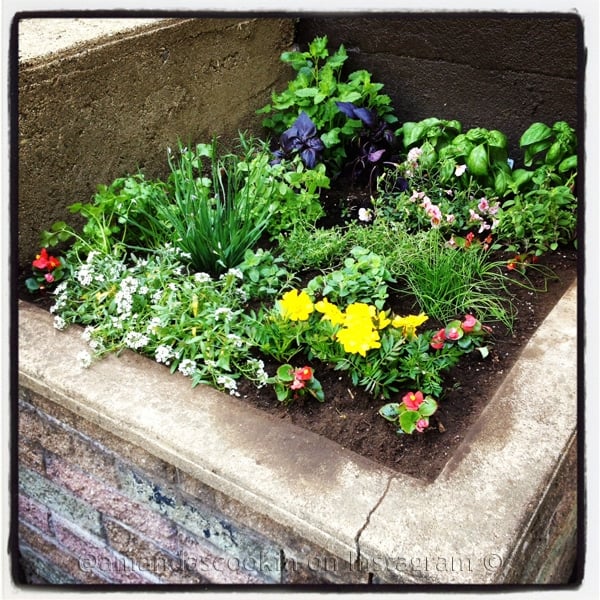 Well this year I looked at the empty planter and decided I wanted it to be much fuller than last year. I added even more herbs, and I kid you not, the day after I planted them the toad was back! I'm happy to see him taking up residence here once again. And, this year, he has a lot more plant cover as you can see!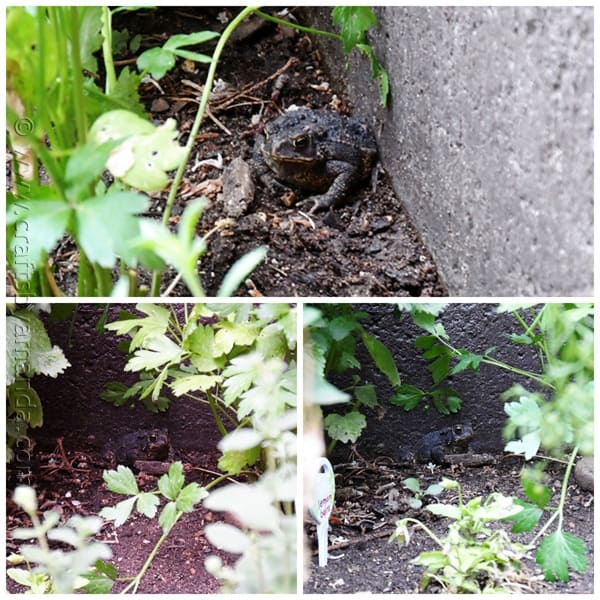 Here's some photos of him from last year.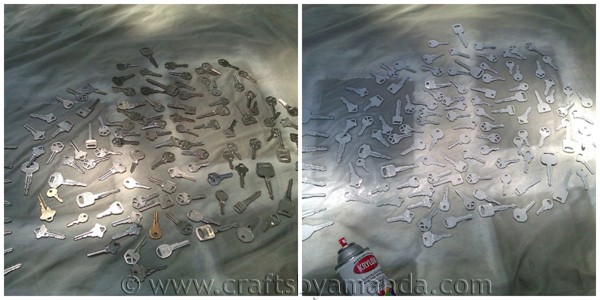 To make these plant markers, I used white spray paint with a satin finish. I used an old shower curtain to protect the grass and laid all the keys out. I sprayed them on one side and let them dry, then flipped them over and did the other side.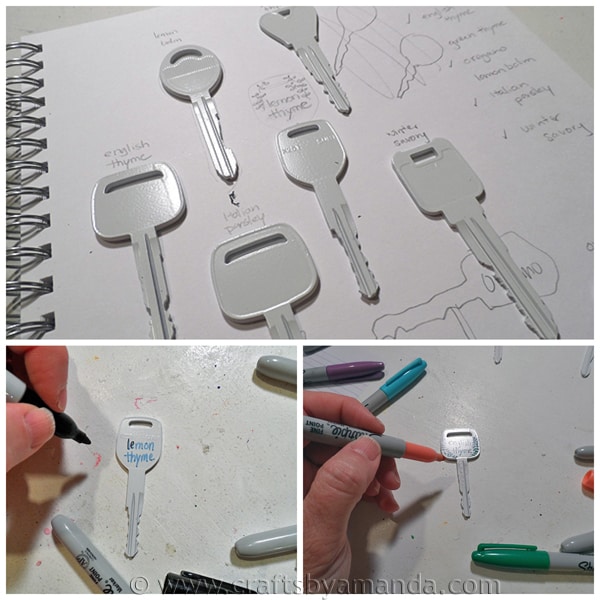 To decide what to write on each key, I traced each one's shape onto paper first. Then I drew out the herb names to see what fit best on each key. When I was ready, I used colored Sharpie's to add the words and designs.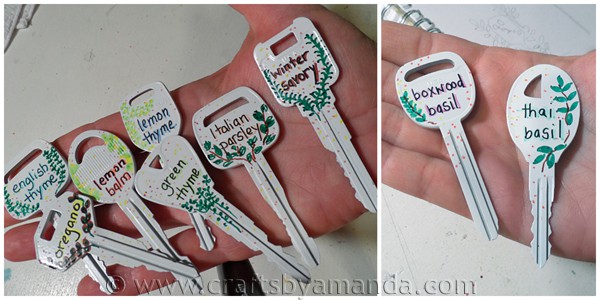 See?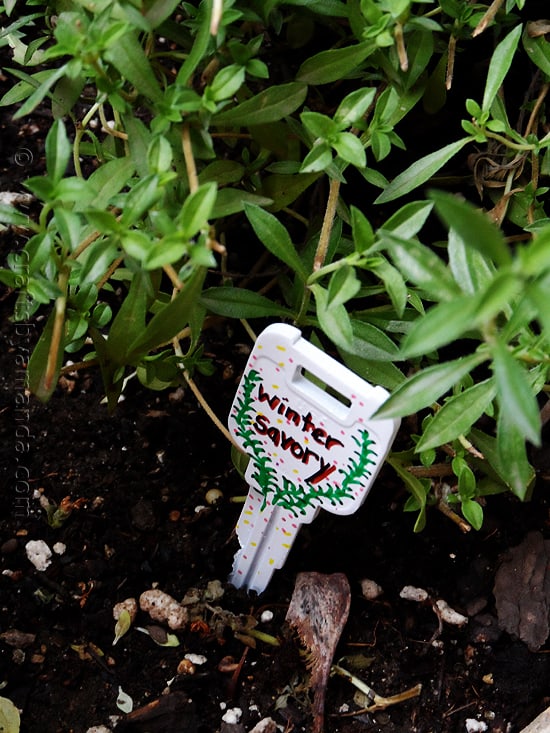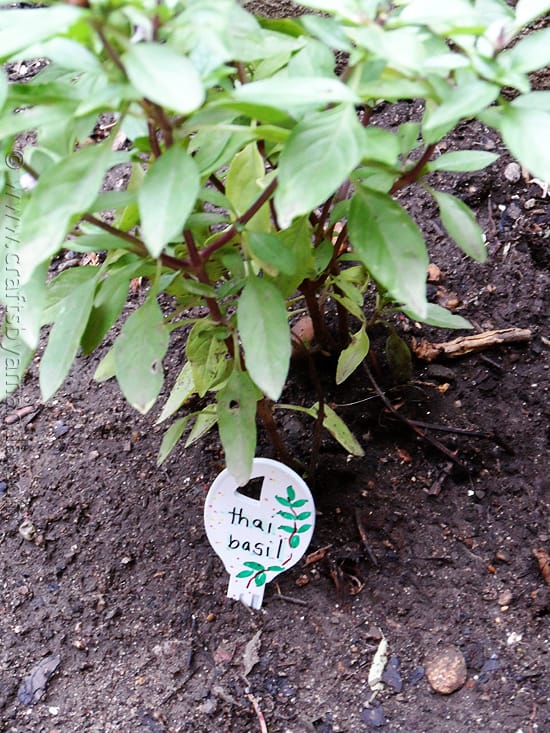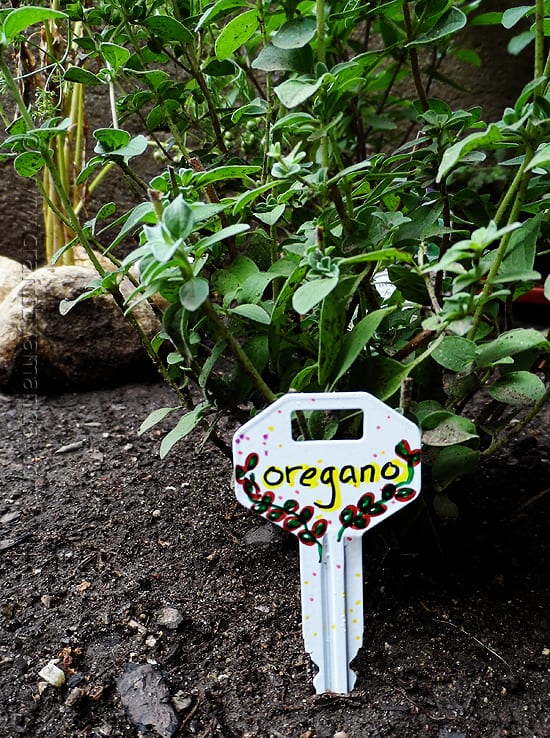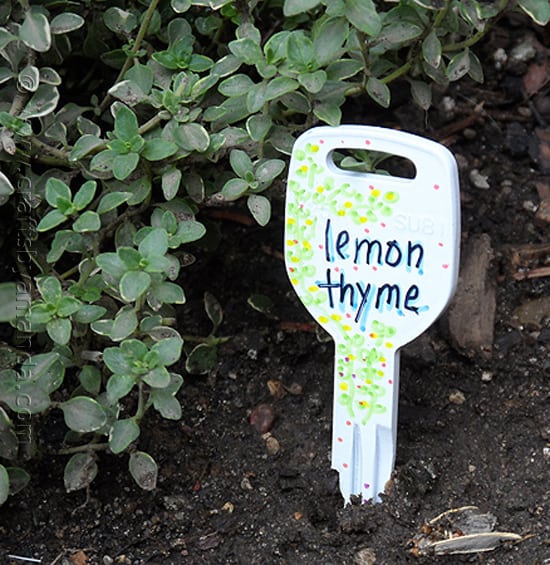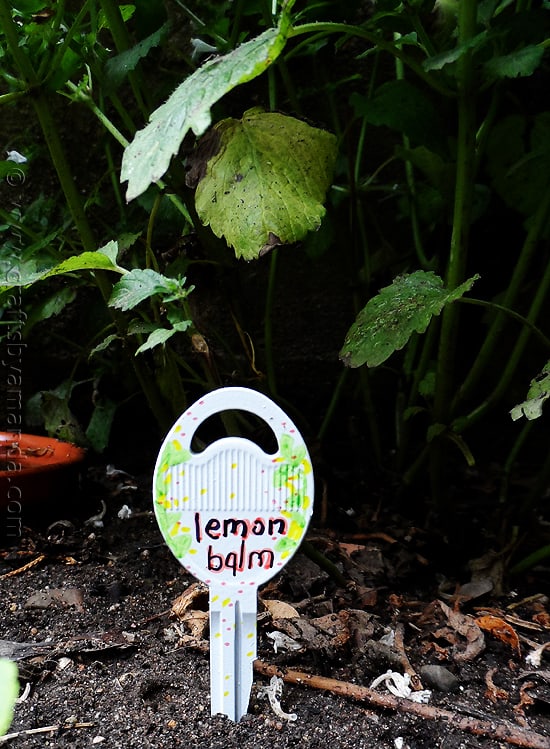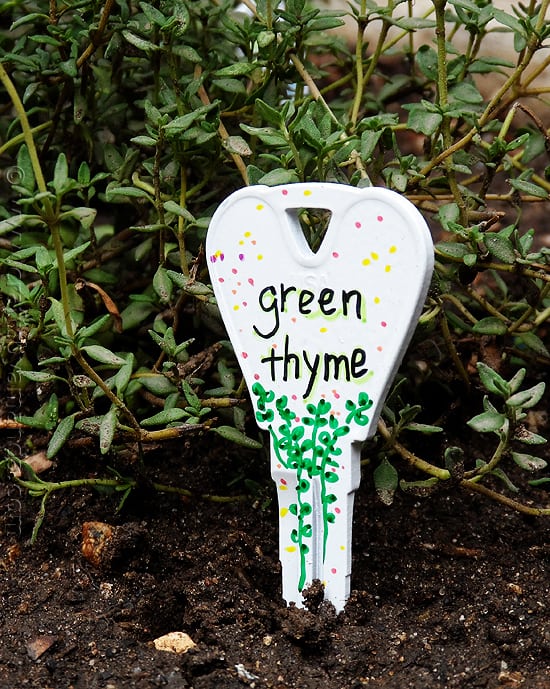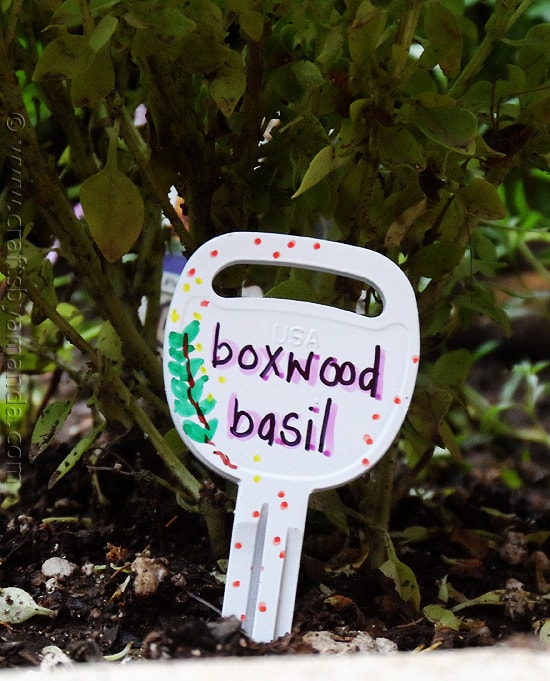 These survived great last year, but I neglected to bring them in over the winter and now I have to redo them. So don't forget to bring in your markers and save yourself the extra step!
Make Plant Markers from Recycled Keys
Supplies
Recycled keys
White indoor/outdoor spray paint
Colorful Sharpie permanent markers
Outdoor sealer spray or brush-on (such as Outdoor Mod Podge)
Directions
Spray paint the keys and allow to dry. Give them a second coat and let them dry again before turning them all over and painting the other side.
Write herb names with colorful Sharpies. Then trace over the words, offset just a little, with a black fine point Sharpie. You want to make sure the color shows through.
Use shades of green to draw leaves in different sizes on the keys. I also used pinks, oranges and reds to add a few dots here and there just for colorful accent.
Allow the marker to dry for two hours before applying sealer. Apply two coats to each side.
Amanda Formaro is the crafty, entrepreneurial mother of four children. She loves to bake, cook, make kid's crafts and create decorative items for her home. She is a crafting expert and guru in the kitchen and has appeared online and in print publications many times over the years. She is also the editor for the Home & Garden channel at Craft Gossip and owner of FunFamilyCrafts.com.
Latest posts by Amanda Formaro (see all)