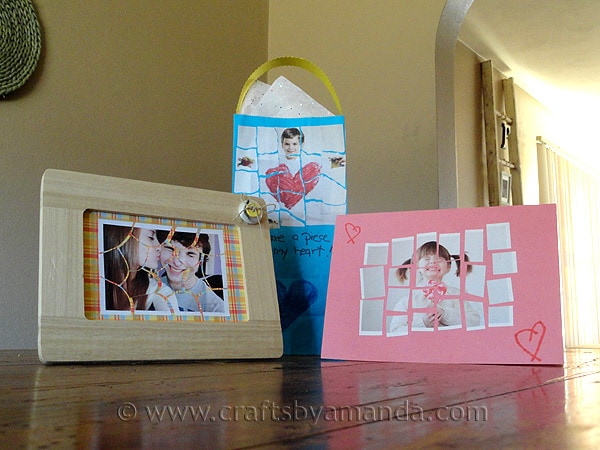 Fun valentine greetings and gifts made from your children's photos! And the best part is you can adjust one craft that's fitting for a preschooler all the way up to a teen friendly craft. Make a mosaic photo card, a mosaic photo gift bag and even a framed mosaic photo, all using the same concept.
Growing a craft from preschool to teenagers, this was the topic today during my monthly video craft show at TheMotherhood. Each month I'll host a live video demonstration focusing on craft ideas for your kids. Watch for announcements on Facebook as well as Twitter for upcoming shows. You can also get announcements from AmandaFormaro.com. Hope to "see" you at the next one as I chat with viewers live after the show. Watch today's show below:
To make these cute Valentine projects you'll want to start with photos that you print from your computer. You can certainly use real photos if you like, but I would suggest saving those for your frames, scrapbooks and photo albums.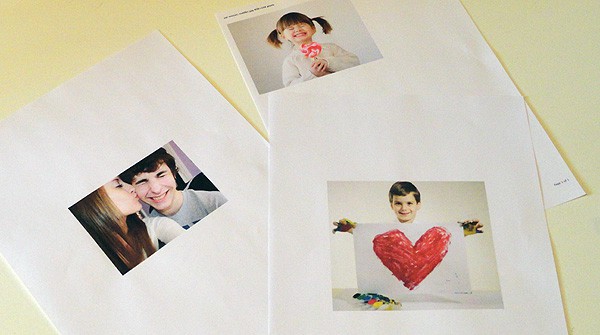 Simply print the photos on regular copy paper using color ink if you have it. We are not decoupaging, but if we were, you would want to spray your printouts with sealer first so the decoupage doesn't bleed the printer ink. But we're not, so just store that tip in your brain and let's move on. :)
A little disclaimer. The two photos of the younger kids are from a stock photography site. My kids aren't that young anymore. The one of the teenagers is my 18 year old daughter and her boyfriend.

For preschoolers keep it simple. Choose a piece of construction paper and fold it in half to create a card. Cut or tear the picture into pieces, use less pieces for younger children (2-3 yrs) and a little smaller for older preschoolers and pre-K (4-5 yrs).
Use crayons or a marker to add a few hearts to the front of the card.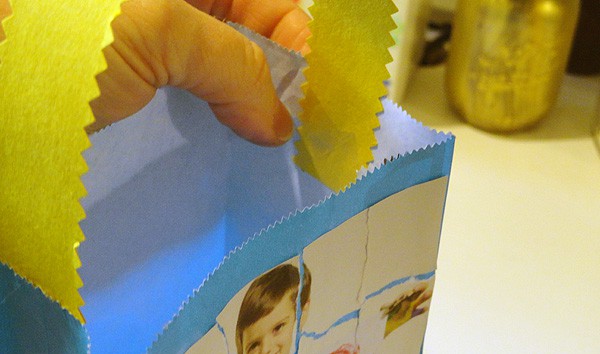 For school aged kids, bump it up a bit and make the photo pieces smaller and decorate your surface a bit more. This gift bag has a construction paper handle which is taped to the inside of the bag.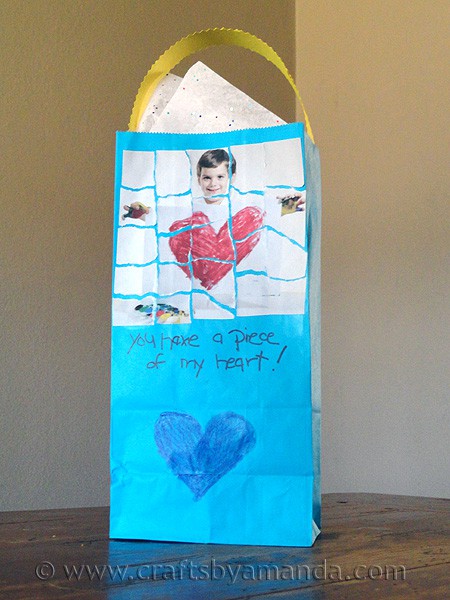 Use markers or crayons to draw and color a heart to the front and write a saying with marker. We write "You have a piece of my heart!"

For teenagers you'll want this project to be a bit more sophisticated. Teens like using colorful papers and more "adult" embellishments, like the button and twine I used here. This naked frame is available at most places that sell craft supplies and generally cost around a dollar. Take the cardboard insert out, cover it with glue stick and put your patterned paper on it and trim.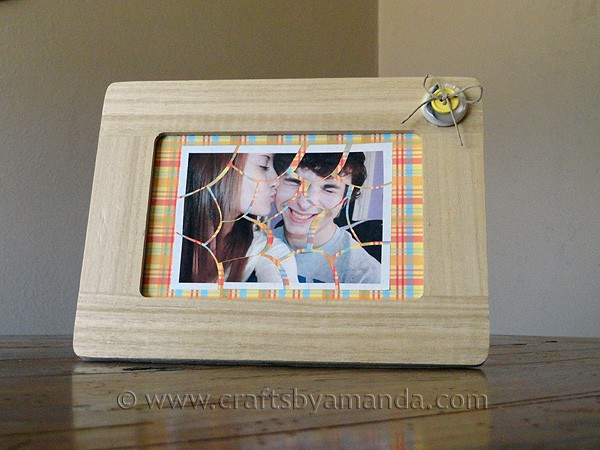 Put the insert back in and attach the cut photo pieces. Run some twine through a large button and then through a smaller button. Tie the twine and hot glue it to the frame.
If you would like more tips on "growing a craft" and adapting projects to grow with your kids, read my article "Crafting with Kids: From Preschool to Teenagers" on my other blog, Fun Family Crafts.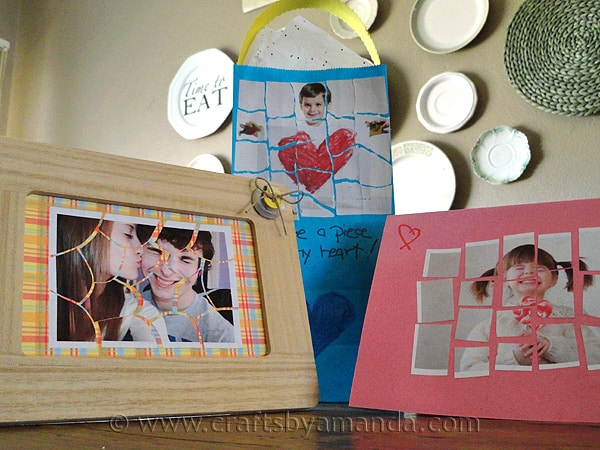 Below is a list of craft parties I link to each week. There's lots of creative talent out there, check them out :)
Latest posts by Amanda Formaro
(see all)