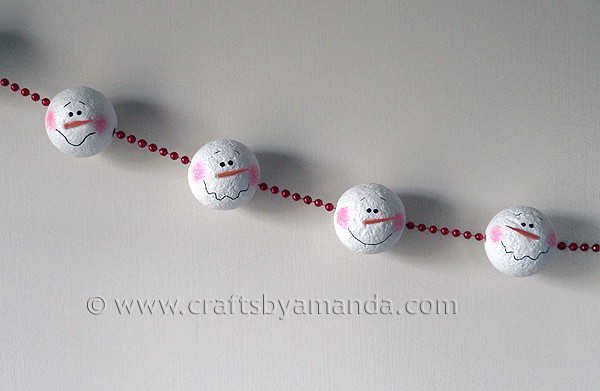 I actually started this snowman garland several weeks ago and kept getting sidetracked. I finally got back to the crafting table so I could finish this project and share it with you! I adore snowmen and seems like every year once I get in the groove, it's time to start making Valentine's Day crafts. Ha ha.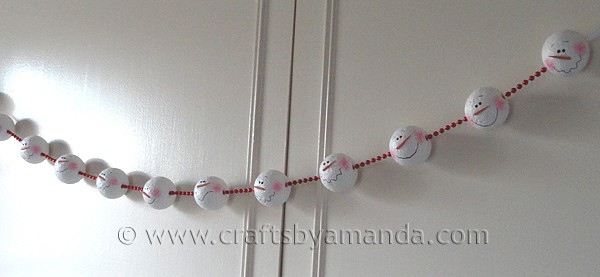 I am actually really happy with how they turned out. My original idea included hats and ear muffs, but I ended up liking them plain.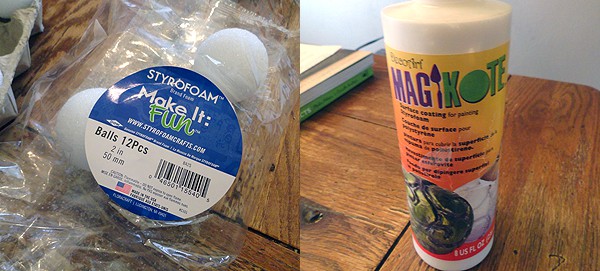 For this garland I used a bag of 2 inch [amazon_link id="B001685PEQ" target="_blank" container="" container_class="" ]Styrofoam balls[/amazon_link] and some [amazon_link id="B004VD41FW" target="_blank" container="" container_class="" ]Magikote[/amazon_link]. In case you haven't heard of Magikote yet, it's a product developed by Decoart that gives Styrofoam a paintable, sandable surface. I love working with these two items. The possibilities are endless and they make for really lightweight projects. If you would like to see some other projects I have made using Magikote and Styrofoam check these out:
Numbered Decorative Orbs | Egg Monster | Sports Ball Ornaments | Giant Sand Dollar

For this project, I gave each ball a good coat of Magikote. Now Magikote requires a solid 2-3 hours of drying time, so plan ahead. After the first coat I added a second. When they were dry, I sanded the balls to get rid of the rough edges. Then I inserted a toothpick into each ball (which goes right into the Magikote without cracking or anything, just like corkboard) and placed them in floral foam blocks. And that's where they sat for about 3 weeks!

The other day, after hubby finished making my craft table (yay!), I sat down to finally finish this craft. I used some red Mardi Gras beads I had sitting around. I measured them first and figured out how many sections I would need. After cutting the beads into sections, I used my thumb to press the end bead into the hole that the toothpick had been in. To coax that bugger in there more, I applied firm but gentle pressure with the eraser of a pencil. Once it was firmly inside the ball, I removed it and added some hot glue.

Then I was able to easily press the end bead back into the hole. I did this for all of the balls. When done with each individual ball, I connected them all to each other using the same method. Then I looped some ribbon and inserted them into the end heads to create the hangers. To make sure that the faces were all facing the same way, I hung the garland up temporarily.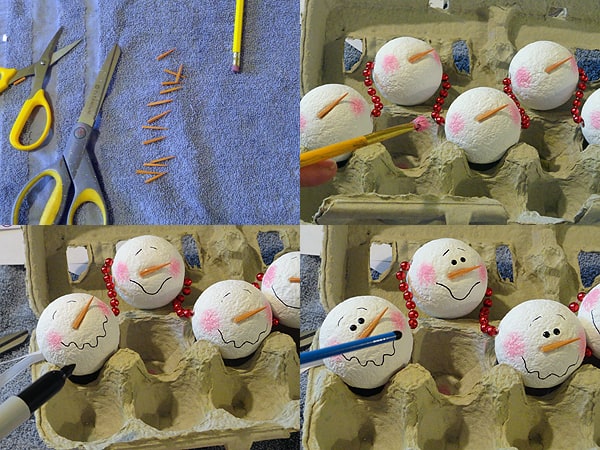 Next I cut orange toothpicks in half (I have several boxes of colored toothpicks, not sure if you can get them anymore, but you could always paint plain ones.) then trimmed them down a bit to get them to the size that I wanted. While the garland was hanging up I hot glued the noses on. Then I took the garland down to finish decorating. I applied pressure to the noses to create an indent and sink them into the ball a bit. Then I used a scruffy brush and [amazon_link id="B001B2TXOA" target="_blank" container="" container_class="" ]Americana Pink Bubblegum[/amazon_link] paint to add the cheeks. I used a fine point Sharpie to add the mouths and eyebrows and the handle end of a paintbrush dipped in black paint for the eyes.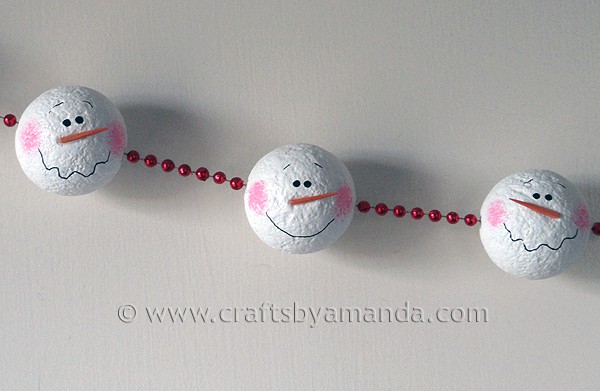 That's it. Once they were dry I hung it up again and sprayed two coats (dried in between) of acrylic matte sealer.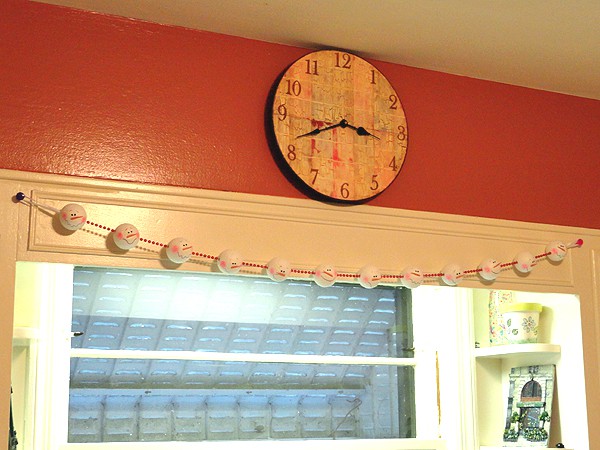 After hanging them up they still ended up with some faces pointing down and some pointing up. I just used a little wall putty on the back of the heads to stick them to the wall to keep them all even. :)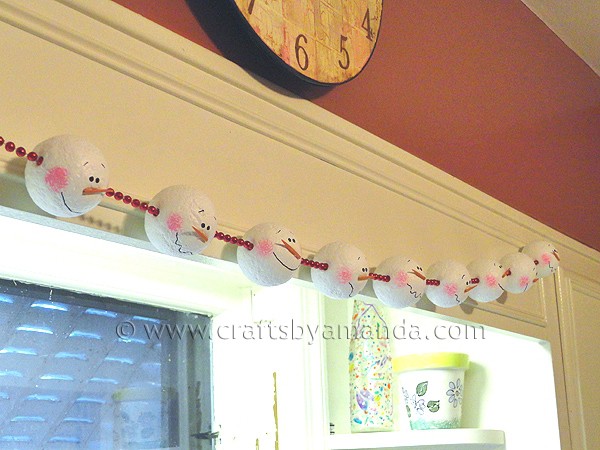 I don't actually have a mantel, and my walls are made of plaster (which means no thumbtacks!) so the kitchen is where they ende up.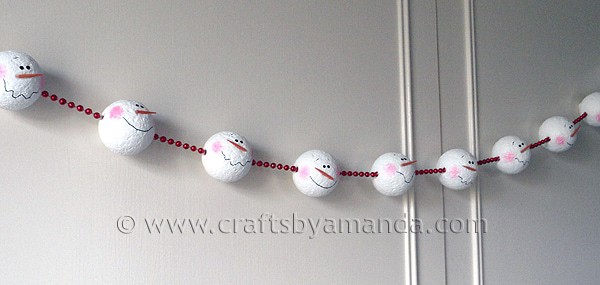 These were not easy to get pictures of either, ha!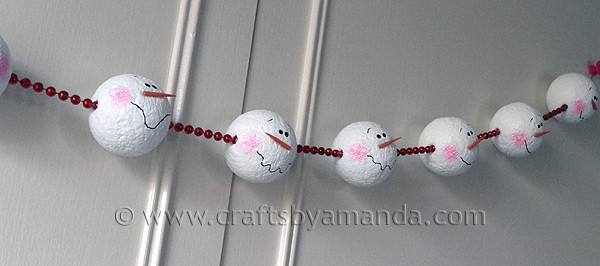 Fun!
Latest posts by Amanda Formaro
(see all)