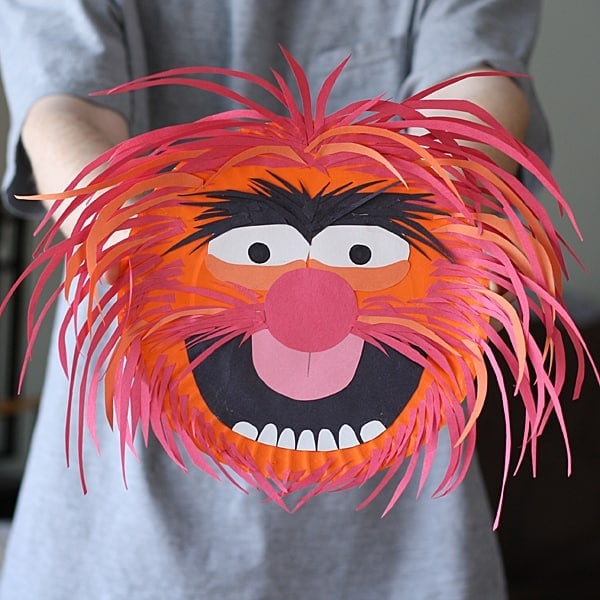 I am a big Muppets fan and the new movie comes out on the 21st of this month. Animal was always one of my favorite characters, so when Spoonful said I could put together some Muppet crafts he was the first one I thought of! This project is made using a paper plate and construction paper.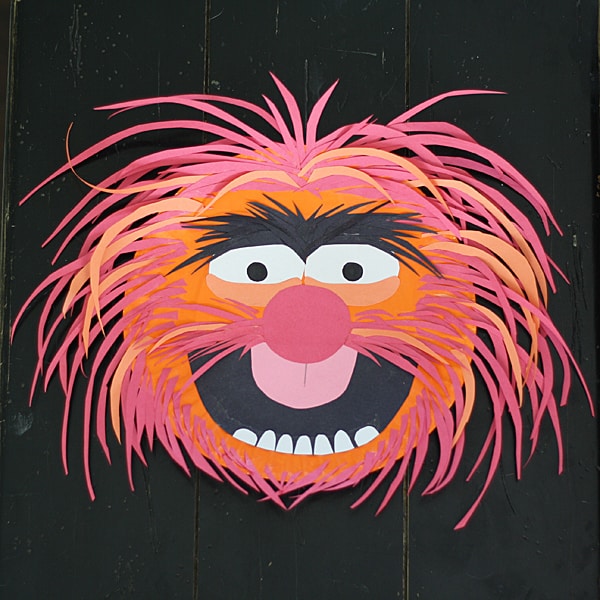 This crazy caveman plays a mean set of drums! But he has to be kept on a short leash (or chain!).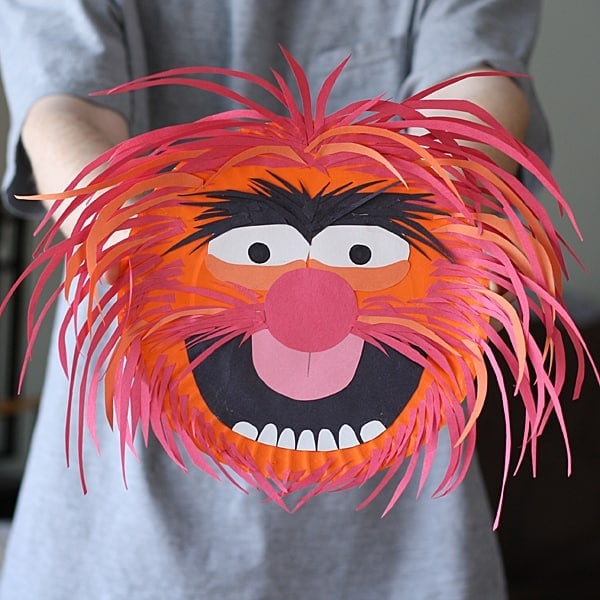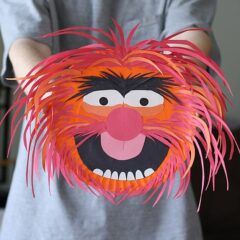 Print Project
Paper Plate Animal
That wild and crazy lovable guy from The Muppets, Animal! Make one of your own from a paper plate.
Supplies
Paper plate

Orange paint

Construction paper: black

white, orange, red, pink

Black marker

Glue stick

Scissors
Instructions
First, paint the paper plate completely with orange paint and set aside to dry.

Meanwhile, print off the patterns. Cut the mouth from black paper. Cut out 2 of the shorter teeth and 5 of the taller teeth. When attaching the teeth, overlap them slightly over the edge of the mouth, you will trim them in the net step. Glue one tall tooth in the center of the curve of the mouth. Glue two tall teeth on either side of that. Glue one short tooth on the left and one on the right.

Turn the mouth over and trim off any white paper hanging over the edge.

Cut the tongue from pink paper and glue to the top center of the mouth. Glue the entire mouth to the paper plate. Cut out two eyes from white, two lower lids from orange and the nose from red paper. Glue the eyes to the plate and use a black marker to draw on the pupils. Glue on the orange lower lids below the eyes and finally, glue on the nose.

Cut thin curved strips of red paper in different length. Cut as many as you need. If you run out, you can always cut more! Cut some orange as well for additional color in his hair.

Some strips may need to be shorter than others. Glue strips around the outside of the plate and under the nose.

Continue adding more strips until you are happy to his crazy hairdo!

Hang Animal in your room or on your bedroom door.
I originally made this project for Disney's Spoonful
Latest posts by Amanda Formaro
(see all)