I made this adorable pinecone snowman several years ago when I was working for a website called Kaboose. Isn't he cute? I love that he looks like he's skiing downhill when he hangs from the tree because the weight of the pine cone pulls the front of his body down forward.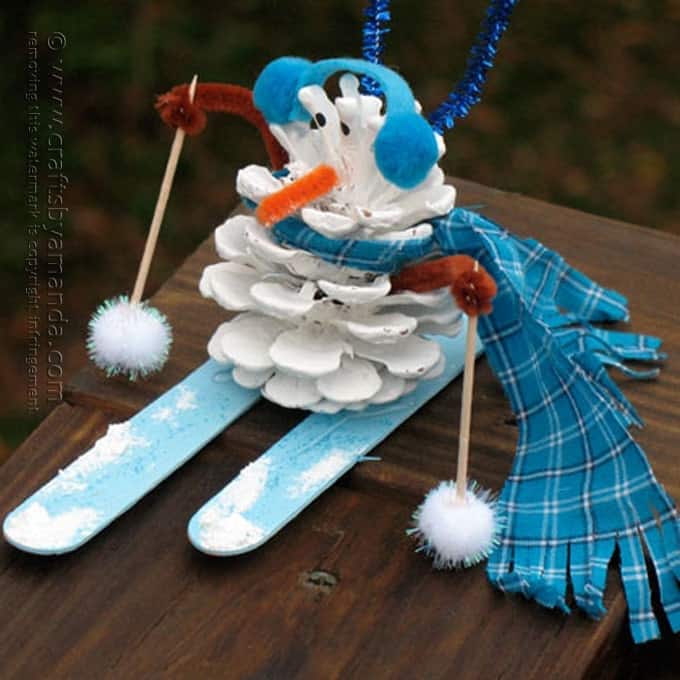 Back in 2006 I started making crafts for a Canadian company called Kaboose. A good friend of mine from my webmaster days referred them to me and they gave me a "test" assignment. I revamped (used instructions from their website and made the crafts and photographed them) some projects for them and they said if those went well they would hire me to do more. It did go well and they did hire me. Three years later, in early April of 2009 it was announced that Disney bought Kaboose. Then in early 2011 all freelancers for Kaboose were let go and Disney restructured, ending my 5-year, 500-project stay with them. The Kaboose site went dormant for awhile, but in October of 2013, after several months of working with Disney to correct projects of mine that had been migrated to Spoonful, they hired me again.
Things had come full circle. That lasted until June of 2014 when the decision was made to close Spoonful and eventually migrate everything to other Disney properties. At the end of September 2014 Spoonful went offline and all links were redirected to the Disney Family website. However, Disney Family only houses crafts that are Disney specific. So literally hundreds of my projects fell into Internet limbo. Disney is currently working on migrating those projects to a different site. Until then, you can find this cute guy here.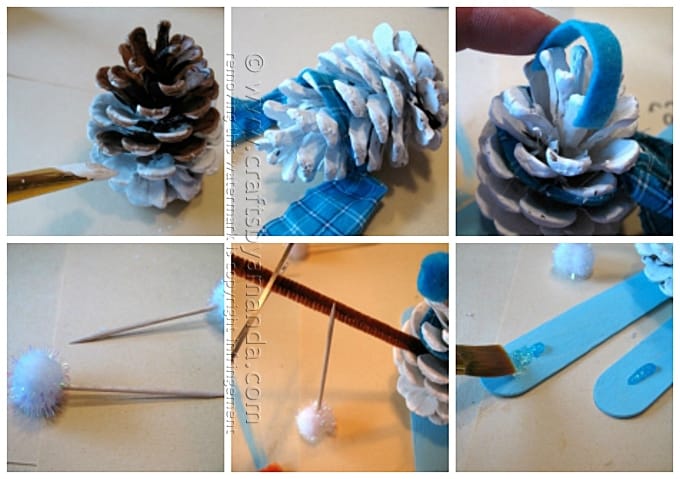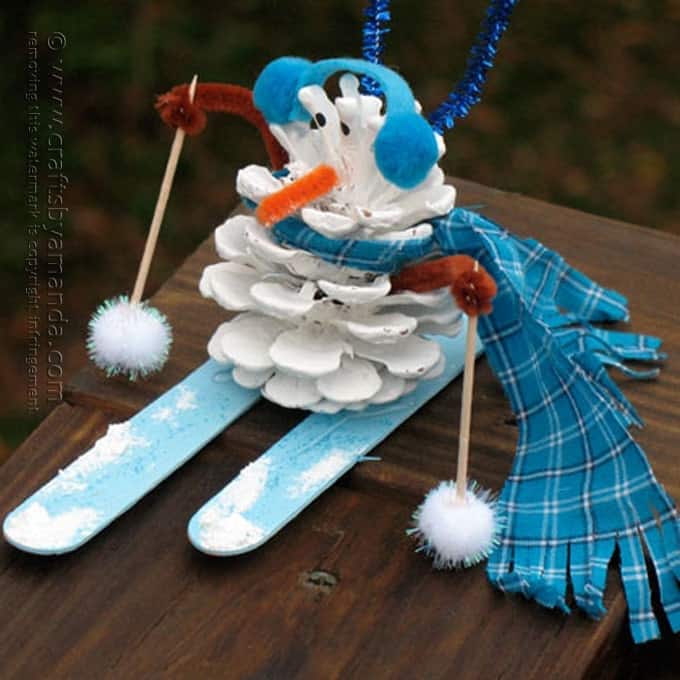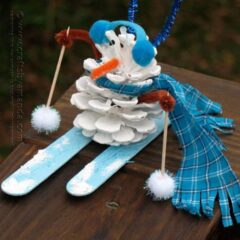 Print Project
Pinecone Snowman
This adorable pinecone snowman ornament is fun to make, and it makes a great gift! You can skip the hanger and display him on your mantel if you prefer.
Supplies
1

Pinecone

White, light blue, and black craft paint

1

brown pipe cleaner

1"

piece of orange chenille stem

2

medium

light blue pom-poms

2"

piece of light blue felt

12"

light blue scrap fabric

cut to 1" width

2

medium

white glittery pom-poms

2

toothpicks

2

jumbo craft sticks

Blue glitter glue

Snow texture medium

recommended: Snow-tex

Blue pipe cleaner

White craft glue

Scissors
Instructions
If you gather your pinecone from outside, make sure there are no bugs hiding inside.

Paint pinecone with white paint. A second coat may be needed. Allow to dry completely.

When pinecone is dry, tie blue fabric strip around the top 1/3 of the pinecone as the scarf. Fringe the ends of the scarf by cutting thin strips with scissors.

Paint jumbo craft sticks with light blue paint and set aside to dry.

Glue blue felt strip to the top of the pinecone for the ear muff band. Glue the blue pom-poms to the ends of the felt strip.

Assemble ski poles by gluing white glitter pom-poms to the end of the two toothpicks.

Cut brown chenille into thirds. Set one piece aside for another project. Insert a brown chenille piece into the side of the pinecone for the arm and glue in place. Repeat on other side.

Hold the "ski pole" up to the "arm" and once you have it where you want it, trim the end of the chenille to about 3/4" away from the pole. Wrap the end of the chenille arm around the pole and add a dab of glue to hold in place.

Glue the pinecone to the jumbo craft stick skis. Paint the craft sticks with a bit of blue glitter glue. Dab on some snow texture medium to the skis.

Dot on two eyes with black paint using the handle end of the paintbrush. Glue the orange chenille piece in as the nose.

Add a chenille hanger for your ornament by bending a piece of blue chenille in half and gluing the open ends onto the back of the pinecone.
Expert Tips & FAQs
We don't recommend hot glue for this project as it doesn't hold as well as white glue. You can use something like E6000 or Beacon's instant grab glue as well. 
I originally made this project for Kaboose, which was then bought out by Spoonful. Spoonful has since closed and the instructions were taken down. I am putting the instructions here until such time that Spoonful projects are redirected to a new home. At that time I will remove the instructions and link directly to the project on their site.
Latest posts by Amanda Formaro
(see all)