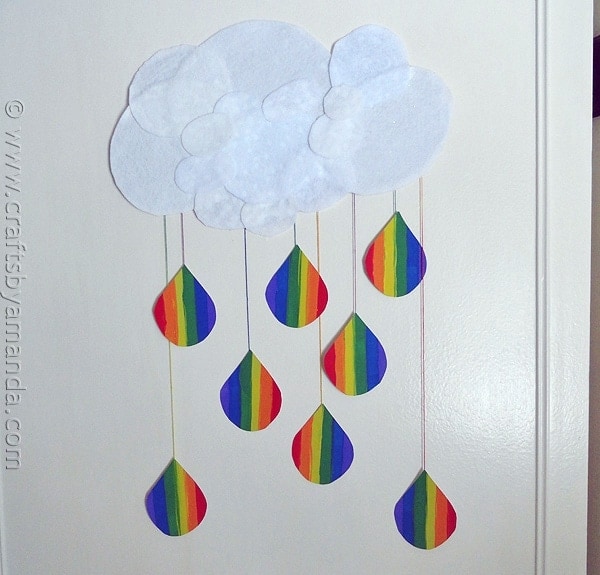 Whether your searching out spring, rainbows or St. Patrick's Day, this rainbow craft is a fun way to celebrate the season. Rainbows come during or after rain, but who says they have to? You and your child can make magical rainbow colored raindrops falling from their very own cloud!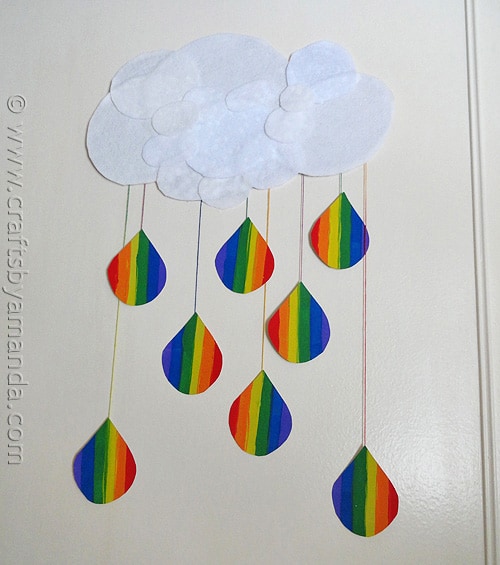 If you prefer to use construction paper for the rainbow stripes instead of paint, you could certainly do that. And, instead of felt, cotton balls would make a fun and fluffy cloud! This would be a fun door decoration to welcome friends, or a cheerful wall decoration for your child's bedroom or playroom.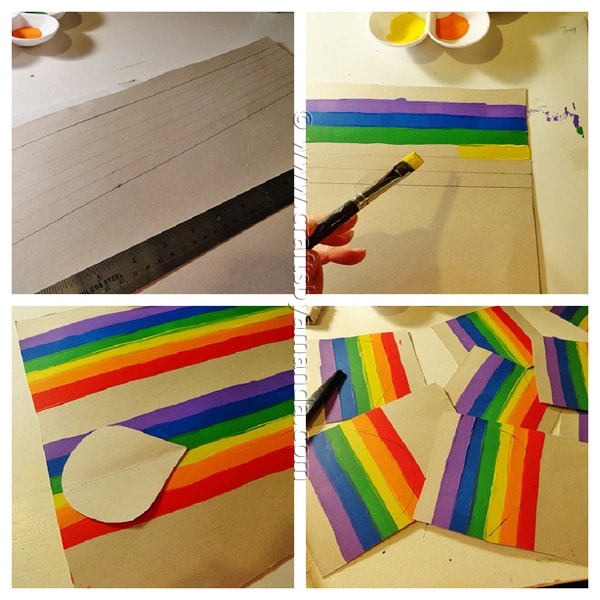 Use a ruler to draw the stripes onto thin cardboard then paint on rainbow colors. Draw raindrop shapes onto the rainbows and cut them out. I used a cardboard gift box left over from Christmas gift wrapping, but a cereal box would work great as well.
A cereal box is certainly small and will yield less raindrops, so make sure you have enough. Another alternative to paint for the rainbows would be to color the stripes with markers or crayons. Simply adapt based on the supplies you have on hand and the skill set and attention span of your children.

Cut circles from felt and attach them to a cardboard cloud shape. Attach string to your raindrop and tape the to the back of the cloud! Construction paper would work well here too, or as I mentioned above, cotton balls would add nice fluffy texture. You could even use crumpled up tissue paper for the clouds.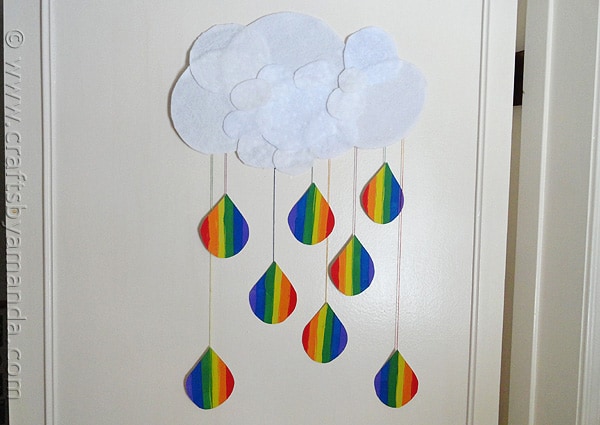 See? Easy!
St. Patrick's Day has become quite a fun holiday to make crafts for. Rainbow crafts are sought out on their own, not just for St. Patrick's Day, but for spring in general. Who can resist a a rainbow? They are beautiful and colorful and full of the promise of spring!
More rainbow crafts: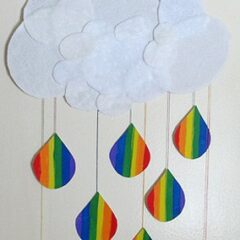 Print Project
Cloud and Rainbow Raindrops
Supplies
Recycled cardboard gift boxes

cereal boxes work great too

paint - purple

blue, green, yellow, orange, red

string

3

sheets white felt

ruler

pencil

scissors

tape
Instructions
Use a ruler to draw a straight line the full length of the cardboard. Draw another line 1/2" away and repeat for a total of 6 half inch sections. Repeat again using up the cardboard.

Paint the first line with purple paint. The next next line should be blue, then next is green. The fourth line is yellow, followed by orange, and finally ending with red.

Cut a raindrop shape out of another piece of cardboard or from paper, making the widest around about 3 inches. This way your raindrops will be wide enough to have all colors of the rainbow.

Trace the raindrop shape onto the rainbow lines. We got 8 but 6 would be plenty.

Cut the raindrops out and set aside.

Use another piece of cardboard to draw and cut out a cloud shape. Cut different sized circles and ovals from white felt. Use white craft glue to cover the cloud with the felt, overlapping as you go.

Turn the cloud and the raindrops over. Cut 14" lengths of string for each raindrop. Tape a piece of string to the back of each raindrop. Next tape the strings to the back of the cloud at varying lengths. Trim the excess strings. You can also create a hanger using string and tape on the back of the cloud, or just use a piece of wall putty or tape.
Expert Tips & FAQs
I used a large clothing gift box left over from Christmas. Cereal boxes work perfectly fine but may not yield as many raindrops.
Alternative supplies for the rainbows: construction paper, markers, crayons
Alternative supplies for the cloud: cotton balls, crumpled tissue paper, construction paper
Latest posts by Amanda Formaro
(see all)