Your kids can make this fun octopus (or squid, whatever you want to call her) from an empty plastic water bottle! Little ones will probably need help with the scissors, but older kids should be able to make this water bottle octopus sea creature all by themselves. Not only is this a fun rainy day project, it's green too! So recycle those water bottles into fun ocean animals.
Water Bottle Octopus
This adorable little water bottle octopus is an awesome recycled craft project for the kids! Teach them the importance or reusing and repurposing plastic water bottles. Only 23% of our plastic water bottles are recycled, which in turns means 38 billion water bottles are wasted each year meaning we are polluting our earth and deteriorating ecosystems.
Supplies to make a water bottle octopus
What you do
Cut off the bottom of the water bottle.
Don't throw it in the garbage. You can either recycle it or save it to use in another craft project.
Paint the water bottle pink and let it dry.
When the paint has dried, use scissors to cut strips in the bottle. Start at the bottom and go up to about 3 inches from the top, just leave enough room for the head.
Cut a strip of pink felt to cover the top of the bottle and glue it in place. By the way, you should have saved the lid too, for another project. ;) Always save your lids, they are great in a pinch and don't take up much space!
Cut a long strip, about an inch in width, from the remaining pink felt. Tie that strip into a bow. Trim the ends and glue that to the front of the pink strip around the mouth of the bottle.
Now just glue on some eyes and use markers to draw on some lips and cheeks! Done!
You can also hang her by some yarn from the top of the bottle! Get creative and paint the bottle blue for a boy, or any color you desire! I hope you enjoy making this recycled water bottle octopus with your kids!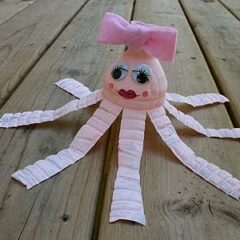 Print Project
Water Bottle Octopus (or Squid)
Supplies
1

empty water bottle

scissors

pink paint

1/2

sheet pink felt

instant grab glue

2

large wiggle eyes

Markers

pink and maroon or red
Instructions
Cut off the bottom of the water bottle.

Don't throw it in the garbage. You can either recycle it or save it to use in another craft project.

Paint the water bottle pink and let it dry.

When the paint has dried, use scissors to cut strips in the bottle. Start at the bottom and go up to about 3 inches from the top, just leave enough room for the head.

Cut a strip of pink felt to cover the top of the bottle and glue it in place. By the way, you should have saved the lid too, for another project. ;) Always save your lids, they are great in a pinch and don't take up much space!

Cut a long strip, about an inch in width, from the remaining pink felt. Tie that strip into a bow. Trim the ends and glue that to the front of the pink strip around the mouth of the bottle.

Now just glue on some eyes and use markers to draw on some lips and cheeks! Done!

Oh, you can hang her by adding some yarn to the top of the bottle. :)
Here's more from me you might like:
Paper Plate Owl
Frog Baseball Hat
Cardboard Tube Giraffe
Recycled Ladybug Jar
Here's some fun stuff from the interwebs:
Handprint Octopus – from FreeKidsCrafts.com
Fish and Sea Creature Craft Projects – from Family Crafts at About.com
Yarn Octopus – from Kaboose (oh hey, look, I made that!) ;)
Egg Carton Octopus – from Family Crafts at About.com

Latest posts by Amanda Formaro
(see all)