Hey football fans! Looking for a fun football craft or party idea? Make chair covers that look like a referee's shirt with a pillow case and black electrical tape or duct tape.
Football Craft – Referee Chair Cover
I made this football craft many years ago and I'm afraid that the step photos are long gone. But I still have the instructions and the final photo, so I'm sure you can figure it out from that.
These would be great for a football banquet or for a Super Bowl party. They are easy to make and don't require a ton of supplies. Just make sure that your pillowcase will fit over your chair before you begin. This project won't work over round backed chairs and the round top is too wide.
When my son was in football, we had parent meetings and the occasional party, and of course the end of season banquet. These mason jar football centerpieces are easy to make too and they get lots of comments! If you are looking to make a gift for the coach, this football clipboard made from duct tape is a great idea!
Would love to hear if you made this football craft or anything else on this blog. Happy football season!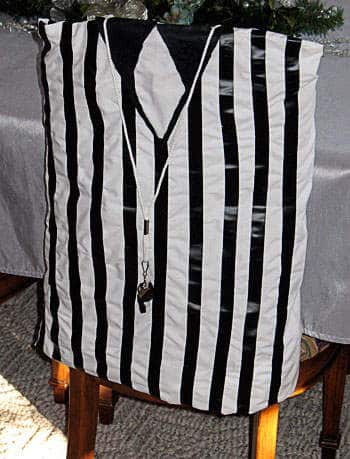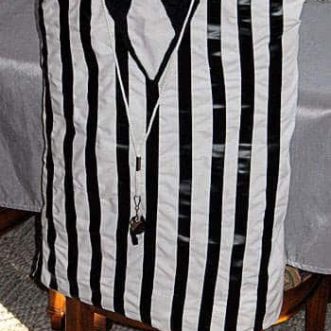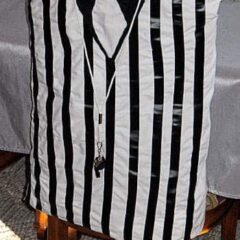 Print Project
Football Craft: Referee Chair Cover
Supplies
1

white standard size pillowcase

Black electrical tape

25 feet per pillow case, a standard roll has 60 feet

½

sheet black felt

White craft glue

Scissors

Sport whistle on a neck string
Instructions
Lay the pillowcase out on a flat surface. We will refer to the open end of the pillowcase as the bottom and the closed end as the top.

Add black stripes, about 1" apart, to pillowcase using black electrical tape, overlapping tape at both top and bottom of the pillowcase. You should get about ten stripes.

Cut two triangles, about 4" long and 2" wide, from the black felt. Cut two thin strips from the felt, about 4" x 1/4".

Fold down all the ends of the tape from the stripes.

Place the triangles, point side down, next to each other at the top center of the pillowcase. Lay the thin strips underneath the triangles, these will form the neckline and the triangles are the collar. The thin strips should come together in a point below the collar.

Carefully remove the section of tape that is running through the center of the neckline and trim with scissors.

Use the glue to attach the collar and neckline to the pillowcase.

Place the whistle necklace on the pillowcase, positioning it around the "neck". Holding the necklace and the pillowcase, fold the top of the pillowcase over itself and tape the necklace string to the back of the pillowcase.

Carefully fit the pillowcase over the back of your chair.
Latest posts by Amanda Formaro
(see all)