My son is on the high school football team. A friend of mine is very involved with the football committee and asked me if I had any ideas for football centerpieces. So I figured something easy and fast would be ideal, and these Mason Jar Football Centerpieces came to mind!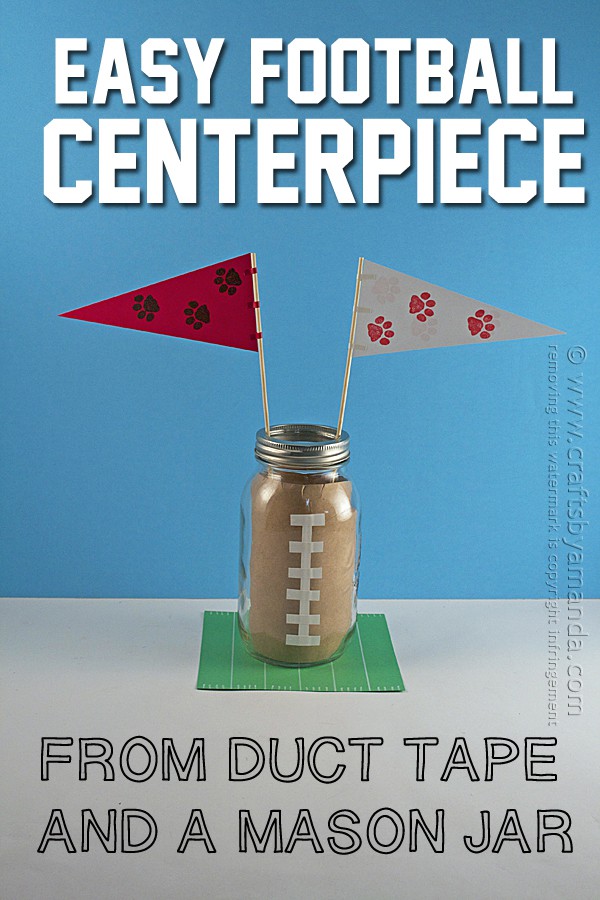 I have to admit, craft ideas usually fall out my ears if I tilt my head sideways, but this time I was a little stumped. So I hit Pinterest. I feel that way about printables too, just not in my skill set! I have to search out football party printables like these if I want any.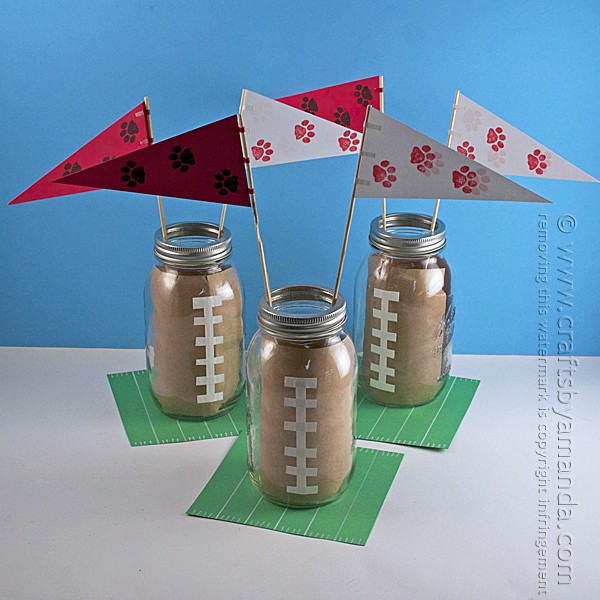 I found these decorated jars, but couldn't find a source. The image had been directly uploaded to Pinterest. They looked easy enough from what I could see in the picture, so I decided to make my own version.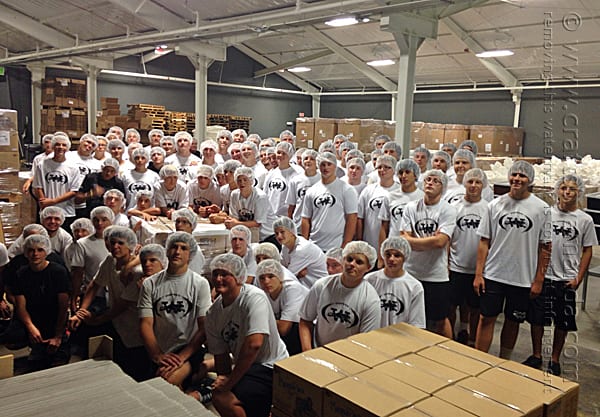 I should probably tell you why we needed to make centerpieces this early in the season. Usually you need them for a banquet or end of season party, yet our season has just begun. Well, we were having a get-together after a team building event that I would highly recommend to anyone! We volunteered two hours of our time to a place called Feed My Starving Children. They have locations in Illinois, Minnesota and one in Arizona. There's also a mobile program available across the country called MobilePack.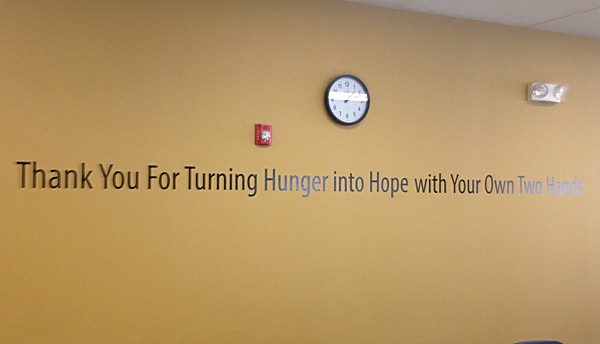 We really weren't sure what we were going to be doing. I thought we were loading boxes full of canned goods and such and they would be distributed that way. I was wrong. This is VERY basic nutrition for children who aren't just hungry, but truly starving to death. Each bag contains vitamins in powdered form, dehydrated vegetables, soy and rice. That's it. Very basic stuff.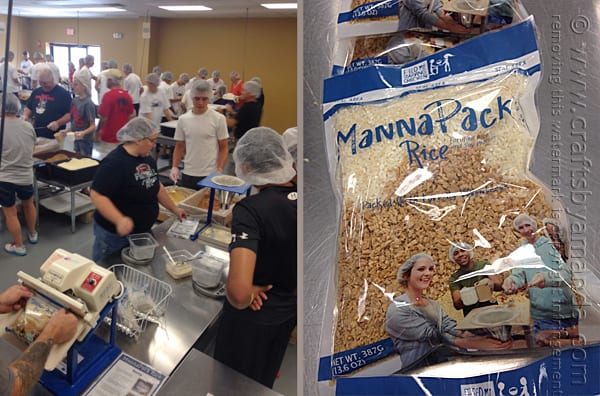 Everything has to weigh a certain amount and each person must wear hair nets. The people measuring the food are required to wear gloves, and if you scratch your forehead or touch your cell phone, you must go wash your hands before continuing. These children are so malnourished that the risk of infection is much greater than what we see on a daily basis. Just the dirt from your cell phone could make a child very sick.
I was amazed at what an amazing operation this was! Everything was so methodical, but at the same time, there was upbeat music playing in the background and everyone seemed to really enjoy themselves. I can't express in words the wonderful feeling I had in my heart while I was doing this. It felt really good to be a part of something so giving!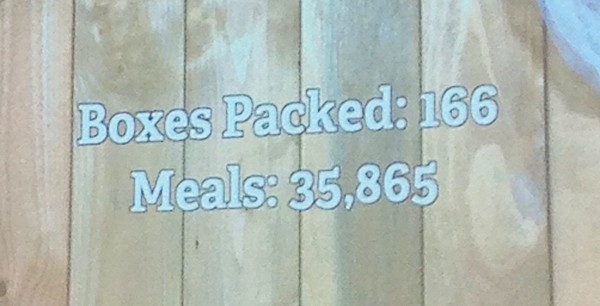 In roughly an hour and a half we, together as a team, packed 166 boxes of these Manna Packs. Each box contains 36 packs, providing a total of 35,865 meals! We were told that in that 90 minutes we provided enough food to feed 98 children for a year. I was floored… and proud! I would definitely do this again, and again after that too. :)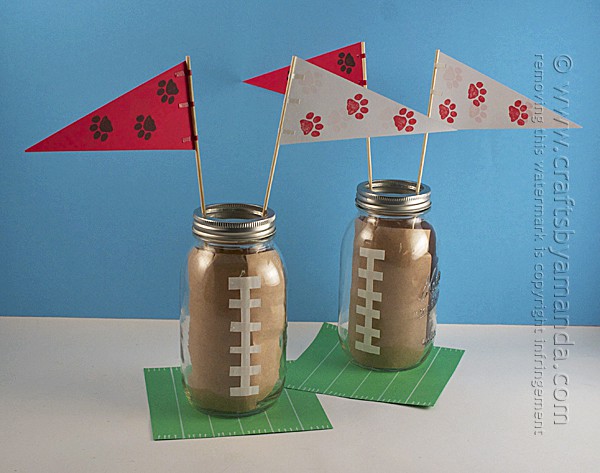 Mason Jar Football Centerpieces
After the team building event, we got together and hung out, played some back yard games and just enjoyed each others' company. It was a great day! And now we can use these football centerpieces for any future event.
Note: some links below are affiliate links. That means if you happen to buy something, a small percentage of that sale goes back into this site, which enables me to continue to bring you free tutorials such as this one. So, thanks!
As always, a full printable supply list and instructions are at the end of this post.
For this project you will need the following supplies: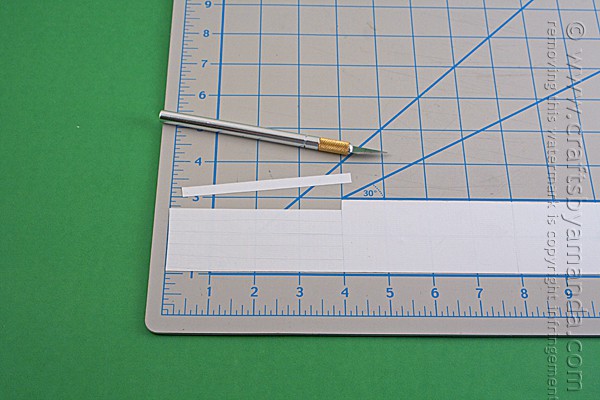 Measure out a 16-inch piece of white duct tape on your cutting mat. Cut that piece into four 4-inch long pieces. Cut each 4-inch long piece into 6 strips.
NOTE: I made 12 jars. You need five skinny strips for each jar. You get six skinny strips from each 4-inch piece of tape. So just figure ONE 4-inch strip of duct tape per jar.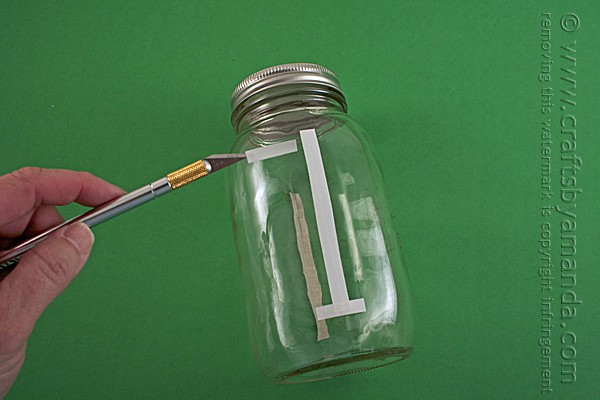 Each jar has a seam. Look for it and place one of those long skinny strips along one seam, turn the jar over and repeat. Now, cut the remaining strips on the cutting mat into one-inch pieces. Use your craft knife to lift a corner and place it on to the jar for the football stitches. You need 6 stitches on each strip, so 12 1-inch stitches on each jar.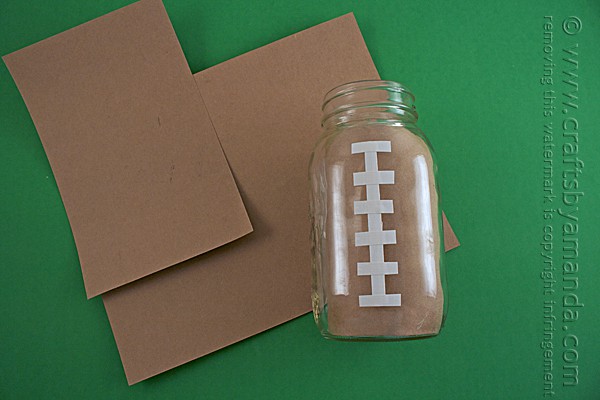 Cut a piece of brown card stock so that when rolled up it fits inside your jar.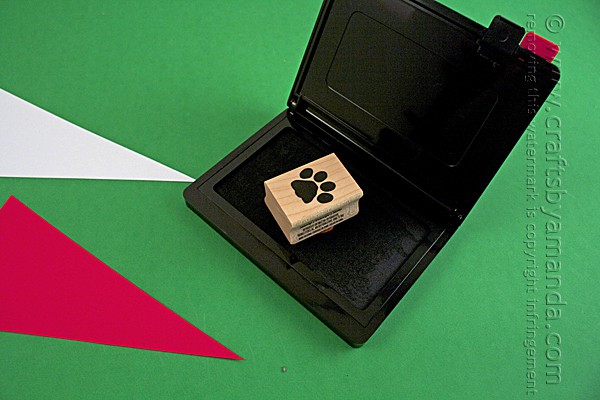 You can decorate your flags however you like. Our team is called The Panthers, and a paw print is our insignia.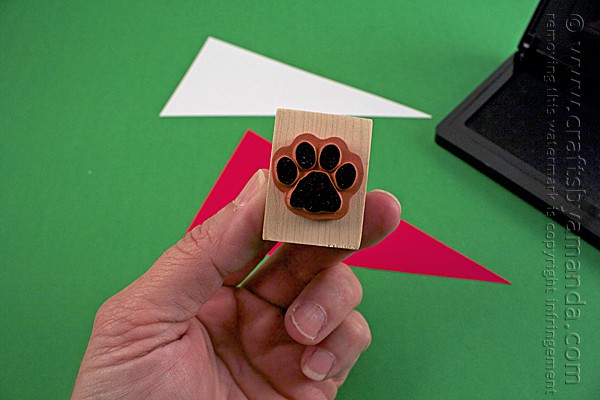 I found this cute little stamp at Michael's for only $1.99 :)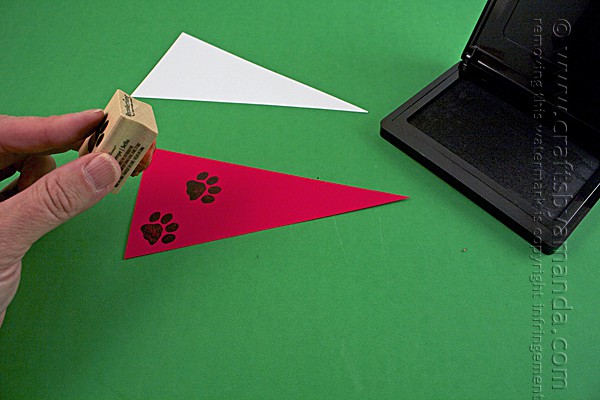 Cut pennant triangles from card stock to make your flags. Decorate both sides.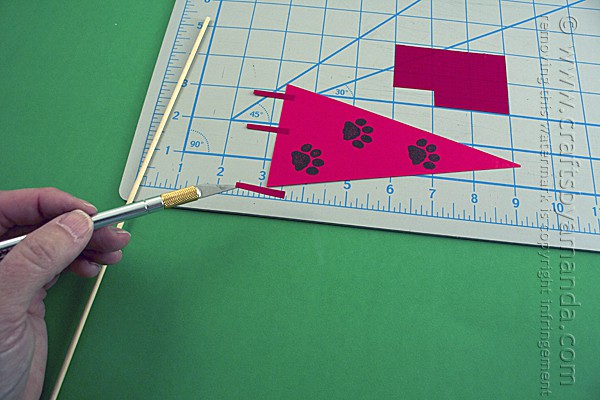 To attach your pennant flags to your skewers, cut 1-inch long strips of duct tape and attach to the end of the flag, three on each.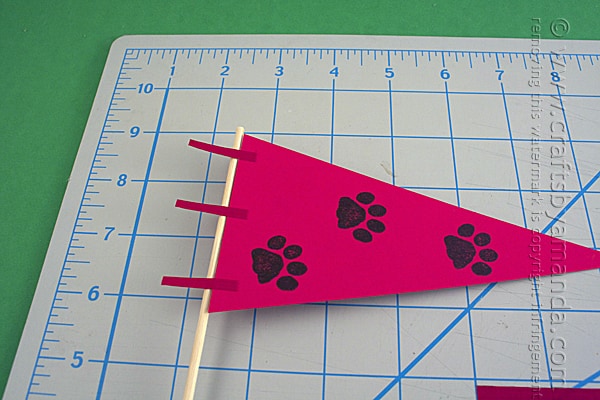 Line the skewer up with the tape…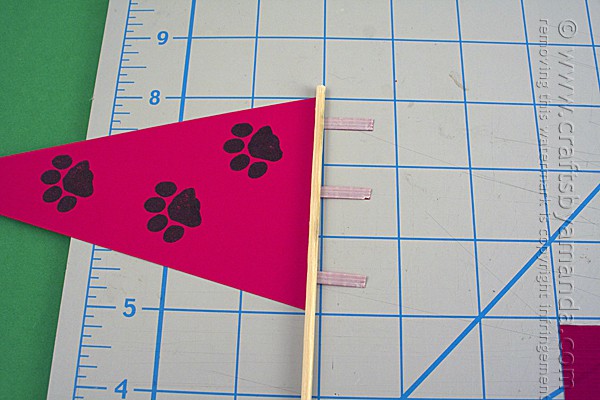 …turn the flag over…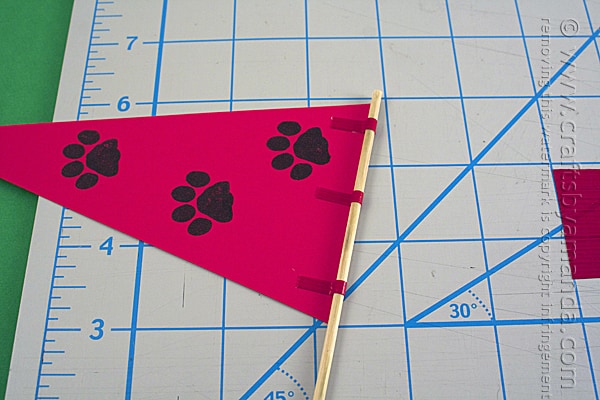 …then wrap the tape around the skewer and stick to the other side of the flag.
The last couple of steps are to insert the flag poles into floral foam and put them inside the jars.
To make the little football field mats that the jars sit on, simply cut green card stock into 6-inch squares, use a white paint pen and a ruler to draw lines across the card stock at one-inch intervals, then add four small lines in between each large line.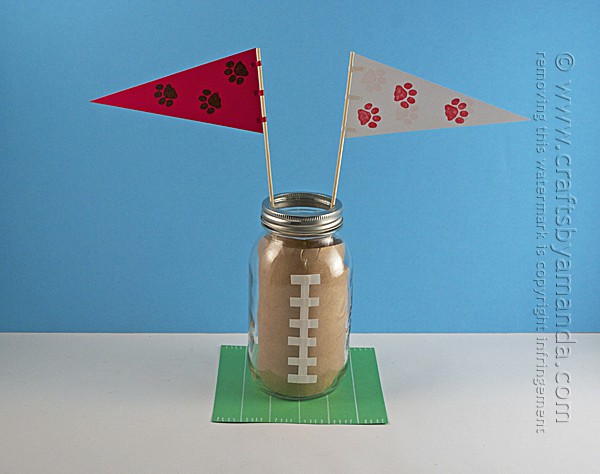 That's it! Really easy football centerpieces that can be tailored to your own team, or your favorite college or NFL team.
More football crafts
If you love football like we do, here are a few more ideas that you might like!
Amanda Formaro is the crafty, entrepreneurial mother of four children. She loves to bake, cook, make kid's crafts and create decorative items for her home. She is a crafting expert and guru in the kitchen and has appeared online and in print publications many times over the years. She is also the editor for the Home & Garden channel at Craft Gossip and owner of FunFamilyCrafts.com.
Latest posts by Amanda Formaro (see all)