I recently had a big change in my life and have moved. I'm still in the same town, which means I'm still close to my studio, but my residence has changed. When I moved I only brought my bedroom furniture, the dining room table and the kids' bedroom sets. That left me with an empty living room and family room. So a living room makeover was in order.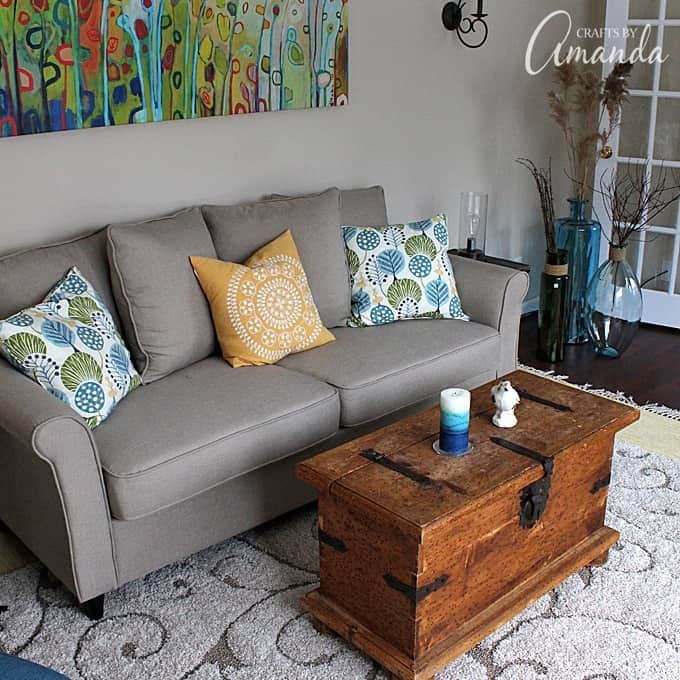 Living Room Makeover
You may remember last week when I showed you my movie theater family room makeover. I partnered with Wayfair on both rooms and couldn't be more thrilled with the results! Everything flows so beautifully, and ordering was a breeze. Shipments came in daily, making it like Christmas everyday! It was so fun putting this all together.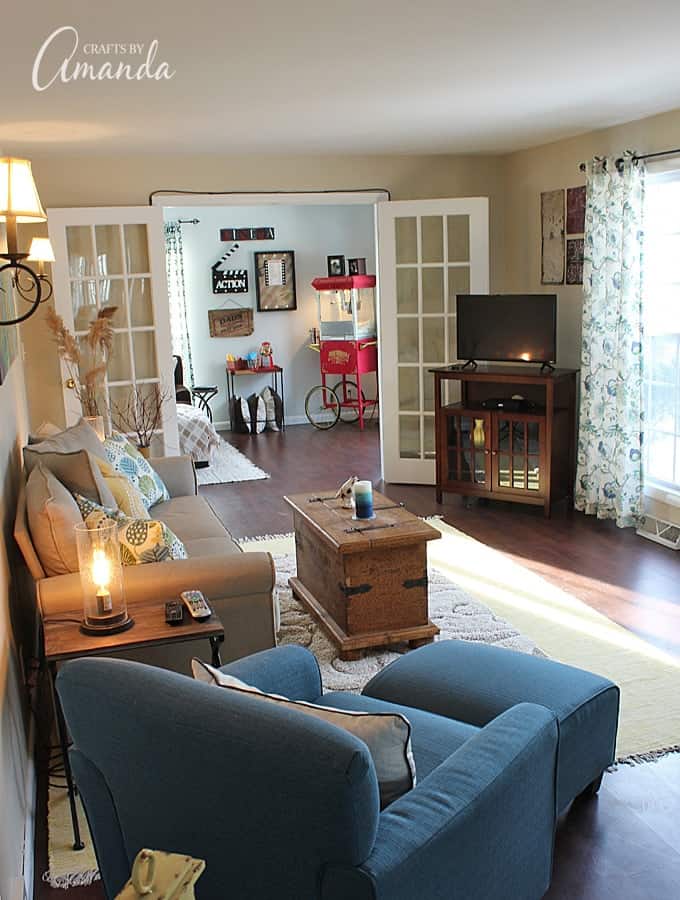 This house has a long and narrow living room and dining room combination. The living room is at the front of the house, so when someone walks in the front door, the living room is the first thing they see. I wanted it to be bright and colorful and very inviting. In case you are wondering about this photo and the popcorn maker in the background, that is the family room makeover I posted about last week.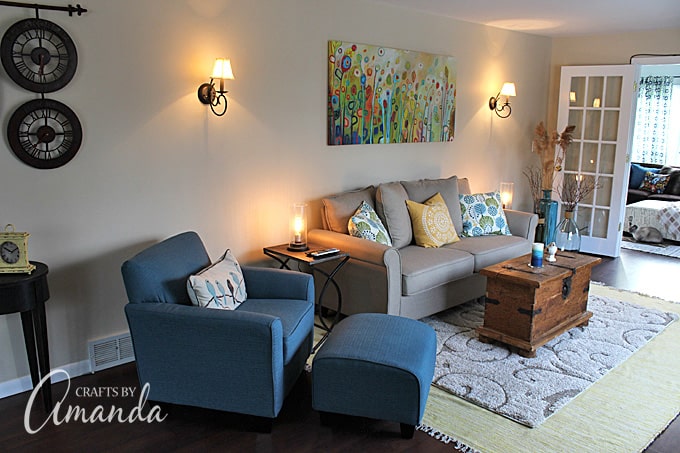 There are affiliate links in this post. That means if you buy something from that link, I will earn a small commission, but it won't cost you anything additional.
My Living Room Choices
I'll go through several of these individually, but here's the run down of items in this room:
I started an Idea Board on Wayfair's website so that as I was browsing through all the different pieces of furniture that I liked, I could save them for later. I had an idea in my head of what I wanted, though my color choices did change a little along the way.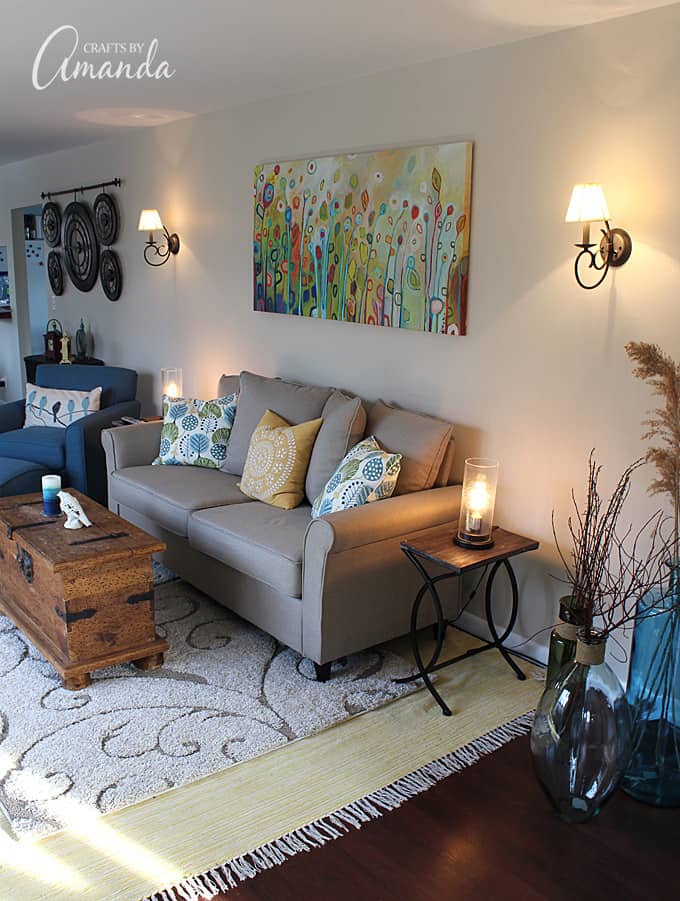 After I had saved everything to the Idea Board, I went through the board to pick and choose my pieces. I had a specific budget I wanted to stick to, so as I found items that I wanted, I would add them to the cart so it would calculate them all for me. The hardest thing to choose was the large canvas wall art above the couch. I kept wavering back and forth between two different pieces!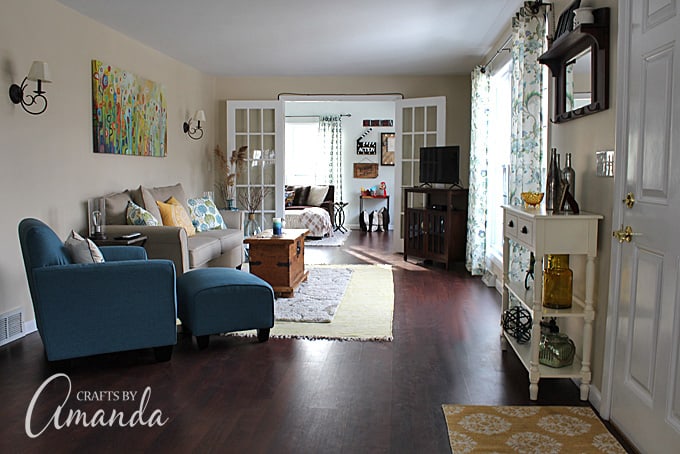 I love everything in the room, but the drapes are what my eyes are always drawn to, and everyone that comes in compliments me on them! There are playful touches of yellow from the throw rug to the pillow centered on the couch, to the glass vase and candy dish on the console table by the door.  One of the clocks on the table is yellow too as is the rug by the front door.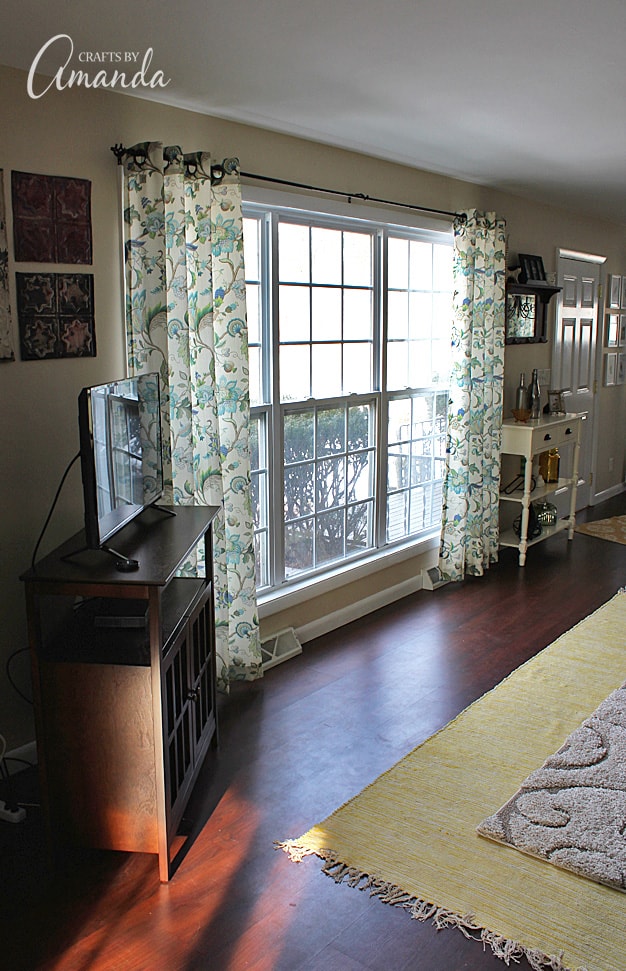 When I first hung the drapes I couldn't stop looking at them! They are really beautiful. I love the pattern, the colors and the feel of them.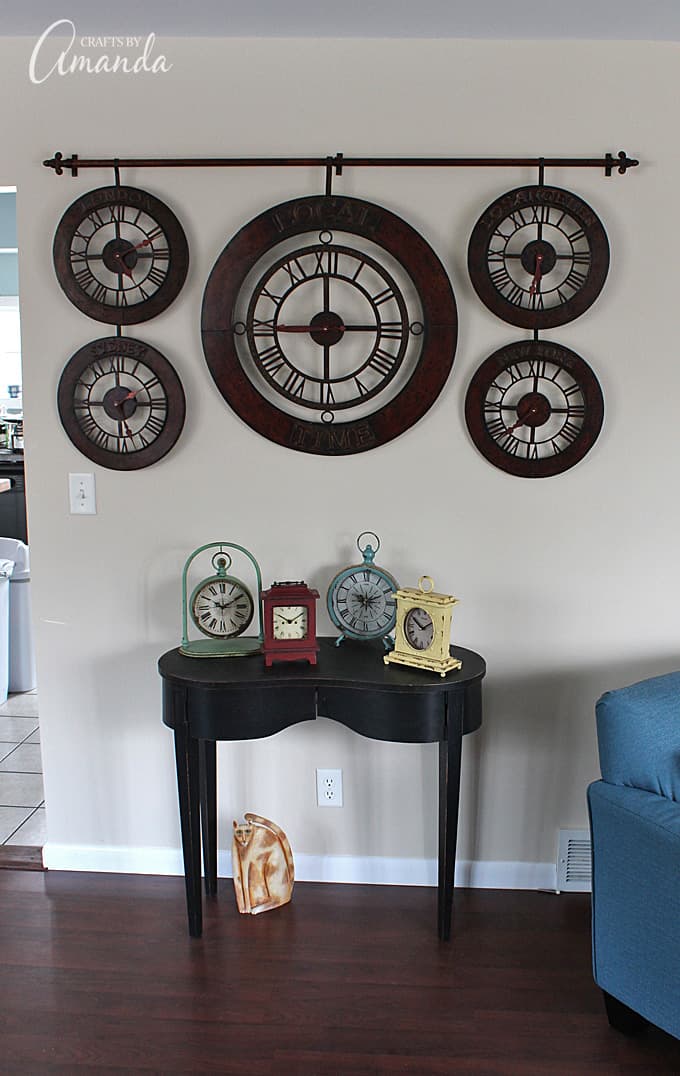 When you first come in the door, you'll see my favorite clock of all time. This huge statement piece came from JC Penney many years ago. I tried to find it but it's just not available anymore. It's a world clock with magnetic names of cities around the world. I don't set the clocks anymore, I just love the way it looks!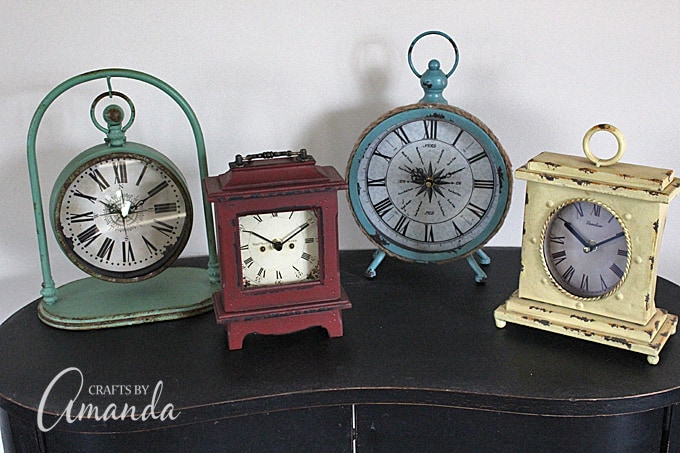 The black table was actually in the upstairs bathroom, the previous tenants left it here. The clocks came from Hobby Lobby.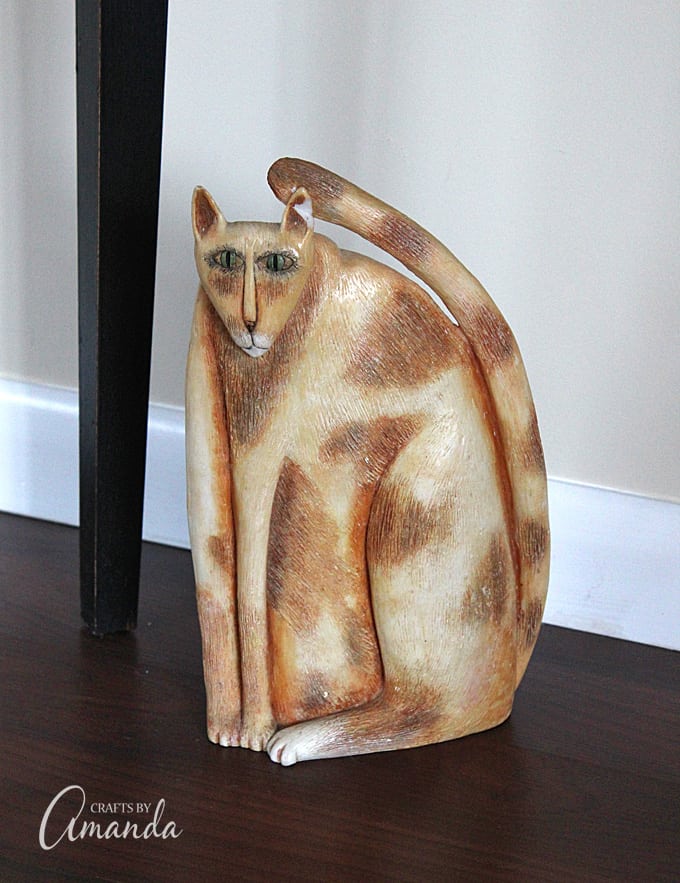 The cat under the table came from a local antique shop with an animal/pet focus. Yes, his ear is chipped. Adds to his character I think!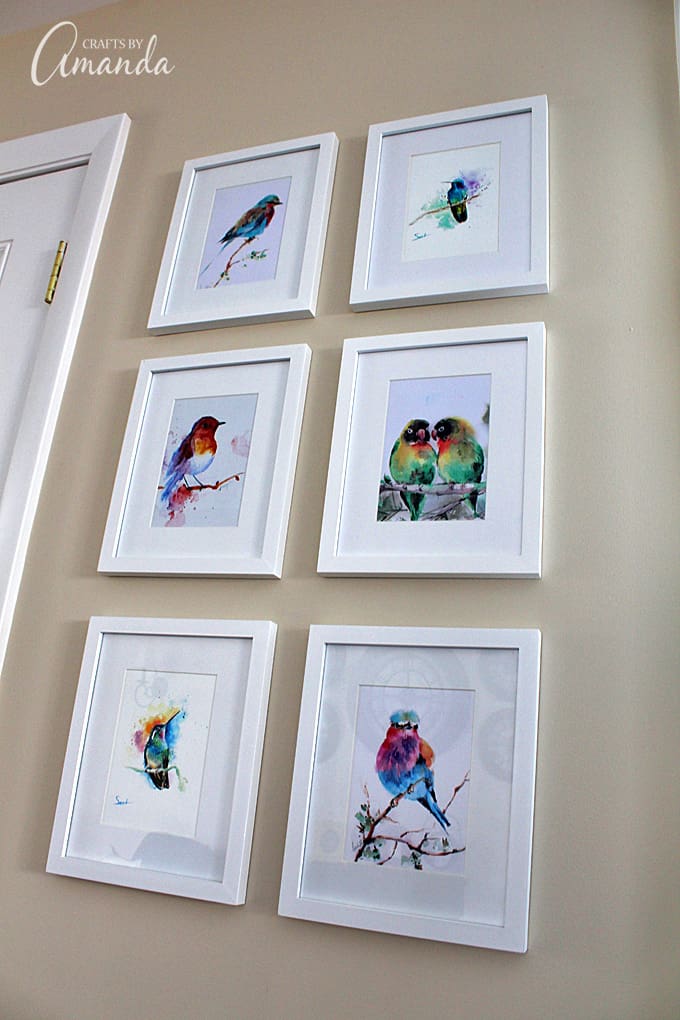 Now that you're inside the house, if you turn around and face the front door, you'll see these beautiful watercolor prints on the wall. I bought the prints from a few different shops on Etsy (see the list above for the shops) and put them into inexpensive white frames from Target. I really love the watercolor look and the colors were a great fit for this room.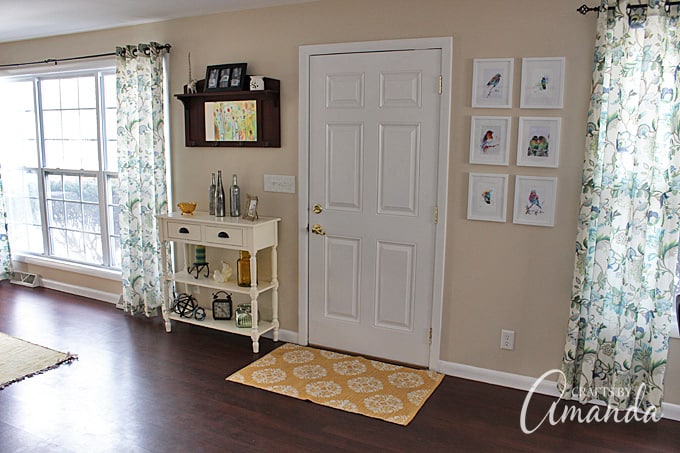 Here's a wider view of the front door. I adore the white console table I found on Wayfair. I filled it with fun items I found at thrift stores and other shops.  The mercury glass bottles are something I made for this free ebook a couple of years ago.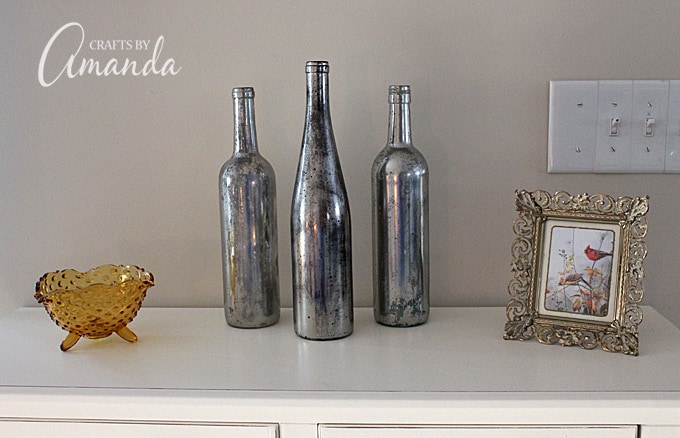 I found the framed Cardinal print at The Rusty Gate in Lake Geneva, Wisconsin. The candy dish came from one of my favorite thrift stores in Lake Geneva. It's called 9Lives Boutique and all of the proceeds go to a local animal shelter.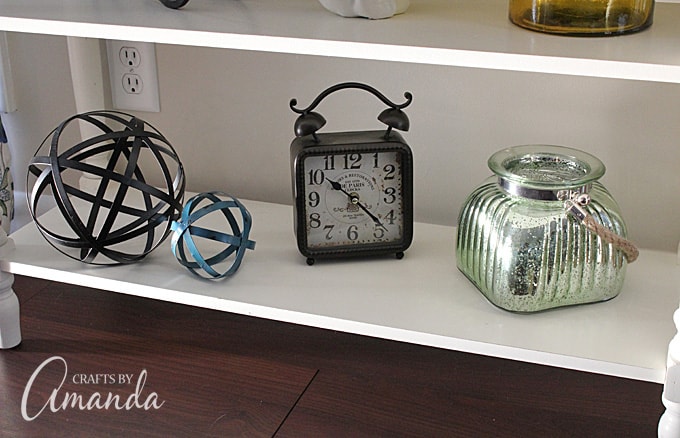 I found the spheres and the clock at Gordman's and the green mercury glass container at TJ Maxx. There's another shelf that holds a few items, including this thrift store bird I gave a makeover.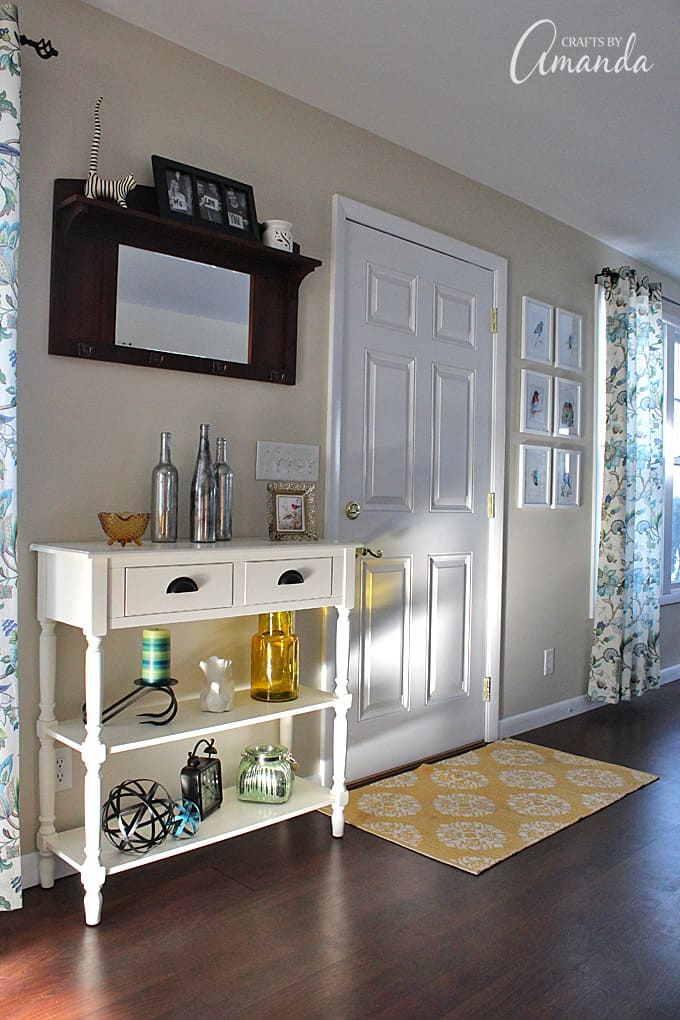 I found the rug at Home Goods. It was the only one thin enough to clear my door! Do you see that cool striped cat at the top left of the above photo? I found that at 9Lives Boutique also and just love how unique it is! The framed photos were actually a Mother's Day gift from my kids a few years ago.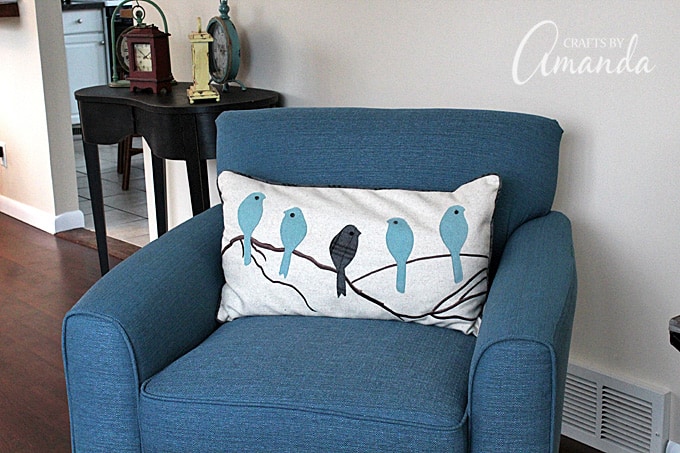 There's a comfy blue chair with an ottoman and this adorable bird pillow that I just couldn't resist! I still get excited when I think about how much fun I had putting this room together!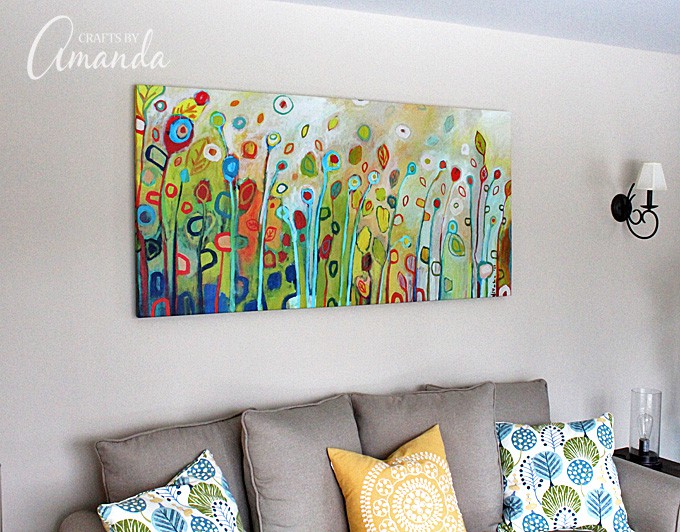 Above the sofa is this gorgeous canvas wall art that has so many wonderful colors in it. They all play off the pillows and rug and decorative accents. I can't even begin to express how much I enjoy this room!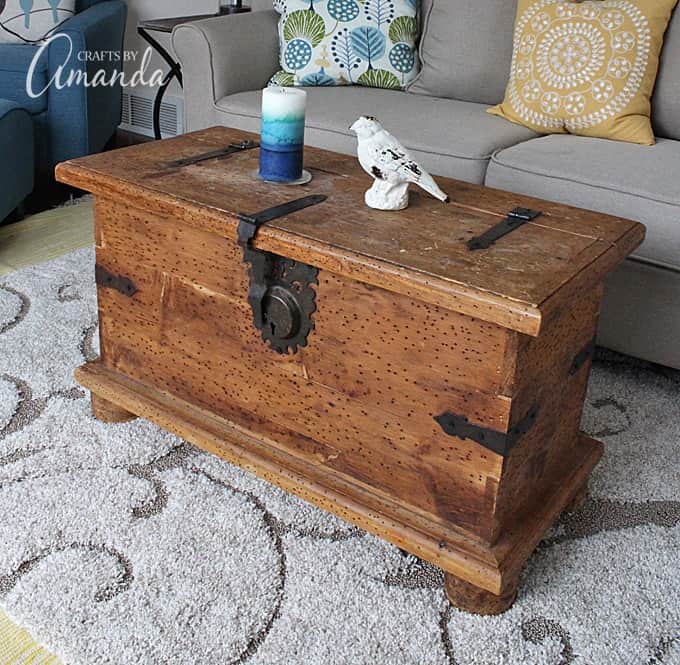 I love this trunk. It took up residence in my bedroom at the foot of the bed for many years. I found it at a garage sale when I lived in Las Vegas several years ago. Then it ended up in my attic a couple of years ago until I moved and placed it into this room.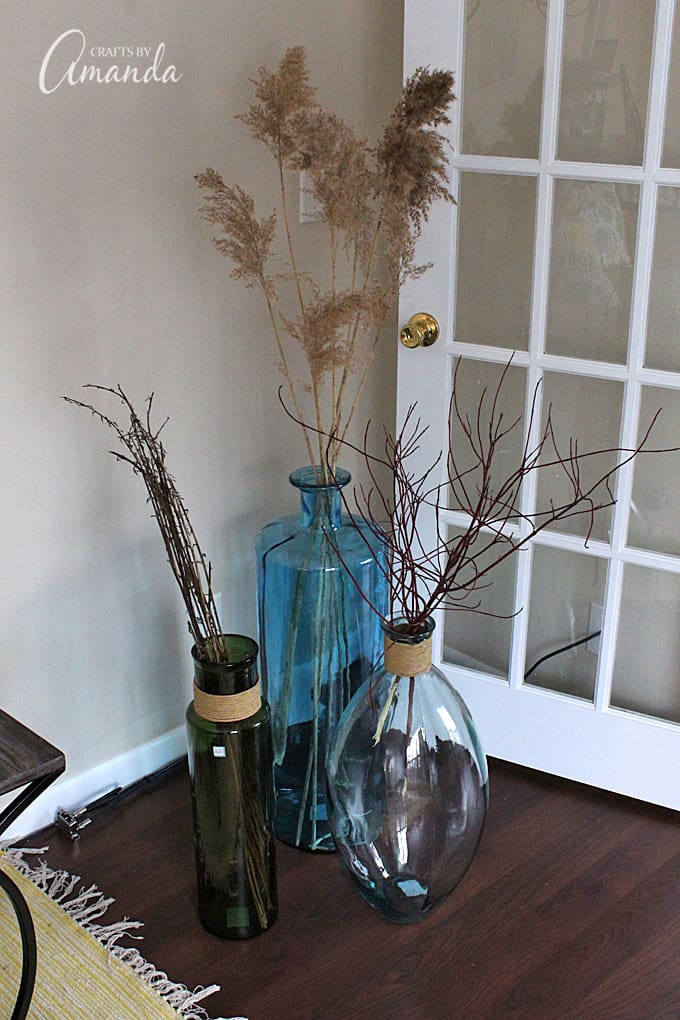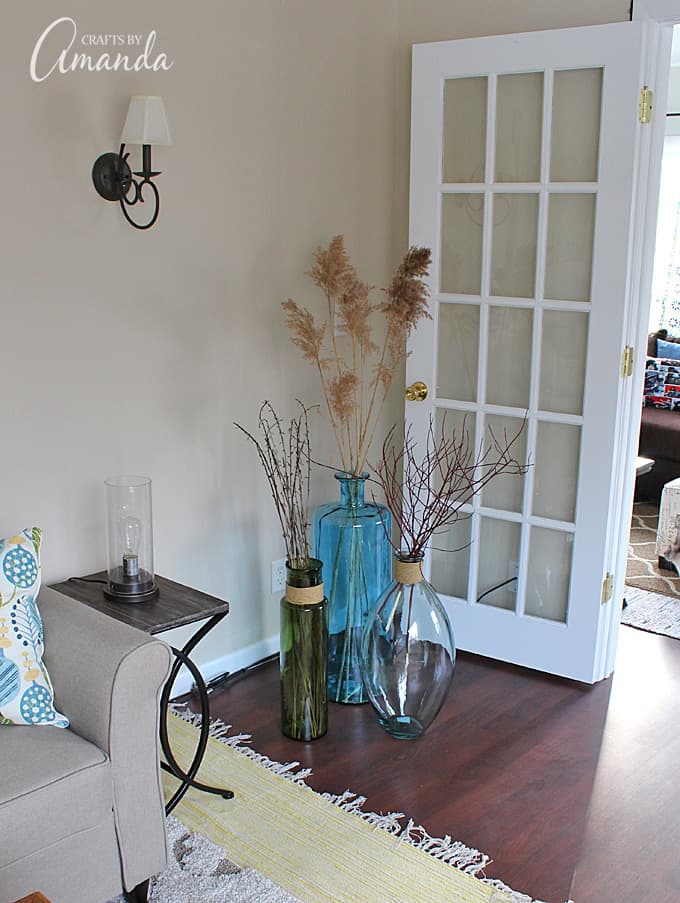 I found these glass vases at Gordman's. They were pretty inexpensive for their size! I went outside and cut some dried stems from last year's perennials and placed them in the green vase. I cut some branches from one of my bushes to fill the clear round vase, and the fluffy stems in the blue vase are from the side of the road along the cornfield!
You can see the nesting side tables in this photo as well. They came with three tables, two of which I used in this room and one in the family room.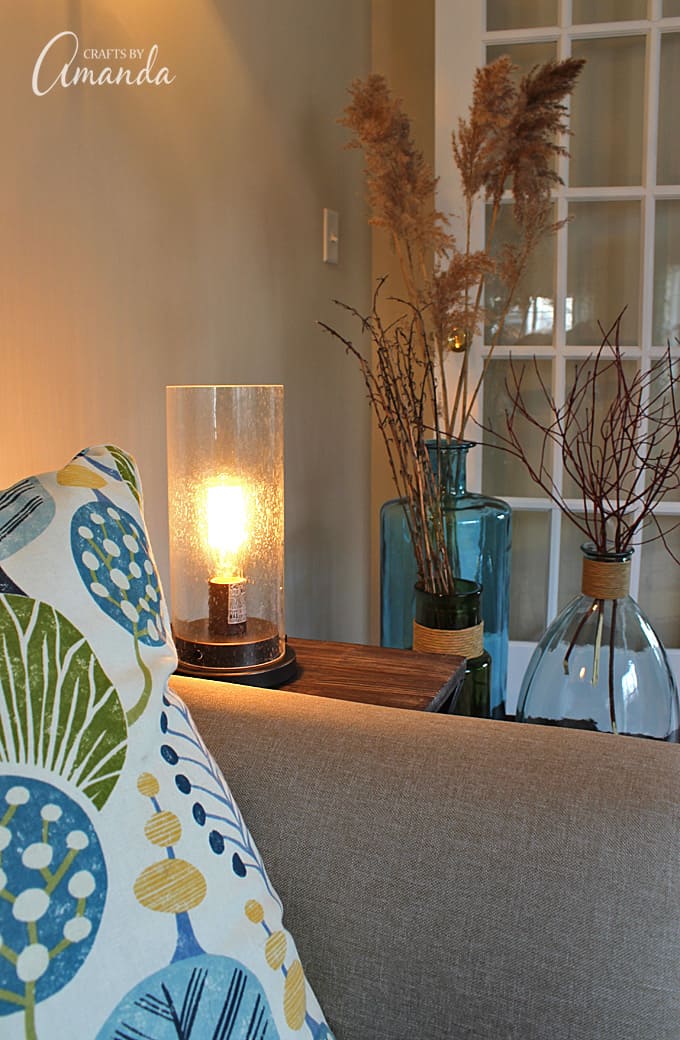 My living room does not have any overhead lighting. There are sconces on the wall and I ordered these awesome vintage looking lamps from Wayfair. I love them and get lots of compliments from visitors.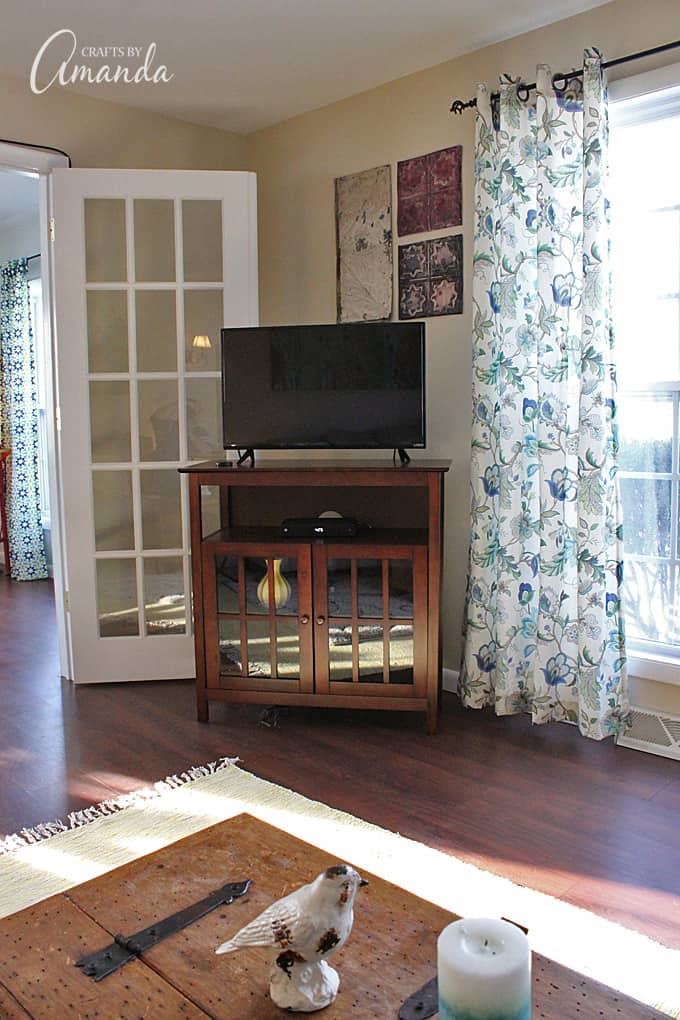 I really love this beautiful television cabinet. Once I get them unpacked, I plan to store my late mom's knick knacks inside of it. All the wires from the TV, cable box and DVD player are hidden in the back and it's just such a pretty piece!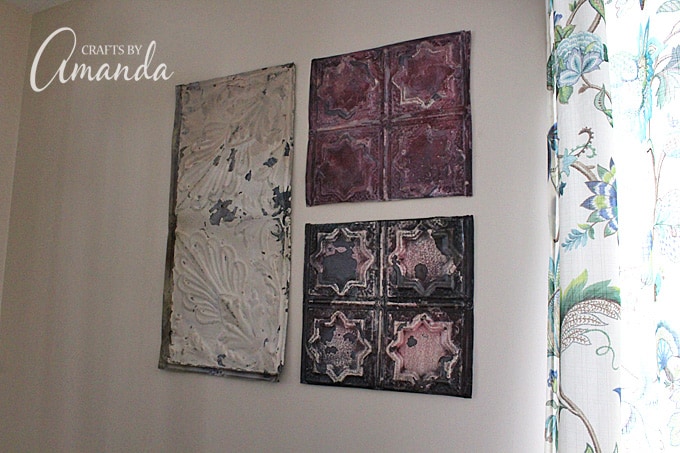 Above the TV was an empty spot, so I picked up these antique tin tiles which I hung with Command Strips. The colors are perfect for this room and they made the perfect addition to the wall.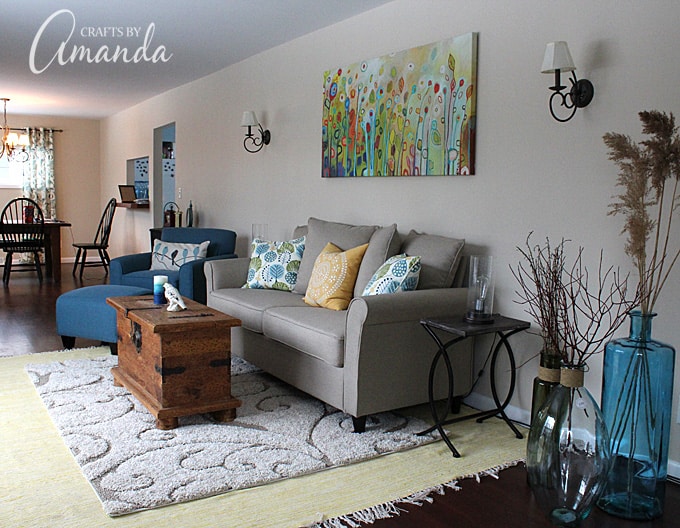 That completes the tour of my new living room! I hope to share some fun changes to my dining room soon. Thanks so much for coming into my home and having a look around!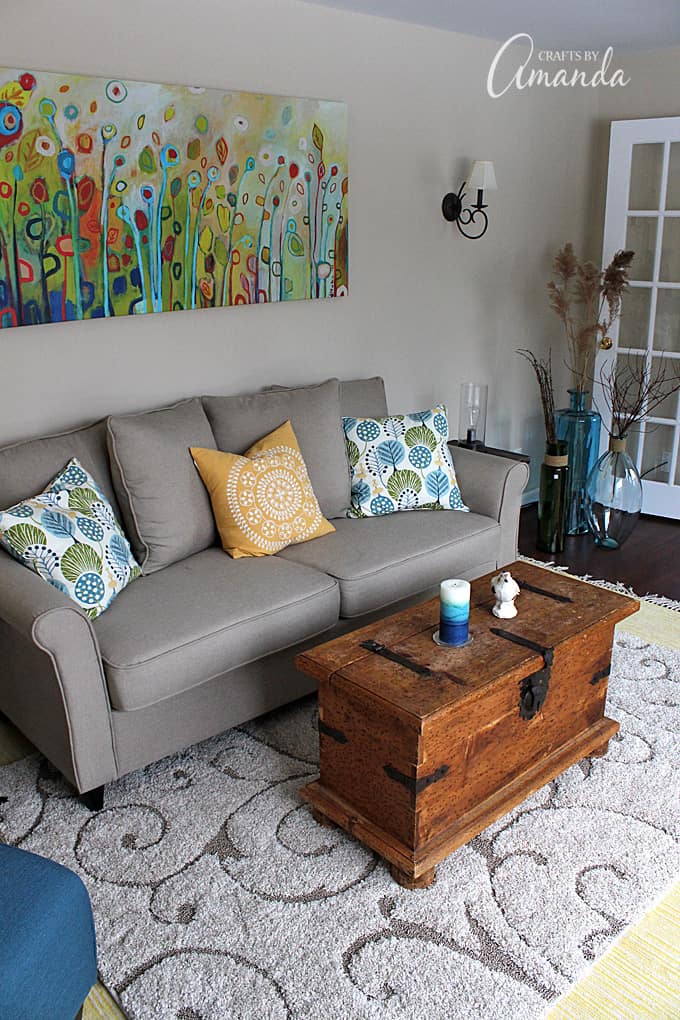 Special thanks to Wayfair.com for helping me create this fabulous space to enjoy every night in my new home! Check them out on Facebook and Twitter.
Latest posts by Amanda Formaro
(see all)