Decorate your family room with movie theater themed decor for a fun mini theater room experience! Cool movie room wall art, zombie pillows, a real popcorn maker and even candy and snacks make this room a fun place for family movie or game night.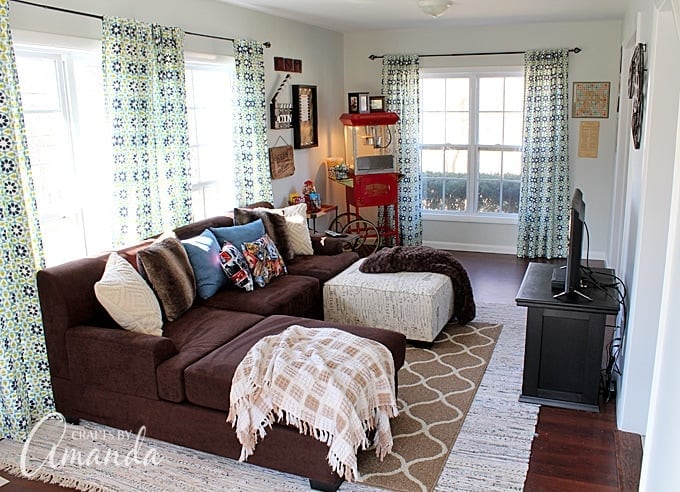 Due to a recent life change, I moved into a different house. When I moved, I only brought my bedroom furniture and the dining room table. So I really needed to fill the family room and the living room. That's when I decided to partner with Wayfair to help fill up these two spaces. I'll show you the family room today, the living room reveal will come next week!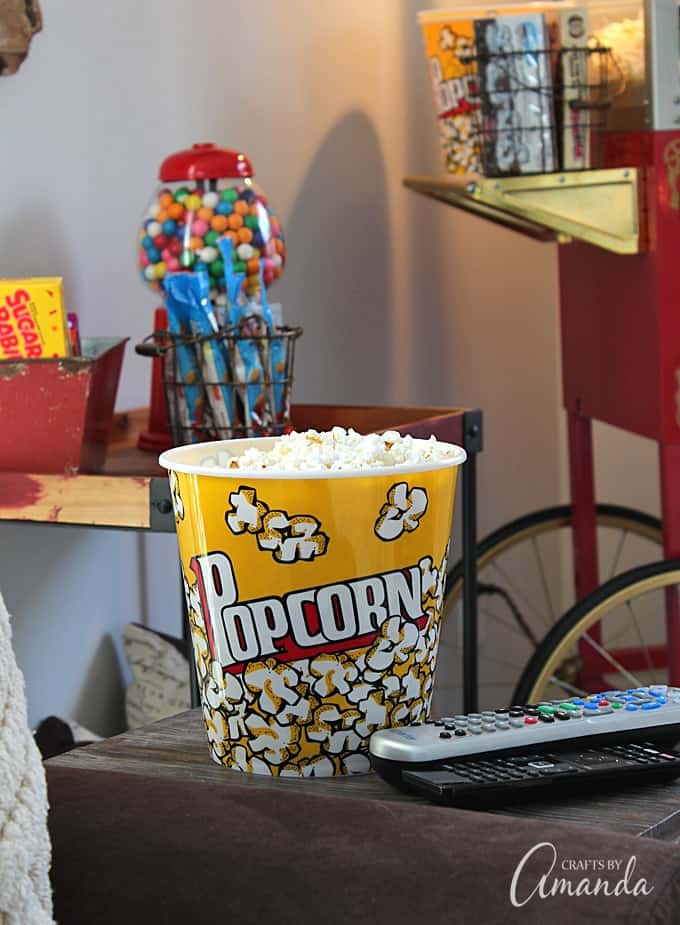 I don't watch a ton of television, but I do like to relax and watch a good show at night before bed. I have several favorites, including Game of Thrones, Downton Abbey, The Walking Dead, Orange is the New Black and House of Cards, among others.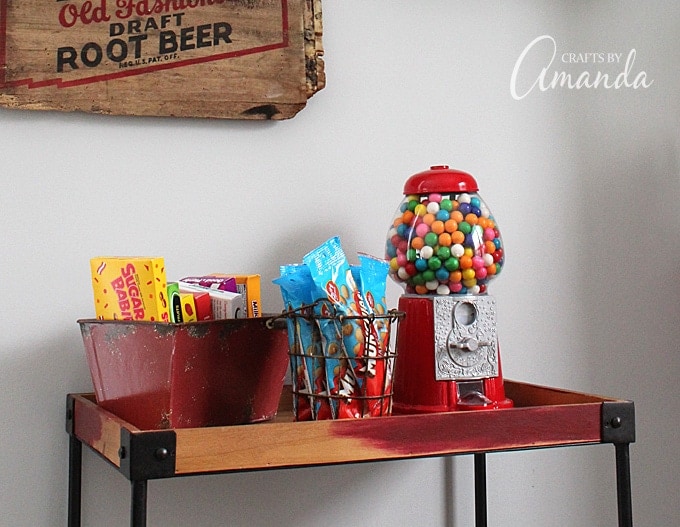 I've found a new love for decorating. I've always been able to "see" a room before it's done. When I decorated my studio I had the same type of vision. I knew exactly where everything would go and how it would look before it even arrived!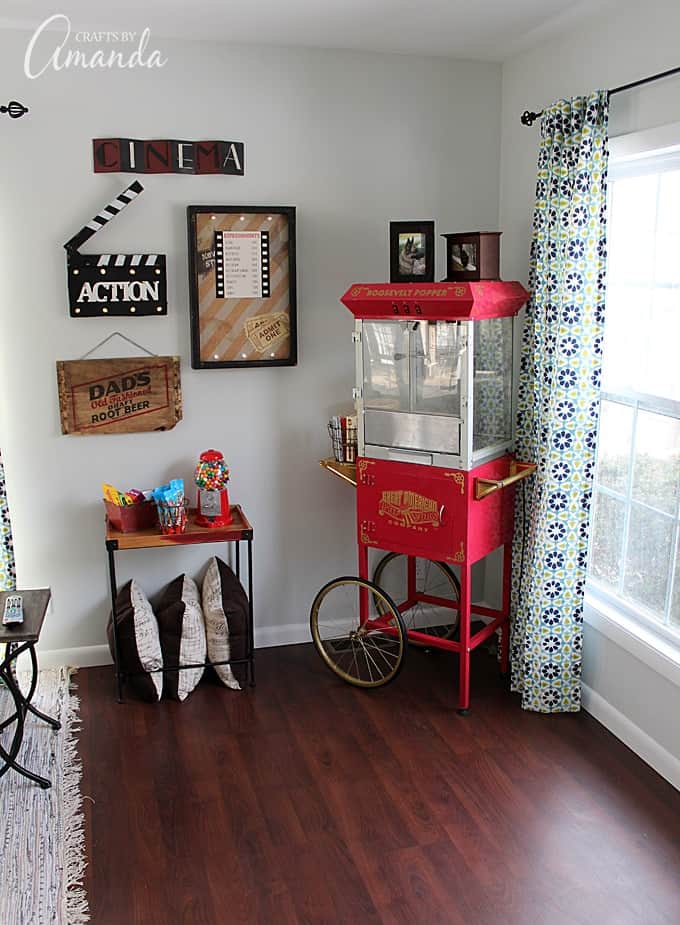 The same thing happened when I first looked at this house. The family room and the living room are long and narrow and there are lots of windows, which I love! But that also presented a challenge, especially on where to position the television.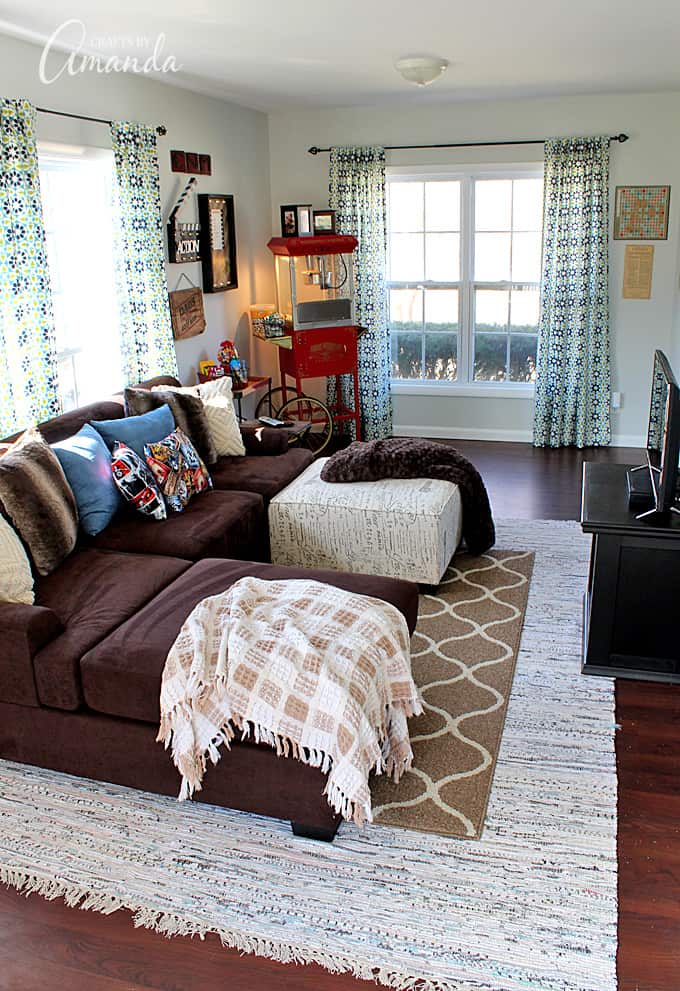 There are affiliate links in this post. That means if you buy something from that link, I will earn a small commission, but it won't cost you anything additional.
I went with a smaller TV
since you aren't sitting too far away from it. I may transition to a larger size later, but for now this does the trick.
So let's go through the room, shall we?
Before I even started, I created an idea board on Wayfair.com. I saved all the things I liked on that board so I could come back later and go through a process of elimination to determine my ultimate choices. For this room, my final choices were: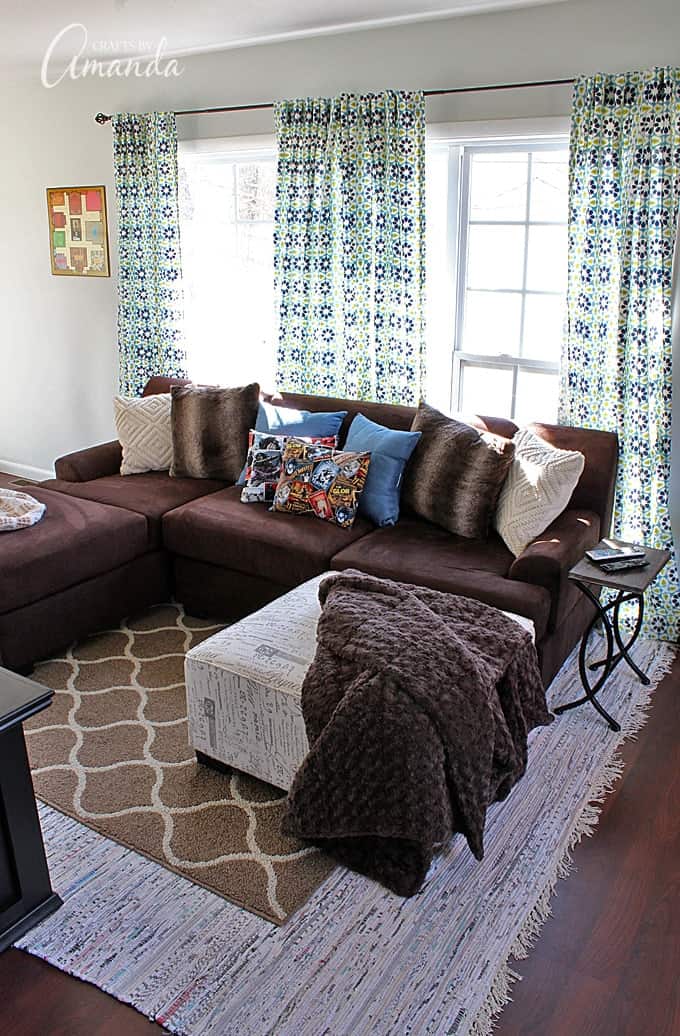 This room has a rich brown laminate flooring, so a light colored rug really brightened it up more. However, once I had the sofa in place, it didn't feel quite finished. So I added the smaller tan rug and it seemed to bring everything together!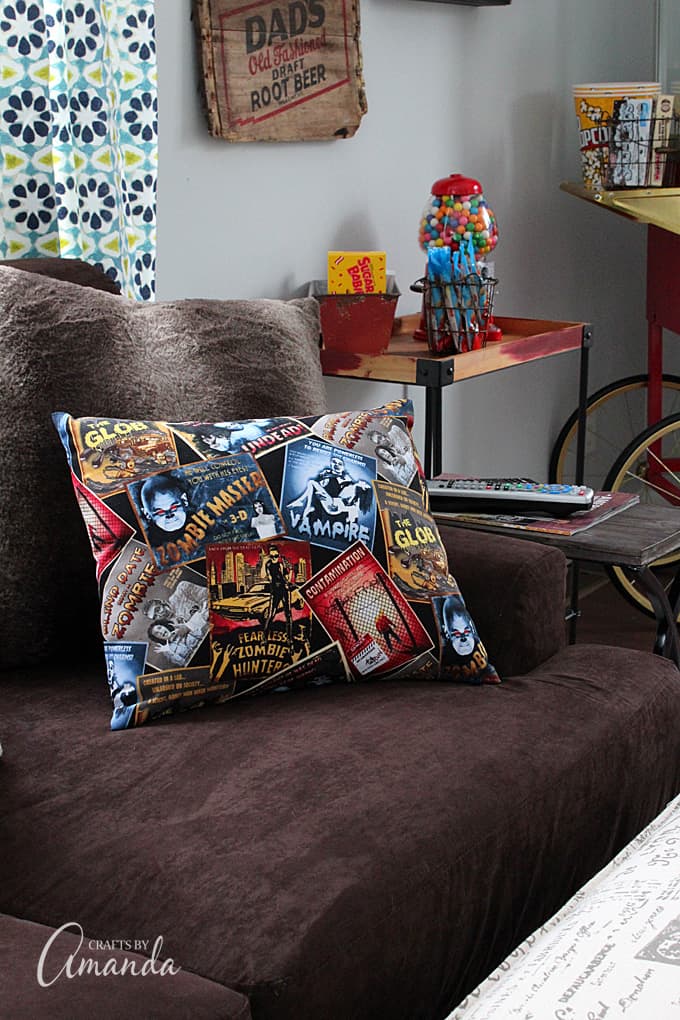 I'm a big Walking Dead fan (surely you can see that from my Barbie Zombies!), so this pillow is one of my favorite items in the room. The colors are so vibrant and it just makes everything pop.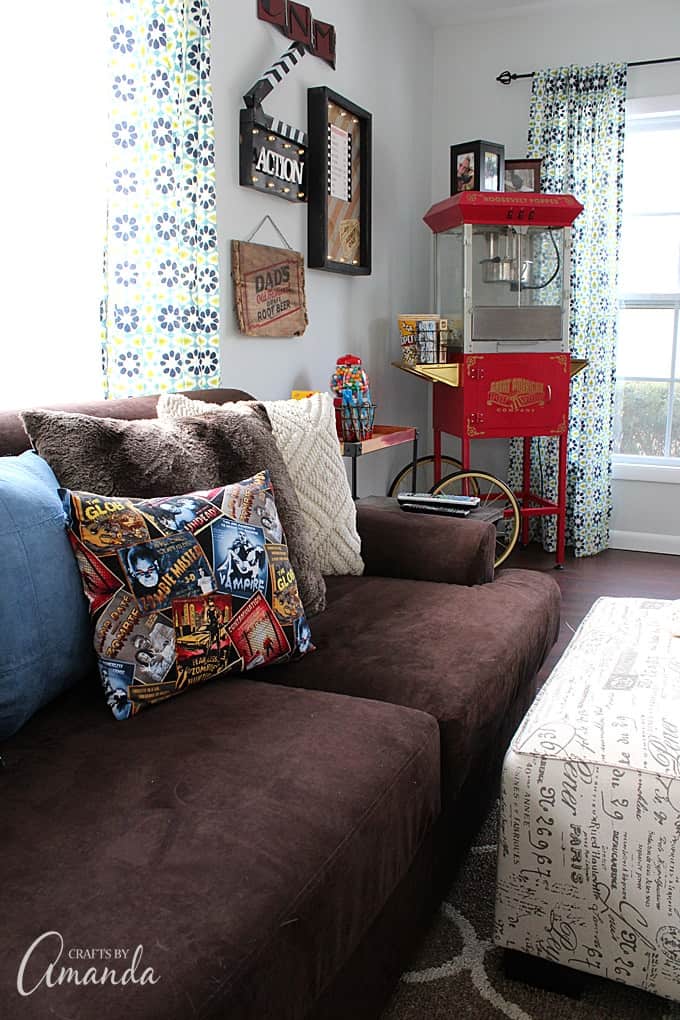 I love the way all the colors and textures in the pillows play off of each other. Not sure if you can tell, but the walls are a light blue, so in order to make all the colors work, I had to blend browns and blues and creams together. The reds in the zombie pillow help marry the popcorn machine and gumball machine into the room.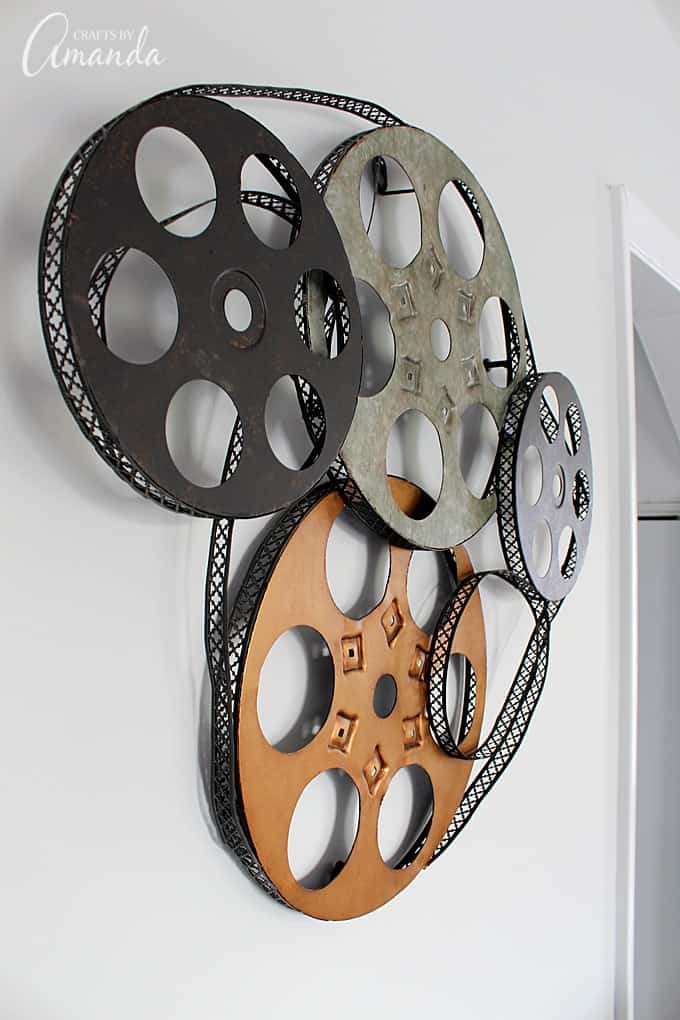 I also love this metal movie reel wall art. It's really lightweight and hangs by a single picture hanging nail. It fits perfectly above the TV on this small junction wall between two doorways.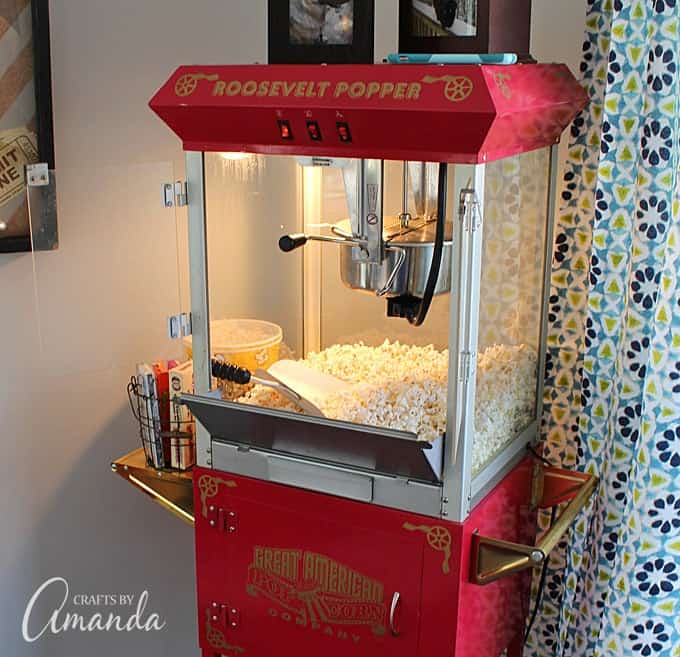 I've actually had this popcorn machine for several years. I bought it back in 2009 and used it quite a bit for a year or two. Then we moved it and it sat idle for a few years. Now it's back in action and working perfectly still, as you can see from all the delicious popcorn it just made!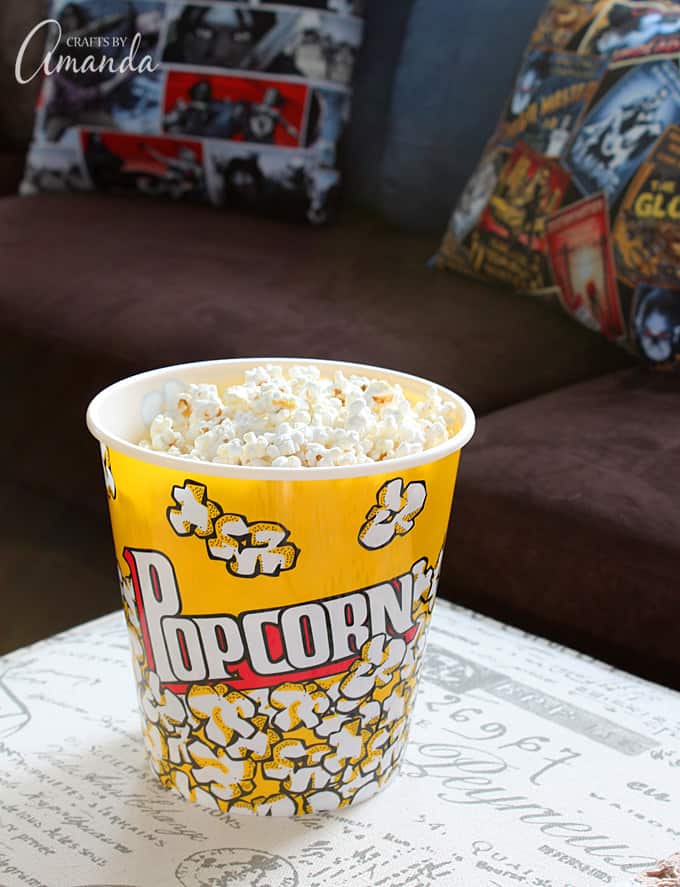 You can find plastic popcorn buckets online or at several different stores. I honestly can't remember which store I bought these at, but it could have been Bed Bath & Beyond. As a side note, doesn't this ottoman from Wayfair make a great photo back drop??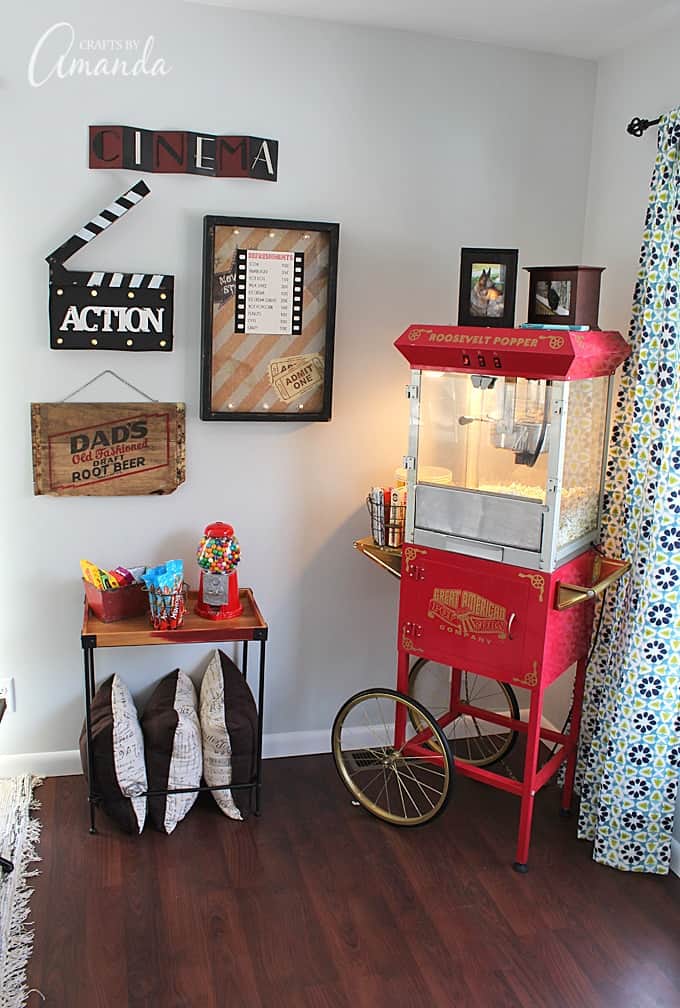 The reaction from my boys once I had this area finished was priceless. They are teenagers, and any mom of a teen knows that it's much more challenging to get an excited reaction from them than it is younger children. As soon as they saw this set up, they wanted to know when the first movie night would be. I stocked the baskets and tin with boxed candy and bags of peanuts.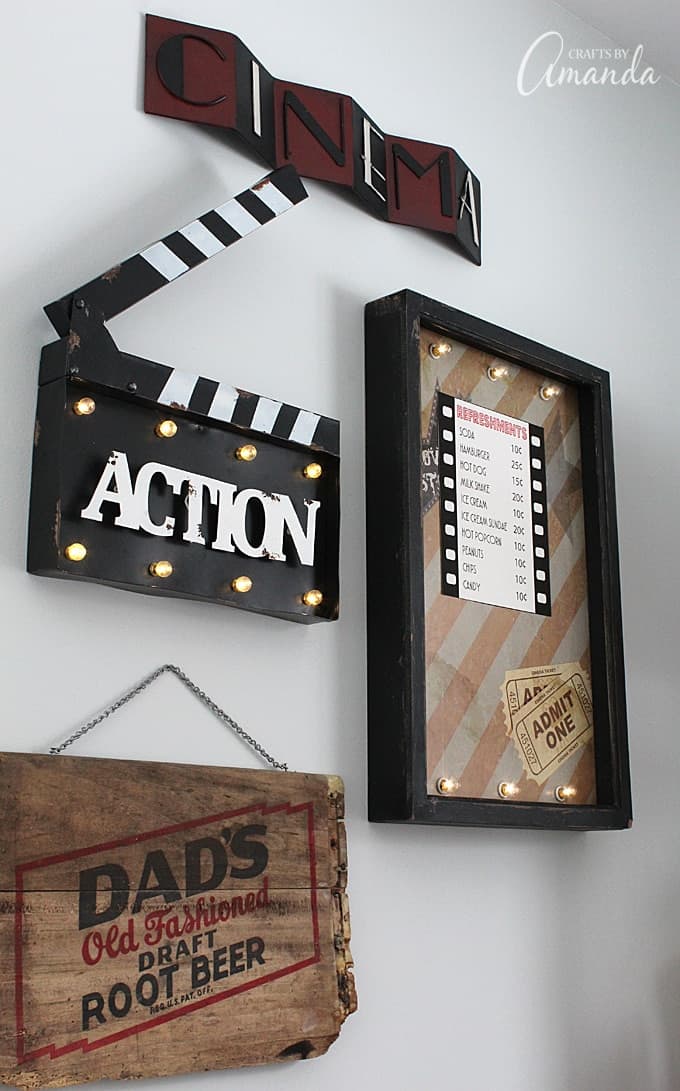 I bought the cinema sign and the action sign from Hobby Lobby. I love the marquee lights! They are battery operated and there's a little on/off switch on the side. The Dad's Root Beer sign was something I picked up at a thrift store several years ago. It appears to be the side of an old wooden crate.
There's a story behind the shadowbox frame to the right. As you can see, there's a printable refreshment sign that I created to put inside it. But that's not how it was originally…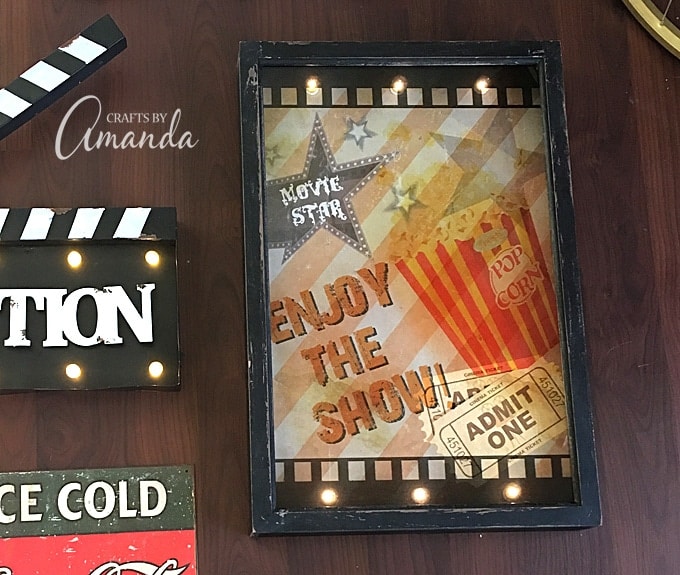 THIS is what it originally looked like. I bought it from Gordman's, and similar to the action sign, there's a switch on the side that turns the battery operated marquee lights on and off. Well, when I was hanging it on the wall (it's pretty heavy), it slipped from my grip and went crashing to the floor… it was all I could do to get my feet out of the way fast enough!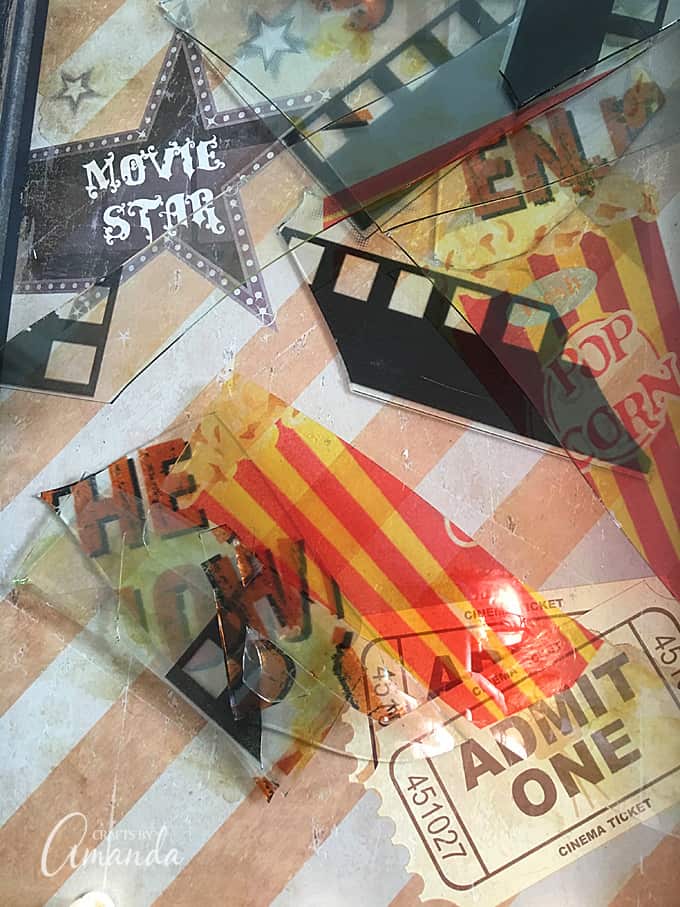 Sadly, this is what it looked like afterward.
*sigh*
So I had to improvise. The corner or the frame came loose so I nailed that back together, threw away all the broken glass then created a vintage inspired refreshment price list to hang inside. It is what it is!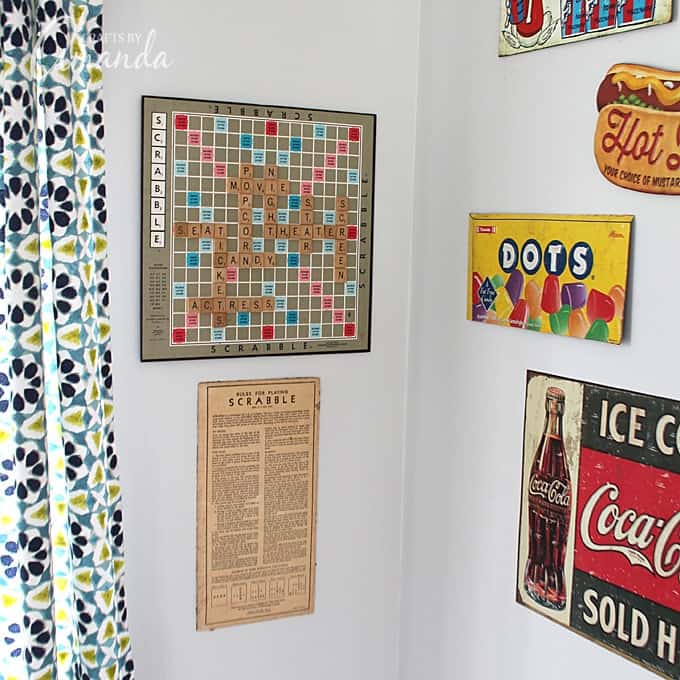 Finally, to round out the room I hung some vintage inspired metal movie signs from Hobby Lobby on one wall. Then on the other side of the wall I hung an old Scrabble game board. The "how to play" instructions were from inside the lid of the old game box. I bought this from a garage sale ages ago and have been saving it for just the right moment, and this was it!
If we do decide to play a board game in this room, the ottoman is nice and firm and works great as an impromptu table.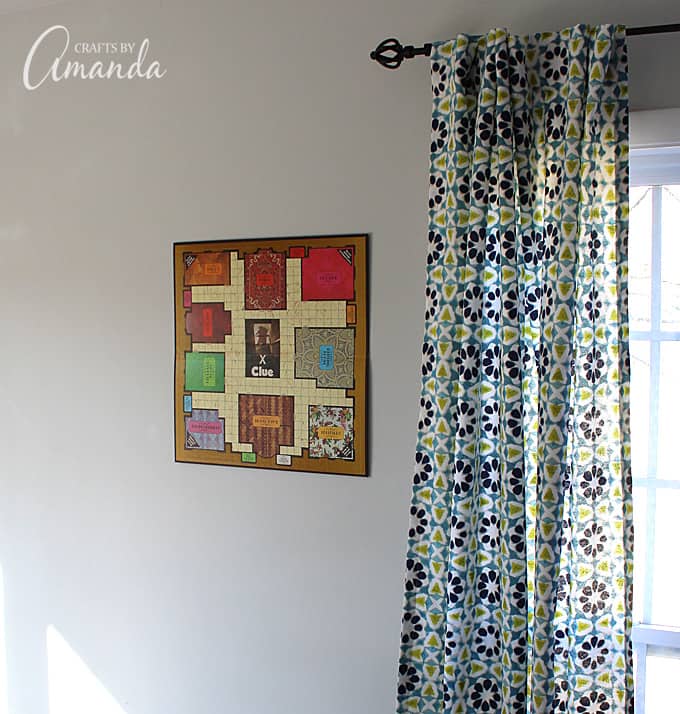 Lastly is this Clue game board I hung on the wall to the left of the sectional sofa. The colors in the game board play nicely with the other colors in the room and it fills an empty space that leads into the area where my treadmill stands. I may add more game boards to that wall in the future too!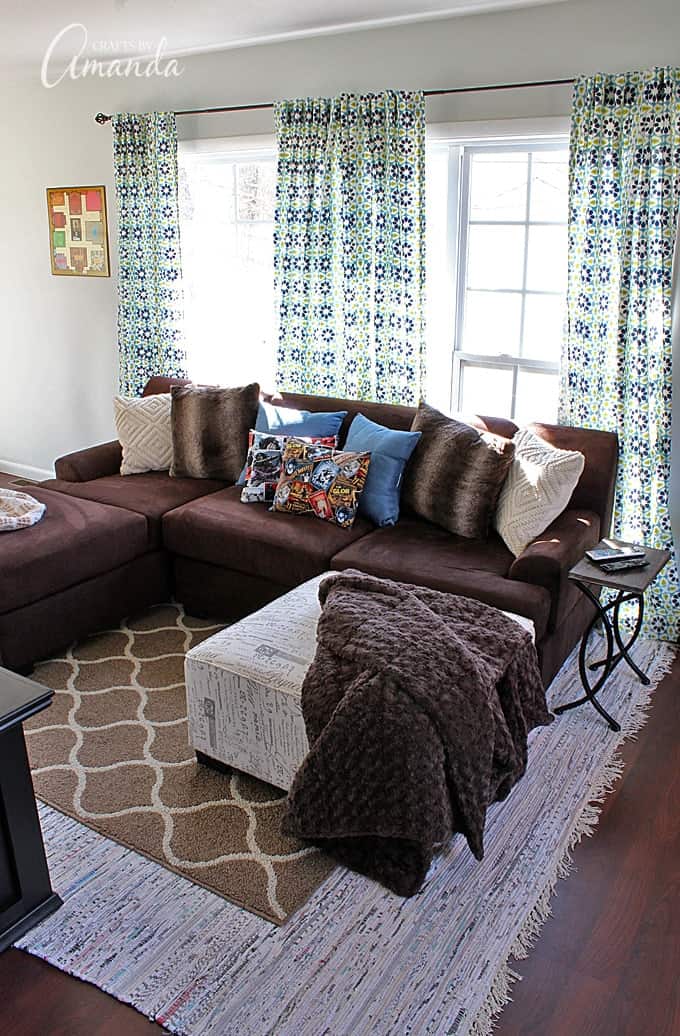 I hope you enjoyed my movie theater family room makeover. I truly had fun putting everything together and can't wait to show you my living room next. Stay tuned!
Special thanks to Wayfair.com for helping me create this fabulous space to enjoy every night in my new home! Check them out on Facebook and Twitter.
Latest posts by Amanda Formaro
(see all)