Remember our jump-into-spring with the Crochet Slipper Sandals from last month? Well, with spring and warmer weather upon us, and all the delicious summer cold drinks you can imagine, you may want to make sure your furniture stays as clear of water marks as possible. That's exactly where these adorable crochet pizza coasters come into play!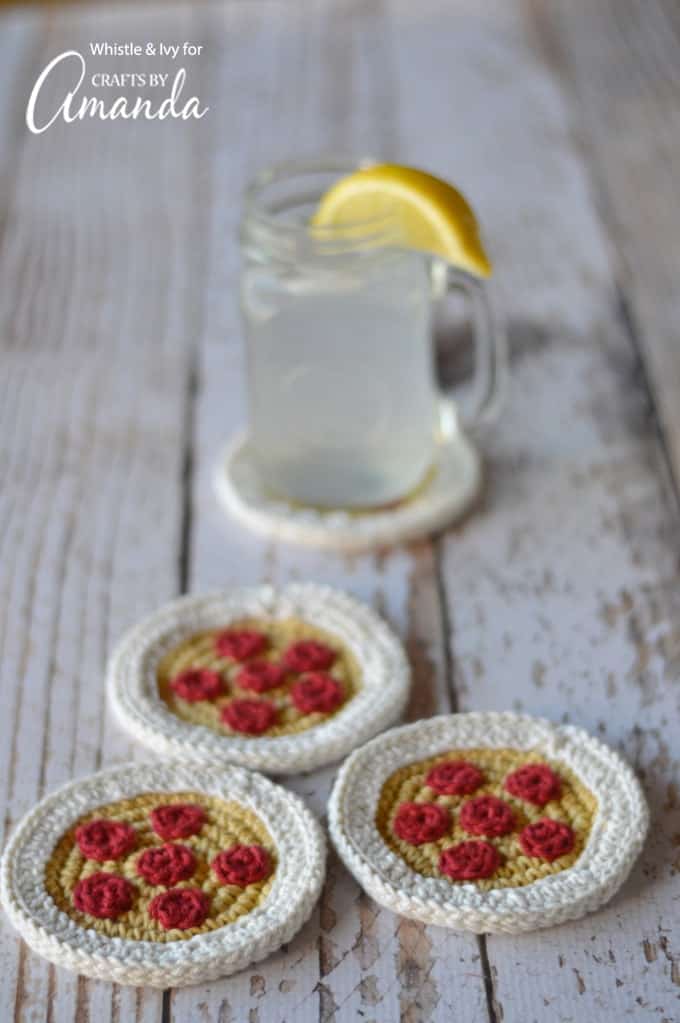 Related – Find 40+ more free crochet patterns!
Crochet Pizza Coasters
Hello, friend! I'm Bethany from Whistle and Ivy. I don't know about you but spring my favorite season. My family really enjoys getting outside and enjoying the beautiful not-too-hot-not-too-cold weather. Although I do often jump in the sandbox and join in the spring festivities with the kids, it's also nice to step back and enjoy a cool drink on the porch.
One thing to remember when crocheting something that will come in contact with moisture: use cotton yarn. It dries quickly, washes easily and absorbs moisture well.  It may be tempting to use acrylic but trust me on this one, cotton is the absolute best way to go here (that goes for washcloths too!).
If you have any troubles with the crochet pizza coasters pattern, please feel free to contact me here.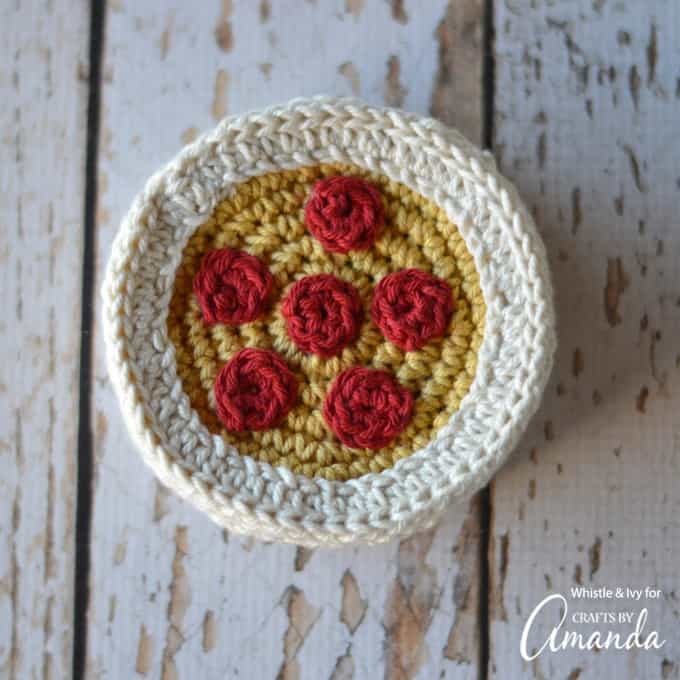 YOU CAN DOWNLOAD THE PATTERN FOR THESE PIZZA COASTERS HERE
What you need to make crochet pizza coasters:

Abbreviations: (US Terms)
St – Stitch
Ch – Chain
Sc – Single Crochet
Hdc – Half Double Crochet
Sl st – Slip Stitch

Note: Ch 1 does not count as first st. Always work the first st in the same st as the beginning chain. Join each round with the first sc, not the beginning chain. 
Crust: (make 4)
Ch 56. Join with 1st ch, forming a loop. Work through the loop behind the two loops on the chain. Ch 1. Hdc in each ch. Join with a sl st.
Tie off, weave in ends.
Pizza: (make 4)
Make a Magic Ring with yellow
1. Ch 1. Sc 8 into ring. (8 sts)
2. Ch 1. 2 sc in each st around. (16 sts)
3. Ch 1. *Sc. 2 sc in next st* work all around. (24 sts)
4. Ch 1. *Sc 2. 2 sc in next st* work all around. (32 sts)
5.  Ch 1. *Sc 3. 2 sc in next st* work all around. (40 sts)
6. Ch 1. *Sc 4. 2 sc in next st* work all around. (48 sts)
Join cream
7. Ch 1. Hdc 2. 2 hdc in next st. *Hdc 5. 2 hdc in next st* work 7 times. Hdc 3.  (56 sts)
Don't tie off.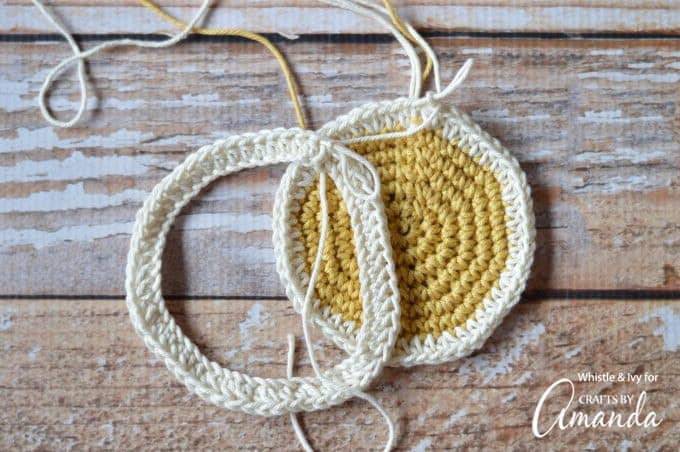 Pepperoni: (make 24 – 6 for each coaster)
Begin with Magic Ring using Red
1. Ch 2. Sc 6 into ring. Join with a sl st. (6 sts)
You can either tie off and plan on gluing them later, or leave a long tail so you can sew them on later.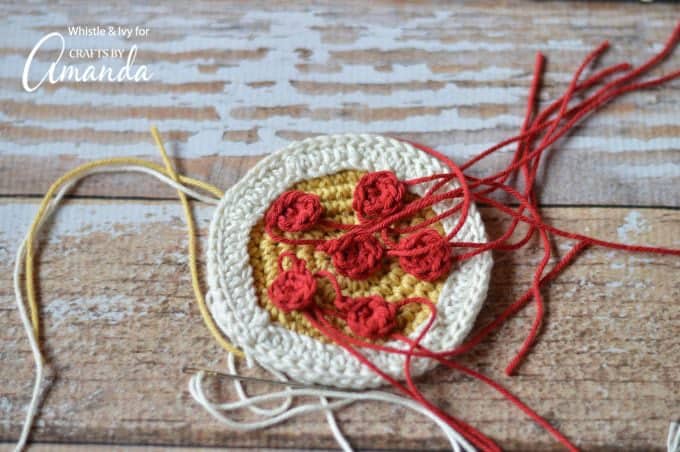 Construction for crochet pizza coasters:
Lay the crust on top of the pizza. Pull a loop up through the two loops on the crust (the loop where you left off and didn't tie off) and sl st around the outside, sewing it to the coaster. At first, it will appear that it is too large, but it will fit perfectly once you have slip stitched all around.
Once the outside of the crust is attached, you can tie off and weave in your ends. Using your darning needle and a length of cream yarn, sew a simple running stitch around the inside of the crust, tacking it down and in place.
I find hot gluing the pepperonis in place in a great way to attach them. You can also sew them in place. If you are gluing, make sure you get the glue as close to the outside of the pepperoni as you can, so the edges don't curl up over time as you use them. A single dot in the middle won't hold up.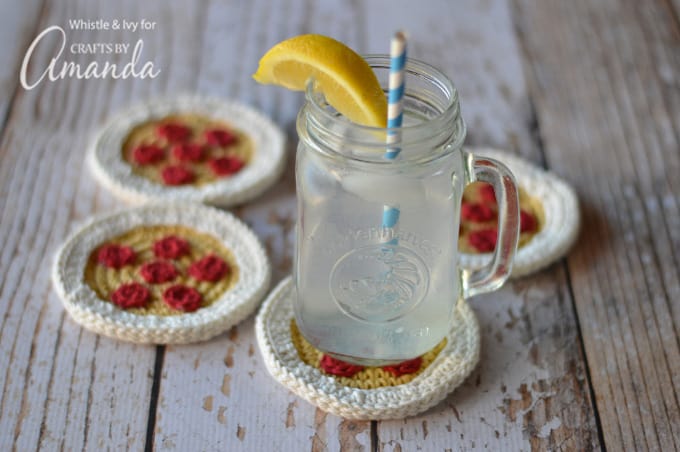 YOU CAN DOWNLOAD THE PATTERN FOR THESE PIZZA COASTERS HERE
The best way to protect the furniture is with coasters, and what better way to do so by using your new cute crochet pizza coasters? I hope you enjoy making them! If you have a question about the pattern, send me an email here and I will help you out.
Want more DIY coaster ideas? Check out the ones below!
More Crochet Project Ideas
Latest posts by Bethany Dearden
(see all)