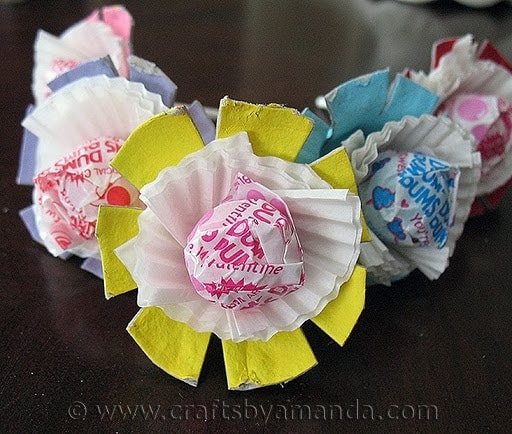 Using cardboard egg cartons, some paint and mini muffin pan liners, make these cute lollipops with your kids. A great way to hand out Valentine's with a personalized touch. Fun as grandparent gifts, teacher gifts, or for your babysitter or neighbor too!
I realized that since Kaboose is working on their website and I haven't been making anything for them lately that I haven't been making any kid's crafts! So I decided to remedy that today and came up with this fun Valentine craft you can make with your little ones. Have fun!
Egg Carton Lollipop Flowers
Cardboard egg cups
Acrylic paint
Mini muffin pan liners (2-4 per flower)
Lollipops
Tape if needed
Paint the cardboard egg cartons inside and out. Use fun colors like yellow, pink, red, purple and light blue. Let dry. When dry cut out and trim.
Cut slits in egg carton and fold downward to create petals.
Fold mini muffin liners in half, and in half again. Use a toothpick to carefully poke a hole in the liner, going through all layers, about 3/4″ from the pointed tip.
Carefully poke the lollipop stick into the hole in one of the folded liners. Repeat three more times, using four liners for each flower. You can also just fold them in half and use two instead, which may be easier for younger children.
Grown ups should carefully poke a hole in the bottom of the egg cup. Insert the lollipop stick through the hole, bringing the egg cup flower as far up as it will go. They should stay in place on their own, but if you have any that are not cooperating, simple secure the lolli stick with a bit of tape.
Below is a list of craft parties I link to each week. There's lots of creative talent out there, check them out :)