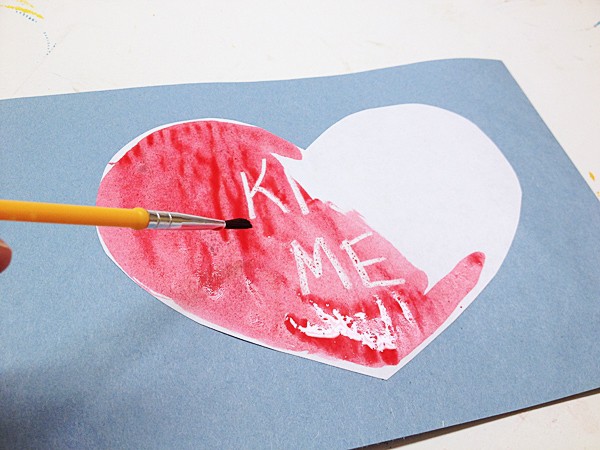 Shhhh. It's a secret! A secret message that is! One that your kids will "decode" using a little watercolor paint. Totally fun and a great way to surprise your Valentine.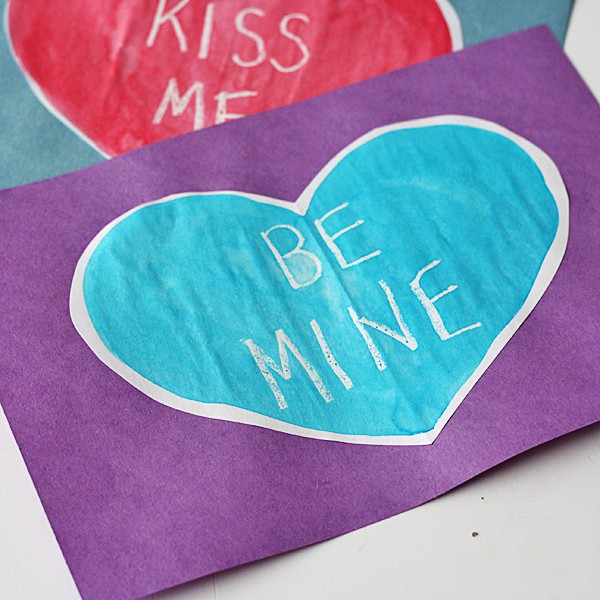 These would be great at a Valentine's Day party. Have them all set out on the table. Put out watercolor paints and small cups of water and let the kids decode!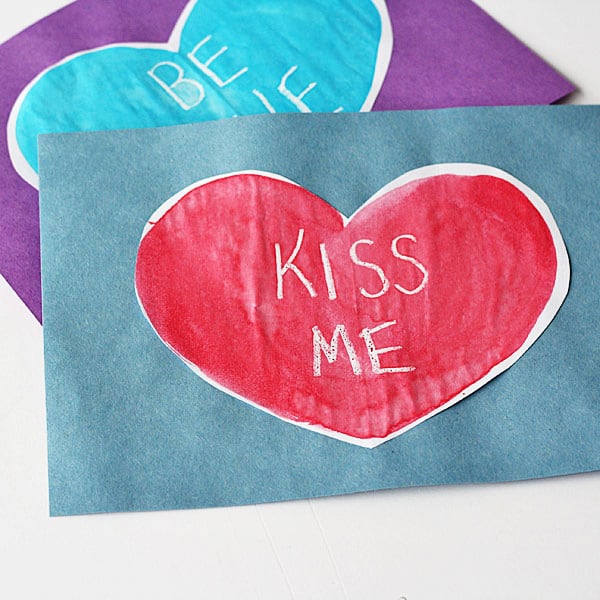 These were lots of fun and I'm sure your kids would think so too. Create your own ways to display these messages if you like, or use my instructions.
here are several more Valentine card crafts for kids and some adorable Star Wars valentines too!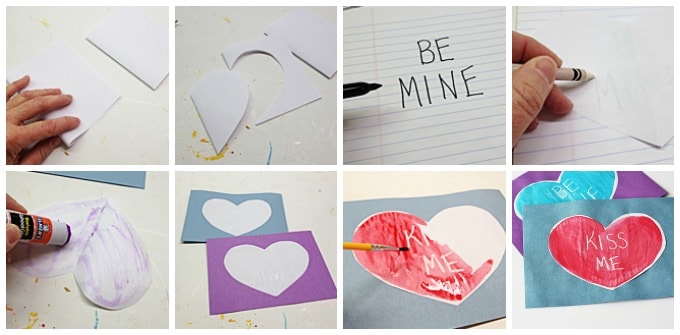 Secret Message Valentine
Supplies
2 sheets white paper
1 sheet construction paper
Black marker
White crayon
Watercolor paints
Scissors
Glue stick
Directions
Fold one sheet of white paper in half like a card. Cut along the crease so that you have two pieces. Fold those two pieces in half.
Cut hearts from the two small pieces of white paper.
On the second piece of paper, use a black marker to write your message. Be sure that it will fit on the heart!
Place your white heart over the black letters. You should be able to see the black letters through the white paper. Trace the letters onto the white heart using a white crayon.
Cover the back of the heart with glue stick.
Attach the heart to a piece of construction paper and trim.
Paint the white heart with watercolor paints. The wax in the crayon will resist the watercolor, revealing your secret message!
I originally made this project for Spoonful. Spoonful has since closed and the instructions were taken down. I am putting the instructions here until such time that Spoonful projects are redirected to a new home. At that time I will remove the instructions and link directly to the project on their site. 
Amanda Formaro is the crafty, entrepreneurial mother of four children. She loves to bake, cook, make kid's crafts and create decorative items for her home. She is a crafting expert and guru in the kitchen and has appeared online and in print publications many times over the years. She is also the editor for the Home & Garden channel at Craft Gossip and owner of FunFamilyCrafts.com.
Latest posts by Amanda Formaro (see all)