St. Patrick's Day is on March 17th, so if you are looking for a last minute idea to keep the kids busy, this may just be the answer. Do you remember doing this? Tear or cut the tissue paper into squares, then twist it around the eraser end of a pencil and press onto a glued pattern. My kids always loved these types of projects. They're easy and fun, but best of all, they can be time consuming, keeping them busy for a while. ;)
3D Tissue Paper Shamrock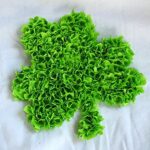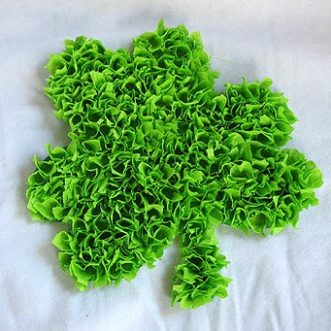 Print Project
3D Tissue Paper Shamrock
Supplies
green construction paper

card stock or poster board

school glue or white craft glue

green tissue paper or party streamers

scissors
Instructions
Draw a shamrock shape (draw three hearts with a stem) onto a sheet of green construction paper. Cut out.

Rip or cut up the green tissue paper into small bits, about 1 inch square.

For younger children, have them crumple up the bits of tissue paper. Put a little glue into a glue pot or margarine lid for each child. Have each child dip one of the crumpled bits of tissue paper into the glue, and place on the cut out shamrock shape. Alternatively, you can put a layer of glue directly on the shamrock shape, one shamrock leaf at a time. This method creates less mess than dipping individual pieces into the glue.

For older kids, using a pencil with a new eraser, place the eraser in the center of the tissue paper square. Twist the tissue paper around the eraser and then press the eraser onto the construction paper. Lift the pencil out of the tissue paper, leaving it on the shamrock.

Continue until the shamrock shape is full of tissue. Glue a piece of yarn, string or ribbon to the back to hang your shamrock.
See my other St. Patrick's Day ideas here
---
Did you enjoy this post? Why not subscribe to my feed, or better yet, to my free newsletter – Foodie in the Craftroom, which provides not only crafts but recipes from my other blog, Amanda's Cookin' as well!
---
Latest posts by Amanda Formaro (see all)