Typically, St. Patrick's Day celebrations are mostly for the over-21 crowd. Today I am sharing a fun St. Patrick's Day Bingo game that is fun for all ages! Print the cards and tiles at home, and in no time you can be playing a fun, festive game with your family or in a classroom.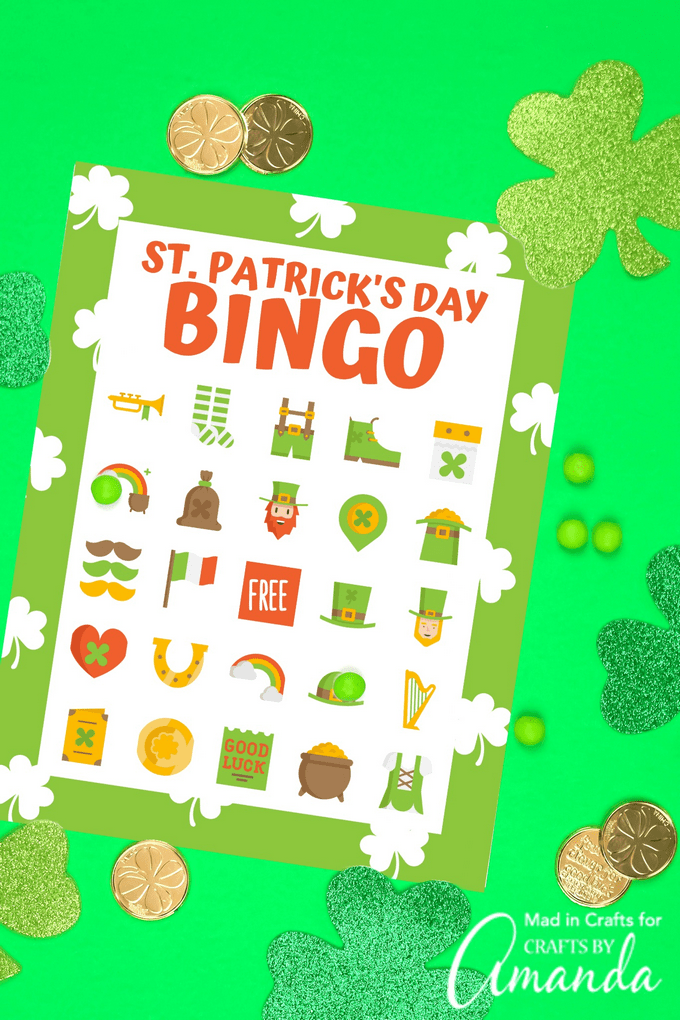 Printable St. Patrick's Day Bingo
I have now created versions of this bingo game for several different holidays. Just like I did for Valentine's Day and Halloween, I made sure to make two different sizes of bingo cards in case you want to save on paper or printer ink. The full-sized PDFs fit one game card on each 8.5″ x 11″ piece of paper. The half-sized cards will print two-to-a-sheet.
RELATED – Print out our free St. Patrick's Day activity sheets as well!

You Will Need:
Scissors or paper cutter
Green candy (to use as markers)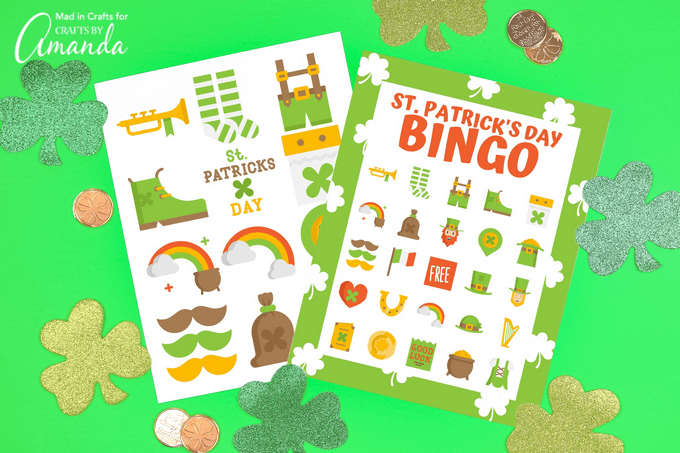 First, decide whether you would like to use the full- or half-page bingo playing cards. Download both the appropriate PDF and the Bingo Tiles PDF to your hard drive.
Load your printer with heavy printer paper or cardstock. Set your printer to the highest quality print settings. You will also want to change your printer settings so that it prints all the way to the edges of the paper. Print out all of the tile pages and the cards.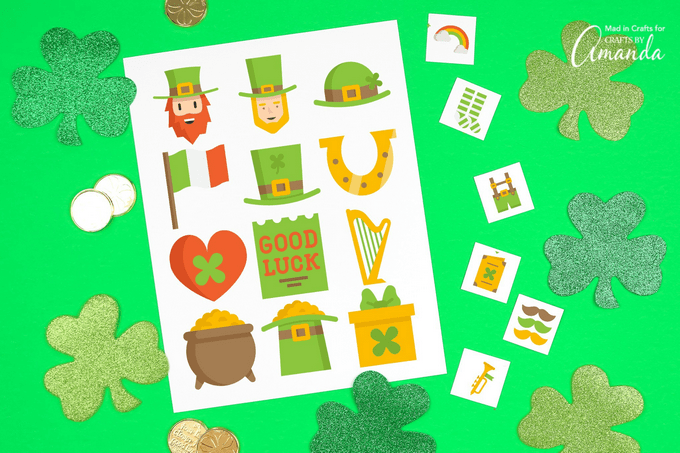 Use a pair of scissors or a paper cutter to separate the bingo tiles into squares. You will use these tiles in place of standard bingo balls.
Now traditional Bingo rules apply. All of the tiles should be placed in a bowl (or a leprechaun hat!), and the caller should pull one tile at a time. The caller describes and shows the tile to the players, and they look to see if they have that picture on their card. If they do, they are allowed to place a marker (gold coins or green candies are great choices) on that picture. Keep going until someone has 5 markers in a row — horizontally, vertically, or diagonally. That player then shouts, "BINGO!" and they are that round's winner.
Looking for easy and inexpensive bingo prizes? The dollar store is a great resource for fun St. Patrick's Day Bingo prizes. You can find shamrock glasses, sparkly hats, strands of green beads and more. Or you can craft up some easy and adorable End Of The Rainbow Loot Buckets to fill with little prizes and candy!
More Fun St. Patrick's Day Crafts

Latest posts by Jessica Hill
(see all)