I collect all sorts of things that members of my family consider junk or garbage. I save bottle caps, but I've also bought bottle caps to use for fun craft projects like this bottle cap flower that's in my herb garden. I left it out all year through snow and rain, so now it has a fabulous rusty finish and I love it!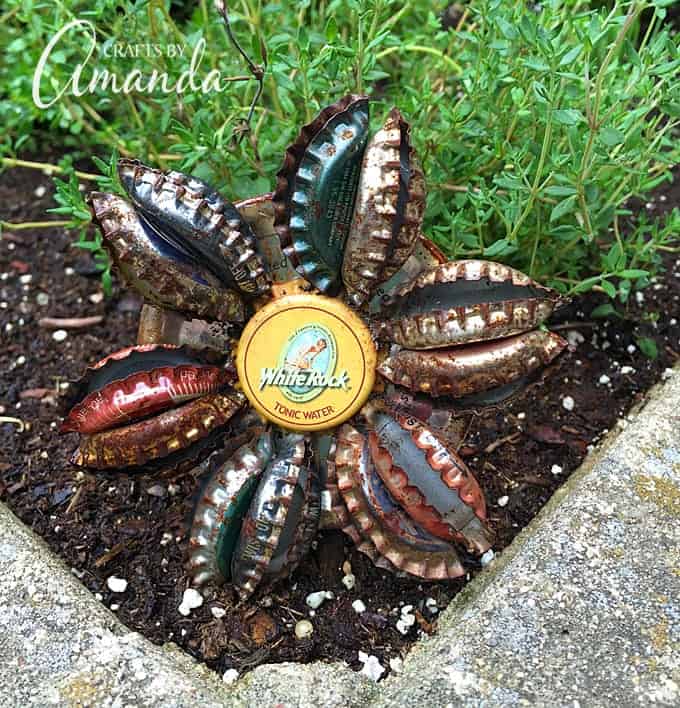 I made this project for one of my latest books, Button Mania: Buttons, Bottlecaps and Beyond!, which is available now for preorder on Amazon (affiliate link). This fall if you're in a Barnes & Noble, I've been told by my publisher that it is going to be on a table in their stores.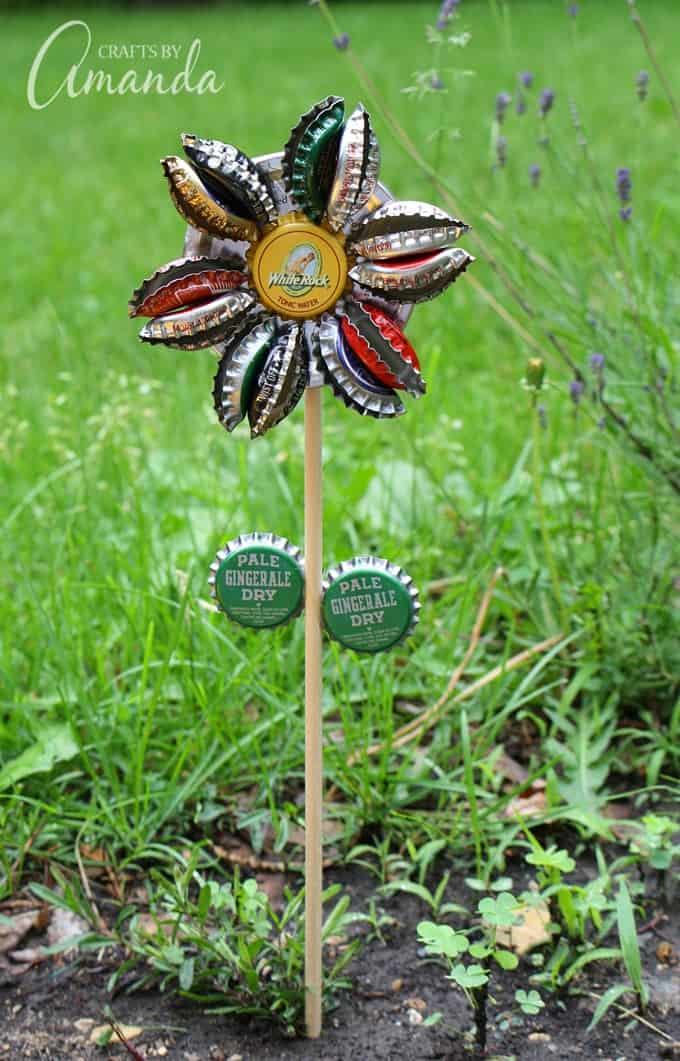 Make a Bottle Cap Flower
As you can see from this photo, the bottle cap flower doesn't start off rusty. If you prefer it to stay shiny you'll need to keep it from the elements. But I still can't guarantee that it won't rust. Bending bottle caps causing stress on the metal and could cause them to rust. But that's what I love about it!
This book was a lot of fun for me. There are quite a few projects in it that I'm fond of. One of my all time favorites is this rag doll horse made from tons of bottle caps. I shared him on Instagram (below). He sits on a shelf right inside the door of my studio. So I see him every time I walk in the door.
RELATED: Have some prescription bill bottles saved up? Instead of tossing them, repurpose them and use them in so many different ways! See 20 Uses for Prescription Pill Bottles to find inspiration.
Another project I love from this book is my button lamp. It sits on my desk right next to my computer in my studio. I love all the different colors and just how easy it was to make. Haven't had a single button fall off either, so that's a great sign. :)
I also shared this flower on Instagram. If you are an Instagram fan, you can follow me at @amandaformaro.
So let's make a flower from bottle caps, shall we? You can collect your own bottle caps, or you can buy them. These are the ones I bought but I also used beer bottle caps around the outside of the flower.
Note: some links above and below are affiliate links. That means if you happen to buy something, a small percentage of that sale goes back into this site, which enables me to continue to bring you free tutorials such as this one. So, thanks!
As always, a full printable supply list and instructions are at the end of this post.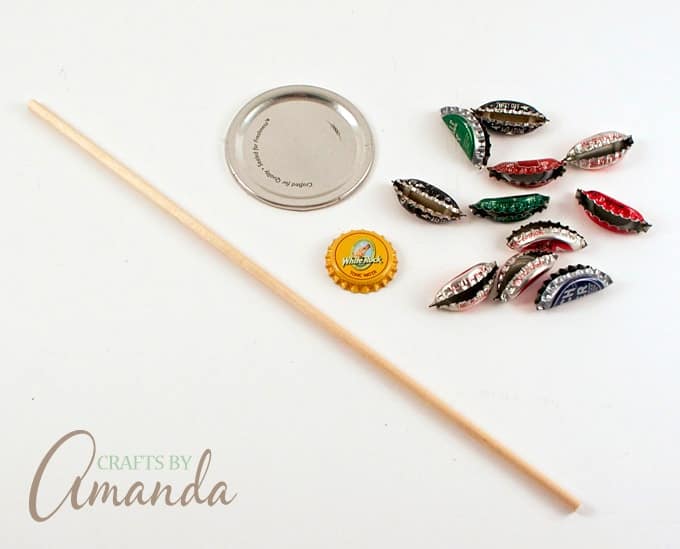 For this project you will need the following supplies:

Use a pair of pliers to bend 12 of the bottle caps in half, like a book.
Just so you know, bottle caps that actually come on soda and beer bottles are sturdier. Quite a bit sturdier. They are harder to bend, but you can definitely do it. The bottle caps that you buy are specifically made for crafting and are not as thick, thus much easier to bend.

Glue a bottle cap to the center of the canning lid.
Turn two of the "petal" bottle caps so that they are back to back. Do this with all of the petals; you will have 6 pairs.
Glue all six pairs of the bent bottle caps to the canning lid, going around the center bottle cap.
Glue two bottle caps to the sides of the dowel as leaves.
Allow the glue to dry completely before trying to move the flower.
I accidentally broke my dowel in the spring. That's why my little flower ended up at the front of my herb garden. The dowel is still attached, it's just a lot shorter now. ;)
I hope you enjoyed this project! Remember to watch for my book, Button Mania: Buttons, Bottlecaps and Beyond!, which is available now for preorder on Amazon.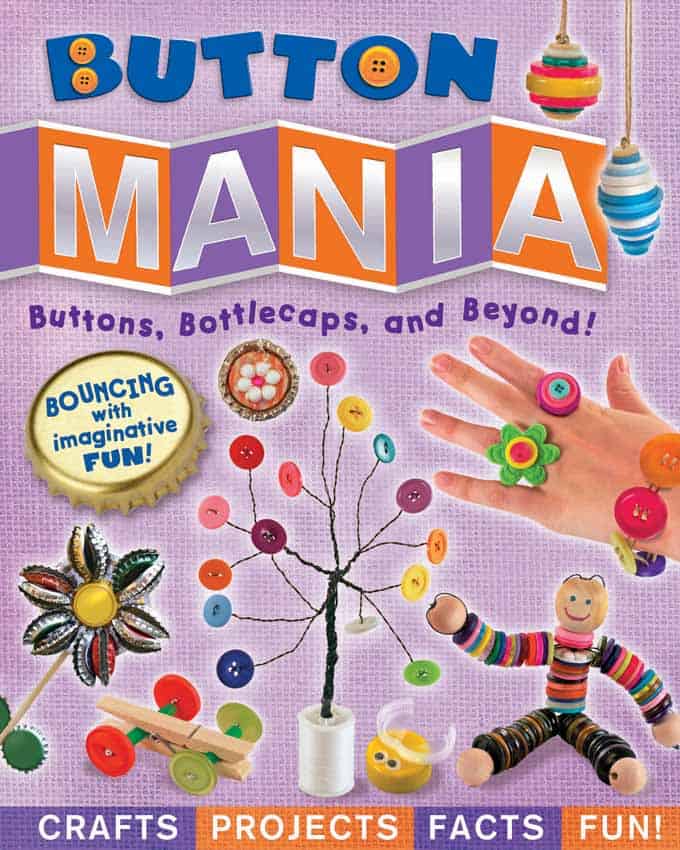 More you might like:
Bottle Cap Magnets – Better Homes and Gardens
Bottle Cap Necklaces – Dollar Store Crafts
Amanda Formaro is the crafty, entrepreneurial mother of four children. She loves to bake, cook, make kid's crafts and create decorative items for her home. She is a crafting expert and guru in the kitchen and has appeared online and in print publications many times over the years. She is also the editor for the Home & Garden channel at Craft Gossip and owner of FunFamilyCrafts.com.
Latest posts by Amanda Formaro (see all)