You probably know by now that I'm a big fan of fairy gardens. I really love making them, and I'm always so happy with how they turn out. Lately, I've been searching for inspiration for my next big fairy garden project, as a result, I found plenty of great fairy garden ideas!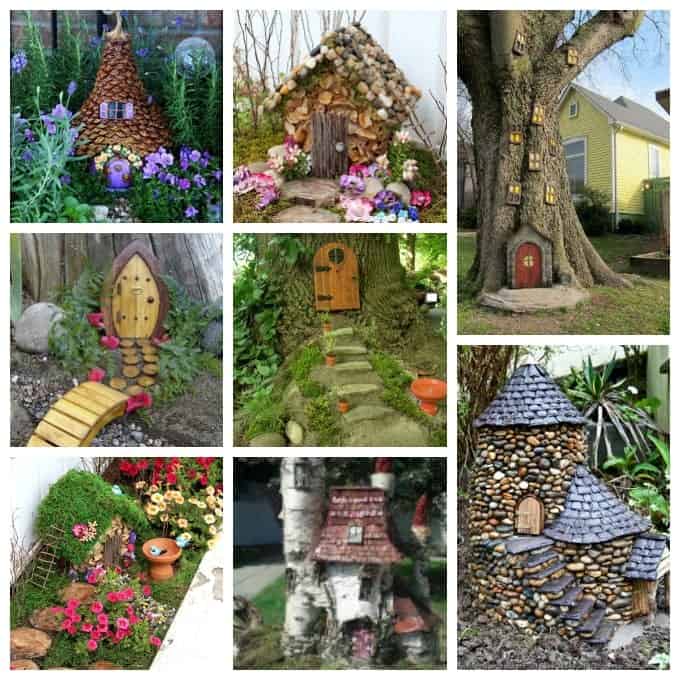 27 Fairy House and Fairy Garden Ideas for Inspiration
I searched high and low for all of the best fairy garden ideas out there, and I was not disappointed. Not all of these images come with a tutorial, but they gave me inspiration all the same. In addition, there are plenty of opportunities for the kids to get involved too! I'm ready to start on the next one.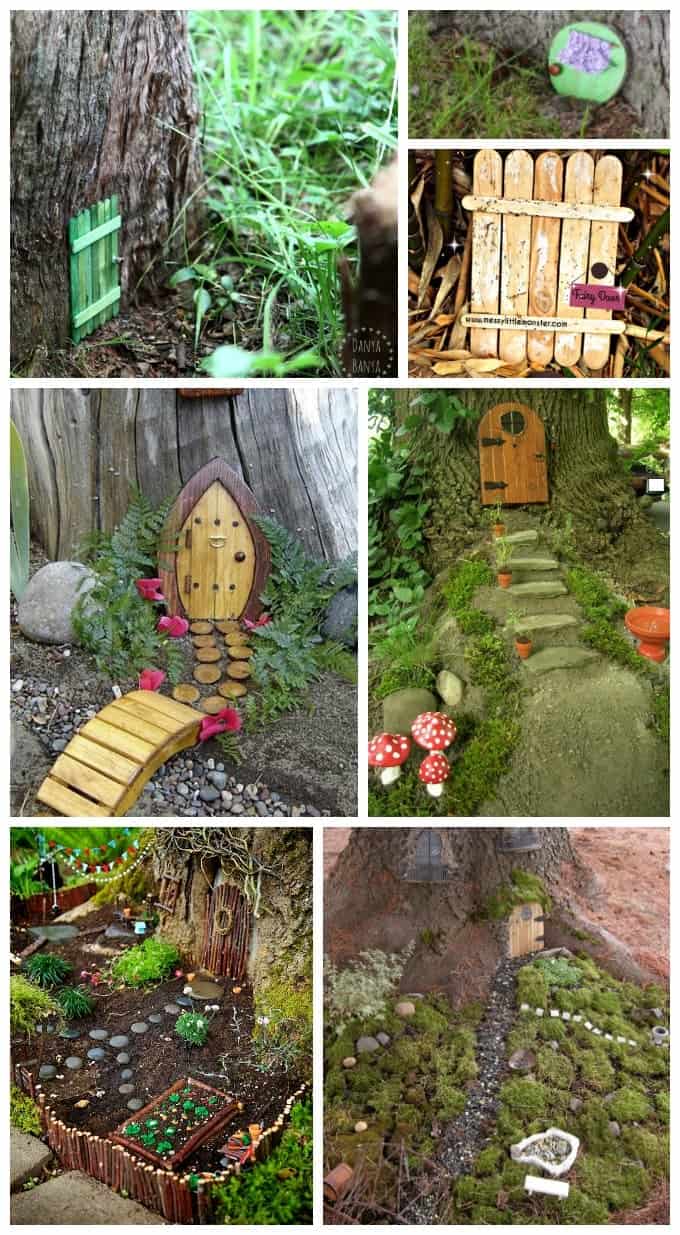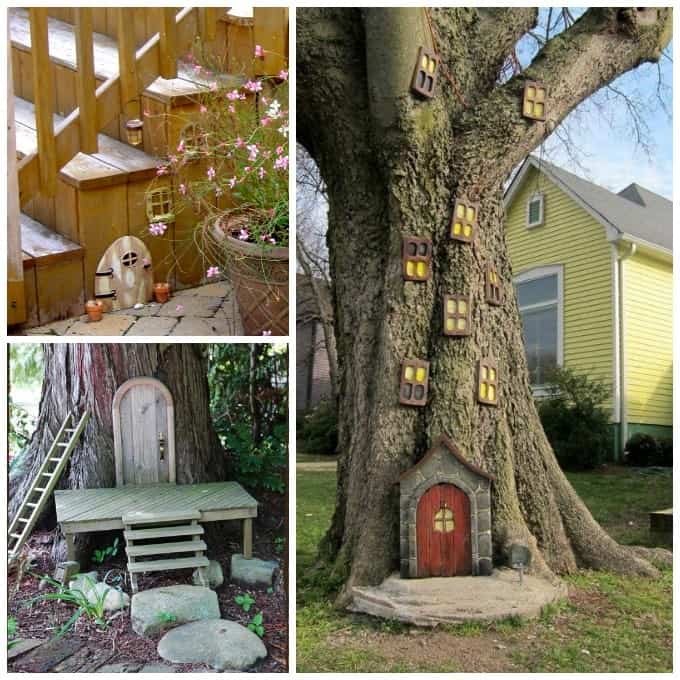 Enchanting Fairy Doors
I think it's so charming when people decorate trees with small doors! It looks like actual fairies live in the trees. A couple of these fairy garden ideas went above and beyond with little paths and fancily shaped doors.
This cute fairy door was made from craft sticks and comes from Danya Banya
If you're looking for a fun fairy door the kids will love to make, check out these from Fireflies and Mudpies
Here's another sweet fairy door made from craft sticks, making it a great kid's craft from Messy Little Monster
I was unable to find the direct source for this fourth fairy door, I'm guessing it was from a product catalog. This demonstrates how you don't have to make everything yourself, you can purchase fairy garden accessories and create your own magic.
I love the steps made from flat rocks or slate and the darling little tiny clay pots. This is another photo without a direct source, though it's probably from a catalog.
This adorable fairy door in a tree was made from twigs from The Magic Onions – there are lots of fairy garden ideas here, just look at all the tiny details!
Here's an adorable fairy door and garden from The Knitted Garden – I love the use of moss here to keep the natural elements throughout the fairy garden.
I'm loving this simple under the stairs fairy door. We, unfortunately, aren't able to find the source any longer for this cute craft.
This darling fairy door actually has a little deck and stairs, though I was unable to find the photo source.
Again, this last one is most likely from a catalog as the door and windows are clearly purchased items not something that someone made. But they would be easy to make, don't you think?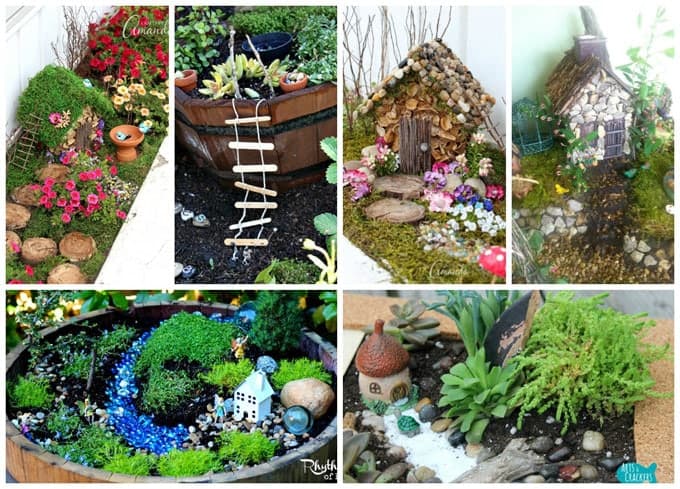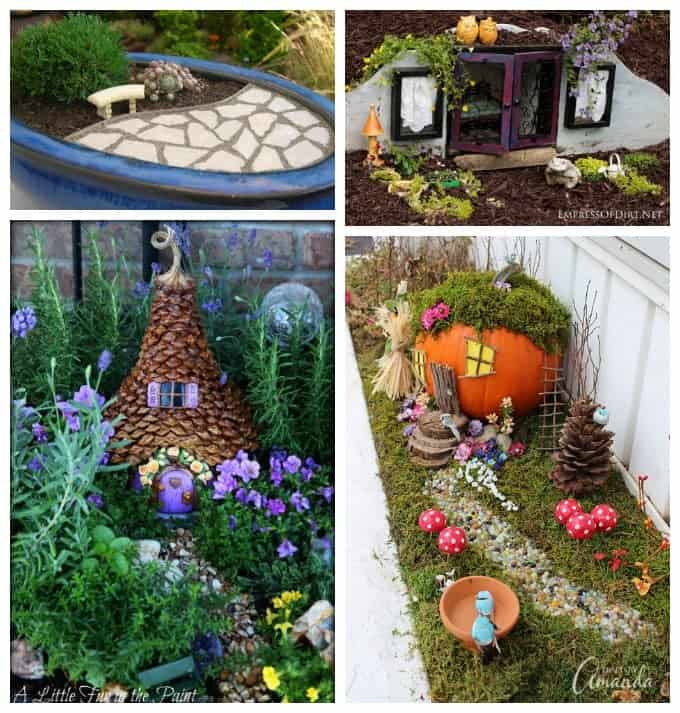 Fairy Garden and Fairy House Tutorials
I have loved everything about fairy gardens for several years and am constantly amazed by the creativity that goes into every piece. We all take a similar idea and turn it into our own unique project.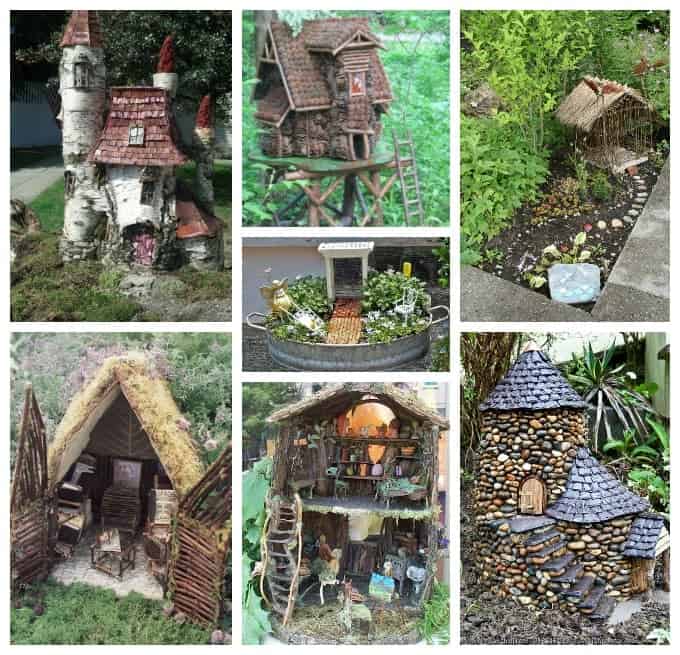 Fairy Garden and Fairy House Inspiration
While none of these houses have a tutorial, they are a wonderful source of crafty inspiration. Some look a little more difficult than others, but for me crafting is relaxing. When I am working on the details, it takes me away from all the chaos that might be in my life and puts me in a zen state.
It looks like whoever made this gorgeous fairy castle (source unknown) may have constructed it from birch stumps!
Whoever made this nature-inspired house used branches and pinecones as the main materials (source unknown).
Here's a whimsical twig fairy house nestled in what may be an herb garden from Flowers and Weeds
Large doors made from twigs envelop this tiny A-frame fairy house. Also, I'm loving the moss roof and what looks like a pebble floor. (source unknown)
Nestled in what appears to be a galvanized tray, this adorable fairy garden could definitely be made at home – source Mystic Mountain Arts
I think this unique two-story fairy house resembles an old-fashioned dollhouse, from Brooke Kelly Art – we can no longer find a link for this.
A true artist made this gorgeous three-story fairy tower from pebbles, oak, and slate from Enchanted Cottages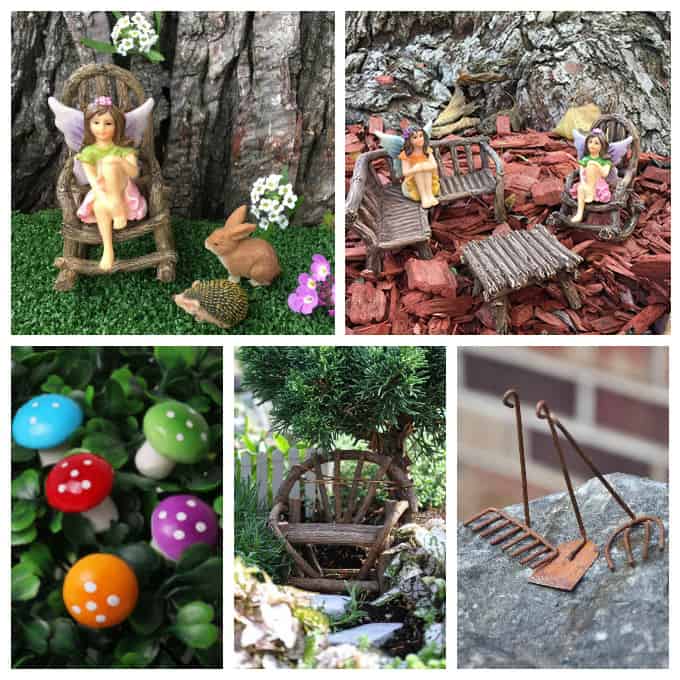 Fairy Garden Kits and Accessories
Many people enjoy creating fairy gardens without having to actually make all the little pieces and parts. There are tons of fairy garden kits available as well as individual accessories. There are SO MANY fairy garden kits on Etsy you'll definitely want to check out. When you're thinking of fairy garden ideas, don't forget the accessories!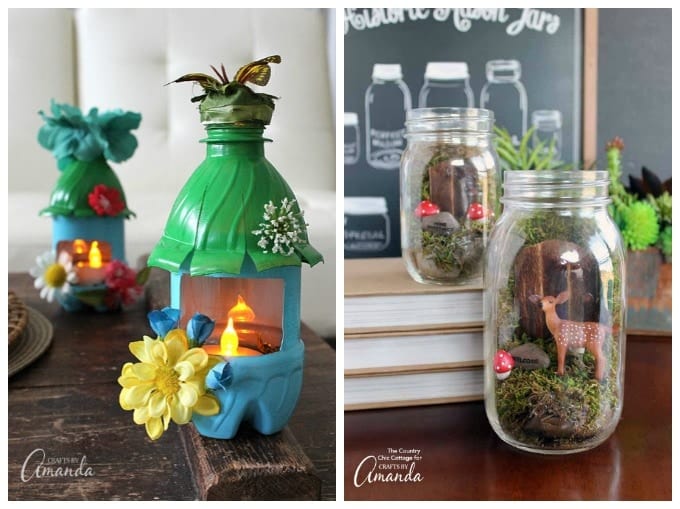 Recently I added this darling Fairy Garden Mason Jar Terrarium to the blog, and these adorable recycled plastic bottle Fairy House Nightlights!
I hope you found tons of great ideas in this list because I know I did. Seems like I'm ready to get back out there and build some houses for fairies!
This roundup was originally published on this blog on July 24, 2016.
Latest posts by Amanda Formaro
(see all)