You may have seen something similar to these heart shaped framed maps on Pinterest. That's where I first saw them. There are several different versions, from individual frames like these, to one long frame with several hearts inside. The idea is great for a wedding gift, birthday, anniversary or even Christmas.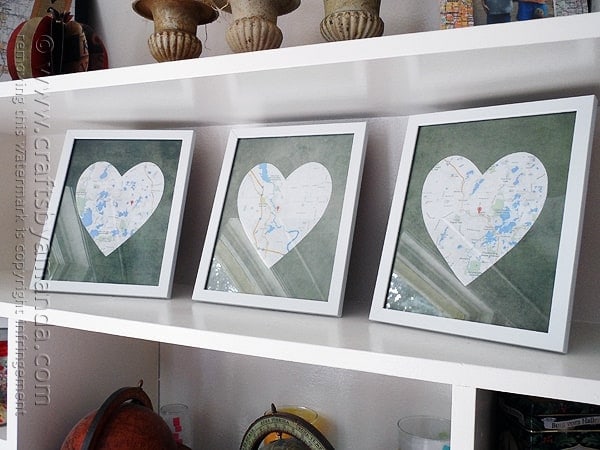 Each map represents where a couple met, where they were engaged, and finally where they were married. They are super easy to make, so if you are looking for a simple gift idea with big impact, this is it!
Note – if you prefer to purchase something like this, I found these on etsy!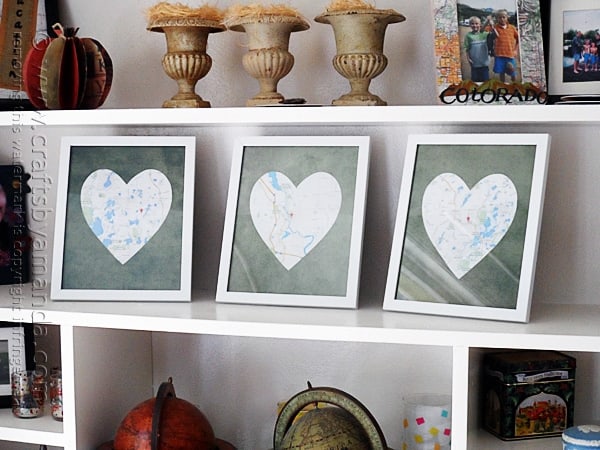 I'm not really at liberty to say who these frames were made for. I don't think they follow my blog or my Facebook page, but you just never know so it's best to wait until after Christmas before I give any background on these.
I will tell you they were originally made as their wedding gift, but the "giver" who I made them for never got the gift to the new bride. Therefore, they decided to just wait until Christmas instead.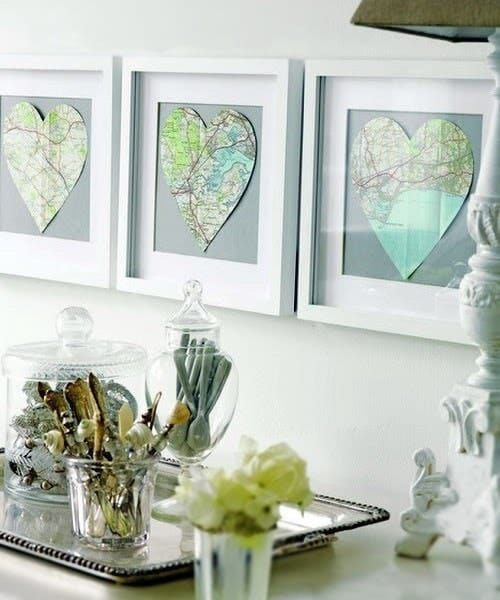 Here's the inspiration I used to create mine. I don't know the original source for certain, but after a little investigation, I'm 98% sure they were an item available for purchase on Not On the High Street. I searched their site high and low but these were nowhere to be found, so they are no longer available. But I did find something very similar on Etsy. I must say I'm a little surprised they didn't at least iron the creases out of the maps first!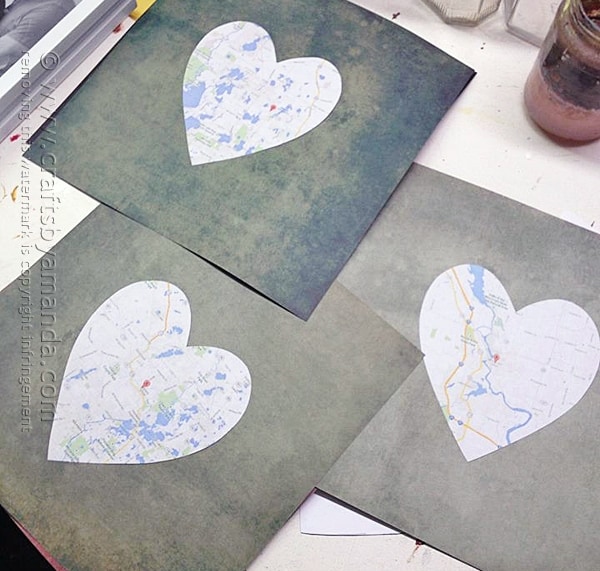 These are super easy. You just need to choose a color for your background, I used a few varying shade of green scrapbook paper. I also printed maps from the computer using Mapquest. I
t would be much nicer using actual state or town maps instead, but the time crunch we were in didn't allow for it… that is, if they had been given to them as a wedding gift! Haha. Anyway, just buy some white frames, cut the maps into heart shapes, center them on the paper and put them inside. That's. It.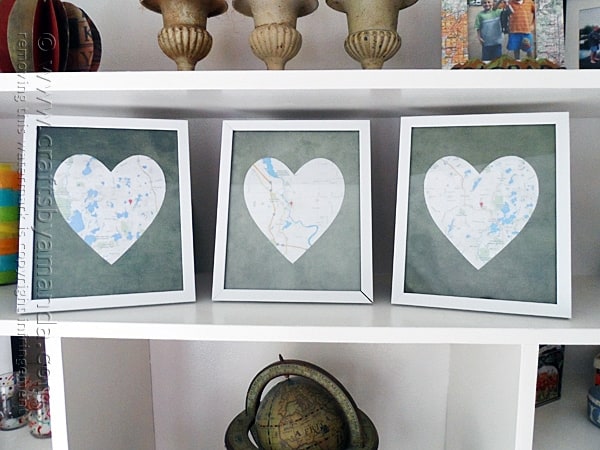 I originally made these for my column in the Chicago Tribune. 
Need more wedding gift ideas? These twig wall letters are so unique and fun! Heart photo magnets are a sweet and simple gift idea as is this map keychain set.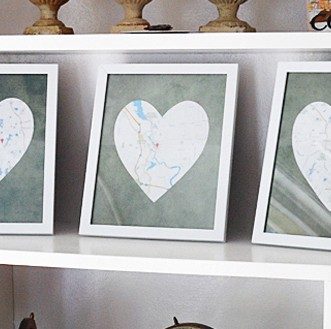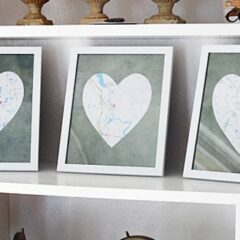 Print Project
Framed Heart Maps
Supplies
3

white 8x10 frames

3

sheets of card stock or scrapbook paper

Road maps or print outs from online maps

Plain copy paper

Glue stick
Instructions
Each heart represents a location for the happy couple. One heart will be for where they met, the second for where they got married, and the third for where they spent their honeymoon. If you have access to roadmaps for these locations, great! If not, do an Internet search for maps or use a website such as Google Maps or Mapquest.

Take a piece of plain copy paper and cut out a simple heart that will fit comfortably in your frame. Use this as your template. Trace the template around the location on your map and cut out for each one.

Cut the scrapbook paper or card stock to fit snugly inside the frame.

Use glue stick to attach the center of the heart to the paper. The glass from the frame will flatten the map, so there's no need to use a lot of glue, just tack it in the center. Insert into frames.

Variations: Instead of three individual frames, use one long and narrow frame with three small hearts. You can also create a larger frame with several more hearts that represent life events such as where a child was born, their first vacation, or where they spent other anniversaries.
Latest posts by Amanda Formaro
(see all)