Summer is here and that means I have beach on the brain. I made this twig coastal wreath to add a coastal touch to my home. It brings a fresh, casual, and relaxing feel during the warmer months and rather than having to travel hours to get to the beach, I bring the beach vibe straight into my home.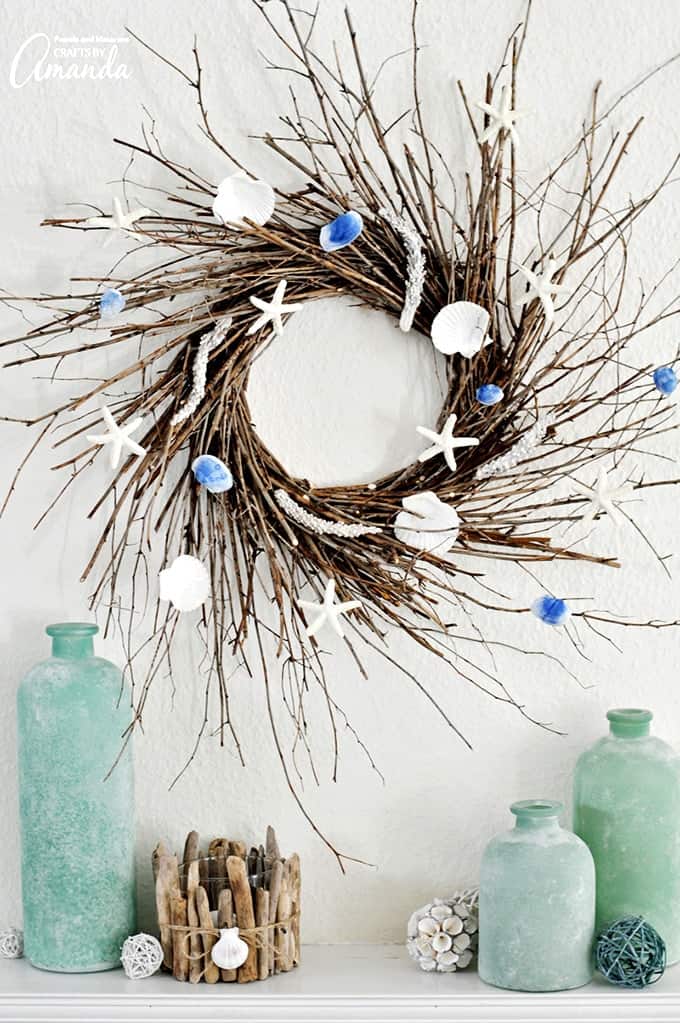 Create this inexpensive coastal wreath using minimal craft supplies. This coastal wreath would also look beautiful above these Cottage Style Beach Frames!
DIY Coastal Wreath
If you have a park near your home chances are you can collect a bunch of sticks and create this stunning coastal wreath perfect for your summer home decor. While you're there, be sure to get enough to make our twig wall letters as well!
DIY coastal decor can either look amazing and elegant or tacky and cheap. If done right, you can create a stunning item for your home, like this beautiful Coastal Ikea Kallax Hack or this Starfish Wall Art.
If done wrong you may be left with a piece of decor you don't necessarily love. Today I want to show you how to make a statement coastal wreath for your home on a budget while looking gorgeous at the same time!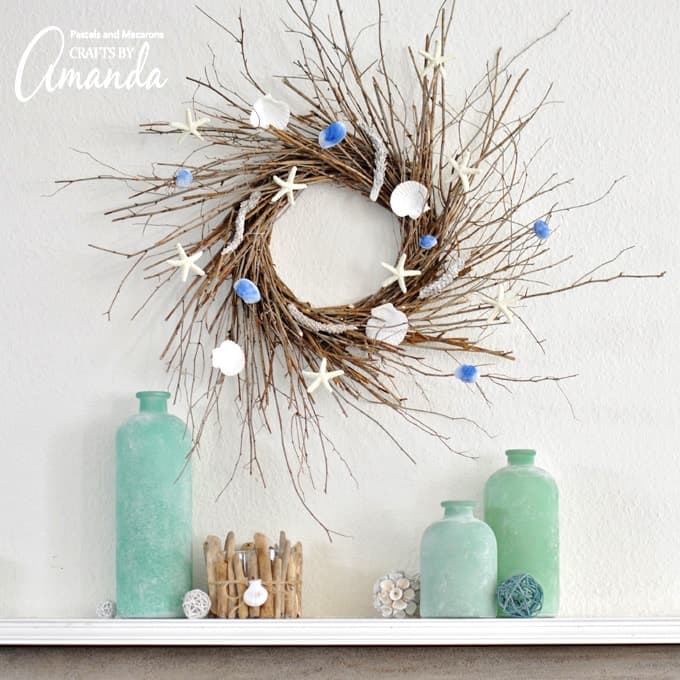 Supplies to make your own DIY Coastal Wreath:
Helpful Craft Tools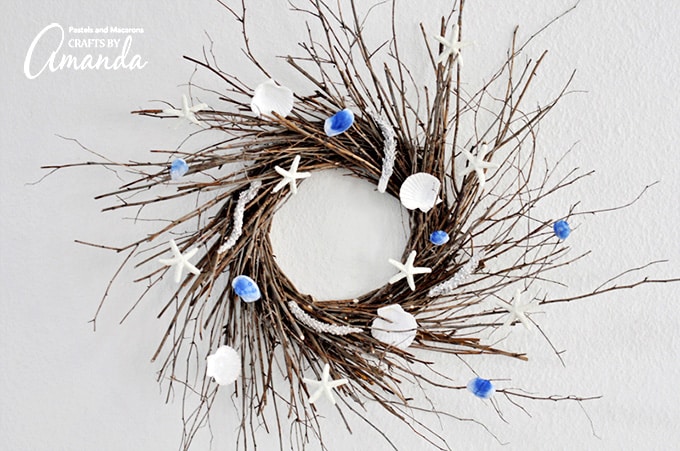 How To Make A Coastal Wreath:
Start by cutting out the wreath form by measuring out a large and small circle on the cardboard you are using.
Get two different sized lids from cooking pots, place them on the cardboard and mark an outline with a pen. I used a pair of scissors to cut out the outside and inside of the circle I marked in order to make a ring.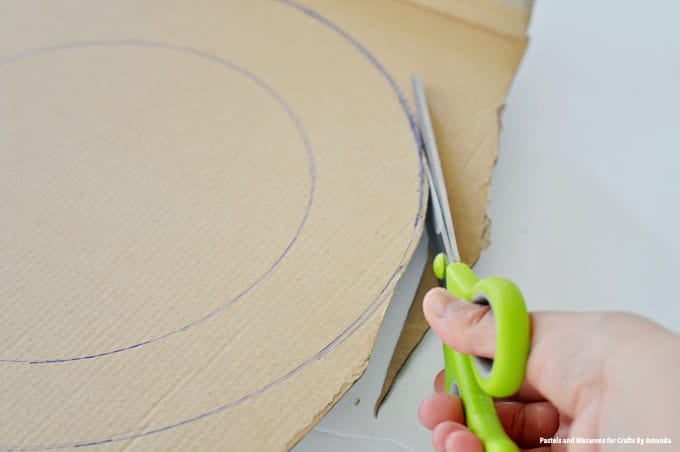 Next, you need to use pruning shears and cut down all the sticks and branches you collected to the desired length you want for the wreath. I made a large wreath, so I made sure to keep all my sticks long.
If I needed to reduce them in size, I would cut them as I was putting the wreath together. I actually found cutting the branches quite therapeutic! haha.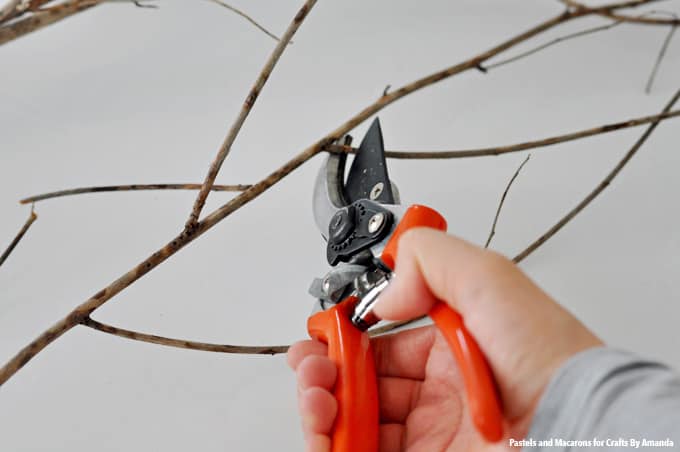 Once the wreath form has been cut and all branches have been trimmed to the desired length, it's time to assemble the wreath. Start by gathering a bunch of branches and apply a very generous amount of hot glue to the cardboard wreath form.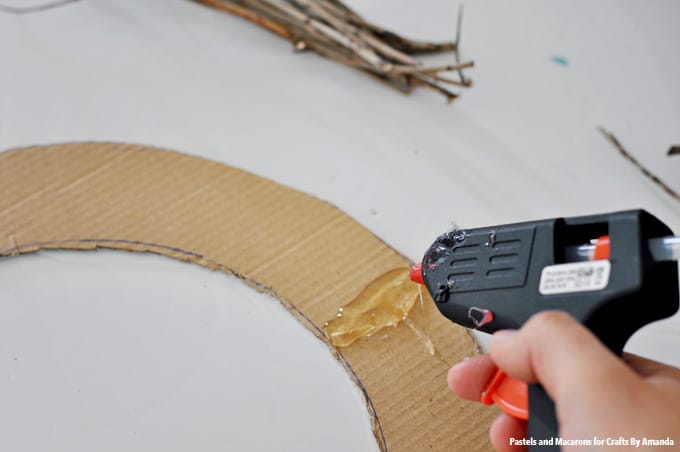 I placed a bunch of branches down making sure they faced on an angle. Hold the branches firmly down until the glue completely sets.
Hot glue sets very fast, but it can take a little longer when you are using such a generous amount of glue. Add extra glue for the twigs that do not adhere properly to make sure they all firmly stick together.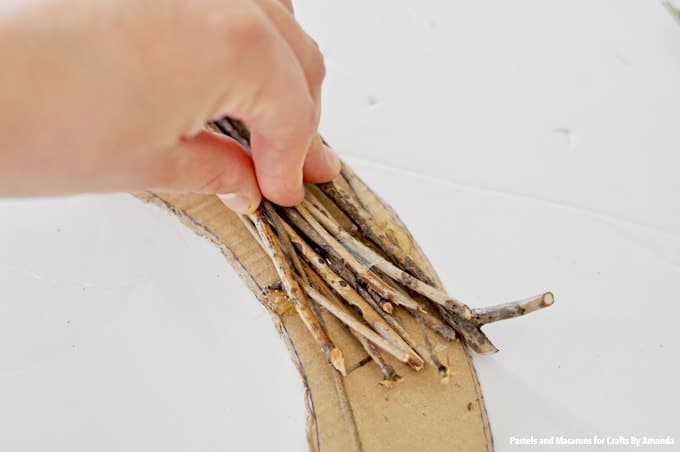 To add extra security I used some twine to tie down the sticks.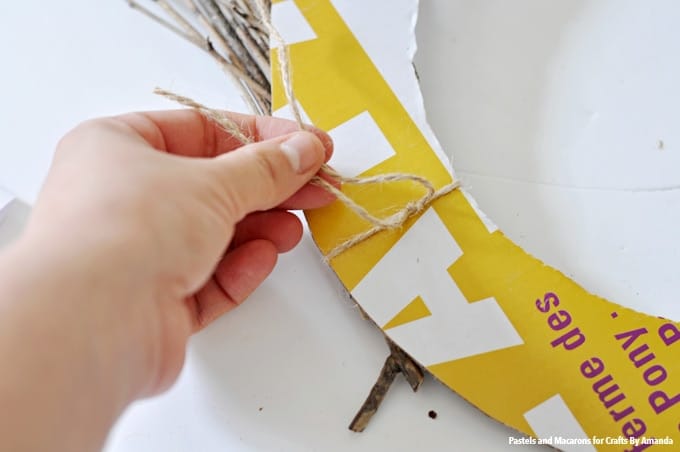 Adding Thickness
Repeat the above but this time, don't worry too much if the branches do not stick to the glue straight away. After adding the glue quickly tie the branches down with twine and then focus on sticking all of the branches down properly.
This makes it easier than trying to hold the branches in place while waiting for the glue to set. Don't forget to work backwards, adding more sticks overlapping on top of the ones already stuck down. Continue this process all the way around the wreath until it is full and covered.
You will find that that once you have completed adding all of the stick bunches there will still be spots missing sticks that need to look more full. Not to worry.
Grab individual sticks, add a little hot glue to the end of them and press them in between branches into you get your wreath looking exactly how you want.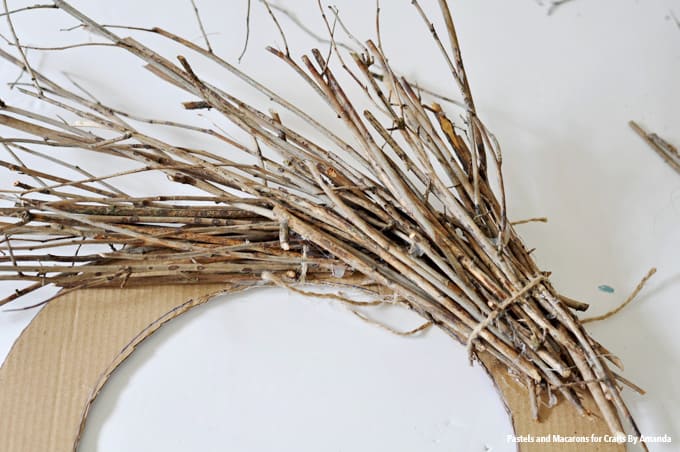 So that no cardboard is visible, cut thicker pieces of sticks into shorter lengths (cut them on an angle- pictured below). Then individually glue them around the inside of the wreath.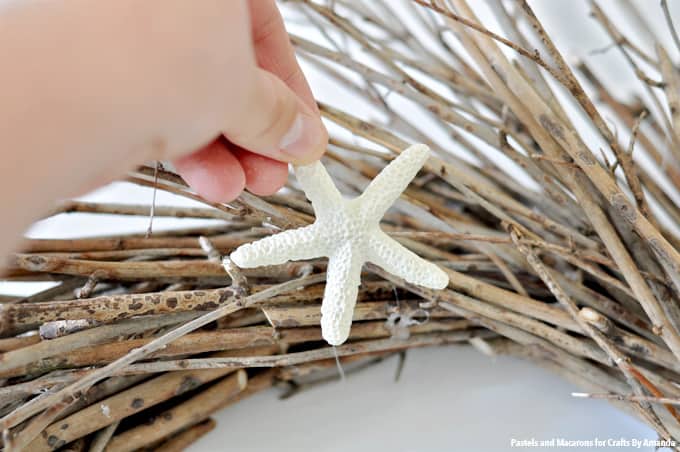 Adding the Starfish and Seashells
Now that your coastal wreath is looking full, it's time to add starfish, shells and whatever other prettiness you would love all around.
Scatter them around the wreath until you are happy with what you have created. I took the "less is more" approach with my wreath but you can add as much or as little as you like!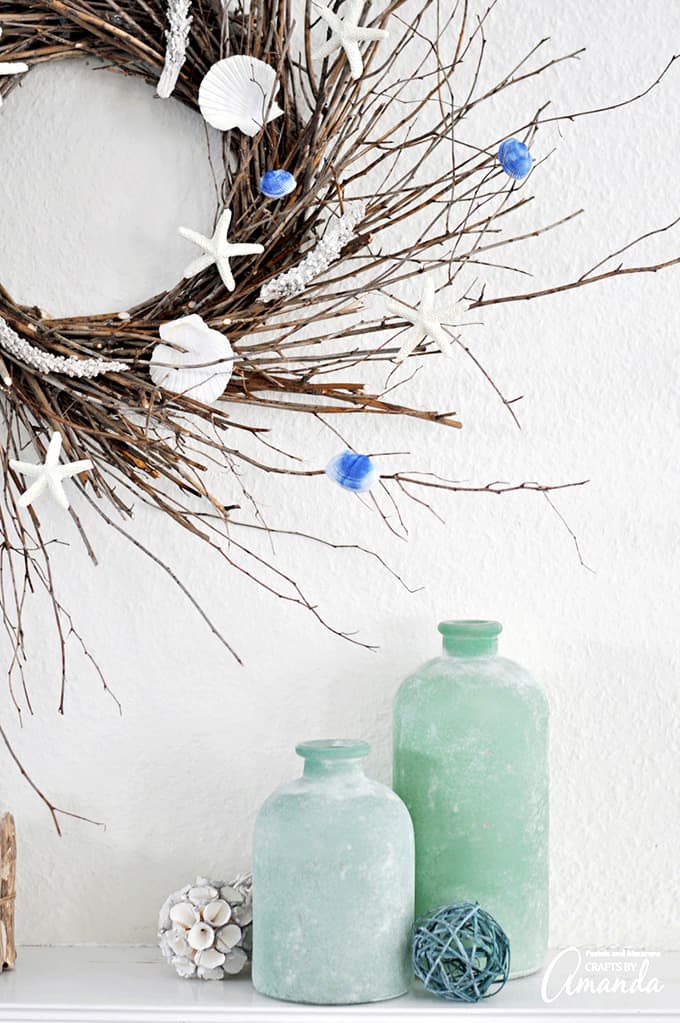 RELATED: If you love wreaths, you won't want to miss this burlap wreath made using a coat hanger!
I hope you love this coastal wreath as much as I do! Now it's time to display your stunning coastal wreath and showcase a statement piece you DIY'ed all by yourself on a minimal budget. I can guarantee an item like this would be very expensive if you purchased it in a homeware store!
Looking for more beautiful beach craft ideas? Check out…
More Wreath Projects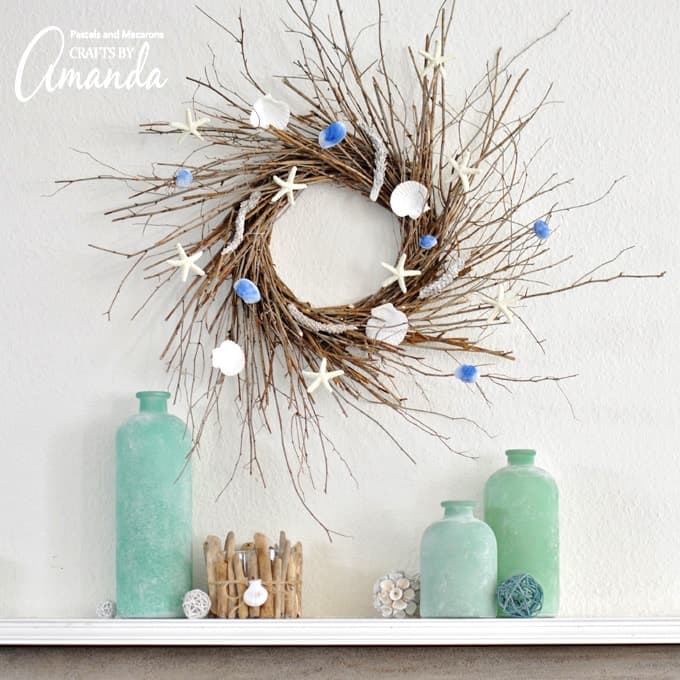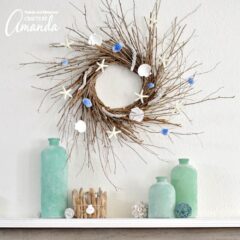 Print Project
DIY Coastal Wreath
This DIY Coastal Wreath is made from the twigs and seashells you'll find on the beach this summer. A great way to add some beach to your home!
Supplies
SUPPLIES

Branches and Sticks - and lots of them! Collect them at a local park

on a bush or beach walk or purchase similar online.

Thick Cardboard Box

Pruning Shears

X-Acto Knife or scissors

Pen or pencil

to mark two circles

2

Lids

find two different sized lids in your kitchen- Use a large lid and a medium sized

Hot Glue Gun

Hot Glue Sticks

Sea Shells in assorted shapes

sizes and colors

Starfish

twine
Instructions
DIRECTIONS

Mark two circles on the cardboard. A larger circle and a smaller one in the centre of the large circle to create the outline of a ring. Cut the outside of the circle and then the inside of the circle. You will end up with a ring which is what you will you as the wreath form.

Cut all branches to desired length.

Bunch the sticks together in thick bunches then using your hot glue gun glue down the sticks on an angle on the wreath form. Use twine to tie down the sticks to the wreath from and add extra hot glue wherever you need until all sticks are securely adhered to the cardboard. Continue this process working backwards as you layer more sticks in top of each other.

Once all bunches have been glued down, full the wreath further to create the desired look. Do this by individually cutting and adding sticks around the wreath to further fill it and cover any exposed cardboard. Cut little pieces and stick them around the inside of the wreath making sure to completely cover any exposed cardboard.

Finish off by adorning it with seashells, starfish and any other pretty beach items you love.

Hang and enjoy your beautiful new coastal wreath!
This post was originally published on this blog on May 5, 2017.
Latest posts by Maria Campbell
(see all)