Valentine's Day is coming soon, so you're going to need something fun to give out goodies in! These Valentine treat buckets adorned in polka dotted hearts make for a great gift filled with chocolate or other candies. They can also be used throughout the year as pen/pencil holder or for a variety of other items. Bonus! This Valentine's Day craft is a perfect teen or adult project, there are so many ways you can get creative and make it your own.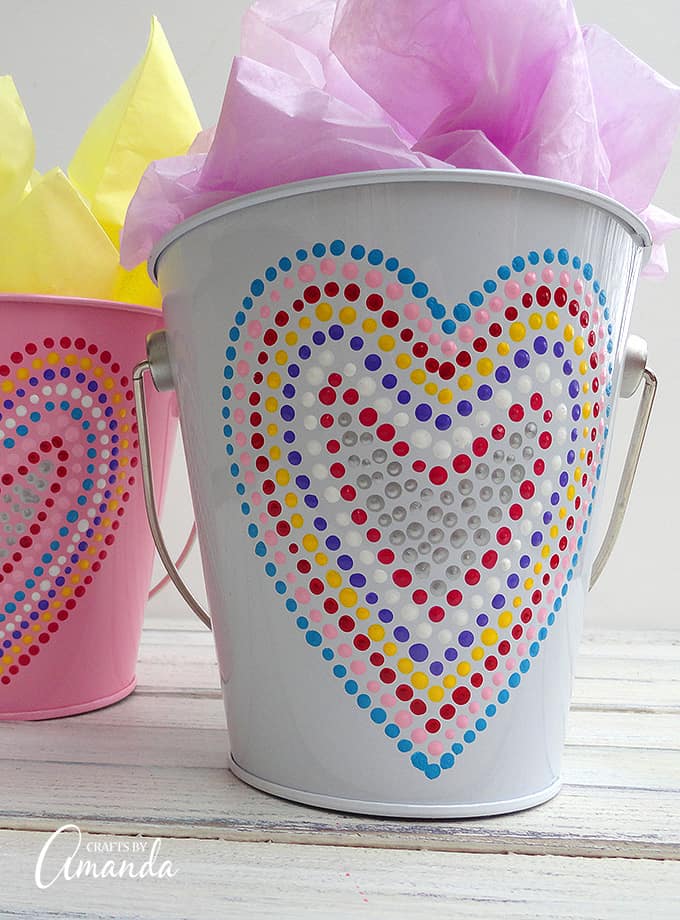 Heart Valentine Treat Buckets
What cuter way to send your kiddos to school to gather treats on Valentine's Day? Fill them with goodies for teachers, neighbors, friends or family! Personalize the adorable buckets with whatever paint colors your heart desires. Spruce them up and you're ready to go! Add some glitter on top of the polka dotted hearts if you'd like and now you have a bedazzled V-Day treat bucket!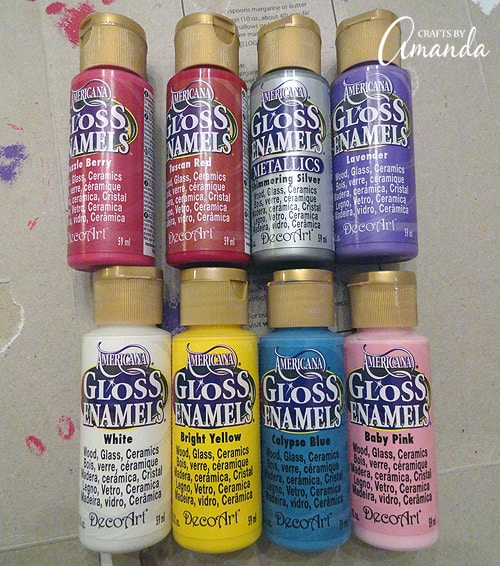 As you already know, I do some design work for DecoArt. They were looking for a fun Valentine craft to make using their gloss enamel paints for Joann's Fabric and Craft Stores. So I went to Joann's and found these adorable little tin buckets and got to work. You can see these on Joann's site as well here.
Things you will need

The process is really simple for these Valentine treat buckets, it just takes a little patience. Cut out a heart shape from a piece of paper and place it in the bucket. I attached mine with a piece of rolled up tape in the center.
Then use the handle end of a paintbrush to dot around the heart with Razzle Berry gloss enamel paint. Remove the heart and repeat the heart pattern inside the first heart, using a contrasting color. Repeat, repeat, repeat. Let dry!
Be sure to check out these adorable Valentine's Day Wine Glasses (how to paint wine glasses) that have a similar polka-dot heart design! Great for filling up with treats or for you and your loved one to toast with on V-day!
More Valentine's Day Crafts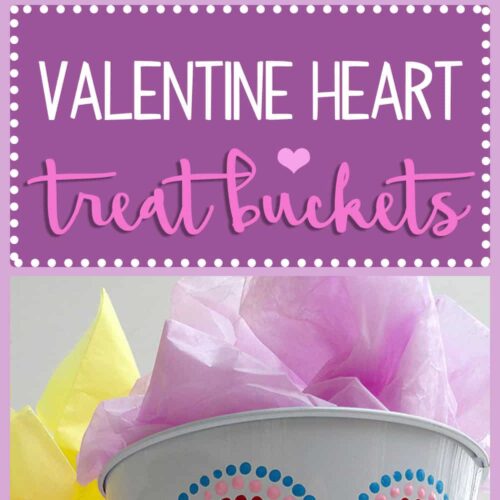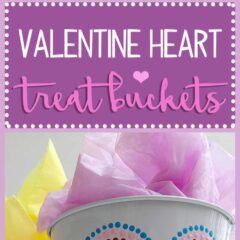 Print Project
Polka Dotted Heart Valentine Buckets
Supplies
Supplies
Pink and white tin buckets

Paintbrush
Americana Gloss Enamels
Razzle Berry

Tuscan Red

Shimmering Silver

Lavender

White

Bright Yellow

Calypso Blue
Instructions
Draw a heart on a piece of paper to fit the size of your bucket.

Cut the heart out from plain paper and attach to the front of the bucket using a piece of rolled up tape in the center of the pattern.

Hold the bucket with one hand, pressing the sides of the heart pattern down onto the bucket.

Use the handle end of a paintbrush to dot on enamel paint around the edge of the paper heart.

Once the first set of dots, the initial heart shape, has been created, carefully remove the heart pattern from the bucket.

Now using the dotted heart shape as your guide, choose a second color and add a second set of dots inside the first heart.

Repeat this process, changing colors for each set of hearts.

Allow to dry completely, overnight is best, before using.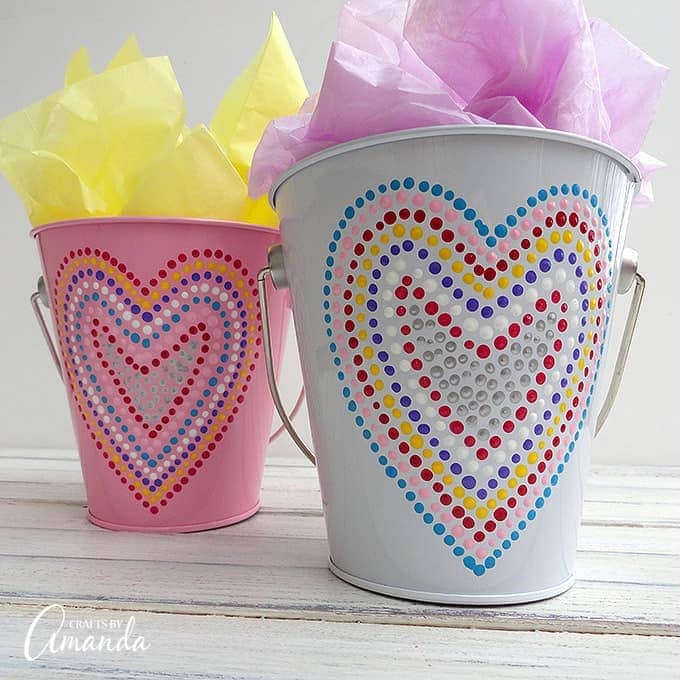 This post was originally published on this blog on Jan 18, 2012.
Latest posts by Amanda Formaro
(see all)