It's the perfect time of year for gathering and pressing floral blooms to capture the natural beauty in these pretty resin magnets.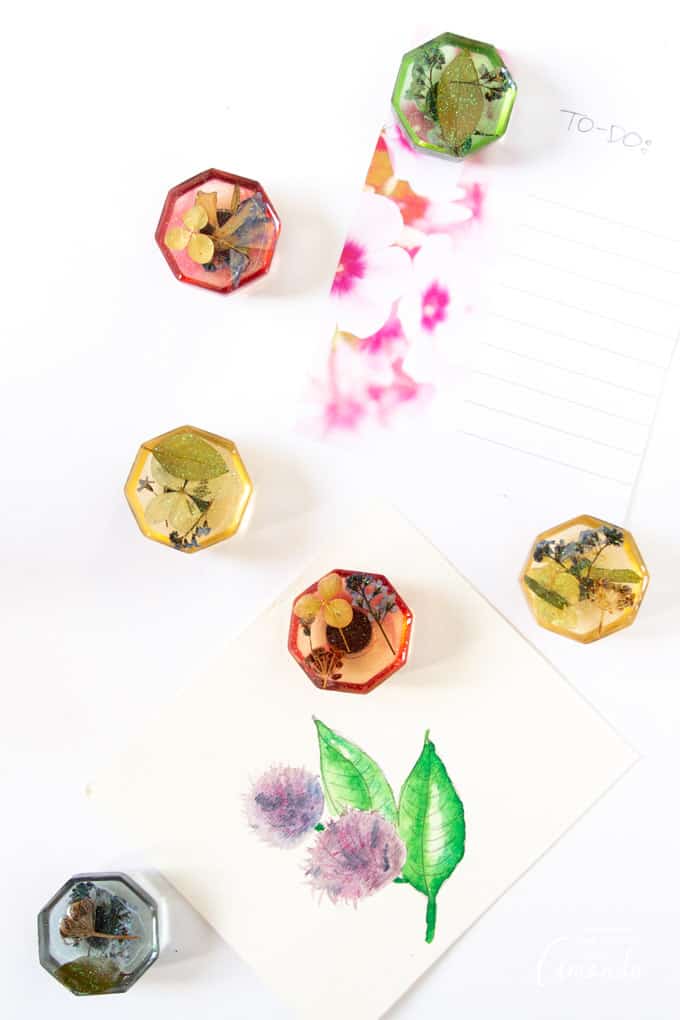 Beautiful Pressed Flower and Soft Glitter Translucent Resin Magnets
One of my favorite activities every morning is to grab my cup of coffee and head out into the garden. It doesn't happen often, but it's such a nice moment of peace and a chance to set the day before the craziness with four kids sets in. These pressed flower resin magnets will be a beautiful way to enjoy a piece of these Summer strolls year-round.
At this time of year, all the beautiful flowers are in full bloom. Now's the time to collect them and press them into books to use for crafting year-round. We've made all sorts of crafts with pressed or dried flowers including: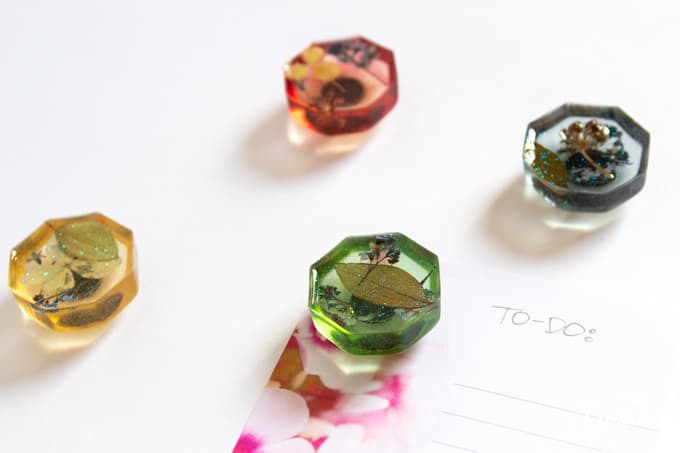 Whenever I see our DIY photo coasters with resin on our fridge I can't help but smile at the memories of the summer. These particular resin magnets were made using mostly pressed hydrangeas, some small foliage, clovers, forget-me-nots and other blue wildflowers. But you can experiment with different types of floral as well, for example small pansies also turn out really well when pressing.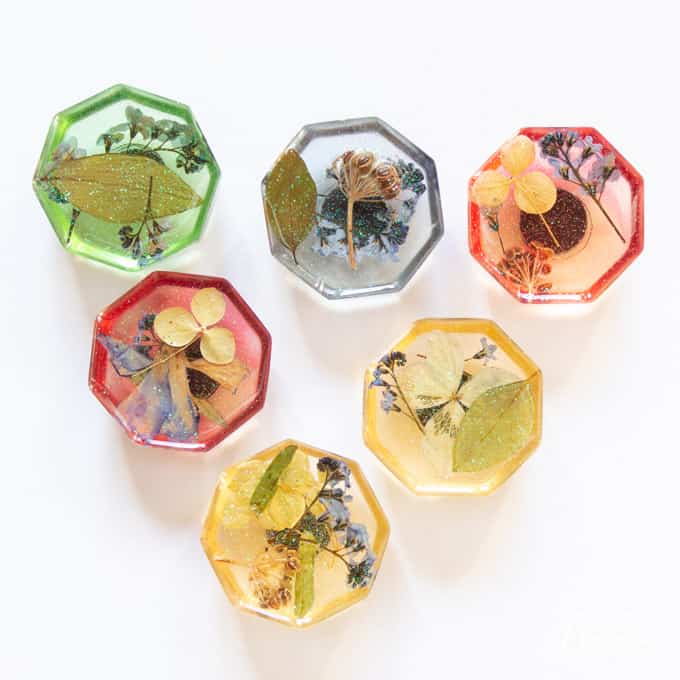 Materials Needed for Making Resin Magnets
Measuring cups, wooden craft sticks, gloves, straw, paper towels
Castin' Craft Translucent Pigments in Yellow, Green, Red and Blue
Straw or small kitchen torch
Fine glitter in white and purple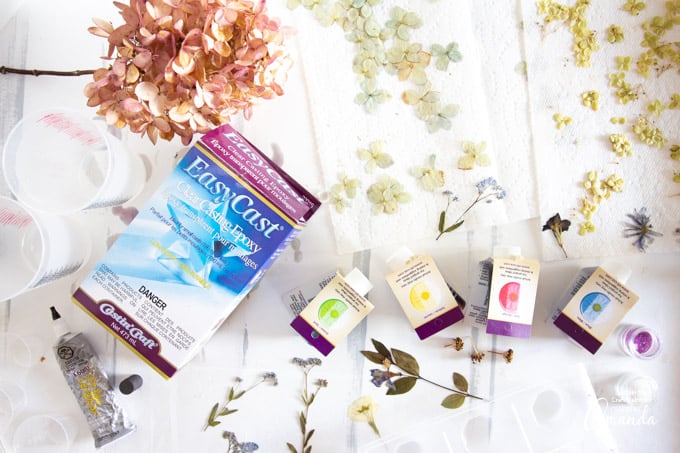 How to Make Pressed Flower Resin Magnets
To prepare for this project, first, spray Mold Release and Conditioner onto your mold. Since this mold is rigid this step is important for releasing your finished knobs once they are cured.
Always read the instructions for your resin project. Protect your work surface and work in a well-ventilated area.
Start by mixing equal parts of EasyCast Clear Casting Epoxy and hardener in a mixing cup. I mixed 2.5oz total volume.
Mix for a full two minutes with a wooden craft stick. Then pour the mixture into a 2nd cup and continue stirring for an additional minute. This is part is really important to ensure best results, so don't skip it!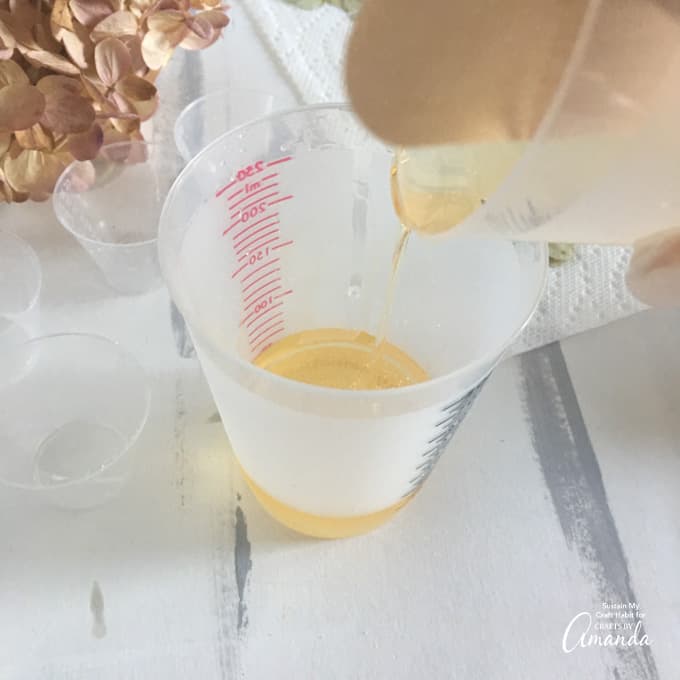 Evenly divide the mixed resin into three additional cups (four parts in total).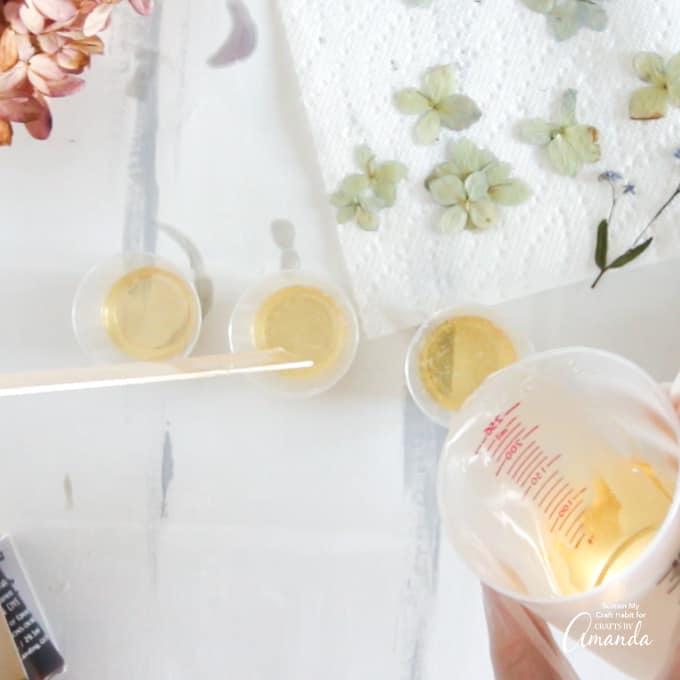 Add a different drop of each color into each cup. Stir completely.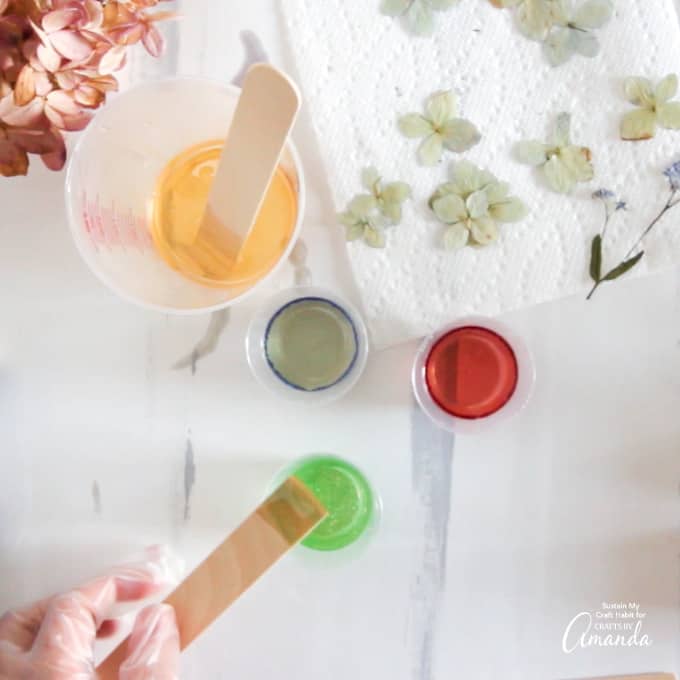 Pour the different colors of resin into different mold compartments to about 2/3 full.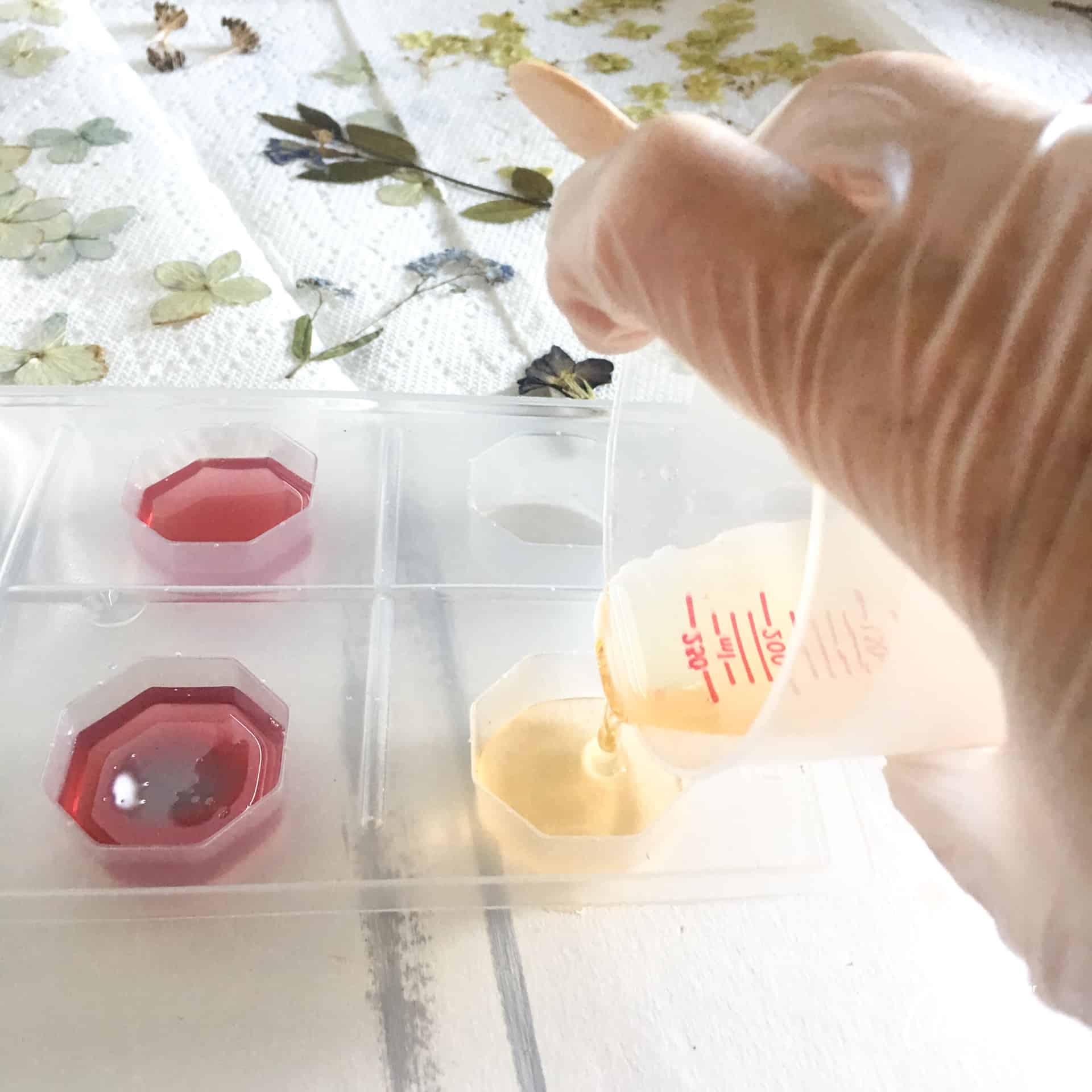 Sprinkle a bit of fine glitter over top of each 2/3 full poured resin molds. Then place a mix of pressed floral and leaves inside each mold.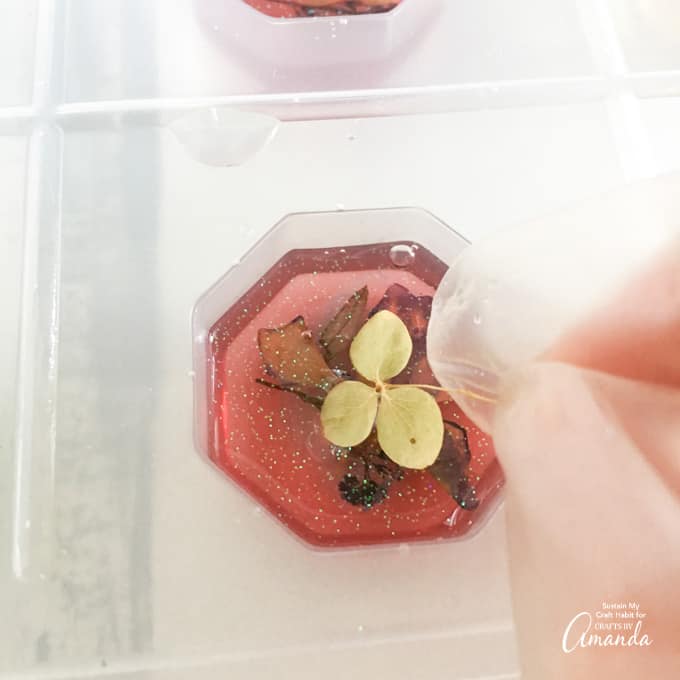 Pour more colored resin into each of the molds to the top while at the same time covering the pressed flowers.
After about 30 minutes, blow off any air bubbles that have risen to the top using your breath through a straw or a small kitchen torch.
Cover the molds to prevent dust from collecting and let the resin cure for 24 hours. After 24 hours, remove the resin from the molds.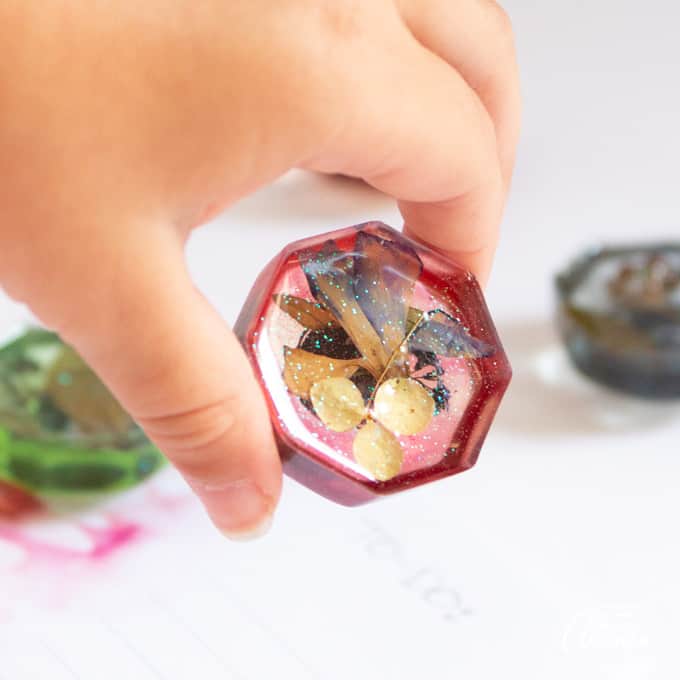 Squeeze out a dab of E6000 adhesive on to the magnet and press the magnet on to the center of the resin (the side that was inside the mold). Repeat for all the magnets.
Once the adhesive sets, use the magnets to hold special notes, photos and to-do lists on your magnetic board or fridge. Or alternatively, just use them on their own and enjoy their natural beauty!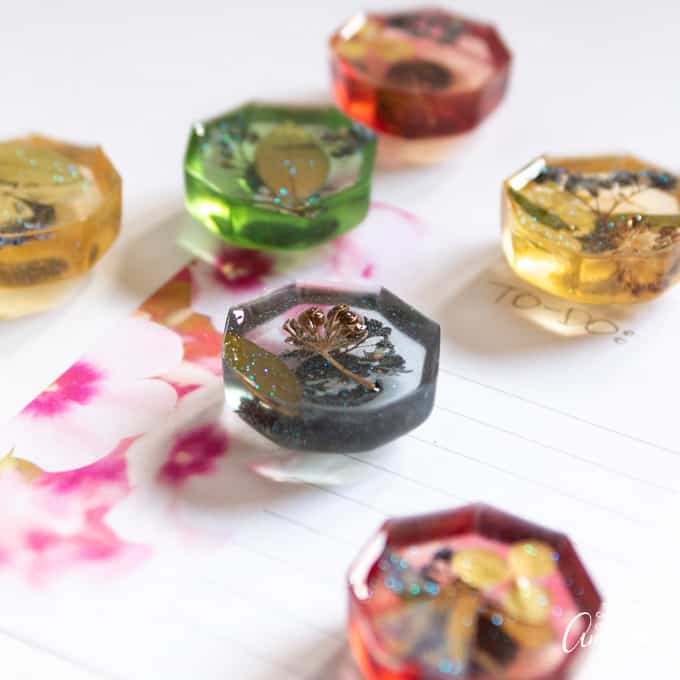 You'll likely have leftover magnets if you buy them in package form, so we will include some more magnet crafts below. Happy crafting!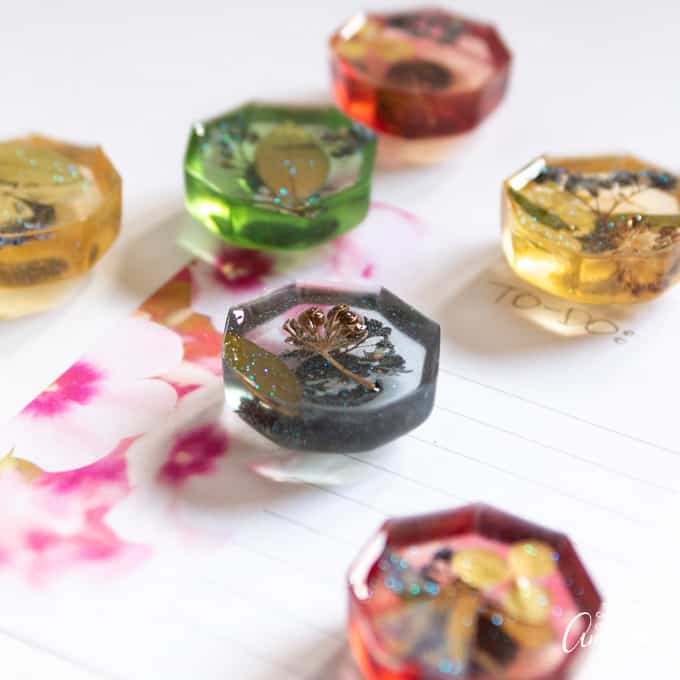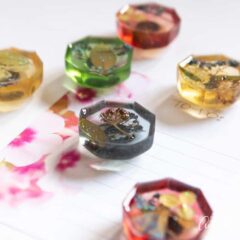 Print Project
DIY Flower Resin Magnets
Capture the beauty of nature all year-round with these lovely DIY pressed flower and soft glitter translucent resin magnets.
Supplies
2.5

oz

EasyCast Clear Casting Epoxy

1

Octagon Reusable Knob Mold

1

Mold Release and Conditioner

4

Measuring cups

3

Wooden craft sticks

1

Gloves

1

Straw or small kitchen torch

Pressed or dried flowers

assorted small flowers and leaves

1/4

tsp

Fine Glitter

white and purple colors

6

Small Round Magnet

1 per resin magnet

1

E600 adhesive

small dab per magnet

4

Translucent Pigment Dye

yellow, green, blue, red
Instructions
 Spray Mold Release and Conditioner into cabinet knob molds.

Mix equal parts of EasyCast Clear Casting Epoxy and hardener into one measuring cup.

Evenly divide the resin into additional cups based on the number of different colored magnets.

Add one drop of translucent pigment dye to each cup in color of your choice.

Pour colored resin into mold filling 2/3 of the way.

Sprinkle glitter over top of resin.

Place pressed flowers and leaves into each mold.

Pour more colored resin into each mold until filled to the top.

Use straw or small torch to blow off any bubbles in the resin.

Cover and let cure 24 hours.

Glue small magnet to back side of resin using E6000 adhesive.
Latest posts by Jane and Sonja
(see all)