Rock crafts are all the rage right now, especially painted rocks. But today we're going to show you how to recreate these two birds on a branch pebble art using some small stones and a twig you can easily find in your backyard. The creativity with this pebble art project is endless, it's the up and coming art craft everyone's going to want to make! When you're done, be sure to check out our painted twig wall letter project as well!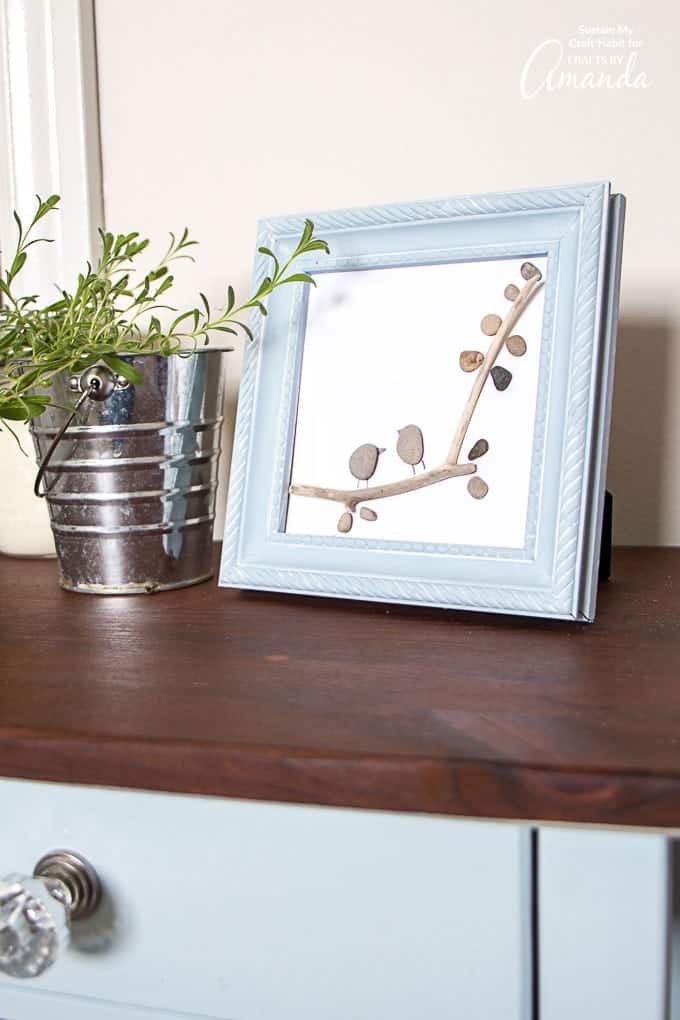 DIY Pebble Art
In all the years I've lived in Southern Ontario, Canada, this past weekend was the first time I'd seen two striking cedar waxwing birds chirping while they perched in a neighbor's oak tree. It brought about a bird watching frenzy as we all diligently began searching the web for the name of these never before seen red tip winged, yellow tailed beauties. This DIY pebble art captures the excitement we all shared with the discovery.
My sister Jane and I from Sustain My Craft Habit, have been collecting rocks and pebbles to craft with for quite some time. Whether it's for a rock'n wall art, a rock'n tic-tac-toe game or one of many rock painting projects, such as this recent daisy painted rocks craft, the possibilities are really endless.
Did you notice that beautiful blue painted picture frame, it's the same Serene blue chalky paint we used to refinish an outdated bedroom dresser.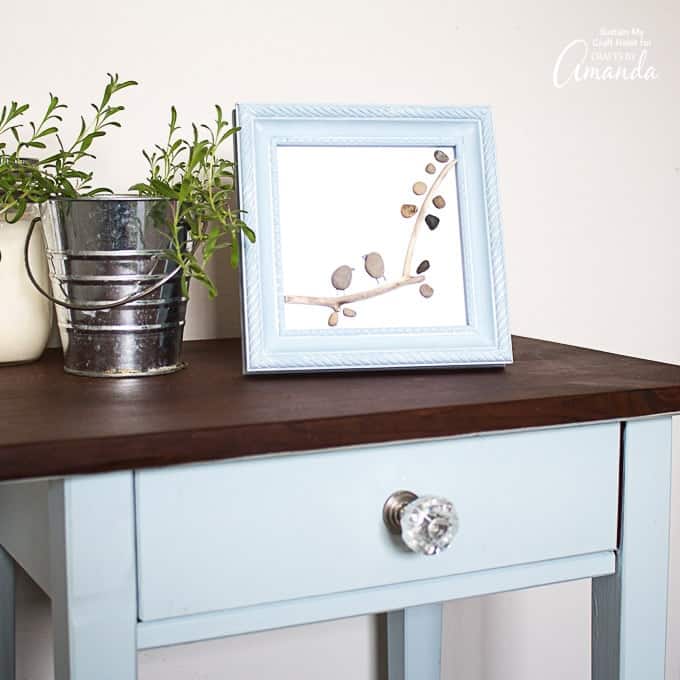 Materials Needed:
Pebbles – assorted sizes and shapes (x2 pebbles approx. ½" high x ½" wide and remaining smaller pebbles ⅛" to ¼")
Twig
Picture Frame (glass removed)
Pencil and eraser
Fine Tip Sharpie, black
Krazy Glue, gloves
Paper cutter or ruler and scissors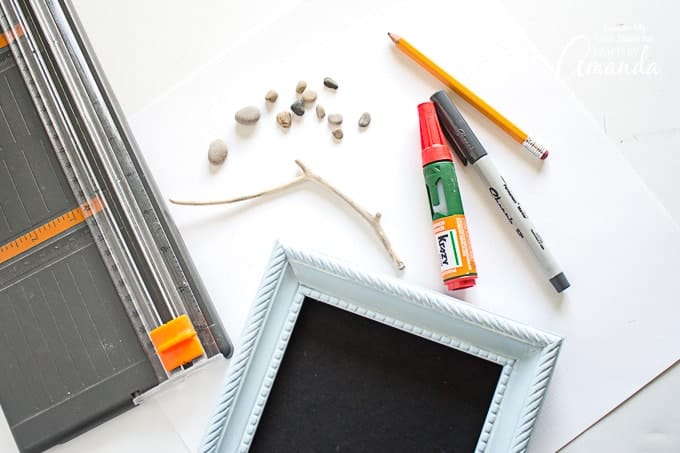 Instructions for Making this DIY Pebble Art:
Cut cardstock to size.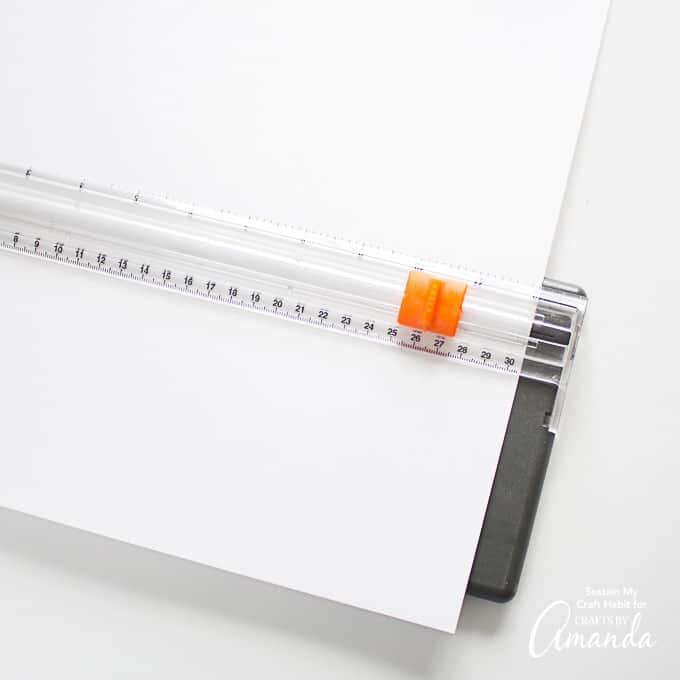 Temporarily lay your pieces on the paper to play around with the placement before gluing.
Place the twig onto the paper as desired.
Begin to place the smaller sized pebbles along the edges of the twig to resemble leaves.
Place the larger sized pebbles along the twig to resemble birds perching.



Lift one larger pebble at a time and using a pencil, faintly draw the bird beaks and the bird feet. Replace the larger pebble on top.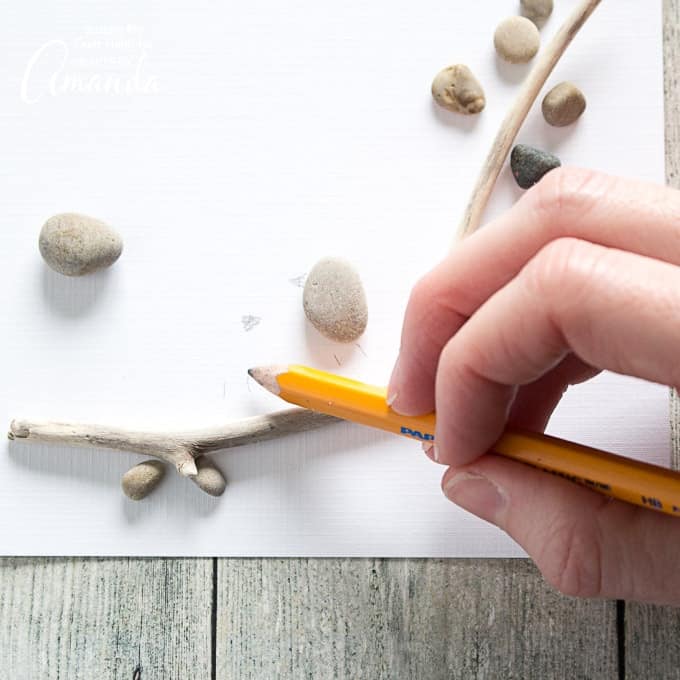 Repeat with the second larger pebble.
If you're happy with the drawing, trace over top of the pencil markings with a fine tip black sharpie.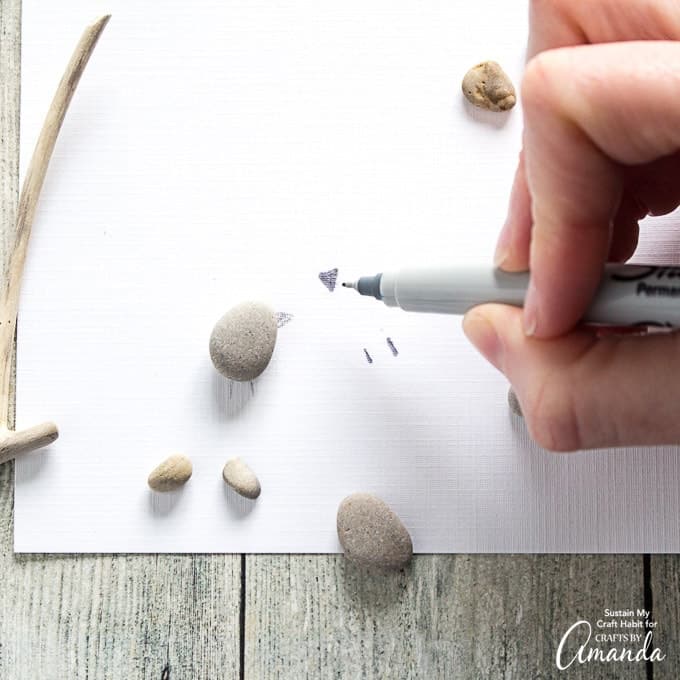 Let it dry and erase any visible pencil markings.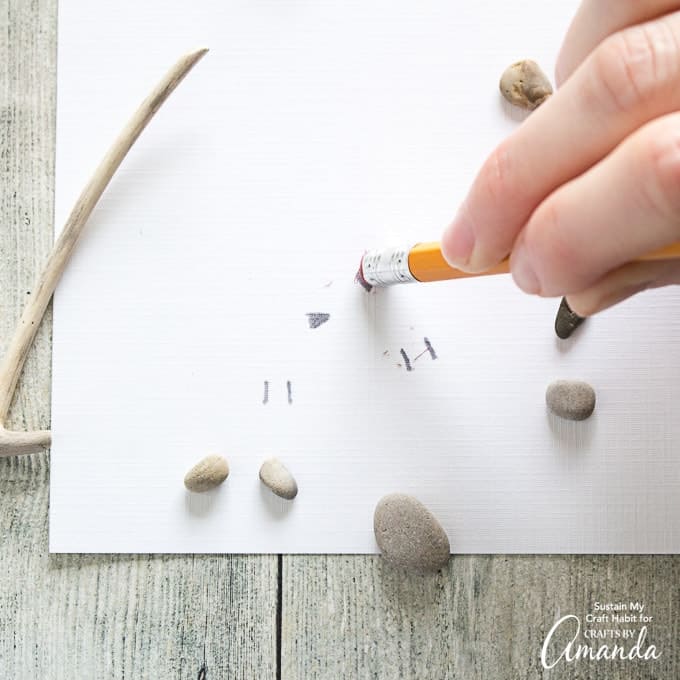 When you're satisfied with the overall design, you can start to secure the pieces to the paper.
Using protective gloves, begin to dab Krazy Glue to the back side of the twig and press onto the paper. Hold for 10 seconds to secure in place.


Repeat with each pebble. Hold in place on paper for 10 seconds before moving on to the next pebble.


Leave it to fully set overnight.
Insert the pebble art into an open front picture frame without the glass insert.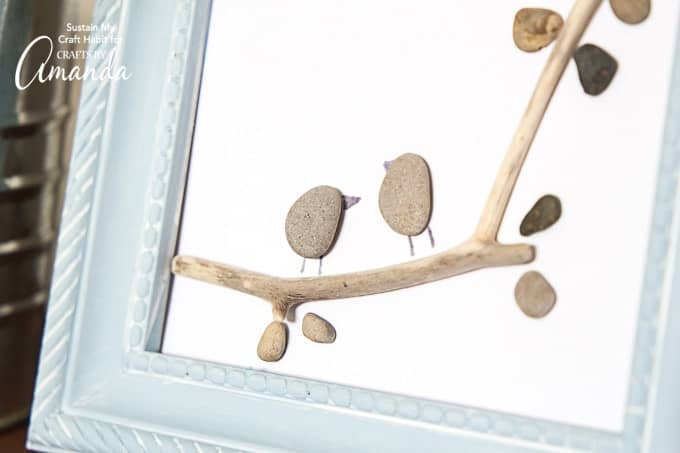 Watch the video below to see how to make this DIY Pebble Art yourself!
Check out more rock projects below!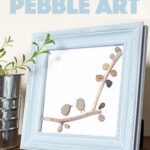 Print Project
DIY Pebble Art
Supplies
Pebbles

Twig

Glue

Pencil

Fine tip marker

Cardstock paper

Picture Frame
Instructions
Collect needed materials.

Position pebbles and twig on cardstock in desired location.

Using a pencil, faintly draw the beaks and legs of the birds.

Trace over with a fine tip marker.

Erase pencil markings.

Securely glue each pebble and twig in place.

Place inside a frame with the glass removed.
Jane and Sonja are sisters, moms and lifelong craft addicts both living near Toronto, Canada with their families. They share their love of creativity, nature and coastal craft and DIY ideas on their blog Sustain My Craft Habit.
Latest posts by Jane and Sonja (see all)