I hope you're not getting sick and tired of all my beach crafts lately! With summer here, it's hard not to think about the beach on a regular basis. Bringing a little bit of that feeling into your home is a great way to invoke a comfortable and calming atmosphere. These jar votives are fun, they're easy to make and they are perfect for summer get togethers.
I originally made these luminaries for Michaels Craft Store via DecoArt. They carry an exclusive line of affordable paint called Craft Smart. I use it for ALL of my kid's crafts, but it's great for many different projects as well.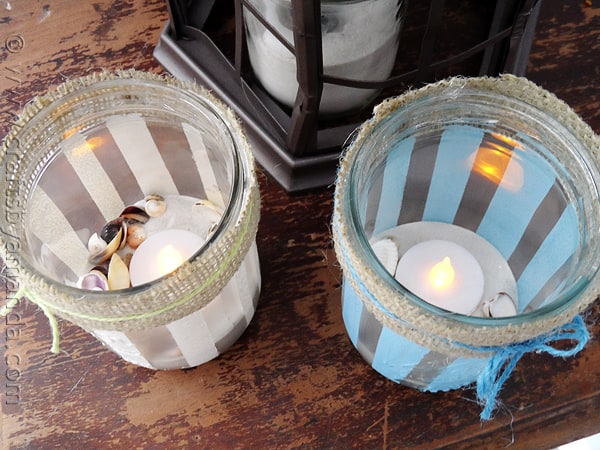 Wouldn't these be fun on a picnic table in the backyard? Or make a bunch of them and line them up on your deck for a fun summer night time gathering! Makes me want to get outside right now :)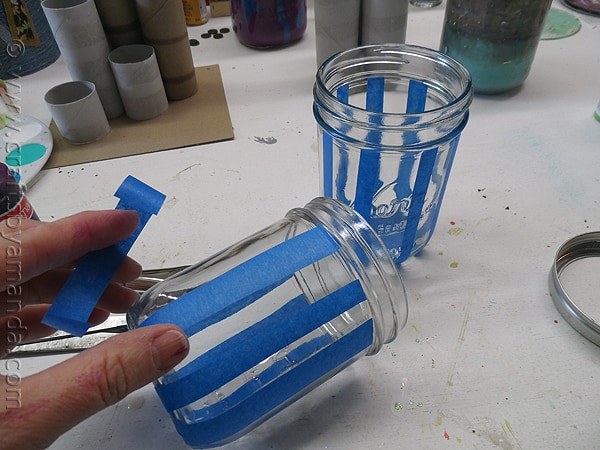 Here's how easy these are. Wash your jars and give them a rinse and wipe down with rubbing alcohol. After they've dried apply painter's tape in stripes down the sides of the jars.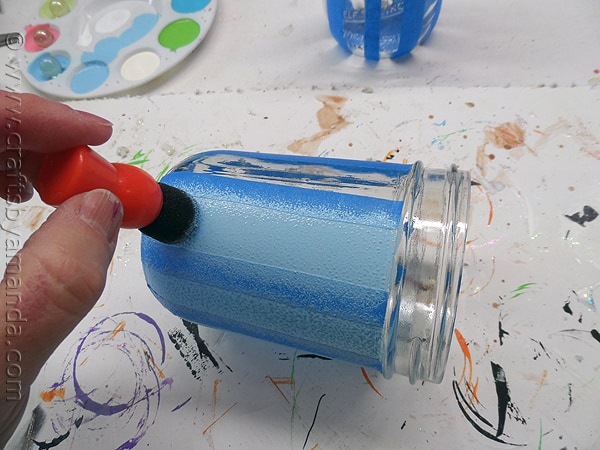 Use a stencil applicator or sponge to dab on the paint.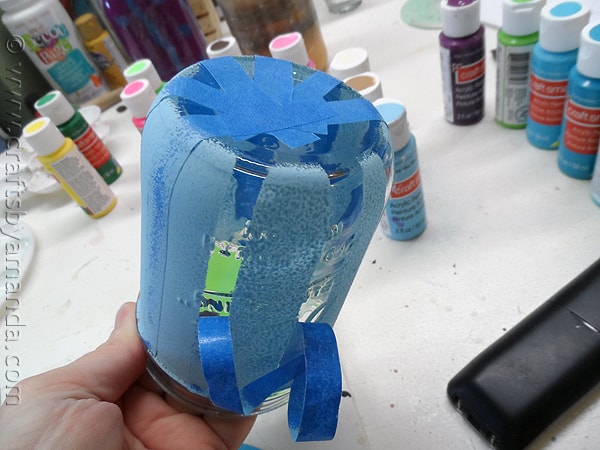 Let them dry a little, then peel back the painter's tape to reveal your stripes. Add a coat of varnish over the whole thing.
The final step is to wrap some burlap around the rims and tie with some hemp cord. It's ridiculously fun how many colors are available! You can find them at Michaels in the jewelry department, but here's a summer collection at Amazon
to give you an idea of what's out there.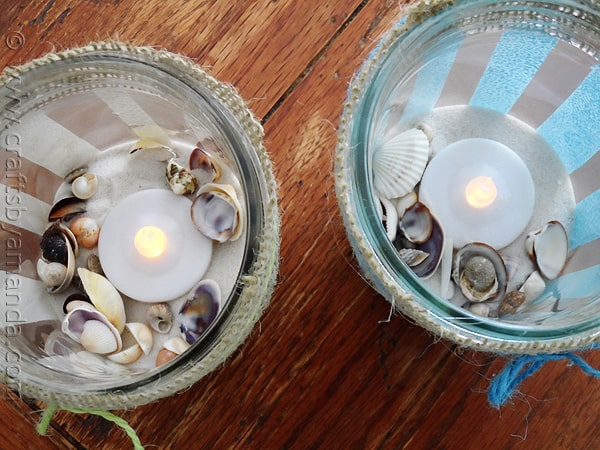 I added some white sand to the jars and a few small shells, then inserted an LED tea light. Fun!
Disclaimer: There's an affiliate link to Amazon in this post. That means if you click through and buy something, I'll earn a small commission. Thanks if you do, and no biggie if you don't! :)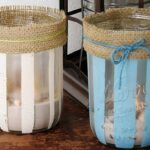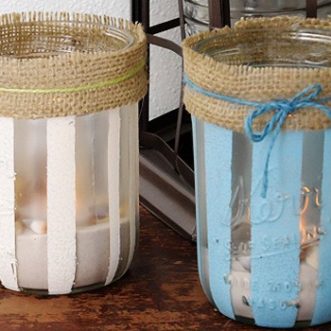 Print Project
Striped Beach Luminaries
Supplies
Craft Smart:
Pale Blue

Vanilla

Matte Varnish
Other supplies:
Paintbrush

Stencil brush or sponge applicator

Rubbing alcohol

Painter's tape

Burlap

Hemp cord
Instructions
Wash and dry each jar and follow with a rinse of rubbing alcohol. Allow them to dry completely.

Apply strips of painter's tape to the outside of the jars, leaving gaps in between to create the stripe areas.

Use a sponge applicator to pounce Pale Blue onto the exposed glass on one jar, and Vanilla on to the other.

Remove the painter's tape.

Apply a coat of matte Varnish over the surface of the jar.

Cut strips of burlap and hot glue around the rim of each jar.

Tie a piece of hemp cord around the burlap and tie in knots or bows in the front.

Fill jars 1/4 full with white sand and insert a votive candle. Drop small seashells around the candle into the sand.
Amanda Formaro is the crafty, entrepreneurial mother of four children. She loves to bake, cook, make kid's crafts and create decorative items for her home. She is a crafting expert and guru in the kitchen and has appeared online and in print publications many times over the years. She is also the editor for the Home & Garden channel at Craft Gossip and owner of FunFamilyCrafts.com.
Latest posts by Amanda Formaro (see all)