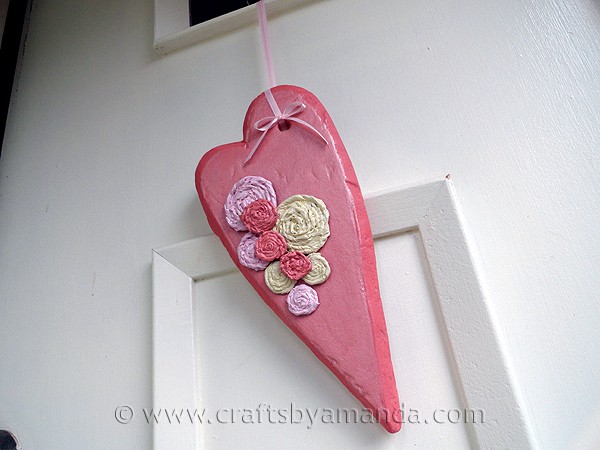 Wreaths are wonderful and all, but why not really celebrate the season of love with an actual heart to hang on your door? Valentine's Day wouldn't be complete without a heart, and certainly needs roses thrown in there as well. Make a pretty heart for your front door using Styrofoam, paint and recycled paper bags! Come on, I'll show you how.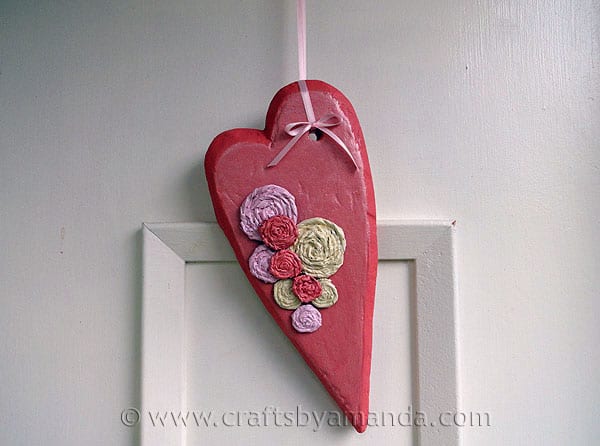 This is a project I created for Hobby Lobby on behalf of DecoArt for their in store project sheets. It uses several Americana paint colors, some awesome Magikote, Styrofoam and some pretty pearlizing medium. If you haven't tried Magikote yet, it's really a fun medium and truly allows you to get creative. You use it to give Styrofoam a carvable, paintable, sandable surface and it eliminates those flyaway pieces of foam that make a huge mess everywhere.

Start off by taking a Stryrofoam sheet and cutting it into an elongated heart shape. Carve it so that the edges are three dimensional and rounded. Don't forget to poke a hole for the hanger. Then cover it in [amazon_link id="B004VD4148″ target="_blank" container="" container_class="" ]Magikote[/amazon_link]. You'll need two good coats.

To make the rosettes, cut strips of brown paper from a lunch bag. Twist them up, you can glue two together, end to end, for the larger rosettes. Roll them up coil fashion and use hot glue to hold them together as you coil. The full instructions for assembling and painting are below!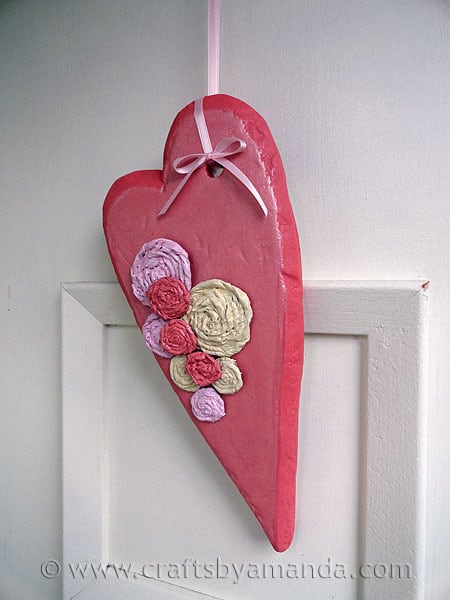 More Valentine's Day Crafts

Print Project
Valentine Rosette Heart Door Decoration
Supplies
You will need:
Styrofoam sheet 15"x6"x1"

Pearlizing Medium

Magikote

Brown paper bag

Sandpaper

Craft knife or box cutter

Scissors

Hot glue gun

Pink ribbon

Marker

Paintbrush
Americana paint colors:
Terra Coral

Buttermilk

Poodleskirt Pink
Instructions
Always allow Magikote and paint to dry between each step, according to bottle directions.

Use a marker to draw a heart shape onto the Styrofoam sheet, using as much of the sheet as possible. Use a craft knife to cut the heart out, shaving the edges to make them look rounded.

Use the handle end of your paintbrush to carefully poke a hole in one of the humps of the heart, about 1 ½" from the top. This will be for your ribbon hanger.

Apply a coat of Magikote to the entire heart, top and sides. When dry, apply a second coat. When dry, add two coats to the back of the heart as well.

Sand the entire surface of the heart with the sandpaper to smooth it out. Blow off any sanding dust.

Cut a brown paper bag into 2" wide strips. Twist the strips with your fingers. To make different sized rosettes you will want to connect some of the twisted strips together. Use a hot glue gun to attach then end to end. You will need 2 large flowers, which is 3 twisted paper strands long. You will need 1 medium rosette, which is 2 twisted strands long. The remaining flowers are 1 strand each.

After connecting the strands, using the hot glue gun as you work, roll the twisted paper into a tight spiral to create the rosettes.

Paint the entire surface of the heart with AmericanaTerra Coral. Mix together 1 part pearlizing medium and 3 parts Americana Terra Coral and paint the top, flat surface of the heart.

Mix pearlizing medium 2:1 with each of the following Americana colors: Poodleskirt Pink, Terra Cora and Buttermilk.

Paint one large and one medium rosette with Poodleskirt Pink. Paint one large and two small rosettes with Buttermilk. Paint three small rosettes with Terra Coral. Each will need a second coat.

Tie a small bow from pink ribbon. Trim the ends and set bow aside. Take a 24" length of pink ribbon and fold it end to end. Insert the looped end into the hole (from the back of the heart) in the heart's hump. Insert the open ends of ribbon through the looped end and pull. Position the knotted end at the back of the heart, then pull tight. Secure with hot glue. Now tie the loose ends into a knot to create your hanger. Hot glue the bow just below the ribbon hanger, directly above the hanger hole.

Hot glue the rosettes to the heart in whatever pattern you wish. We placed the largest rosettes toward the top with the medium rosette, along with the remaining Buttermilk and Poodleskirt Pink rosettes. We then layered the Terra Coral rosettes on top of the first layer.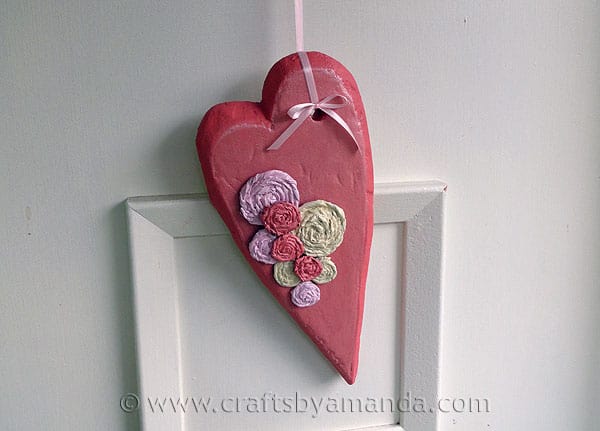 Below is a list of craft parties I link to each week. There's lots of creative talent out there, check them out :)
Latest posts by Amanda Formaro
(see all)