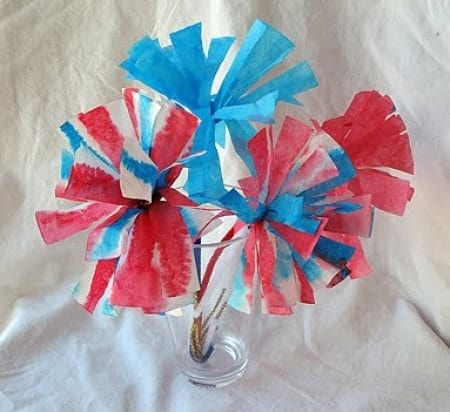 When I originally made these for the July 4th craft section on my old site, FamilyCorner, a couple of years ago, my initial intention was to make coffee filter fireworks and attach them to paper or poster board. But as I was making them, the thought came to me that these would be even better as a 4th of July or picnic table centerpiece, a great kid's craft, and so the fireworks flowers were born. Because it was a while ago that these were made, I'm afraid I don't have any step by step photos. They're pretty easy though, so the tutorial below should get you though them without a problem. Have a great 4th!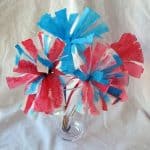 Print Project
4th of July: Coffee Filter Flowers
Supplies
basket coffee filters

chenille stems

red, white, blue, gold and/or silver

red and blue watercolor paint

paintbrush

scissors

2

pieces

of paper towel or a kitchen towel
Instructions
Place one of the coffee filters onto the paper plate and flatten out.

Paint the coffee filter with water color paint. Paint some solid red, some solid blue and others a combination of blue and red, leaving some areas unpainted.

Move the coffee filter to the towel and lay flat to dry. Repeat with the second coffee filter.

Leaving the center of the filter in tact, cut the coffee filter in strips, working you way around the circle.

Cut a 1.5″ piece off of one end of a chenille stem and set aside.

Take the longer piece of chenille and poke it through the center of the coffee filter. There should be about 2″ of chenille poked through.

Turn the entire thing upside down and grasp the filter with your fingers.

Gather it around the chenille and secure it by wrapping the extra piece of chenille stem that you cut off in an earlier step. Twist it around the part you are holding and turn the flower back upright.

Manipulate with your finger until strips are spread out and it looks the way you want it to.
More from Amanda you might like:
Watermelon Picnic Caddy
Watermelon Cookies
Blackberry Pie Squares
Honeycomb Design Jar
From the web:
Patriotic Water Bracelets – from FamilyCorner.com
Patriotic Tissue Paper Wreath – from Free Kid's Crafts
3-D Fireworks – From Family Crafts at About.com
Patriotic Charm Bracelet – from MakingFriends.com
Patriotic Paper Plate Garland – from Kaboose.com (by me) :)
Amanda Formaro is the crafty, entrepreneurial mother of four children. She loves to bake, cook, make kid's crafts and create decorative items for her home. She is a crafting expert and guru in the kitchen and has appeared online and in print publications many times over the years. She is also the editor for the Home & Garden channel at Craft Gossip and owner of FunFamilyCrafts.com.
Latest posts by Amanda Formaro (see all)